The game of golf is becoming more popular, and as a result, promotional golf products are more effective than ever before. By providing items that are commonly used during a game of golf, you can connect with your clients every time they pull out their clubs and go for a hit.
Amongst all the different methods and tools to market to your audience, promotional items could prove to be a perfect way not only to stay top of mind within your current customer base, but to also educate your prospects about your company and offerings as you work on growing and increasing awareness around your business.
Plan thoughtfully the design of your promotional items. Keeping your brand and colors in mind, gear your design towards an attractive and appealing structure that will make your recipient remember you and your business.
artisJet direct to golf ball printers can help you capture the orders, such as company logos, souvenir for celebrating an event or occasion, family and friends customized balls.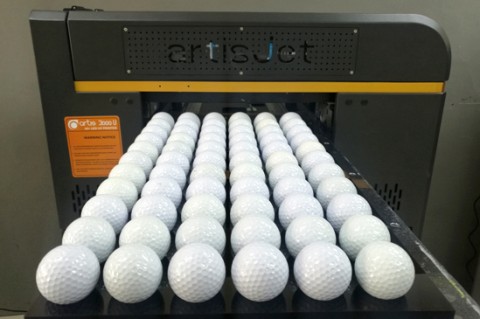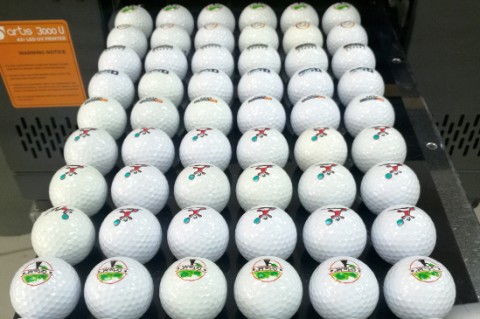 HOW TO PRINT ON GOLF BALLS?
artisJet LED UV printers provide many unique capabilities that are valuable for golf ball printing, including:
• Standard golf fixtures/jigs - are available to allow printing multiple golf balls in a single pass. artisJet customized golf balls printing solution adopts gorgeous and colorful ink system, and unique designed standard golf jigs allow printing high quality pictures, logos and text directly on multiple golf balls at one time.
• Rich yet sharp color performances - empowered by the piezo print technology and anti-static print systems, artisJet custom golf ball print solution delivers the colors directly on the golf balls in photo quality and highest sharpness.
• Glitter/ varnish print result on demand - equipped with latest DTS3 Varnish ink, artisJet printers support the clear printing to enhance the performances of the printed products on demand.
• Fast production speed at low cost - by importing the files into the artisRIP software, the products will be ready in few minutes. You can print multiple balls in single pass with custom jigs. For A3+ LED UV printers, the size of the jig is 55*30 cm, which means printing 72 pcs / one pass; for artis 2100U A4 LED UV printer, the jig size allows printing 24 pcs / one pass.
• Variety of substrates - Print unlimited applications on different kind of materials like acrylic, plastic, wood, leather and much more.
Business owners and golf fanatics should consider customized golf balls not only for games and sports but also as one of the hottest products on the golf market. Customized golf balls can be used as promotional items, gifts, corporate promotion items or to simply give the golf balls a special unique differentiation from other market players.
A logo is the one element that should encompass a message, image, voice, brand… all in one! If the logo is done the right way, it will communicate the point of differentiation and help businesses stand out while positioning in the consumers' mind.
There are many creative ways that can connect businesses with their clients, and one of these is through promotional golf products.
Stay connected to artisJet for upcoming news! We are on Facebook, Twitter and Instagram! Like, follow and join us online to make sure you stay updated with details on upcoming news, events and our printers, direct to substrate printing solutions, and technology.
Discover artis 2100U, artis 3000U and artis 5000U LED UV printers and artisJet direct to golf balls printing solution and more in FESPA BERLIN 2018 15-18 MAY in Booth D67, Hall 3.1 Berlin Expo Centre City look for artisJet in Booth D67 | Hall 3.1 | Berlin ExpoCenter City.