What is LED UV Direct Digital plastic printing? A system that digitally delivers designs and photos from the computer or mobile on all types of plastic materials, from acrylic, polycarbonate (PC), polyvinyl chloride (PVC), polyethylene terephthalate (PET / APET), PETG to ABS (acrylonitrile butadiene styrene) with high quality color reproduction on flexible or rigid plastic substrates and its derivatives.
Other names of this system in the market. In different marketing directions related to the printed material applications, this system can be found under the name of direct PVC card printer, direct acrylic printer, direct plaques printer, direct Braille printer, digital signage printer, digital wall art printer, mobile cover printer, mobile case printer and more than 50 different names, based on the material or product you chose to print on with LED UV digital printing systems.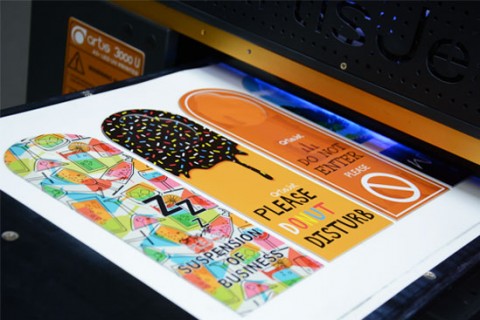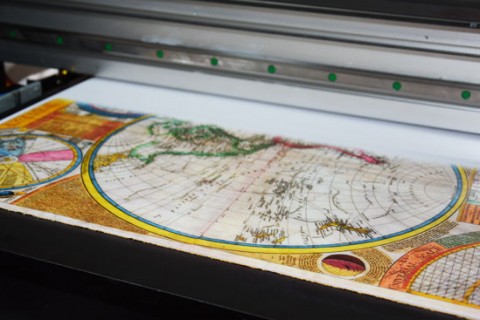 KEY BENEFITS OF THE LED UV DIGITAL PLASTIC PRINT SYSTEM
High color vibrancy, sharpness, textured, glossy and detailing results. The LED UV ink is a kind of pigmented ink which delivers rich, deep colors to maintain their vibrancy. The LED UV ink is unique due to its layering performance. We can achieve 0.3 – 0.5 mm from each printing pass through the RIP software's settings. Therefore, the print becomes touchable due to the embossed printing effect. With the varnish printing ink channel as an option, the LED UV delivers glossy effect to enhance the shining performances of the prints.
Strong color durability. artisJet print systems supports any type of plastic direct printing in any shape. Empowered by artisRIP software, artisJet direct to plastic printers are supporting white and colour simultaneously print at one pass and 3D embossed textured direct print results.
The direct plastic digital printing system is a non-scratch, non-shatter and light resistant printing. The pre-coating will enhance the durability of some certain hard plastics. In addition, test reports have shown that LED UV printing on plastics keeps a high anti – scratch level and durability as well, regardless the color or thickness of the plastic material. Printed plastic applications can last up to 5 years for indoors and more than 2 years in outdoor exposure.
Digitally printed plastic is a great option when you want extra durability or a waterproof substrate. It is a common choice for small or large signs and multiple types of cards such as business cards printing or postcards printing. Plastic printing is also available for labels printing, signage printing, name tags printing, nameplates printing, displays and electronic overlays printing, door signs printing, plastic made electronic gadgets such as power switches printing, power banks printing and others.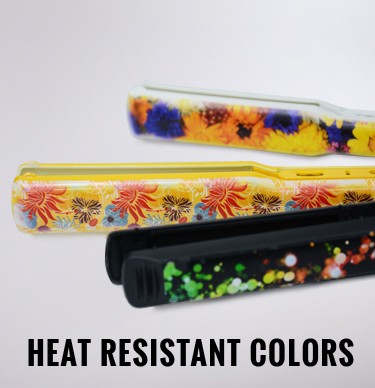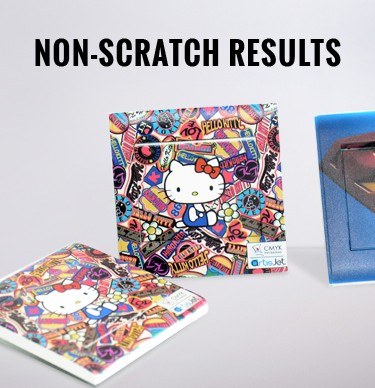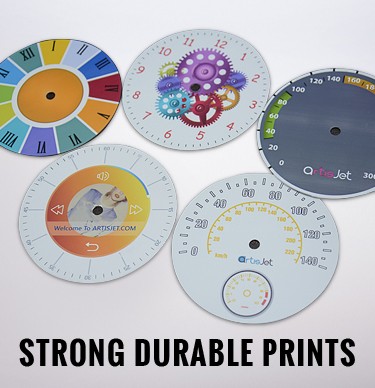 Substrate protection during the printing process. Customers who have purchased LED UV curing printers have discovered the benefits of printing on a wider range of materials as never before and one of the main reasons is the lower heat that dissipates without any damage to the substrate, not even plastic or other soft materials. The heat is transferred away from the substrates by using liquid cooling systems. The direct to plastic LED UV curing printers can be used for personalization printing on demand, for short runs or continuous productivity. This is one of the reasons artisJet LED UV systems are suitable for printing on any type of plastic media substrates (PVC, acrylic etc.).
Printing process made simple. Digitally plastic printing process is defined by flexibility, speed and accuracy for variable printing and production options. artisJet innovative specialty software improves graphic repeatability and results in faster setup and printing time making it possible to turn your design concept into final product with a great return on investment.
The printing process is about three easy to follow steps: just design or edit the images / artwork you have and import them to the artisRIP software and then print. In 3 – 4 minutes you have the product.
Cost effective. Cost is a key factor when it comes to study about a new technology. The LED UV digital direct plastic print system bears cents for an A4 size printing.
Plastic signs printing, plastic card printing, plastic indoor decoration printing, plastic key chains printing and anything that is made of plastic and can be printed, turns to be an economical printing option for large runs as well as home based businesses. The recent technological advancements have made digital LED UV printing a cost-effective alternative for plastic printing industry that can help large retailers.
Moreover, direct LED UV printing on plastics is the right choice if you want to enhance your business without any harm to the environment. artisJet LED UV technology is eco-friendly and allows production in a healthy green working environment. Personalized digital plastic printing solution is undoubtedly worth investing further on the system for additional value at a lower cost.