What PVC means and what plastic cards are? PVC is the most common thermoplastic material which comes in two basic forms: rigid and flexible. It can be easily converted into different forms making its use across various industries an evident advantage: profile applications, bottles, packaging etc.
Plastic / PVC has a wide range of applicability in card printing. PVC is a resistant, flexible, durable, cost effective to produce and easy to print on material. PVC is also a durable substrate and is not affected by corrosion or other forms of degradation. That is why PVC has a wide range of applicability especially in digital card personalization.
Card printing can cover multiple applications such as membership cards, ID cards, pre-paid phone cards, security cards, luggage tags, gift cards, key tags, name badges, door hangers, access cards and parking permits, outdoor and indoor card signs, business cards, game cards, casino chips and many more.
In addition, given the technology available, plastic cards can include magnetic strips, QR codes, barcodes, just like a credit card. These cards can be used as gifts cards, shopping cards, vouchers or any card, providing further information to the retailers and at the same time to serve as a marketing opportunity.
Usually, cards have the standard size of a credit card and can be printed in single color or full color, font side or on both sides, with high resolution images. By printing on plastic cards you can give to your customers creative, innovative, cutting edge and professional solutions regardless quantity.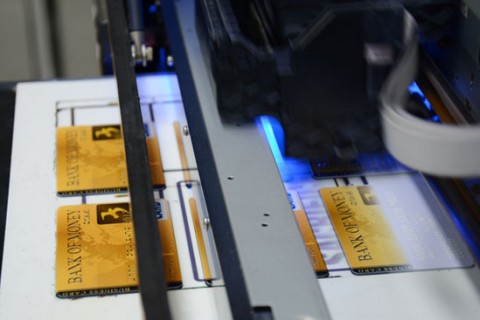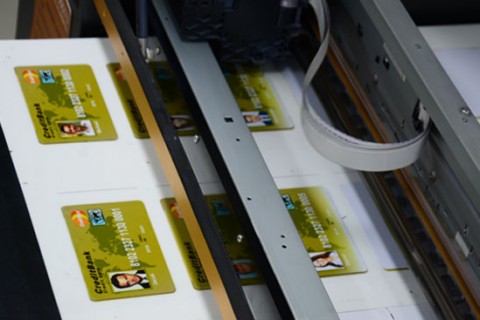 LED UV PLASTIC CARD PRINTING ADVANTAGES
Digital printed plastic cards provide numerous features. A simple blank plastic card can be printed with any combination of text, logos, graphics, full images, barcodes and any other purpose you want to give to the card. Additional readable information can also be encoded: magnetic stripes, barcodes and even smart card chips.
With nowadays LED UV printing technology, creating custom printed plastic cards is easy. Digital card printing is a simple process in which graphics, data, images are physically printed on a card directly from a computer system.
Image quality, flexibility and durability. Digitally printed plastic cards have an image quality far superior to the traditional printing methods. Images are sharper while various graphical elements and text on the card are more consistent, clearer and more readable. LED UV printing colors are vivid and strong, providing virtually unlimited color selection with high shine gloss when required or matte finish.
artisRIP software used to produce the cards provides the flexibility to change designs and variable data as well, while varnish ink enhances the card durability. LED UV ink colors will last longer even in outdoor exposure, preventing the color fading.
LED UV printing technology provides various levels of card durability in terms of anti – scratch characteristics or water damage. Also, digitally printed LED UV plastic cards are heat resistant.
Raised lettering printing. Embossed lettering and numbering can be added to the plastic cards while printing. This option is mostly used on credit cards and membership cards or any card to display personalized names, information and dates, account numbers, sequential numbers etc. Raised lettering plastic cards add value to your business and convey a professional impression to the customers. Raised print makes the plastic card outstanding, giving the ink an irresistible texture and feel.
Moreover, raised characters plastic cards are a great way for blind or partially sighted people to identify their bank cards separate to their loyalty cards and to figure out the correct orientation of the card. It's easier to recognize an embossed card than a flat card.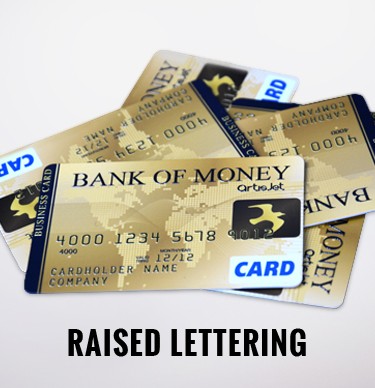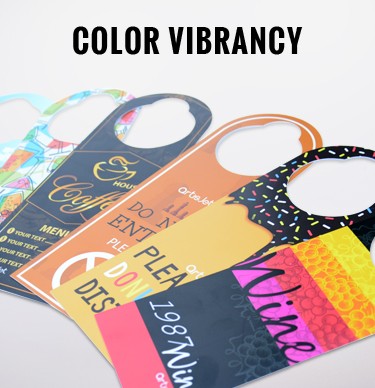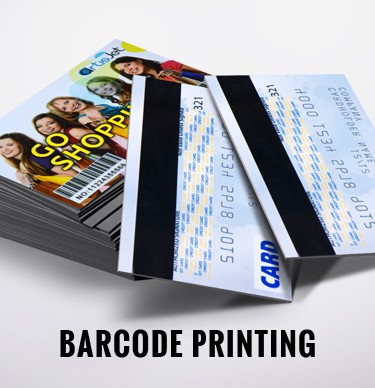 Convenience and cost effectiveness. On the basis of printing experiences, artisJet has been trying to offer the solution for a cost effective but also easier production method. Instead of relying on traditional paper cards that are often damaged, custom plastic card printing gives essential value to a business service, making it relevant. Printing on plastic cards adds brand recognition and can increase revenue and sales of a business. Most important, plastic cards can be reused and this also contributes in lowering your costs.
How to print on plastic cards. artisJet ensures two ways that can ease the printing process. One option is single card and quantity card printing without card jig. artisJet released a special mat that placed on the printer's working table it acts like an adhesive band, although is glue free, but keeps the printing products in place. The easy to use mat table has washable feature enabling a long life.
Further, print directly by placing the cards onto the artisJet mat table (Efixer), import data/images/artwork from artisJet RIP V.9.0, locate the cards onto the frames printed on Efixer and print directly. The second option requires a jig use. artisJet has a card jig allowing the print of 24 cards at one time (5.4 x 8.6 cm).
Variable data printing can be performed directly from an Excel file, with the possibility to print a quantity of 18 pieces per print. This also allows to change the data in printing for card holder name, card number, card profile image, expire date.
Digital PVC card printing solution to enhance your company's productivity. The best way to print on a PVC card is to use a LED UV printer with specialized software. LED UV printers come with a variety of customized card printing capabilities. You can opt for basic one sided PVC card printing for a home based business production and at the same time you can get the benefits of printing full color with graphics on both sides for large volume of PVC cards.
artisJet ensures digital LED UV PVC cards printing solutions for your business by offering A4, A3+ and 50*70 cm printing platforms. Choosing artisJet's LED UV systems for card personalization printing purposes is an excellent option in terms of speed and production effectiveness as well as investment.