Personalized pens are for everyone. artisJet strive to offer quality trusted products for your printing start-up business or for development in the personalization printing industry, ranging from artisJet UV LED printers, artisRIP software, artisJet inks to printing accessories that can ease your work flow.
One of artisJet printing solutions and ideas for starting or growing a business is the promotional pens printing.
Even though nowadays everyone benefits from the digital development, such as laptops, smartphones, tablets, computers, people are still taking advantage of the beauty of writing and which are most suitable for this than pens?
Pens can be fully customized for a company or organization turning them into effective promotional items. On the other hand, pens can become a unique gift if customized for personal use.
Add some color to your brand by promotional pen printing and give something new to your customers. Print directly on the pen, regardless the material: plastic, wood, bamboo, metal etc. and in any palette of colors.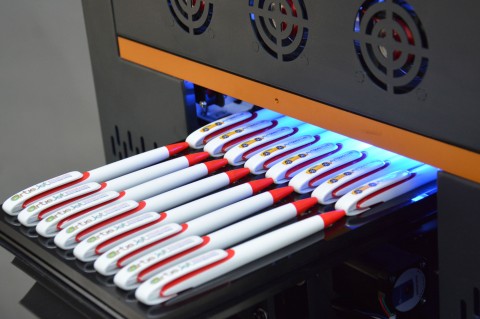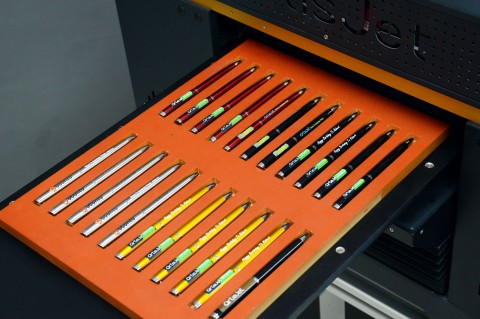 ARTISJET DIGITAL LED UV SOLUTIONS FOR PERSONALIZED PEN PRINTING
Personalized printed pens are always a great tool for advertising your product. It helps companies to reach to the consumers about their business and create market awareness.
Some printed pens are screen printed and some are pad printed. But these are old fashioned and outdated printing ways.
When it comes for high demand, the proper way for personalized pens is artisjet's digital UV LED technology. You can be sure that this will turn your high printing demand into high profit with the help of artisJet's ergonomic LED UV desktop platforms such as artis 2100U and artis 3000U.
artis 2100U is everything you need if you plan to give it a start of a personalization business. Even though it is an A4 platform, with its total media versatility you can print more than pens.
artis 2100U provides stable colors on long print runs and mixed media jobs (wood pen printing, plastic pen printing, metallic pen printing, bamboo pen printing), all combined into a sustainable solution designed for small and medium size production environments and profitability.
The digital printed text, logos, even images directly onto pens of any substrate using artisJet flatbed printers offers durable results allowing gradient colors printing with high adhesion, brightness and textured embossed results, regardless the color of the material (plastic/ABS pen printing, wood pen printing, metal pen printing, carbon paper pen printing, customized glue pen printing etc.).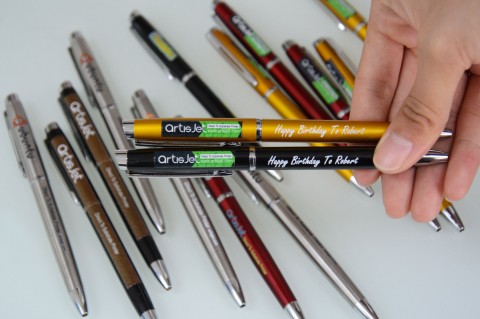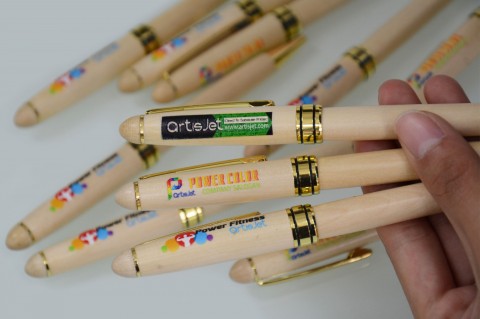 With its ease of use, artis 2100U is consistent and dependable, allowing printing jobs of 16 pens per pass in just 1.5 minutes!
Looking for a fast production without any quantity limit? Then turn towards artis 3000U A3+, artisJet's LED UV printer that allows printing 33 pens at once, even with different logos and graphics.
Using on demand customized bakelite printing trays, you can perfectly place the pens and print gradient output logos both on pen barrel and pen clip for outstanding printing jobs in no time.
How to create custom printed pens with artisJet LED UV printers?
You can personalize pens with your company name, information and logo of your choice with vibrant colors, fully customizable text on any pen substrate. From start point to finished product, with artisJet LED UV pen printing you can enjoy the clean prints on the pen barrel or on the pen clip.
artisJet LED UV printers come with a variety of customized printing capabilities. You can get the benefits of printing gradient color graphics, text and logo by using artisRIP software.
On the basis of printing experiences, artisJet has been trying to offer the solution for a cost effective but also easier production method. The matched artisJet printing jigs for pens give the possibility to print multiple pens at one pass, even with different artwork at its smallest detail.
Designed to meet the diverse needs and high end production requirements not just for commercial environments, but also for personal use, you will achieve consistent crisp text and detailed prints with high quality output and user friendly operation, all combined in artisJet products for pen personalization.
Interested in artisJet's printing solution for your business? Discover more by sending your inquiries to This email address is being protected from spambots. You need JavaScript enabled to view it. or easily use the contact form on artisJet website.
You have a favorite printed application sample? Request a sample!