WHY YOU SHOULD START YOUR OWN CUSTOM CASES KIOSK BUSINESS?
Starting a kiosk business is an effective idea for a business with little investment and little space, but with high ROI. With artisJet LED UV printers, it's easy to start a kiosk printing business because it gives you the possibility to print on various applications in small spaces.
For example, customized cases and electronic production printed covers are an all popular preference for smartphone and other devices users of all ages. This has triggered the phone case printing business to sparkle as a highly advantageous opportunity.
The consumer finds great value in investing in a protective cover. Statistics show that 9 out of 10 phone users will choose a personalized phone case and cover and for tablet as well. In phone case business, the better the design and durability of the cover, the more it will be demanded. Being able to get a case with any image on it at a competitive price within minutes is quite a value proposition to consumers.
Phone and tablet case printing is widely used and has a great market range in the personalization industry. Add to this, a kiosk business is the best way to approach the customers: the customer doesn't have to deal with long production waits or high shipping costs. They will be happy to get this service for a lower price than online competitors and right away.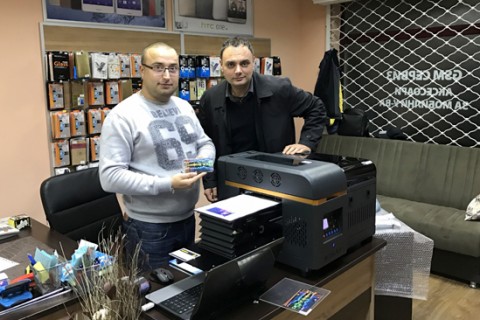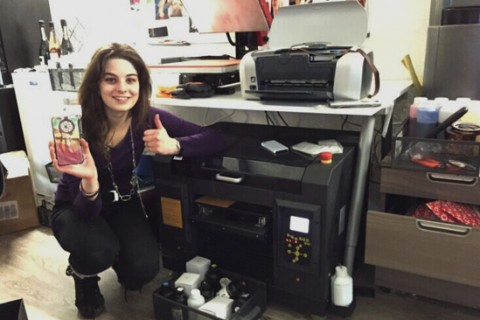 HOW TO START A CUSTOM PHONE CASE KIOSK BUSINESS?
In order for you to create a powerful business by making beautifully designed, durable custom phone cases printed within minutes, artisJet recommends the artis 2100U A4 LED UV printer, which will print not only on phone cases but on various substrates, materials, and applications.
But if your startup idea involves not only printing on phone and tablet cases but also larger items such as wooden or canvas photo frames and wall decorations, artisJet recommends artis 3000U A3+ LED UV printer.
For other applications, both artisJet A4 and A3+ LED UV systems have the ability to print on PVC cards, golf balls, pens, key chains and others, making it ideal for custom gifts items printing, giveaways printing, promotional items printing, office stationery printing etc.
Which LED UV printer to choose for kiosk case printing business? Due to the integrated LED UV lamps which instantly cure ink during printing, both systems are beneficial for printing directly onto phone and tablet case materials such as ABS, polycarbonate, plastics, acrylic, leather, silicone and any other type of case material available on the market.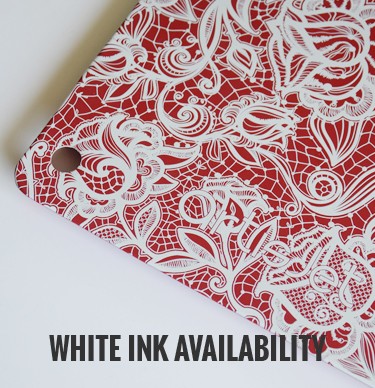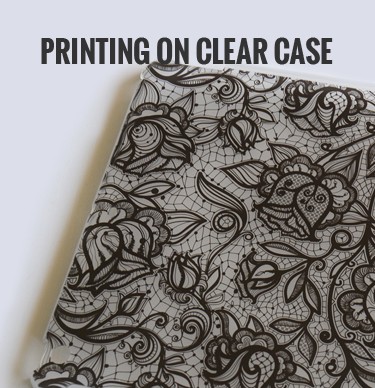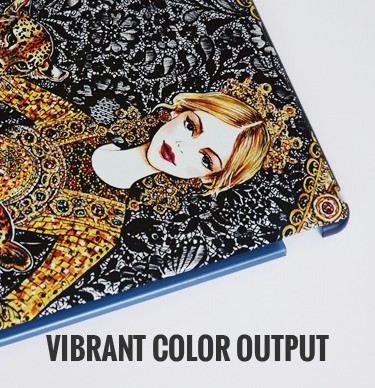 When it comes to choosing the right quality printer for your commercial needs, you can get high performance and speed printing solution at reasonable price range. With a built-in continuous ink supply system (CISS) and 6 ink channels (CMYK + WW) at an effective cost for artis 2100U printer and 8 ink channels (CMYK + WWWW) for artis 3000U, these printers are everything you need to start a phone and tablet case kiosk printing business.
ARTISJET LED UV SYSTEMS' PRINTING CAPABILITIES
In terms of printing capabilities, artis 2100U and artis 3000U LED UV printers, like any other LED UV printers of the artisJet product line, have the advantage of printing RAISED GRAPHICS. This feature has different names on the market: raised graphics, raised colors printing, 3D effect printing, embossed printing, textured printing, tactile color effect, touchable colors and more.
Custom raised printing can be achieved with multiple layers for inkjet height, delivering varnish and glossy print capability and durable 3D character printing, with a letter thickness up to 10 mm. The ink consumption is a virtually non-issue. For example, you can print one plastic phone case with embossed effect within 2.5 minutes (white ink four times and color ink one time). You can print the raised color effect on a plastic tablet case in 5 minutes (white ink six times, color ink one time).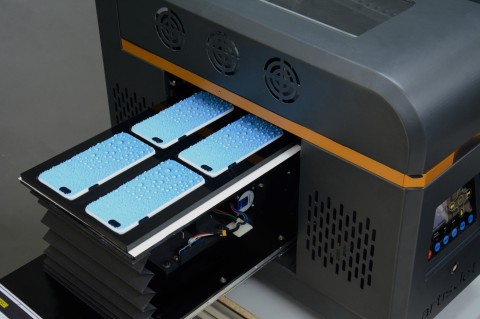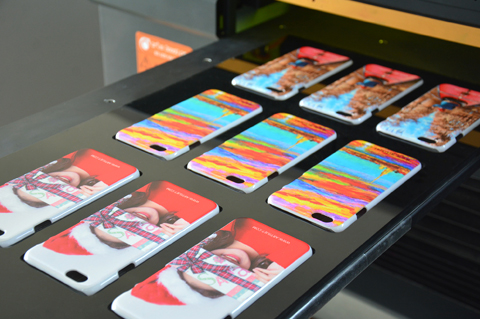 Printing on a white silicone phone case with only color ink it will take just 30 seconds. In order to print a regular leather tablet cover using just color ink, with artis 3000U it will take 1.5 minutes. Take note that you can also print directly on the smartphone itself.
Looking to add clear cell phone cases to your business product line? Some machines only print on hard clear substrates, does not print white ink and the final images are not vibrant. With a high printing resolution, artisJet's 2100U and 3000U are ergonomic versatile printers suitable for both flexible and hard substrates. Moreover, both systems have a white ink channel for printing on dark and transparent materials, which adds quality in order to create genuinely unique products that make a VIABLE BUSINESS.
You can print on any phone case model and brand with an EFFECTIVE COST of 0.016 $ / iPhone 6 case. Supporting any type of files, with artis 2100U you can print 4 iPhone 6 covers in one pass within 3-4 minutes. With artis 3000U you can print 9 iPhone 6 cases in one pass within 6-7 minutes, depending on the artwork complexity.