FIDGET SPINNERS – WHAT ARE THEY?
Fidget spinners are small devices that can rotate between the user's fingers. For sure fidget spinners are the hit toy-gadget of the year. These addictive stress-relieving toys spin in your hand for up to two minutes or even more, promising an easy operation with one hand. But that is not what artisJet sees important for these spinning gadgets.
The fidget spinners come in various colors, sizes, and designs. And this is where artisJet comes in action. Why the customers have to buy already customized fidget spinners when they can get a very own personalized spinning toy with the designs they choose?
artisJet launched new ideas on the fidget spinners printing. artisjet LED UV printers are capable of direct printing on any kind of fidget spinners substrates: plastic fidget spinners, metal fidget spinners, and any materials they may be made of. It can print also on the ring fidget, therefore on the whole hand spinner toy.
HOW TO PRINT ON FIDGET SPINNERS?
In order to ensure an easy-to-follow printing process on fidget spinners, artisJet created custom made printing jig that allows printing 24 fidget spinners at one pass within few minutes. The jig can be used for a portrait format printing on artis 3000U A3+ LED UV printer, but at the same it can be used in a landscape format on artis 5000U A2+ LED UV printer.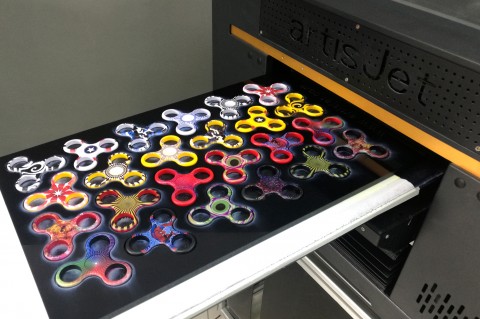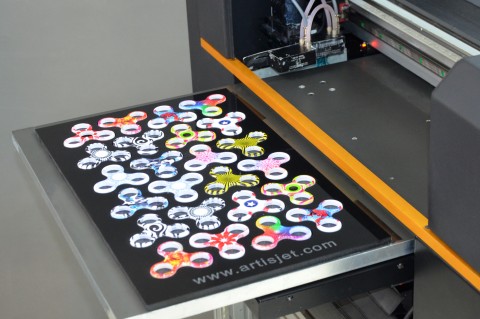 It's your choice how would you like to print. Just make the adjustments with artisJet RIP software and hit print. Demonstrating features of the artisRIP software are made in such a way so you can easily understand how to use it.
WHAT KIND OF DESIGNS CAN BE PRINTED ON FIDGET SPINNERS?
The designs can be printed on the full spinner toy, perfectly covering all of its round edges. The resulted prints are of high quality, with a gradient color output, rainbow color, high precision image printing and anything else you have in mind.
Let's take printing on a white plastic fidget spinner as an example. What you have to do? After making all the settings in artisRIP software, the first step is printing the colors. After the colors have been printed, a layer of varnish printing is required. Besides acting like a protective layer, the varnish printing enhances the printed colors by giving an extra glossy and lustrous look.
You can customize fidget spinners as desired and deliver the designs in the smoothest way with vibrant fun colors for premium look and feel.
Any creative personalized fidget spinners can be printed. If you have any more creative pictures to print or if you want to create unique, custom made funny items for your customers too, artisJet digital LED UV direct printing solution on fidget spinners is a really great and strong idea for personalization businesses and a catchy custom made solutions for customers, as the fidget spinners are so trendy nowadays.
Do we draw your attention? Ask for product quotation and details on fidget spinner printing solution with artisJet at This email address is being protected from spambots. You need JavaScript enabled to view it..