ArtisJet Blog
Our latest news and activities.
WHAT IS VARNISH?
Varnish ink allows you to enhance and protect the quality of the printed image, artwork, text or logo. It's mainly clear and can be applied either before or after the printing work.
Varnish is considered to be one of the best methods available to enhance the appearance of a printed substrate. You can see the difference once you apply the UV varnish ink and you can add profits to your bottom line.
Direct varnish ink printing offers vibrancy and dramatic colour effect, creating a lasting impression and making your printed applications production more likely to be retained.
Its use brings value in every aspect of the printing industry. Varnish is basically clear ink and can give glossy, satin or matte printing finishes. You can add varnish to the printing area for shiny effect or to highlight specific areas of a printed piece by adding depth to a logo or image.
APPLICATIONS OF DIRECT VARNISH PRINTING
The glossy varnish offers a smooth, shiny and glossy surface of the printed substrate. In the sunshine, the surface reflects light and that is why the printed media has the very bright and lustrous color. A glossy varnish increases the saturation and depth of colors while improving image contrast and adding anti-scratch features.
Moreover, it provides excellent protective quality as well as a raised touchable effect as the 3D embossed effect and Braille tactile effect, often used in direct to signage printing.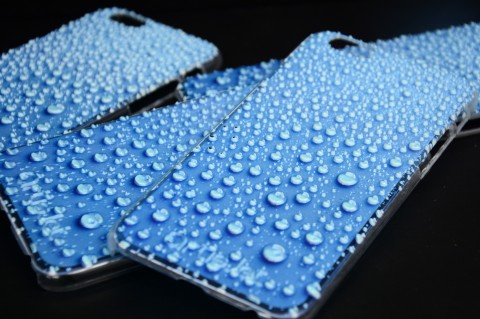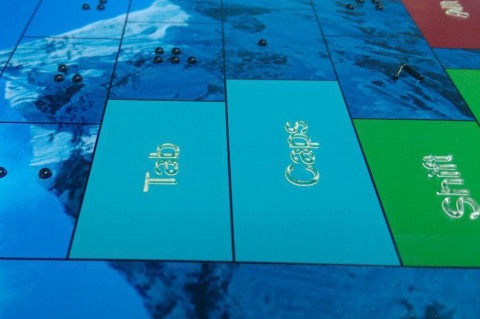 A matte varnish is the most popular finish used for printing different products such as wood frames, wood packaging and many more. Using a matte varnish in the case of imagery printing tends to soften the image, giving it a vintage matte look as well as a lush tactile quality to the printing surface.
ARTISJET DIGITAL LED UV VARNISH PRINTING BENEFITS
Varnish can be printed first, as a base for the CMYK colors to ensure color performance and even raised effect. Also, it can be applied after the artwork colors were printed to provide a glossy look or vintage matte finish, depending on what result you aim for.
Believe it or not, varnishing makes easy to clean and handle a LED UV digitally printed image. To sustain this idea, find out that varnishing can offer durable prints by making them water resistant prints. Being able to splash water on a varnish printed item can add value for customers because this way they have the possibility to print applications such as direct LED UV signage printing that can last longer even outdoors.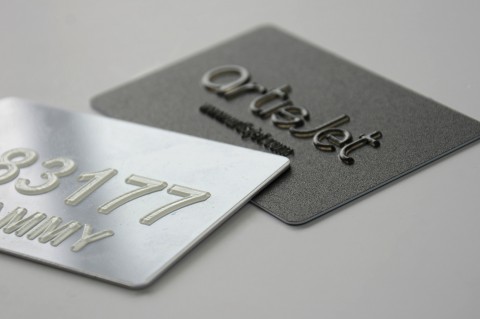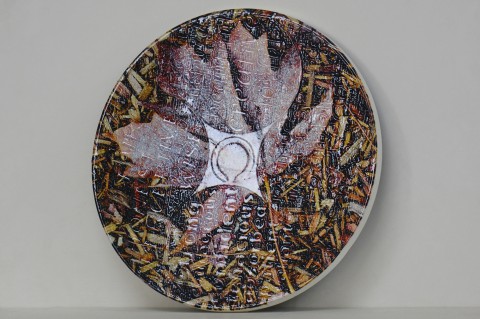 By varnish printing, the colors appear noticeably richer and vibrant and add the benefit of the fast drying of print on the production line due to LED UV drying process.
Another important feature for varnish printing is that the varnishing is typically cost effective.
No matter the effect you aim to achieve from varnish printing, you have to take advantage of the features from this type of printing and incorporate it to your business. From luxury cardboard / metal / wood packaging to wooden boards used as indoor decorations or multiple types of substrates used as outdoor and indoor signage, as well as direct LED UV printing on phone cases or electronic gadgets and many more, varnish printing with artisJet offers multiple possibilities for your printing business and for your customers.
FIDGET SPINNERS – WHAT ARE THEY?
Fidget spinners are small devices that can rotate between the user's fingers. For sure fidget spinners are the hit toy-gadget of the year. These addictive stress-relieving toys spin in your hand for up to two minutes or even more, promising an easy operation with one hand. But that is not what artisJet sees important for these spinning gadgets.
The fidget spinners come in various colors, sizes, and designs. And this is where artisJet comes in action. Why the customers have to buy already customized fidget spinners when they can get a very own personalized spinning toy with the designs they choose?
artisJet launched new ideas on the fidget spinners printing. artisjet LED UV printers are capable of direct printing on any kind of fidget spinners substrates: plastic fidget spinners, metal fidget spinners, and any materials they may be made of. It can print also on the ring fidget, therefore on the whole hand spinner toy.
HOW TO PRINT ON FIDGET SPINNERS?
In order to ensure an easy-to-follow printing process on fidget spinners, artisJet created custom made printing jig that allows printing 24 fidget spinners at one pass within few minutes. The jig can be used for a portrait format printing on artis 3000U A3+ LED UV printer, but at the same it can be used in a landscape format on artis 5000U A2+ LED UV printer.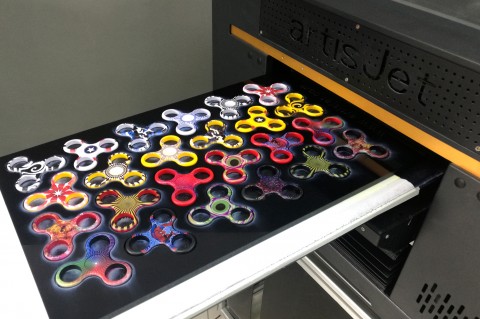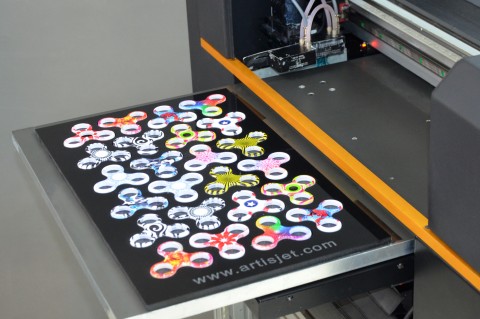 It's your choice how would you like to print. Just make the adjustments with artisJet RIP software and hit print. Demonstrating features of the artisRIP software are made in such a way so you can easily understand how to use it.
WHAT KIND OF DESIGNS CAN BE PRINTED ON FIDGET SPINNERS?
The designs can be printed on the full spinner toy, perfectly covering all of its round edges. The resulted prints are of high quality, with a gradient color output, rainbow color, high precision image printing and anything else you have in mind.
Let's take printing on a white plastic fidget spinner as an example. What you have to do? After making all the settings in artisRIP software, the first step is printing the colors. After the colors have been printed, a layer of varnish printing is required. Besides acting like a protective layer, the varnish printing enhances the printed colors by giving an extra glossy and lustrous look.
You can customize fidget spinners as desired and deliver the designs in the smoothest way with vibrant fun colors for premium look and feel.
Any creative personalized fidget spinners can be printed. If you have any more creative pictures to print or if you want to create unique, custom made funny items for your customers too, artisJet digital LED UV direct printing solution on fidget spinners is a really great and strong idea for personalization businesses and a catchy custom made solutions for customers, as the fidget spinners are so trendy nowadays.
Do we draw your attention? Ask for product quotation and details on fidget spinner printing solution with artisJet at This email address is being protected from spambots. You need JavaScript enabled to view it..
WHY YOU SHOULD START YOUR OWN CUSTOM CASES KIOSK BUSINESS?
Starting a kiosk business is an effective idea for a business with little investment and little space, but with high ROI. With artisJet LED UV printers, it's easy to start a kiosk printing business because it gives you the possibility to print on various applications in small spaces.
For example, customized cases and electronic production printed covers are an all popular preference for smartphone and other devices users of all ages. This has triggered the phone case printing business to sparkle as a highly advantageous opportunity.
The consumer finds great value in investing in a protective cover. Statistics show that 9 out of 10 phone users will choose a personalized phone case and cover and for tablet as well. In phone case business, the better the design and durability of the cover, the more it will be demanded. Being able to get a case with any image on it at a competitive price within minutes is quite a value proposition to consumers.
Phone and tablet case printing is widely used and has a great market range in the personalization industry. Add to this, a kiosk business is the best way to approach the customers: the customer doesn't have to deal with long production waits or high shipping costs. They will be happy to get this service for a lower price than online competitors and right away.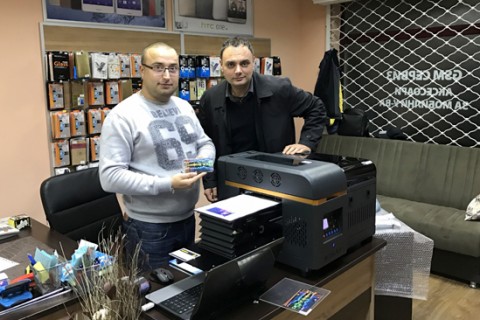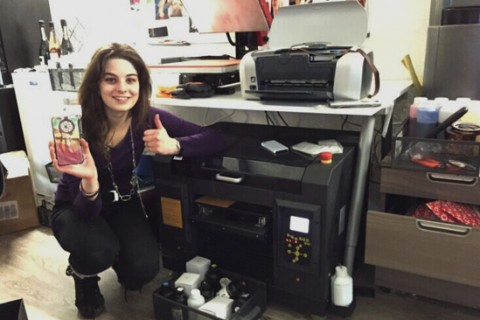 HOW TO START A CUSTOM PHONE CASE KIOSK BUSINESS?
In order for you to create a powerful business by making beautifully designed, durable custom phone cases printed within minutes, artisJet recommends the artis 2100U A4 LED UV printer, which will print not only on phone cases but on various substrates, materials, and applications.
But if your startup idea involves not only printing on phone and tablet cases but also larger items such as wooden or canvas photo frames and wall decorations, artisJet recommends artis 3000U A3+ LED UV printer.
For other applications, both artisJet A4 and A3+ LED UV systems have the ability to print on PVC cards, golf balls, pens, key chains and others, making it ideal for custom gifts items printing, giveaways printing, promotional items printing, office stationery printing etc.
Which LED UV printer to choose for kiosk case printing business? Due to the integrated LED UV lamps which instantly cure ink during printing, both systems are beneficial for printing directly onto phone and tablet case materials such as ABS, polycarbonate, plastics, acrylic, leather, silicone and any other type of case material available on the market.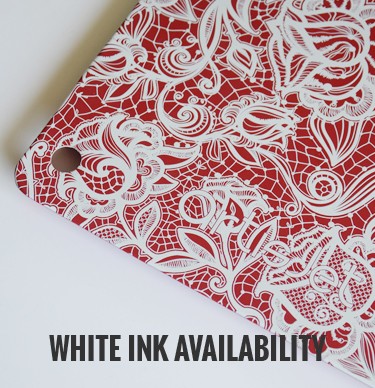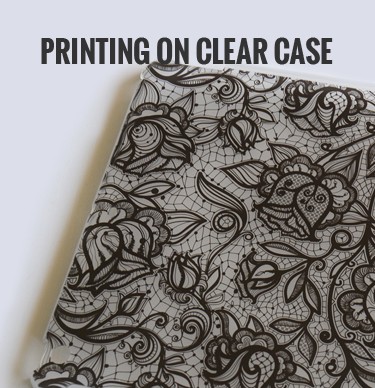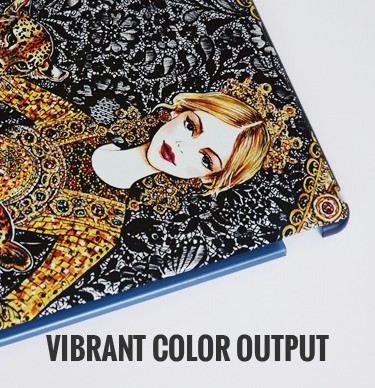 When it comes to choosing the right quality printer for your commercial needs, you can get high performance and speed printing solution at reasonable price range. With a built-in continuous ink supply system (CISS) and 6 ink channels (CMYK + WW) at an effective cost for artis 2100U printer and 8 ink channels (CMYK + WWWW) for artis 3000U, these printers are everything you need to start a phone and tablet case kiosk printing business.
ARTISJET LED UV SYSTEMS' PRINTING CAPABILITIES
In terms of printing capabilities, artis 2100U and artis 3000U LED UV printers, like any other LED UV printers of the artisJet product line, have the advantage of printing RAISED GRAPHICS. This feature has different names on the market: raised graphics, raised colors printing, 3D effect printing, embossed printing, textured printing, tactile color effect, touchable colors and more.
Custom raised printing can be achieved with multiple layers for inkjet height, delivering varnish and glossy print capability and durable 3D character printing, with a letter thickness up to 10 mm. The ink consumption is a virtually non-issue. For example, you can print one plastic phone case with embossed effect within 2.5 minutes (white ink four times and color ink one time). You can print the raised color effect on a plastic tablet case in 5 minutes (white ink six times, color ink one time).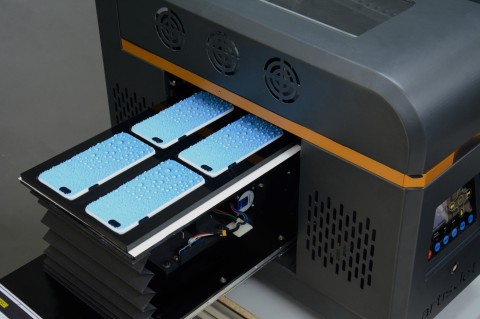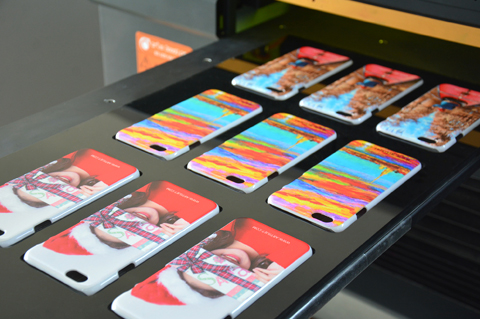 Printing on a white silicone phone case with only color ink it will take just 30 seconds. In order to print a regular leather tablet cover using just color ink, with artis 3000U it will take 1.5 minutes. Take note that you can also print directly on the smartphone itself.
Looking to add clear cell phone cases to your business product line? Some machines only print on hard clear substrates, does not print white ink and the final images are not vibrant. With a high printing resolution, artisJet's 2100U and 3000U are ergonomic versatile printers suitable for both flexible and hard substrates. Moreover, both systems have a white ink channel for printing on dark and transparent materials, which adds quality in order to create genuinely unique products that make a VIABLE BUSINESS.
You can print on any phone case model and brand with an EFFECTIVE COST of 0.016 $ / iPhone 6 case. Supporting any type of files, with artis 2100U you can print 4 iPhone 6 covers in one pass within 3-4 minutes. With artis 3000U you can print 9 iPhone 6 cases in one pass within 6-7 minutes, depending on the artwork complexity.
WHICH ARE THE KEY FACTORS FOR STARTING A CUSTOM PRINTING KIOSK BUSINESS?
Where can you place your kiosk business? There are multiple lucrative selling channels: mall kiosks, special events kiosks, corporate promotions kiosks, airports kiosks are just some of the selling channels that are experiencing great results with selling personalized products. But the mall kiosks have proven the most successful for artisJet's clients who sell custom products. The shopping mall kiosks are generally promising high traffic, therefore a large number of potential customers.
Flexible business solution. What products to display in a mall kiosk business? Think VERSATILITY: all the products you can get into a kiosk. FLEXIBILITY is another advantage of a small size printing businesses like kiosks.
How's that? First of all, is about the products you sell. So don't limit yourself to making one item. If a product doesn't work, you can shift to a new product, and the personalization industry offers you MULTIPLE CHOICES to choose from: phone case printing, office stationery printing, gifts and giveaways printing, promotional items printing, coasters printing, photo frame printing, gift boxes printing and so much more. The options are ENDLESS. And secondly, you can choose to relocate, as shopping malls are placed almost everywhere.
Moreover, you can take advantage of special events and holidays (Easter, Christmas, Mother's Day, Valentine's Day, sports events etc.) and transform your business into a seasonal printing kiosk business.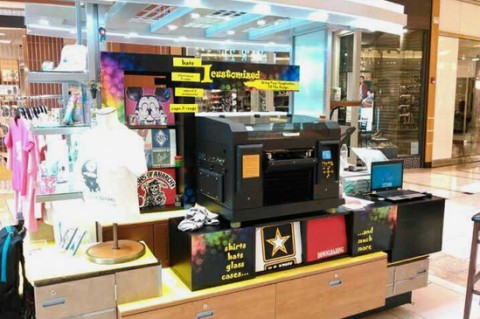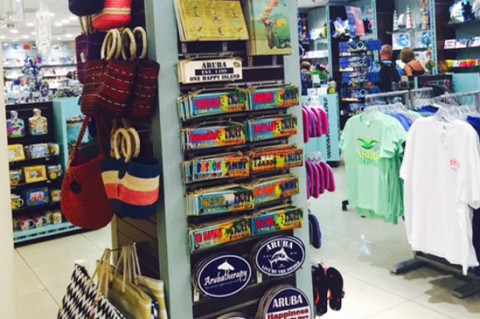 The time-saving solution. If you are starting from scratch, a kiosk printing business is widely used and has a great market range in the personalization industry. Add to this, a kiosk business is the best way to approach the customers, is TIME-SAVING, the customer doesn't have to deal with long production waits or high shipping costs. They will be happy to get a customized service for a LOWER PRICE than other competitors and right away.
High Return on Investment. While the costs of establishing a permanent retail location can be steep, kiosks can be an easier way to step forward towards a personalization printing business with a lot LESS RISK. Starting a printing kiosk business is an effective idea for a business with LITTLE INVESTMENT and little space, but with HIGH ROI.
Fortunately, a printing kiosk business is a reliable way to produce a quick return on investment. It will begin generating revenue and you could recoup your costs within months or weeks. With a permanent mall location, you can build a clientele and predict how the business will go.
HOW CAN ARTISJET HELP YOU START UP A KIOSK PRINTING BUSINESS?
artisJet gives you the printing solution for your idea: equipment, materials and in-depth training, everything you need to create a powerful business making various beautifully designed, durable custom products printed within minutes.
Space saving installation solution. With artisJet LED UV printers, it's easy to start a kiosk printing business because it gives you the possibility to print on various applications in small spaces.
For a kiosk business, artisJet recommends two LED UV printers from artisJet product portfolio: artis 2100U A4 LED UV printer and artis 3000U A3+ LED UV printer.
artis 2100U and artis 3000U LED UV printers' main characteristic is their ERGONOMIC DESIGN, a feature that entitles these units as being the SMALLEST IN THE MARKET for their product category. That is the reason why this UNIQUE size feature makes artisJet's A4 and A3+ printers to stand as EASY TO HANDLE desktop units that are suitable for small working spaces, home-based businesses, small shops and more. You'll get quality and productivity on few square meters.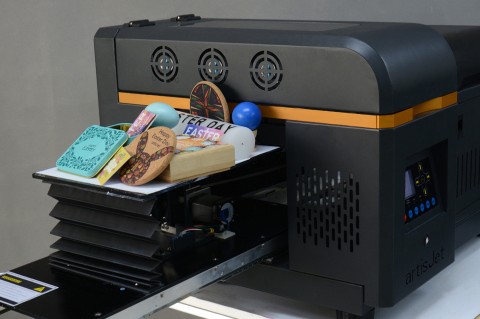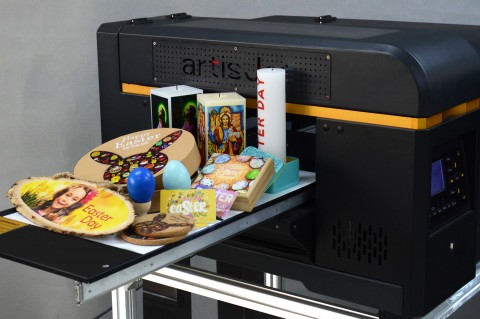 artis 2100U
Printing area:
18*29.7 cm
Printing height:
5 cm
Printing time/A4:
4 minutes
Machine size:
57*56*44 cm (D*W*H)
artis 3000U
Printing area:
28*60 cm
Printing height:
9 cm
Printing time/A4:
3 minutes
Machine size:
64.5*69*49 cm (D*W*H)
Fast and efficient production speed. Equipped with a long life LED UV curing lamps, artis 2100U A4 and artis 3000U A3+ LED UV printers require no warm-up time, making it efficient to use. Due to the integrated LED UV lamps which instantly cure ink during printing, both systems are beneficial for printing directly onto substrates. Add to this, the CONTINUOUS INK SUPPLY SYSTEM ensures an economical product cost.
With TOTAL MEDIA VERSATILITY, both LED UV units are suitable not only for printing on various applications (PVC cards, pens, key chains, coasters, promotional items, office stationery, giveaways etc.) but on a wide range of substrates and materials as well: direct printing on wood and wood derivatives, direct printing on acrylic applications, direct printing on plastics, leather, silicone and many more.
All of these can be achieved with HIGH-RESOLUTION quality printing up to 2880 dpi, EASY OPERATION,and FAST PRODUCTIVITY.
Safe and environment-friendly machines. artisJet's LED UV systems can print on various colors on the surface and gives a quality finish printing that won't suffer any transformation because of heat or pressure, as the LED UVs work with LOW TEMPERATURE and are also ENERGY EFFECTIVE.
artisJet LED UV printers are great for use in crowded places due to ENVIRONMENTAL FRIENDLY characteristics: ODORLESS, almost SILENT machines, ECO-FRIENDLY ink due to LED UV INSTANT DRYING feature.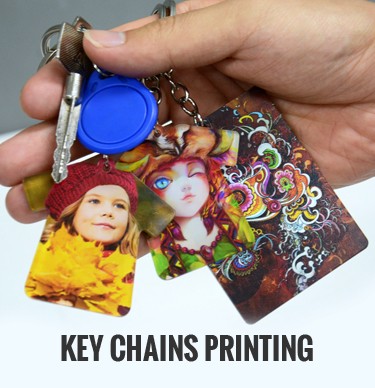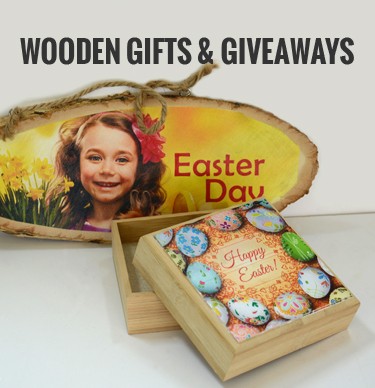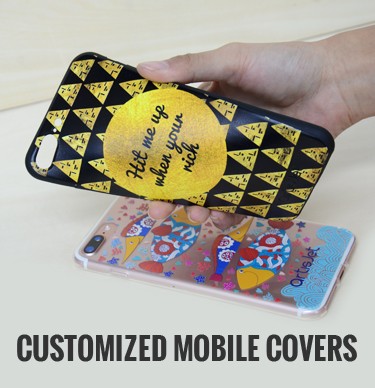 You can ask for a demo on the machines, as artisJet is able to run through a wide range of applications for the machines based on your request and to show you the digital LED UV printing capabilities of artisJet printers related to your business needs.
Need help on evaluating your printing business ideas? Get your FREE SAMPLE TESTING on your request by contacting artisJet at This email address is being protected from spambots. You need JavaScript enabled to view it. and realize your kiosk printing business plans with artisJet solutions.
Personalized pens are for everyone. artisJet strive to offer quality trusted products for your printing start-up business or for development in the personalization printing industry, ranging from artisJet UV LED printers, artisRIP software, artisJet inks to printing accessories that can ease your work flow.
One of artisJet printing solutions and ideas for starting or growing a business is the promotional pens printing.
Even though nowadays everyone benefits from the digital development, such as laptops, smartphones, tablets, computers, people are still taking advantage of the beauty of writing and which are most suitable for this than pens?
Pens can be fully customized for a company or organization turning them into effective promotional items. On the other hand, pens can become a unique gift if customized for personal use.
Add some color to your brand by promotional pen printing and give something new to your customers. Print directly on the pen, regardless the material: plastic, wood, bamboo, metal etc. and in any palette of colors.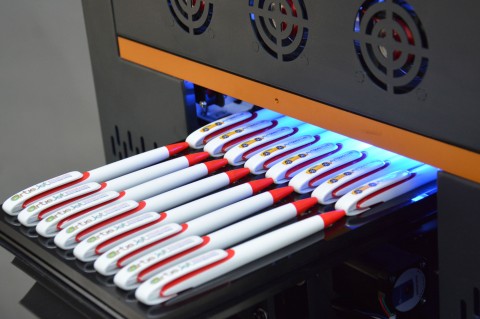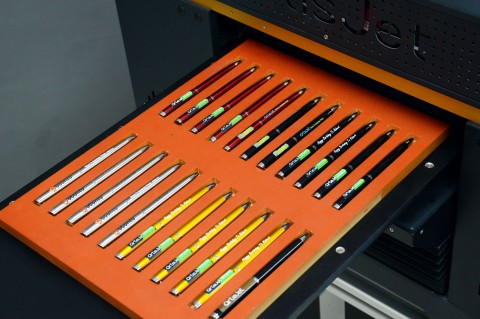 ARTISJET DIGITAL LED UV SOLUTIONS FOR PERSONALIZED PEN PRINTING
Personalized printed pens are always a great tool for advertising your product. It helps companies to reach to the consumers about their business and create market awareness.
Some printed pens are screen printed and some are pad printed. But these are old fashioned and outdated printing ways.
When it comes for high demand, the proper way for personalized pens is artisjet's digital UV LED technology. You can be sure that this will turn your high printing demand into high profit with the help of artisJet's ergonomic LED UV desktop platforms such as artis 2100U and artis 3000U.
artis 2100U is everything you need if you plan to give it a start of a personalization business. Even though it is an A4 platform, with its total media versatility you can print more than pens.
artis 2100U provides stable colors on long print runs and mixed media jobs (wood pen printing, plastic pen printing, metallic pen printing, bamboo pen printing), all combined into a sustainable solution designed for small and medium size production environments and profitability.
The digital printed text, logos, even images directly onto pens of any substrate using artisJet flatbed printers offers durable results allowing gradient colors printing with high adhesion, brightness and textured embossed results, regardless the color of the material (plastic/ABS pen printing, wood pen printing, metal pen printing, carbon paper pen printing, customized glue pen printing etc.).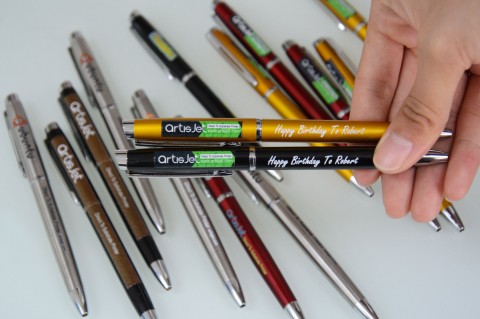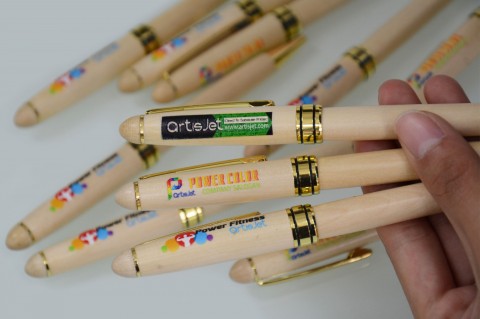 With its ease of use, artis 2100U is consistent and dependable, allowing printing jobs of 16 pens per pass in just 1.5 minutes!
Looking for a fast production without any quantity limit? Then turn towards artis 3000U A3+, artisJet's LED UV printer that allows printing 33 pens at once, even with different logos and graphics.
Using on demand customized bakelite printing trays, you can perfectly place the pens and print gradient output logos both on pen barrel and pen clip for outstanding printing jobs in no time.
How to create custom printed pens with artisJet LED UV printers?
You can personalize pens with your company name, information and logo of your choice with vibrant colors, fully customizable text on any pen substrate. From start point to finished product, with artisJet LED UV pen printing you can enjoy the clean prints on the pen barrel or on the pen clip.
artisJet LED UV printers come with a variety of customized printing capabilities. You can get the benefits of printing gradient color graphics, text and logo by using artisRIP software.
On the basis of printing experiences, artisJet has been trying to offer the solution for a cost effective but also easier production method. The matched artisJet printing jigs for pens give the possibility to print multiple pens at one pass, even with different artwork at its smallest detail.
Designed to meet the diverse needs and high end production requirements not just for commercial environments, but also for personal use, you will achieve consistent crisp text and detailed prints with high quality output and user friendly operation, all combined in artisJet products for pen personalization.
Interested in artisJet's printing solution for your business? Discover more by sending your inquiries to This email address is being protected from spambots. You need JavaScript enabled to view it. or easily use the contact form on artisJet website.
You have a favorite printed application sample? Request a sample!
Flexible business market channels and comprehensive capabilities.
Personalized phone and pad cases and covers has become one of the main solutions for the printing industry developing at the same time with the boost of the electronics industry for smartphones, tablets and any kind of portable devices that requires protection.
There is no limit for the phone brands, phone models, and photo designs. You can print not only on Iphone, Samsung, HTC, but also on Sony, HUAWEI, Blackberry etc. And it is not only about printing on phone case and covers but on every kind of accessories with protective features for electronic devices, such as laptop covers printing, notepad covers printing, tablet covers printing etc. Just pick what best suits your business and your targeted market.
If you plan to start a phone case printing business, learn that LED UV printers have the perfect features for this: you can print dark graphics by opaque white ink and vibrant, full color images, with unlimited printing possibilities of a large variety of materials covering from metal, wood, plastic, leather, acrylic, ABS, bamboo, aluminium, glass to more and more.
It doesn't matter if the substrate is hard or flexible, the LED UV ink adheres perfectly to any type of printable area with durable results. Taking the leather substrate as an example, the LED UV inks preserve flexible capabilities that go hand in hand with printing on leather. This way, you are sure that you'll get vibrant colors for non-cracking finishes.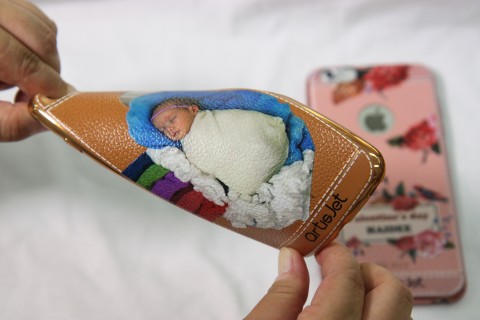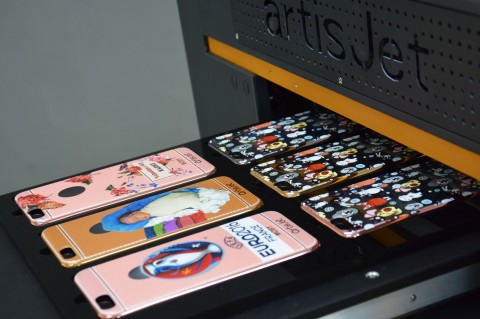 COMPLETE SOLUTIONS FROM A TO Z WITH ARTISJET FLATBED PRINTERS
No matter which type of phone case business you want to develop, artisJet provides full solution for the phone case printing industry for the variety of materials including poly carbonate, ABS, leather phone covers, TPU phone cases, metal phone cases, wooden phone cases, aluminium phone back covers, rubber phone cases, silicone cases and covers, glass phone cases, acrylic phone cases and much more.
You can get glossy and 3D textured printing results with artisJet's unique phone case printing inks and artisRIP software in a minute. To make the 3D embossed effect more touchable, print 2 or 3 times more for white printing with proper White Layer Generation software setup and easily control what should be embossed and textured.
Moreover, the white ink capability ensures that all the colors of cases can be printed directly, including white case, black case and transparent case. Due to the anti – static printing system, you can get clear prints and glossy finishes even on transparent materials.
Carved/hollow case printing can be achieved with high-resolution case decoration and rich, vibrant colors on to the surface of the case that resists scratches and prevents image from fading, rubbing off or blurring.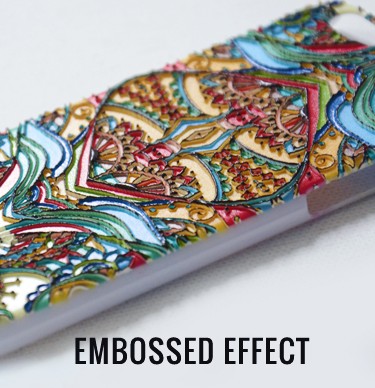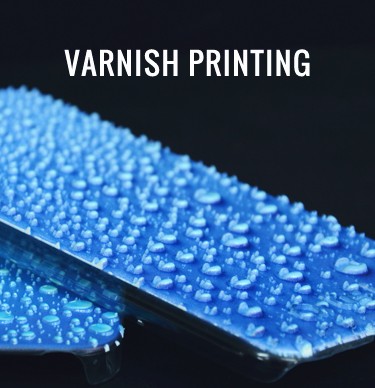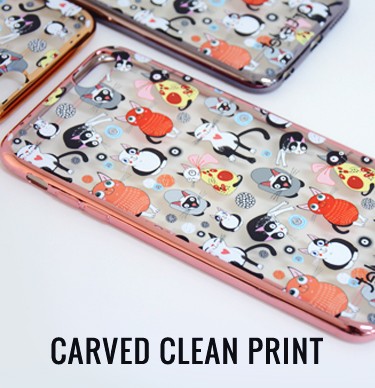 artisJet's flatbed printers can be used for the phone and pad cases and covers printing with high photo quality printing, strong durability and easy operation at low costs and increased printing speed.
artisJet has been focusing on equipment for printing jobs since 2011. Therefore, artisJet continuously developed technologies, inks retention, consumables and software as well which can ease the printing process even for phone case printing production. artisJet offers printing capabilities for different users in different situations with full solutions to start or expand the business by focusing on your marketing and good products, while artisJet equipment ensures the productivity.
In order to sustain this idea, artisjet has developed eco-friendly direct to phone case and UV LED inks for phone case printing without the need for pre-treatment or pre-coating.
It's all about easy running when it comes to phone case business. You do not have to have a professional background for everything; you just need to take pictures, to know adjusting the photo size accordingly and how to run the print in few simple and easy-to-follow steps.
Minimum investment for phone case printing.
You can start a phone case printing on demand business with a small investment, which makes it a solution suitable for business runners of any age, no matter if a new graduate or in any other levels of situations.
Direct to phone cases and covers printing business has no standard marketing for the products, giving the possibility for you to be the one who can meet the client's requests and make the customers happy.
To summarize, artisjet offers multiple possibilities for phone case printing. Whether you choose a solution for a startup business which implies the ergonomic artis 2100U LED UV printer and its benefits: 4 Iphone 6 covers at one pass in 3 minutes on multiples substrates and with photo quality and glitter finishes or you need to grow your business in which case you'll have to take the advantages of printing with an A3+ platform such as artis 3000U: 9 Iphone 6+ covers per pass, with an effective cost of only 0.016 $ per case.
Printing from one to quantity production phonecases, a quick return on investment is an essential factor related to the printing or product cost and you can be sure that you'll get profit in no time with artisJet printers.
Interested in artisJet's printing solution for your business? Discover more by sending your inquiries to This email address is being protected from spambots. You need JavaScript enabled to view it. or easily use the contact form on artisJet website.
You have a favorite printed application sample? Request a sample!
How to take the personalization printing to the next level.
The solution is to bring to the light the uniqueness of variable data printing. Through variable data printing, you can engage more customers into more personalization printing solutions of your business.
How's that? The overview of Variable Data Printing is that a printer uses technology to drive the printing process. Together with a software specialized not only in VDP but for multiple printing on demand jobs, such as artisRIP V.9.1, a printed item can contain variable information without limiting the content and even graphics. This is what makes digital VDP a truly economical solution for your business.
At the same time, VDP ensures individualized production pieces at a high quality automated workflow. Variable Data Printing is a solution that sells itself, solely by the increased ROI in the market place, adding true value and engaging customers in a variety of industries.
What is artisJet VDP (Variable Data Printing) solution?
A solution empowered by artisJet printers and artisRIP V.9.1 software allowing a continuous production for variable data printing onto all the substrates in bigger quantity on demand.
In terms of production, it is about a direct printing technology on any materials including on demand printing, in which elements such as text, graphics, barcodes and images may be changed from one printed piece to the next, without stopping or slowing down the printing process and using information from a database of external file.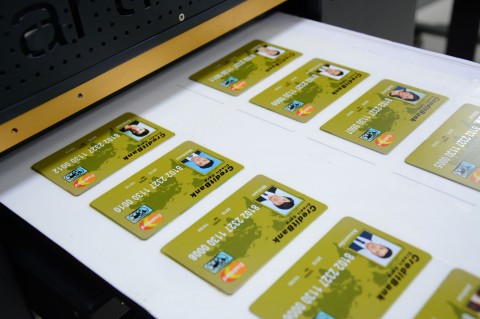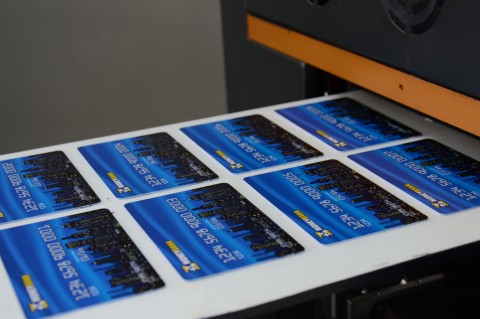 DELIVERING PERSONALIZED VARIABLE DATA ON ALL SUBSTRATES VIA DIGITAL DIRECT PRINTING
Unique features of artisJet VDP printing.
First of all, Variable Data Printing applications can help you expand and add benefits to your business by developing new market products. This is an effective way to attract more customers, a solution that is directly proportional with an increased investment level and a minimum effort for an overall productivity workflow.
Moreover, Variable Data Printing can be used for all products, covering a wide range of materials and products for you to print directly at a fast yet quantity production.
With professionalism in mind, artisJet aims to offer comprehensive VDP printing solution with the capability of total ease of access and functionality. This translates into providing not only printing platforms, but software solutions as well in order to operate the printing applications, with a minimized learning process as a benefit.
To support this idea, artisJet VDP production is empowered by artisRIP V.9.1 software.
How artisJet direct to substrates printers work with the VDP?
Benefiting from the unique feature of direct printing on any substrates with embossed and glossy results in sharp color detailing, artisJet printers have been widely used for products with high additional value in the personalization industry.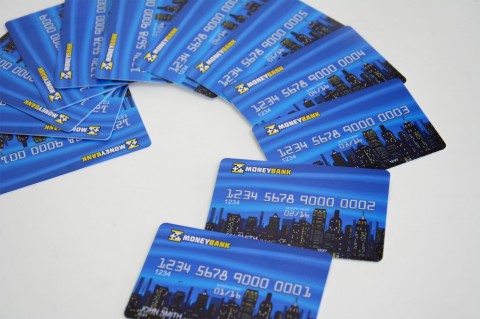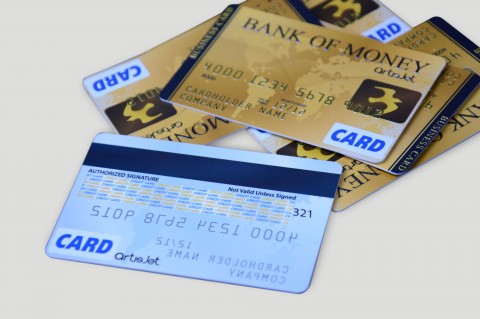 Which are the steps we need to follow in order to realize the VDP direct printing?
Let's take the variable data card printing as an example.
When we print the cards in the same background layout, but with different contents (e.g. business cards, credit cards), the data of the card such as names, photos or coding are different. If you want to complete the output printing of cards with different data by one pass instead of importing it every single time, we need to use the artisJet V.9.1 variable data printing software. This can be done in few simple steps.
A first step is creating an Excel file which will contain all the information required for the VDP cards.
Secondly, benefiting from the artisJet Software, a card template must be created. The card template is determined by each customer's requirements in terms of size, contents, graphics and design. As for the style layout, the customer could design his own VDP card using the various tools in the artisJet V.9.1 software.
After the template was finished, the next step is to correlate the design with the variable data from the Excel file, software setups and proceed to the printing and other settings.
For detailed printing steps and software setups regarding Variable Data Printing, check artisJet's VDP card printing solution on tutorial page.
With artisJet VDP printing you can get an attractive solution suitable for direct marketing and branding and a personalized option as well, which is coherent with your customer's interests, increasing the responsiveness towards the business.
Interested in artisJet's printing solution for your business? Discover more by sending your inquiries to This email address is being protected from spambots. You need JavaScript enabled to view it. or easily use the contact form on artisJet website.
You have a favorite printed application sample? Request a sample!
What is acrylic material? Acrylic and plastics printing represent a huge market in particular. Clear acrylic or plexiglass has been brought to market as a durable substitute for glass, having half the weight of the glass and being up to 30 times stronger. Acrylic is a material than can be transformed in so many different ways and it can be cut into various shapes and the most interesting ones are the acrylic awards.
Acrylic is a widely used plastic for the daily life consumables and industrial usage. It includes the following different types: acrylic fiber, acrylic glass, acrylic resin, acrylate polymer. From opaque, clear, white or any color of acrylic substrate, you can use LED UV direct printing on each one of these and reach glossy, shining and embossed/textured printing results with minimum effort and investment as well as fast and effective production.
When it comes to plastic printing, acrylic offers several advantages and large applicability in the printing industry. Besides a substantial look and feel, acrylic substrate offers translucency, enhancing the printed design while reinforcing its value.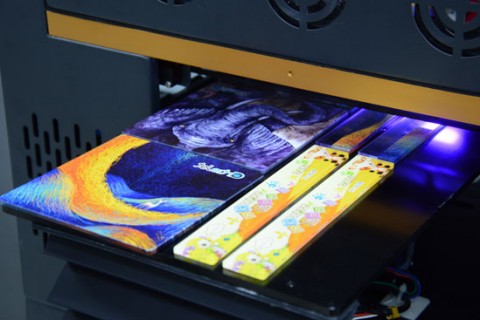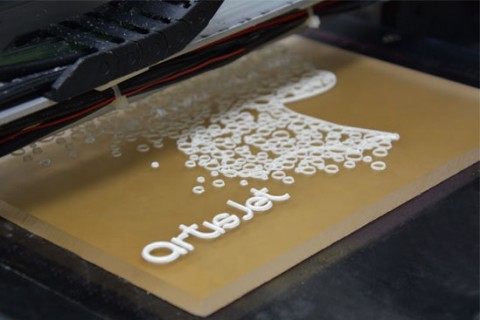 ARTISJET LED UV ACRYLIC PRINTING FEATURES AND ADVANTAGES
If you consider printing on acrylic, there are a few things to keep in mind: longevity, usability and appearance. The various shapes of an acrylic award make an outstanding first impression. Add value by printing on acrylic awards using gloss or matte finish, textured printing and vibrant colors.
Acrylic applications can be personalized with names, text, logos, artworks and graphics and this can be effectively achieved with artisJet LED UV direct acrylic printing systems, regardless the size of the media or the thickness and flexibility of the material. The printed inks add a glossy effect to the designed elements and a raised effect will create a contrast with the translucent acrylic material.
Crisp and colorful artwork and graphics are printed directly to the acrylic substrate that can last just about into any interior environment or even as an outdoor signage installation.
From small acrylic items such as acrylic key chains printing, protective cover cases printing, phone ring holders, acrylic coasters printing, golf balls logo printing, acrylic ruler printing with metric markings to large applications such as acrylic blocks for awards printing, acrylic photo block frames printing, acrylic indoor decorations such as candle holders or signage acrylic displays, you can achieve all of these with artisJet LED UV printing technology.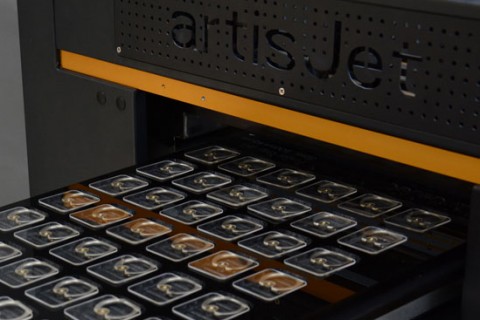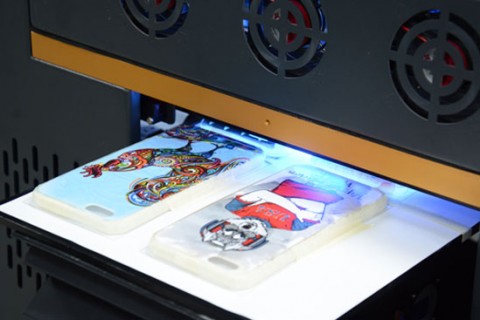 Reasons for choosing artisJet printing solution for acrylic substrates.
If you consider printing on acrylic, there are a few things to keep in mind: longevity, usability and appearance. The various shapes of an acrylic award make an outstanding first impression. Add value by printing on acrylic applications using gloss or matte finish, textured printing and vibrant colors.
With artisJet eco-friendly ink system and artisRIP output printing solution, you can print directly on the acrylic substrate without any treatment but with sharp color performances and professional quality prints to reach your customers' demands. artisJet printers are easy to work with just like office printing machines. You can get your desired awards in a minute once you finish the artwork design. After that, you can enjoy the long durability and color sharpness. Due to artisJet ink performances and artisRIP software flexible capabilities, we can get 5760 dpi as the maximum printing resolution in strong color durability, waterproof features and scratch resistance.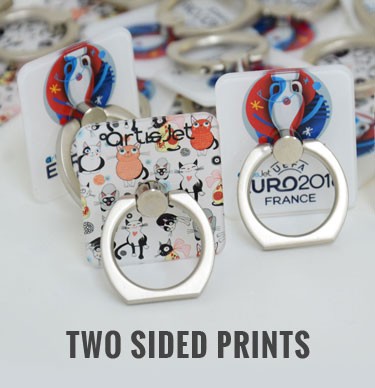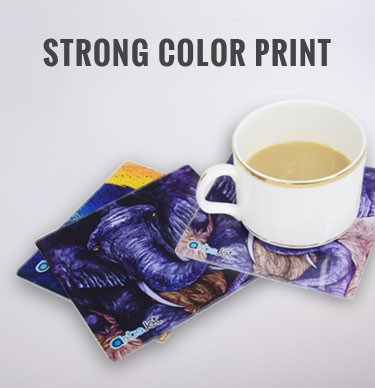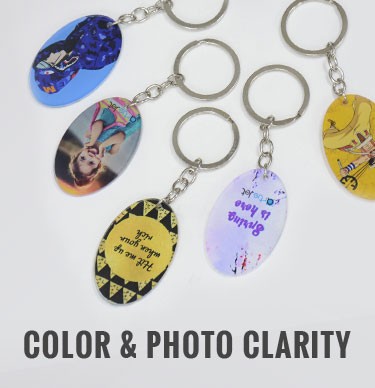 Acrylic applications such as awards, trophies, plaques production and other printed acrylic media are traditionally made by heat transfer but with high cost, limited design and low productivity.
No matter if you have to print a simple color pattern, a full color or gradient color, all of these can be printed as mass production in one template with different photos due to the artisRIP software.
artisJet offers ergonomic systems with 4 minutes printing time for A4 print at photo quality, A3+ printing precision and high definition printing on acrylics due to the anti-static module and 55 x 80 cm materials loading size for large format printing in no time.
Custom color printed acrylic applications is a great business opportunity that can reach numerous customers from multiple domains such as events and conferences awards printing, and much more. artisJet provides an eco-friendly working environment for printing acrylic applications at an increased production speed and low cost printing solution.
What PVC means and what plastic cards are? PVC is the most common thermoplastic material which comes in two basic forms: rigid and flexible. It can be easily converted into different forms making its use across various industries an evident advantage: profile applications, bottles, packaging etc.
Plastic / PVC has a wide range of applicability in card printing. PVC is a resistant, flexible, durable, cost effective to produce and easy to print on material. PVC is also a durable substrate and is not affected by corrosion or other forms of degradation. That is why PVC has a wide range of applicability especially in digital card personalization.
Card printing can cover multiple applications such as membership cards, ID cards, pre-paid phone cards, security cards, luggage tags, gift cards, key tags, name badges, door hangers, access cards and parking permits, outdoor and indoor card signs, business cards, game cards, casino chips and many more.
In addition, given the technology available, plastic cards can include magnetic strips, QR codes, barcodes, just like a credit card. These cards can be used as gifts cards, shopping cards, vouchers or any card, providing further information to the retailers and at the same time to serve as a marketing opportunity.
Usually, cards have the standard size of a credit card and can be printed in single color or full color, font side or on both sides, with high resolution images. By printing on plastic cards you can give to your customers creative, innovative, cutting edge and professional solutions regardless quantity.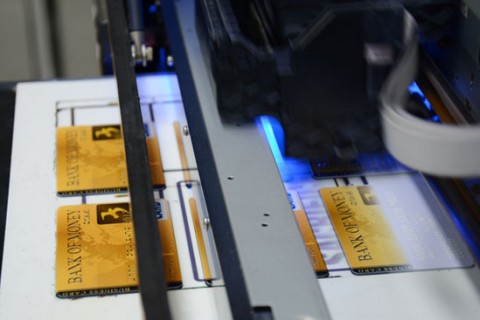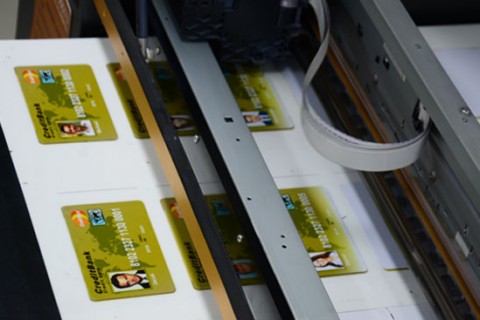 LED UV PLASTIC CARD PRINTING ADVANTAGES
Digital printed plastic cards provide numerous features. A simple blank plastic card can be printed with any combination of text, logos, graphics, full images, barcodes and any other purpose you want to give to the card. Additional readable information can also be encoded: magnetic stripes, barcodes and even smart card chips.
With nowadays LED UV printing technology, creating custom printed plastic cards is easy. Digital card printing is a simple process in which graphics, data, images are physically printed on a card directly from a computer system.
Image quality, flexibility and durability. Digitally printed plastic cards have an image quality far superior to the traditional printing methods. Images are sharper while various graphical elements and text on the card are more consistent, clearer and more readable. LED UV printing colors are vivid and strong, providing virtually unlimited color selection with high shine gloss when required or matte finish.
artisRIP software used to produce the cards provides the flexibility to change designs and variable data as well, while varnish ink enhances the card durability. LED UV ink colors will last longer even in outdoor exposure, preventing the color fading.
LED UV printing technology provides various levels of card durability in terms of anti – scratch characteristics or water damage. Also, digitally printed LED UV plastic cards are heat resistant.
Raised lettering printing. Embossed lettering and numbering can be added to the plastic cards while printing. This option is mostly used on credit cards and membership cards or any card to display personalized names, information and dates, account numbers, sequential numbers etc. Raised lettering plastic cards add value to your business and convey a professional impression to the customers. Raised print makes the plastic card outstanding, giving the ink an irresistible texture and feel.
Moreover, raised characters plastic cards are a great way for blind or partially sighted people to identify their bank cards separate to their loyalty cards and to figure out the correct orientation of the card. It's easier to recognize an embossed card than a flat card.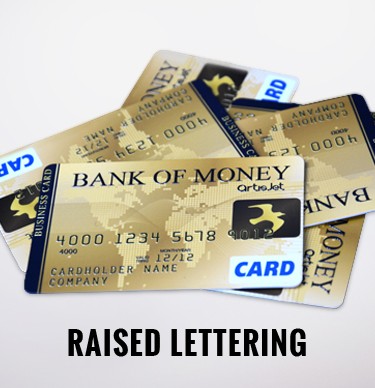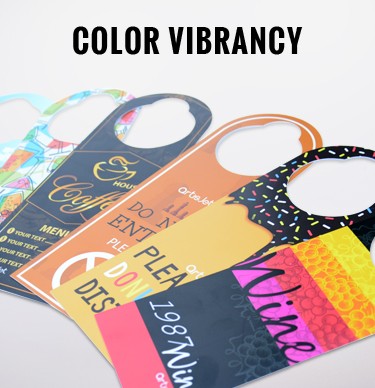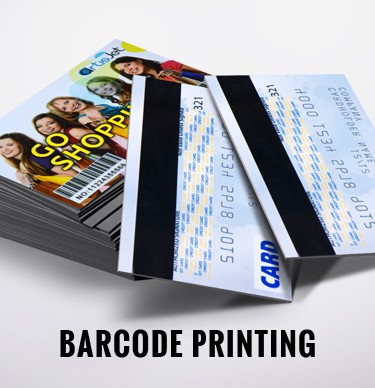 Convenience and cost effectiveness. On the basis of printing experiences, artisJet has been trying to offer the solution for a cost effective but also easier production method. Instead of relying on traditional paper cards that are often damaged, custom plastic card printing gives essential value to a business service, making it relevant. Printing on plastic cards adds brand recognition and can increase revenue and sales of a business. Most important, plastic cards can be reused and this also contributes in lowering your costs.
How to print on plastic cards. artisJet ensures two ways that can ease the printing process. One option is single card and quantity card printing without card jig. artisJet released a special mat that placed on the printer's working table it acts like an adhesive band, although is glue free, but keeps the printing products in place. The easy to use mat table has washable feature enabling a long life.
Further, print directly by placing the cards onto the artisJet mat table (Efixer), import data/images/artwork from artisJet RIP V.9.0, locate the cards onto the frames printed on Efixer and print directly. The second option requires a jig use. artisJet has a card jig allowing the print of 24 cards at one time (5.4 x 8.6 cm).
Variable data printing can be performed directly from an Excel file, with the possibility to print a quantity of 18 pieces per print. This also allows to change the data in printing for card holder name, card number, card profile image, expire date.
Digital PVC card printing solution to enhance your company's productivity. The best way to print on a PVC card is to use a LED UV printer with specialized software. LED UV printers come with a variety of customized card printing capabilities. You can opt for basic one sided PVC card printing for a home based business production and at the same time you can get the benefits of printing full color with graphics on both sides for large volume of PVC cards.
artisJet ensures digital LED UV PVC cards printing solutions for your business by offering A4, A3+ and 50*70 cm printing platforms. Choosing artisJet's LED UV systems for card personalization printing purposes is an excellent option in terms of speed and production effectiveness as well as investment.
What is LED UV Direct Digital plastic printing? A system that digitally delivers designs and photos from the computer or mobile on all types of plastic materials, from acrylic, polycarbonate (PC), polyvinyl chloride (PVC), polyethylene terephthalate (PET / APET), PETG to ABS (acrylonitrile butadiene styrene) with high quality color reproduction on flexible or rigid plastic substrates and its derivatives.
Other names of this system in the market. In different marketing directions related to the printed material applications, this system can be found under the name of direct PVC card printer, direct acrylic printer, direct plaques printer, direct Braille printer, digital signage printer, digital wall art printer, mobile cover printer, mobile case printer and more than 50 different names, based on the material or product you chose to print on with LED UV digital printing systems.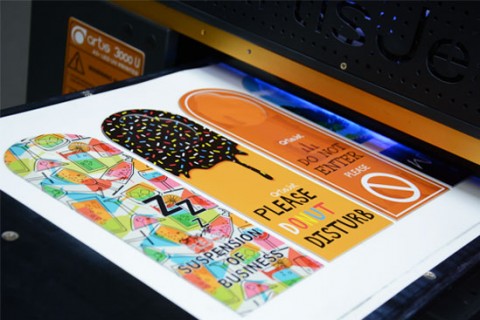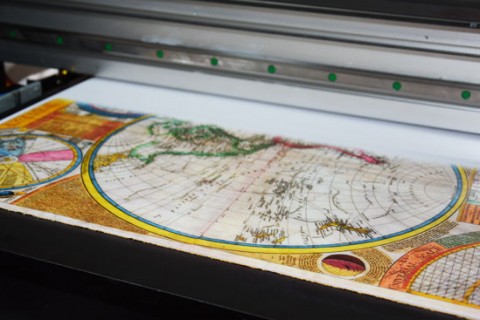 KEY BENEFITS OF THE LED UV DIGITAL PLASTIC PRINT SYSTEM
High color vibrancy, sharpness, textured, glossy and detailing results. The LED UV ink is a kind of pigmented ink which delivers rich, deep colors to maintain their vibrancy. The LED UV ink is unique due to its layering performance. We can achieve 0.3 – 0.5 mm from each printing pass through the RIP software's settings. Therefore, the print becomes touchable due to the embossed printing effect. With the varnish printing ink channel as an option, the LED UV delivers glossy effect to enhance the shining performances of the prints.
Strong color durability. artisJet print systems supports any type of plastic direct printing in any shape. Empowered by artisRIP software, artisJet direct to plastic printers are supporting white and colour simultaneously print at one pass and 3D embossed textured direct print results.
The direct plastic digital printing system is a non-scratch, non-shatter and light resistant printing. The pre-coating will enhance the durability of some certain hard plastics. In addition, test reports have shown that LED UV printing on plastics keeps a high anti – scratch level and durability as well, regardless the color or thickness of the plastic material. Printed plastic applications can last up to 5 years for indoors and more than 2 years in outdoor exposure.
Digitally printed plastic is a great option when you want extra durability or a waterproof substrate. It is a common choice for small or large signs and multiple types of cards such as business cards printing or postcards printing. Plastic printing is also available for labels printing, signage printing, name tags printing, nameplates printing, displays and electronic overlays printing, door signs printing, plastic made electronic gadgets such as power switches printing, power banks printing and others.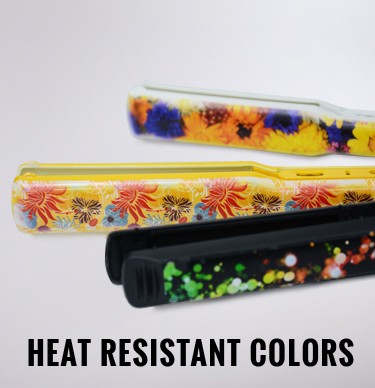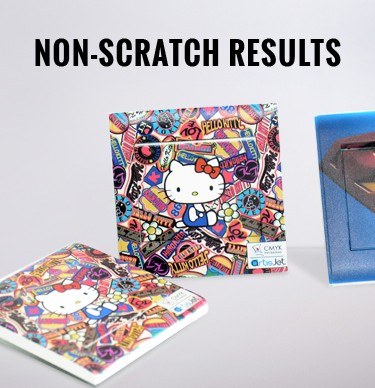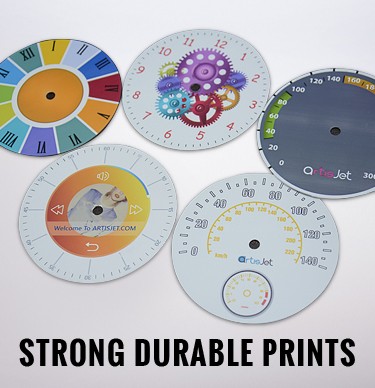 Substrate protection during the printing process. Customers who have purchased LED UV curing printers have discovered the benefits of printing on a wider range of materials as never before and one of the main reasons is the lower heat that dissipates without any damage to the substrate, not even plastic or other soft materials. The heat is transferred away from the substrates by using liquid cooling systems. The direct to plastic LED UV curing printers can be used for personalization printing on demand, for short runs or continuous productivity. This is one of the reasons artisJet LED UV systems are suitable for printing on any type of plastic media substrates (PVC, acrylic etc.).
Printing process made simple. Digitally plastic printing process is defined by flexibility, speed and accuracy for variable printing and production options. artisJet innovative specialty software improves graphic repeatability and results in faster setup and printing time making it possible to turn your design concept into final product with a great return on investment.
The printing process is about three easy to follow steps: just design or edit the images / artwork you have and import them to the artisRIP software and then print. In 3 – 4 minutes you have the product.
Cost effective. Cost is a key factor when it comes to study about a new technology. The LED UV digital direct plastic print system bears cents for an A4 size printing.
Plastic signs printing, plastic card printing, plastic indoor decoration printing, plastic key chains printing and anything that is made of plastic and can be printed, turns to be an economical printing option for large runs as well as home based businesses. The recent technological advancements have made digital LED UV printing a cost-effective alternative for plastic printing industry that can help large retailers.
Moreover, direct LED UV printing on plastics is the right choice if you want to enhance your business without any harm to the environment. artisJet LED UV technology is eco-friendly and allows production in a healthy green working environment. Personalized digital plastic printing solution is undoubtedly worth investing further on the system for additional value at a lower cost.