ArtisJet Blog
Our latest news and activities.
What is Braille? Braille is a system of raised dots that can be read with the fingers by people who are blind or who have low vision. Braille symbols are formed within units of space known as braille cells. A full braille cell consists of six raised dots arranged in two parallel rows each having three dots.
The ADA (Americans with Disabilities Act) requires all public places (except government buildings and churches) to install ADA compliant signage that includes tactile lettering.
What are the advantages of LED UV Braille embossed printing? Why choosing Braille production printers? Braille LED UV technology is useful for all individuals, especially due to its ability to print raised dots in order to create Braille tactile signage for those with visual impairments. This technology provides an easier solution to making Braille applications signs, panels, keyboards for computer or other devices such as electronic calculators.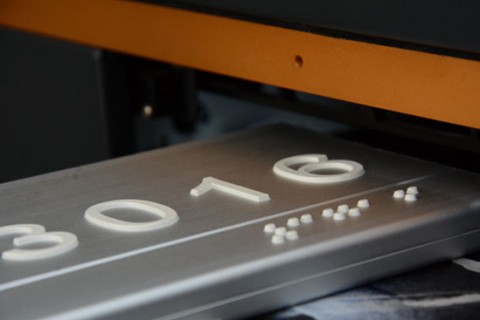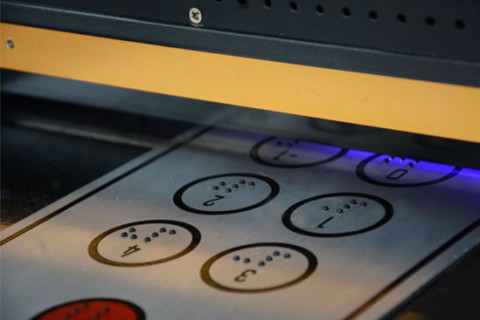 In order to produce Braille raised prints, the LED UV systems come together with a specialized software that allows printing a variety of effects and embossed Braille finish as well and the LED UV platforms will act like a Braille printer. This way, LED UV printing gains the purpose of providing assistance for individuals with vision problems.
Whereas the traditional Braille embossed printers that were made only for this purpose and which are slower and produce noise, LED UV platforms ensures high productivity at a fast pace. Moreover, LED UV printers are suitable for home or office use, even in small spaces. They do not affect the working area by producing such noise as the common Braille printers do and most important, they are environmentally friendly, using the LED UV technology which ensures a rapid drying of the ink even when printing embossed applications.
A LED UV Braille printer is not that similar to a regular printer. They operate by embossing raised Braille dots onto any kind of substrate: custom wood signage printing, custom metal signage printing, custom acrylic signage printing, custom hard plastic signage printing, custom regular PVC and expanded PVC, cardboard printing etc.
Digital Braille signage and its applicability with artisJet LED UV systems. With the recent development of tactile and raised UV-LED printing, compliant Braille signage can be created with an even greater graphics appeal and in a single printing process with UV curable ink.
Benefiting from the automatic repeat printing functionality for multiple layers with domed and rounded ink dropping shape, the artisJet direct LED UV printers allow you to deliver an inkjet height on the materials from 0.1 mm up to 10 mm at a fast production speed in one step.
These UV LED Braille printing techniques are ideally reliable for plastic substrates, metallic substrate, direct to wood printing substrates, aluminum, PVC and many more which are cost-effective, time saving and a non-proprietary solution open to UV printer users.
With artisJet LED UV technology, Braille printing becomes an easier and at hand feature, creating multiple applications for customized electronics industry, restaurant menus and other reading material, music scores and many more.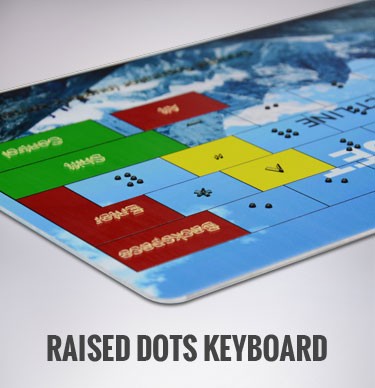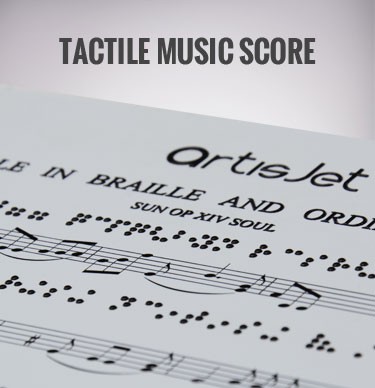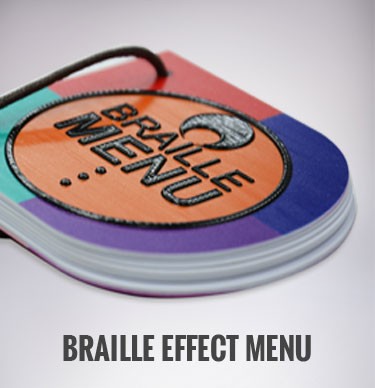 artisjet LED UV platforms have the technology and the size demand that professional Braille printing businesses need to produce small or large personalized ADA compliant signs and personalized Braille applications of all kind.
3D printing Braille characters can be applied onto consumer products, with the ultimate intent for packaging from retailers to include Braille offerings for such uses as dosage instructions on a medicine bottle, an expiration date on some sort of food packaging or anything else that could be beneficial to the visually impaired.
Benefit from the creative potential of raised printing by choosing artisjet LED UV tactile printing for indoor and even outdoor ADA Compliant Braille signage solutions and applications.
Even if you are start-up business or looking to expand the margins of your personalization company, artisJet offers professional solutions for Braille LED UV printing to reach all your printing demands.
As the technology evolved, the digital printing industry brought special applications such as embossed and raised level printing. Embossed printing turned into a fast growing niche market with the potential to expand into sectors where previously there has been little need for 3D effects.
Therefore, embossed and raised color printing is an important segment of the digital LED UV printing technologies that brings innovation and business enhancement.
Originated from the type of ink that is used to print with, the digital direct LED UV printing is delivering the graphics on all the printing materials by forming a thin film due to its quickly cured original photopolymer in the ink.
What does embossing mean? Literally, embossing refers to an impression process of some design/image/logo creations or patterns on another surface like paper, metal, leather and others to make a relief.
But the old technique of embossing has changed once the technology evolved. That is why 3D embossed printing can be defined by adding 3D effect atop 2D prints to increase the visual impact of the message and the perceived value of the printed item.
3D raised colors printing and artisJet LED UV printers. artisJet UV LED system enables us not only to see the colors but also to feel the colors. How you can achieve 3D enhancement? Multiple layers of ink can be applied for dramatic effect.
The artisJet RIP Software enables up to nine layers to be printed automatically to obtain the 3D embossed textured effect, regardless the substrate you use. The DTS LED UV inks are developed to offer an excellent adhesion and scratch resistance. Once CMYK graphics are printed, varnish ink can be layered to create the 3D finish printing results with glitter and glossy color enhancement.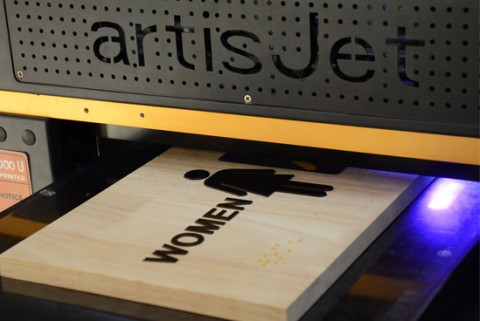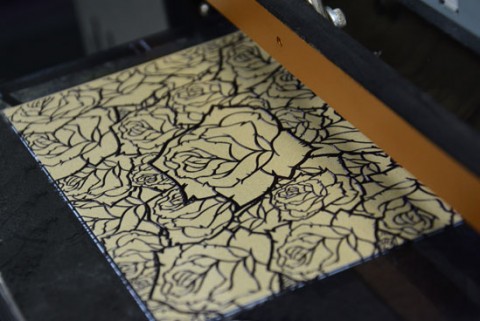 artisJet provides the highest UV curing efficiency while also providing a safer and more stable output, allowing end users to print on a wider variety of substrate with increased yield and reduced operating costs.
artisJet UV LED printers ensure just the right amount of UV energy to control dot gain and achieve a variety of printing media by using the 3D embossed and textured effects at increased speeds.
Digital 3D raised and textured colors printing from artisJet has a large applicability for media substrates in almost all personalization printing industries: hard plastic printing, white and black expanded PVC printing, wood board printing, digital acrylic printing, direct to metal printing, direct to leather printing etc.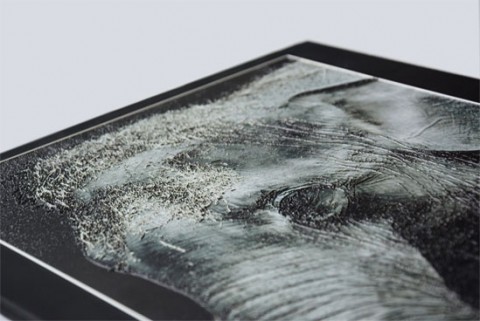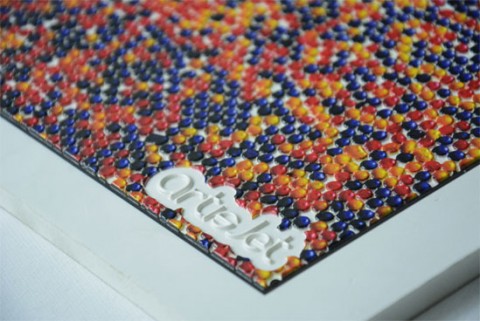 Get benefits from artisJet 3D embossed solution and print raised colors for business enhancement. artisJet offers digital 3D embossed printing for business enhancement at great production speed and accurate tactile printing results, with glitter and metallic effects as well as glossy and matte finishes.
By choosing embossed photo realistic effect you can create special and unique prints that will stand out among all applications. Moreover, raised color printing has applicability in ADA Compliant Braille signage printing.
With the recent development of tactile and raised UV-LED printing, compliant Braille signage can be created with an even greater graphics appeal and in a single printing process with artisJet UV curable ink.
Attract and capture more customer attention visually to your brands by displaying the key messages in raised colors. By stimulating the viewers to touch the images, the 3D textured print will increase the value of the printed products and make them memorable.
Achieve glossy and glitter print results for a unique perceived value on the products. With the capability to deliver glossy shinning yet raised result, artisJet LED UV digital direct printers allows you to print the key messages that you want to emphasize in a glossy 3D embossed result.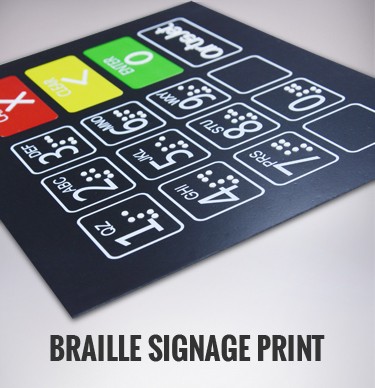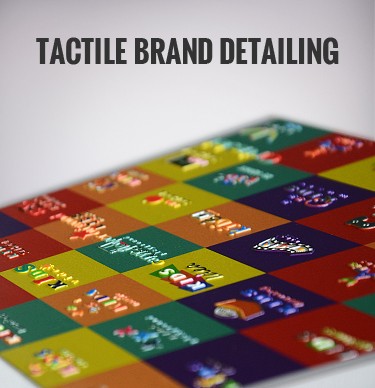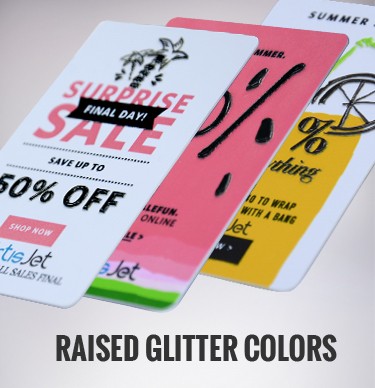 artisjet UV LED printers are the solution for all printing applications from small digital desktop A4 printers such as artis 2100U and A3+ format digital printers artis 3000U and artis 3060U as well as wide format artis 5000U A2+ printer to complex solutions, with the ability to print on virtually any various substrates, produce stunning vibrant colors and produce 3D raised images.
Applications for digital 3D embossed and raised color printing effect are growing as this printing solution engages customers in a continuously developing competitive market. Giving a dimension to the LED UV prints adds durable value not only to labels and brands but to the entire printing industry.
artisJet digital LED UV 3D embossed printing can enhance product development, transform traditional production methods, facilitates personalization printing as well as enabling direct digital applications manufacturing.
Catch the opportunity and start your business today or grab the best advantages with 3D enhancement and customized tactile printing to grow your printing business. For more raised printing applications ideas visit artisJet 3D embossed and raised color printing opportunity page and watch the video to see artisJet LED UV printers in action.
The growing demand for customized applications has led to numerous options for printing businesses and their customers. Continuously looking to develop and enhance technologies for the printing business, artisJet succeeded to combine all the requirements to offer complete business printing solutions.
One of these solutions includes the wood printing. Wood prints are a great option when it comes for personalization industry. Much like the other choices, there are multiple ways to perfectly display an image on wood.
Wood frame printing for memorable customized applications. Wood frames come in different colors, sizes and shapes and even type of wooden material. You can print quality photos, logos and text not only on regular wooden boards, but directly onto different wood substrates, creating amazing indoor decorations or giveaways.
There is a wide variety of custom picture frames for your photos and artworks. Prints can be done on medium density fiberboard (MDF), an engineered dense, flat wooden product that has no knots. MDF is highly popular thanks to its affordability and versatility and is ideal for a range of applications, commonly used for indoor decorations.
Wood frames can take the appearance of an artistic reproduction if canvas material is stretched across it. Canvas is the most common support for paintings and also for digital LED UV printing. Prints on canvas wooden board ensure that the customer receives exactly the look and feel they want with every print, preserving the realistic result of an actual paint often used in interior design.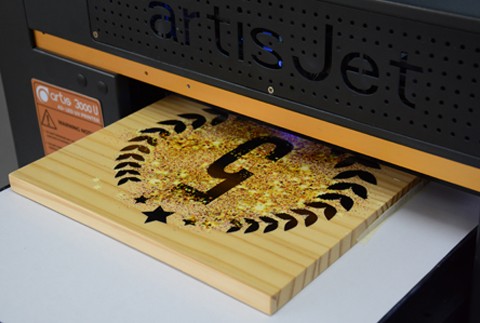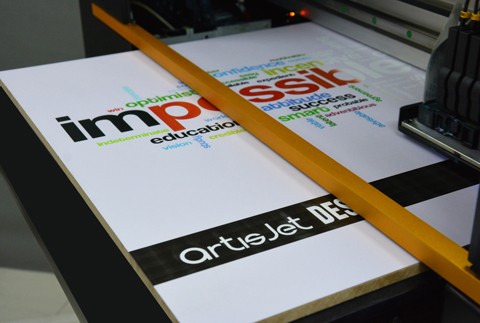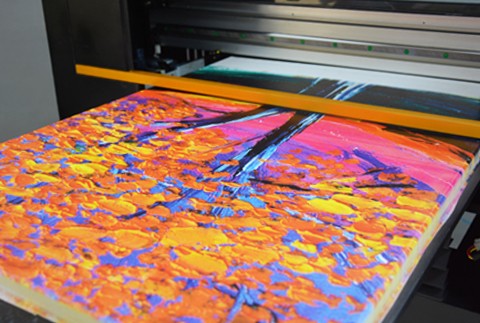 Moreover, the digital image printed directly onto wood base using a flatbed printer offers durable results allowing full image printing with high adhesion, vivid colors and textured embossed results, regardless the color of the wooden material (natural, oak, chestnut etc.).
Direct digital printing on promotional wooden office stationary. Direct printing on wooden items can increase effectiveness of your business production process, not only in terms of self-promotion but mostly for other businesses marketing awareness and branding solutions.
An easy but at the same time effective way of promoting a brand is by printed media as wooden office stationery items: wooden pens printing, wooden pen holders printing, wooden flash drives and USB printing, wooden notebooks printing etc.
Customized direct to wood pen printing is a powerful attractive and elegant tool for personalization industry and artisJet has the perfect solution in this direction. With LED UV printers ranging from A4 to A2+ sizes and the right accessories, you can print multiple colors photo quality, text and logos directly on bamboo pens with glossy finish. The matched printing jigs for pens gives the possibility to print multiple pens at one pass, even with different artworks.
A great idea to enhance the wood pen personalization business is printing on wood pen holders. This way, the wooden pens become more than a promotional items, it becomes a much appreciated gift. Direct printing on wooden USB delivers elegance and fashion and is widely applied for high quality personalized gifts with logo printing.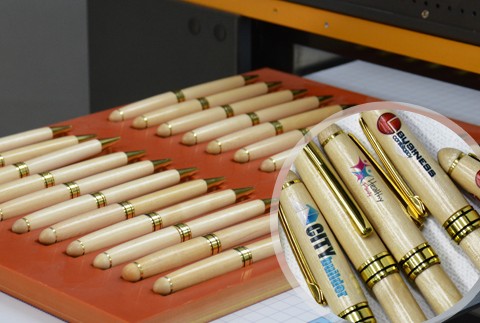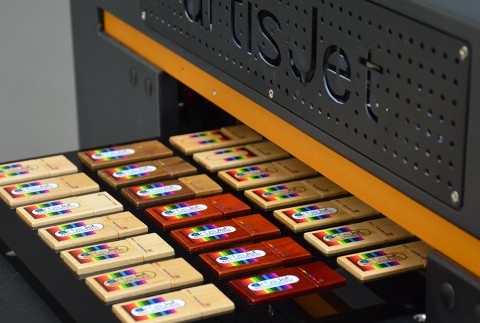 artisJet multiple wood printing ideas and benefits. There is always a chance of variances between each print, and with digital LED UV wood printing the final products are precise and consistent. artisJet custom digital LED UV direct printing on wood allows changes and manipulations to designs to happen rather quickly and with minimal effort due to artisRIP software.
artisJet digital printers with LED UV inks allow printing on a variety of wooden substrates and colors with numerous effects: a matte finish to preserve the natural wooden pattern, amazing 3D textured tactile printing to impress with, edge to edge images prints with perfect display and more, everything achieved with speed and accuracy.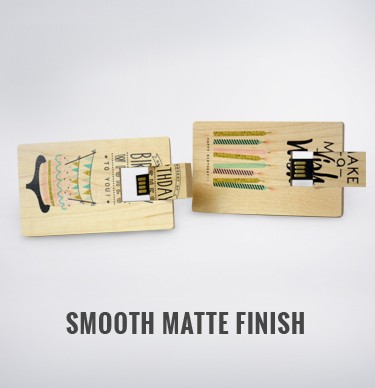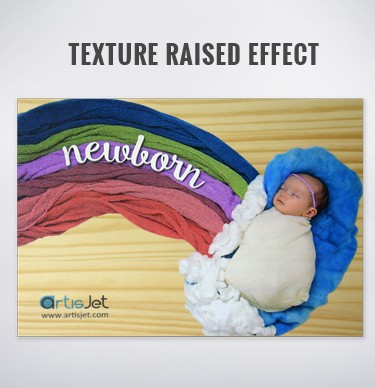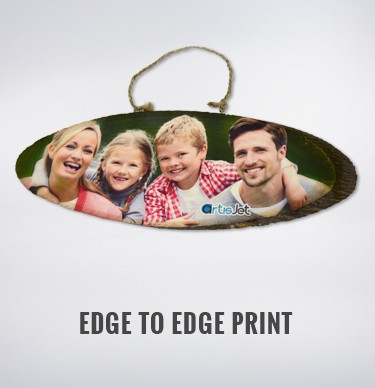 From small wood items printing such as USB, flash drives, coasters and others to large wood frames printing, wood signage printing and many more, artiJet LED UV printing platforms are the solution for wood printing on demand, speeding up the process and offering printing capabilities due to its many advantages that outweigh other forms of printing.
Compared to other methods, artisJet digital LED UV direct printing on wood substrates provides consistency, variety and high quality and economical options for end users.
Direct to wood coaster printing to stand out from the crowd. Numerous materials to print on and one of them is the very versatile wood. Wood is a natural product and can vary in appearance. Let's take for example the wood slices which can be made out of natural tree branches. These can be turned into many things and wood is the most suitable substrate to create out of ordinary custom printed drink coasters. Besides being a table accessory, natural wood coasters would be great items to display around the house or to showcase special moments as memorable personalized gifts.
Personalized natural wood coasters – a better way of promoting an event. Decorative natural wood coasters made from wood slices do more than protect surfaces if they are used as items to promote the specials in your restaurant or pub. Coasters can vary in diameter and thickness and this is why you can choose a simple look by printing on thin wood substrate finishes or by printing on rustic wood coasters for durable and impressive personalization results.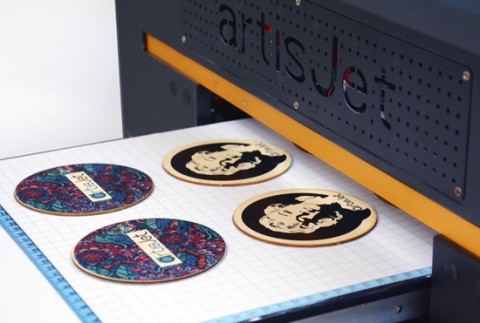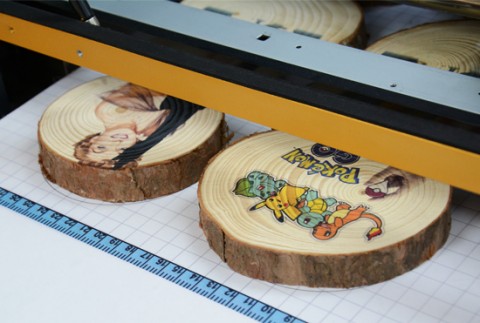 From simple ideas to outstanding printing results. Personalized wood coasters are suitable for any LED UV printers, giving the possibility to print any colors and shapes directly on the surface of the finished or natural wood coaster. Each custom wood coaster is unique, mainly when printing on lightly sanded or smooth satin wood surface, achieving both durable vibrant colors and natural texture of the wood substrate.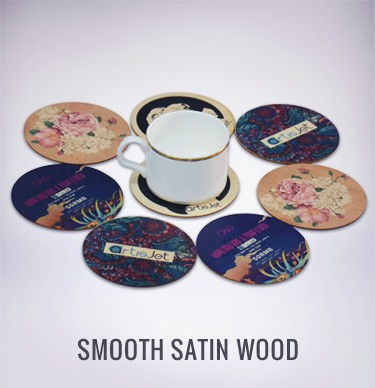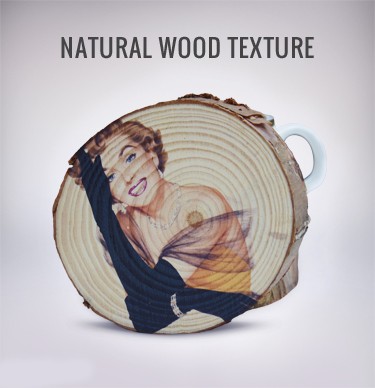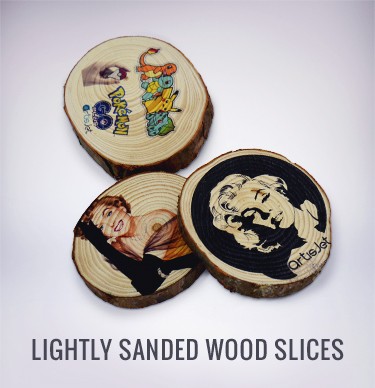 artisJet technologies to support customer ideas. When it comes for wood coaster printing technology, one of the most important customer needs is the flexibility of producing their printed items and that means reducing costs and increasing benefits. Printing by sublimation can be quite expensive, while choosing direct to wood coaster LED UV technologies can be cost –effective due to multiple items printed at one pass. Secondly, is about the wood substrate compatibility with the inks and the heat resistant which is enough to withstand the UV lights during curing. Also, the inks on wood are water resistant, producing long lasting digital LED UV printed artworks on wood coasters, even when exposed outdoors or if water is spilled multiple times on the wooden coaster.
That is why, artisJet works hard to transform the customizing printing process in an easy and fast operation and LED UV artis line printers meets all these requirements. From A4 to A2+ size solutions, direct to wood coaster printing as well as any other wood substrate media, such as wood frames, wood packaging, wood pen and anything you can think of that is made of wood, has never been easier and more available to start a printing business. Request a sample and develop your ideas with artisJet.
Art is the passion of the direct wood printing with endless possibilities. Printing custom and fine artwork directly on wood refers to a technology delivering pictures, logos, artworks, letters, etc. onto any type of wood materials or wooden products at one step.
Direct wood printing technology is also about anything you can image, and artisJet digital wood printers will deliver directly onto any type of wood, creating a durable and touchable colors, amazing image that you are always proud to display and share for personal memories or commercial occasions, everything with endless possibilities: wood coaster printing, direct printing on wooden pens, wood signage printing, indoor decoration wood frames printing, wood packaging printing solutions and many more.
Amazing color performances on demand is the benefit from artisJet digital wood printers. Totally differentiating from the traditional wood printing methods from silk screen, sublimation, heat transfer, sanding printing, artisJet digital direct UV LED wood print technology is delivering the colors on wood in vintage matte and natural glossy to your print emphasizing the natural color of the wood material, allowing the wood color to be seen through the ink displaying the unique imperfections of the grain and knots. Alternatively, artisJet UV LED printers allow you to have the bright white color finishing covering all the wood grains and knots, delivery the most true color, photo quality in vivid sharpness. And out of your imagination, artisJet direct to wood printers create the colors touchable in 3D textured/embossed printing on wood with different color depths on demand.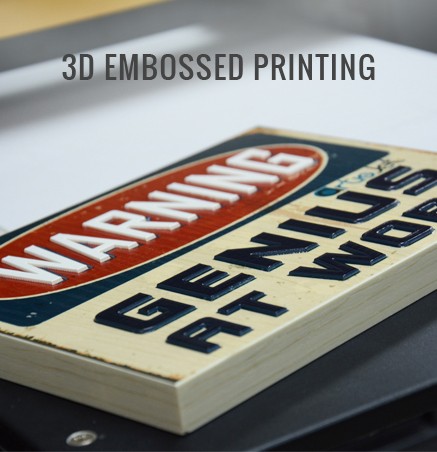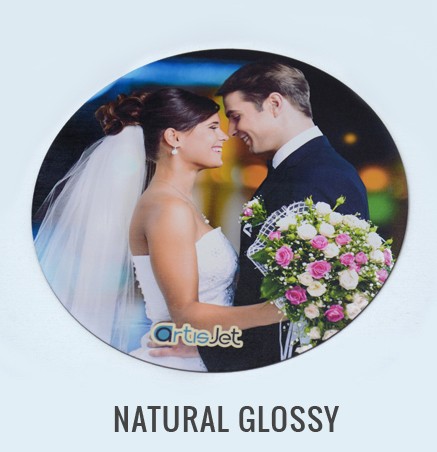 Easy production operation for users is artisJet direct color to wood solution as always. Print on wood should be easier and this is the way with artisJet UV LED printers:
Step 1 - Choose your desired photos, artwork, logos etc. and import to artisRIP;
Step 2 - Put the wood onto the artisJet UV LED printer tables;
Step 3 - Print;
Step 4 - Get what you want.
Printing with green, durable and vivid color performance results at low cost. The best way to print on wood is by using the LED UV technology, printers and inks. LED UV printers offer endless possibilities and easy step by step process when digitally printing on wood. For different materials, it is very important to choose the correct type of LED UV inks. Wood, being a hard substrate, requires a hard type of LED UV ink.
One of the steps in wood printing is choosing what artwork/graphics/image/logo you want to print, import it into the RIP Software and adjust the settings based on your needs. If not polished, wood can have a rough surface and that is why it requires a higher printing resolution. Once all the adjustments were made, print directly on the wooden item.
Technical Unique features on artisJet UV LED direct wood printers. The artisJet LED UV printers are effective for digitally direct printing on dark or light wood substrates. Designed for an enhanced flexibility and simplicity, artisJet's Control on Demand System digitally controls the operation of the LED UV system. It automatically adapts to different materials and working environments. COD controls the UV curing system which will result in delivering an optimal digital wood printing quality and drying time.
artisJet LED UV platforms are the right choice when printing on wood substrates, even for bigger projects as wood packaging and boxes, allowing you to print on 530*810 mm substrates and up to 100 mm thickness. If you want to print on small items such as wooden USB flash drives, artisJet LED UV printers offer multiple prints at one pass.
When it comes for inks, the direct to substrate LED UV inks are developed to offer an excellent adhesion and scratch resistance. This way, artisJet can offer great color results and durable prints. Also, once CMYK graphics are printed, varnish ink can be layered to create a 3D embossed textured effect.
Due to the LED UV ink and technology, the digital LED UV wood printing is environmentally friendly, with minimal emissions and low energy consumption.
Recommended products for digital UV LED direct to wood printing solutions
Customized Packaging is becoming a main part of the personalization industry. Packaging applications are needed in all kind of industries such as consumer goods, retail, cosmetics, food and beverages, industrial goods and many more.
artisJet's extensive knowledge of printing and production ensures you to get the very best guidance for packaging innovations that support key business objectives.
artisJet covers successfully this type of business being your main supplier not only in high end printing machines, but also ink bottles, accessories and software. Moreover, LED UV printers such as artis 2100U gives you the possibility to print on substrates of 50 mm thickness, so the height of a packaging box is not a problem even when operating an A4 printer.
Designed by the idea of simple operation, the ergonomic artis 2100U printer allows you to start your own business in small sized packaging and it is suitable whether for home business, office business and chain store business as well.
The artisJet LED UV printers are designed for all the printing possibilities on demand. With its environmentally friendly printing solutions, it empowers you to print on wood, metal, cardboard etc. and all the packages needed for any special occasion.
Custom leather printing is one of the opportunities and solutions that artisJet has to offer for startups or to expand a business.
artisJet developed two main platforms for LED UV digital printing that has the most advantages in leather printing industry: artis 3000U A3+ and artis 5000U A2+. These platforms have a wide range of direct printing onto different leather applications such as shoes, bags, bracelets, belts, agendas, leather device covers (phone and tablet covers) etc.
Printing on transparent or dark materials requires the usage of white ink layering which serves as an undercoat then printing CMYK inks. DTS UV LED white ink offers high-density white which enables rich and vibrant colors on dark substrates. In order to achieve eye-catching and brighter colours, first apply the white ink layer and print with a 2880*2880 dpi high resolution.
Moreover, artisJet's LED UV inks have flexible attributes for durable prints, resulting into quality non-cracking finishes when printing on flexible substrates such as leather.
artisJet understands the need for diversity and a personalized leather phone cover can be a unique gift. That is the reason artisJet developed a new LED UV printer, artis 2100U, an ergonomic A4 platform suitable for the phonecases and device covers printing industry startups.
Whether it is a minimalist design or a complex one, artisJet LED UV printers offers instant curing of a digitally printed image, with the ability to print onto a wide variety of applications for leather personalization industry.
Digitally printing on leather requires excellent attention to detail, but artisjet makes it easy and cost-effective. Start your business or expand your business by printing leather on demand with artisJet and produce excellent results to impress the customers.
Personalization printing industry offers multiple possibilities for start-ups or for enhancing businesses and some of these are the personalization gifts and promotional items. These custom printed items are used as marketing tools for companies. Giveaways are most often used to promote or sell a new product, company or service, generate leads for businesses or create market awareness.
A unique corporate gift can be cost-effective and can bring you advantages in the business world by leaving a lasting impression not only to your clients, but also to your employees. Take advantage of the promotional gifting by bringing it to different corporate events, conferences, business meetings or anything related to your company.
When it comes to corporate gifts, electronics and gift cards are one of the best options to use as marketing strategy. Printing on electronics has a wide range of products and these items are truly powerful: device protection cases or direct printing on the device such as smartphones, USB keys, tablets, power banks, chargers, earphones and many more.
The retention value of the gift is very much higher as compared to conventional promotional gifts. Printing on promotional items, gifts and giveaways is one of the applications for which artisJet offers solutions, from printing platforms to applications (canvas printing, MDF and wood printing, jigsaw puzzles, switch panels etc.). artisjet direct printing systems will enhance your production performances by fast production speed, cost effectiveness, colour printing performances and great results.
The personalized printed electronic gadgets become popular in the world wide since 2008 as the electronics industry was developing. artisJet has been launching new inks and solutions for the flatbed printing technology.
The electronic gadgets are special items for daily use. From the very popular smartphones and its accessories to data devices, they've become items with a great effectiveness in the printing industry as well in brand marketing.
Printing on electronic gadgets can be a cost effective way to promote your brand. The association between a business and a logo printed on a USB flash drive or power bank can reinforce a branding message, setting you apart from the competitors.
artisJet LED UV printers gives you the possibility to print high-resolution and high quality images, artwork, text and logos to create powerful business by printing on electronic gadgets (phonecases, tablets, USB disks, earphones, laptops, power banks etc.).
Any personalized picture can be printed on TPU, acrylic or transparent electroplated phone cases as well on plastic or metallic power banks and other devices.
artisJet printers are ideal for printing both on rigid and flexible materials, achieving amazing embossed effects, sharp details and small text rendering, up to 5760 dpi high resolution, vivid and bright color results with anti-scratch resistance, water proof and durability.
From large wood boards, canvas, acrylic, glass and metal frames to ceramic or stone tiles, power switches, coasters and many other applications, the indoor decorations are probably the most requested products for the personalization printing industry, whether is for personal use or business related.
When it comes for printing, wood is a truly versatile material. You can print quality photos, logos and text directly onto different wood substrates (wooden boards, wooden frames etc.) creating amazing items. Drink coasters are great substrates for printing artwork. Whether they are made from natural wood or MDF, they are a fun way of decorating a living room, kitchen or restaurant.
Express your creativity by printing directly on stretched canvas and achieve high color density and quality results due to the inks that penetrates into the fabric.
Printing on acrylic, glass or crystal can be an alternative to canvas prints. It's another solution to display photography, art and company's logo. The LED UV system allows you to print easily on these substrates, without damaging the material and achieving non-scratch and vivid color results. Printing on transparent or dark materials requires the usage of white ink layering which serves as an undercoat. artisJet's DTS Led UV ink white offers high – density color which enables rich and vibrant colors on transparent and dark substrates.
Now you can have your photos digitally printed on ceramic and stone. A simple ceramic or stone tile can become a lasting work of art and can give more value to your business.
With artisJet printers you have the ability to print on all these types of materials, achieving great results like a 3D raised printing effect.
In the end, indoor deco is about you and your business. So choose pieces that speak to your passion and print applications that will impress.