The FESPA Berlin was a great tradeshow experience, turned into one of the most effective tools to directly meet qualified buyers, distributors, and decision-makers.
Event overview. FESPA Berlin 2018 edition brought together over 700 exhibitors from different areas: screen printing, textile printing, digital printing, interior décor, signage solutions, packaging and display.
During the 3 days event, our team welcomed more than 500 visitors, from all over Europe (Italy, Greece, Croatia, Romania, Macedonia, Slovakia, Serbia, Hungary, France, Switzerland, UK, Estonia, Germany), but also from the United States and Middle East as well (Israel, Dubai etc.).
artisJet team handed over more than 650 direct printed catalogs, and 200 on-site direct printed "thank you" cards customized for this event, printed with the re-known artis 5000U A2+ LED UV printer for quantity printing customization.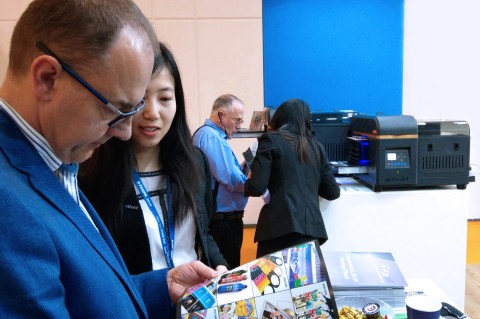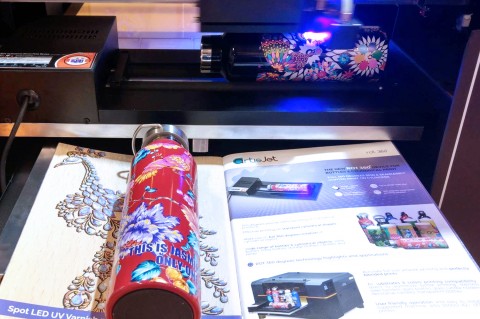 Visitors' interests in digital printing solutions. According to the event's registration data, 44% of all visitors have shown a high interest in digital printing industry (textile printing, garment printing, personalization printing etc.).
When it comes to direct to substrate printing, most visitors (end-users to decision-makers) have shown a keen interest for promotional items customization. Whether is about corporate items such as business cards, vouchers for employees, personalized agendas, pen printing, or any other corporate gift, they know there is high value in digital printing platforms.
Personalization industry trends short view.
• Braille printing mainly for developed countries, where the Braille signage is a must;
• Rotary printing solutions for wedding gifts, personalized candles and customized bottles etc.;
• Spot LED UV varnish for wedding pictures and some high level of art.
The industry is developing into small quantity but much higher value products, while the digital printing technologies are coming to the people's daily life personal care products (customized shampoo bottles, hand cream tubes etc.) and cosmetics packaging (lipstick tubes customization, personalized make up containers etc.).
Our participation was successful, as FESPA is always a fruitful event for everyone: meet quality visitors and medium to big industry exhibitors.
We look forward to the next FESPA Global Print Expo 2019 edition which will take place at Messe Munich, Germany, from 14 to 17 May 2019.