Need some inspiration for your printing project? Such as wine bottles, candy bottles, wedding glass bottles, jars, metallic sports bottles and so on. Have you ever wondered how these items often times have a company logo, customized or personalized design printed on them?
UV LED cured cylindrical printing is an exciting new technology. It allows accurate and fast full-color digital decorating on black, color or clear cylindrical-shaped products. The utilization of UV cured cylindrical printing technology has grown exponentially over the past years.
ARTISJET UV LED PRINTER DEDICATED TO CYLINDRICAL PRINTING APPLICATIONS
artisJet's rotary device can direct print on cylindrical objects with a full end to end 360 degree spin of the cylindrical product. This way, you can maximize your media surface by printing the entire circumference of it. artisJet's cylindrical device is a custom designed attachment for the artis BR U1800 A3+ LED UV system, due to the printer's maximum height adjustment up to 170 mm. The rotary device effectively fits the working area and is attached to the printer's flatbed. The rotary fixture for flatbed UV printers is easy to install and remove in just a few minutes so that the printer can be used for both cylindrical and flatbed printing on a daily basis.
Custom LED UV rotary printing with artis BR U1800 accommodates cylindrical objects with a maximum print bottle diameter of 8 cm (3.15 inches) and a maximum printable bottle length of 32 cm (12.6 inches), all printed with a resolution of 1440 by 1440 dpi.
You can print a diverse range of bottle substrates such as: plastic, PET, metal, aluminum, stainless steel, glass, ceramic, and any other material that has a cylindrical and rounded shape.
Choose from a large variety of ideas: custom drink ware printing, custom metal water bottles printing, aluminum bike bottles printing, metallic sports bottles printing, aluminum cans printing, wedding glass bottles printing, wine bottles printing, gift bottles printing, candy bottles, cosmetic bottles, jars, decorating bottles for interior design, personalized products for holidays, food rounded packaging.
For example: A printed sports bottle is the kind of product that can be used for promotional purposes. These plastic sports bottles are durable promotional products that are great to hand out at sporting events where drinking beverages or water is required. A custom sports bottle is the type of promotional product that can be handed out to all target markets, because everybody needs to drink and stay hydrated, so just about everyone can make use of a personalized sports bottle.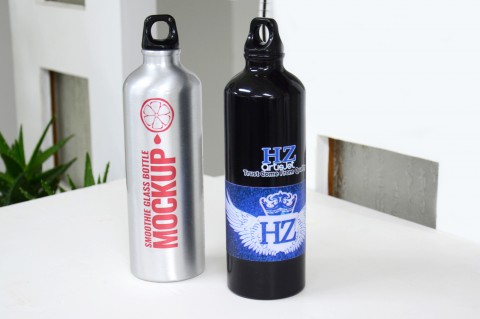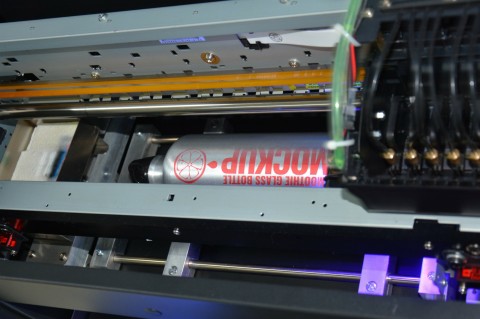 Understanding the artis BR U1800 print and software
How to print on bottles? Are you ready to get started? Follow these easy to use steps to begin.
artis BR U1800 gives you unlimited substrate color choices so you don't have to settle for only printing on white or light colored cylindrical objects. Simply select the desired artwork size and preferred color settings, load your product into the rotary fixture and you're ready to print.
The first step is the adjustment of the rotary attachment (1). Put the media on the rollers and ensure the line at the highest point of the media shall be distanced about 5 mm away from the back of center line of the ink pump. This is necessary to follow to avoid ink spray from the print head when printing on the arc of bottles. The next step is to drive installation of the software for bottle printing.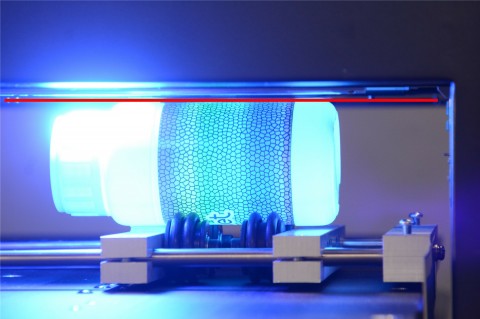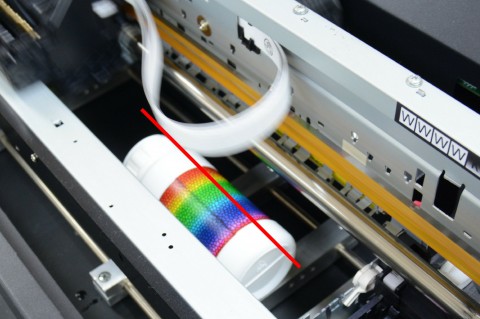 There are a few characteristics of software setting: The printing resolution is 1440*1440 dpi; Bottle print only refers to three print types: Color only, White & Color only, White & Color simultaneously; (INK: CMYK- Optional for color only; White: Optional for white only or White & Color simultaneously.)
White Mode: It decides the way of printing white ink as a background layer.
artisJet's RIP software allows the setup of white ink based on the printing requirements. One of these requirements is to: print white inks according to the nature of the bottle's substrate color (dark or light). The darker the substrate, the more white inks.
Another white ink setup capability is White (Simulate Spot Color): whenever there is color element, white inks will be printed, with the same volume. Add to this, the White Density allows you to adjust the volume of white inks, while the White Channel num can adjust the concentration of the white inks.
White and color relation: This can change print mode for white and color inks. White only: Optional for white only; Two layer: White+ Color print at on pass (color follows White); Two layer: White+ Color print at on pass (White follows Color).
White invaginate: This is capable of covering white edge. Choose "Big" to avoid white edge when printing white and color simultaneously. Make a difference in covering the whole white edge.
For a better understanding we want to show you two cases of printing:
1.White bottle for color only;
2.Transparent bottle for white& color simultaneously.
For first case steps:
a) Measure the circumference of body of bottle and height of artwork. Make the artwork size within the circumference (figure 2).
b) Input the artwork into Rip software and set up its size and location. Pay attention to: print direction and print location. The setup software should have the follow ticks: INK-CMYK; White Invaginate- Big; Feather- Auto.
c) Adjust the height of bottle according to print head (Attention: Adjust manually the height of bottle a little far away from the print head to ensure no collision.)
d) Start printing.
Case 2 (figure 3): same steps less the software setup. You have to choose: Ink- white; white mode- white (simulate spot color); white channel rum-4; white & color relation- two layer, base white.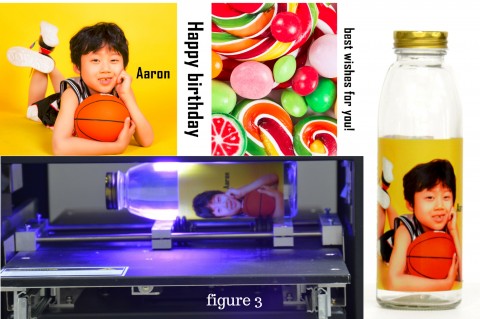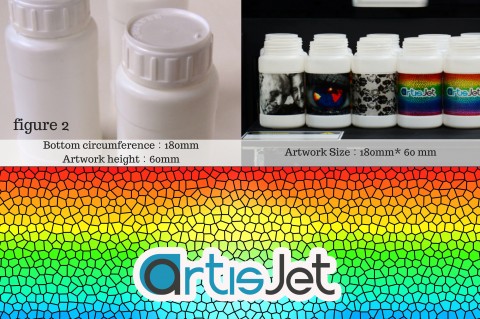 It's time to bring your personalized products to life by using amazing, high quality, full vivid colors direct-to-substrate printing with artisJet and its bottle printing attachment of artis BR U1800, 360 degrees printing on a wide range of substrates, user-friendly print settings and functions via artisRIP v 9.0 software.
Do we draw your attention?
artisJet is continuously working to improve your workflow and printing experience. We are excited to announce soon we will come up with a surprising new rotary device for our printers. Bottle printing is a valuable solution for personalization businesses. That is why, artisJet is looking to provide complete direct to substrate printing solutions in one place.
Stay connected to artisjet for upcoming news! We are on Facebook, Twitter and Instagram! Like, follow and join us online to make sure you stay updated with details on upcoming news, events and our printers.