ARTISJET
NEW ROT 360 DEGREES ROTARY PRINTING
CUSTOM ROTARY PRINTING SOLUTION FOR CYLINDRICAL PRODUCTS

Cylindrical objects are everywhere in our daily life. We express the unique style through daily use appliances, such as portable water bottles, daily drinking cups, and various cylindrical containers used in living rooms, kitchen, or outdoor activities, as well as other tubular objects, like the cylindrical package boxes or candles for memorial and interior decorative design use.
Personalized bottles and cylindrical objects get additional value through artisJet ROT 360 degrees cylindrical printing solution.
Plastic cards are now far more than a basic photo or simple text on a regular business card. LED UV technology offers a variety of options that can be displayed on plastic cards with barcodes, magnetic stripes and RFID to allow a greater security and at the same time to serve as a marketing opportunity.
Print your own
personalized cylindrical products
Custom bottle labels and creative rotary packaging
Personalized bottles printing and cylindrical objects printing have a rapidly growing extensive market needs with the large quantity of cylindrical objects used in our daily life and the increasingly strong impulse for people to express themselves, and show their individual taste and attitude.
---
Opportunity and Challenge for
Rotary Printing
---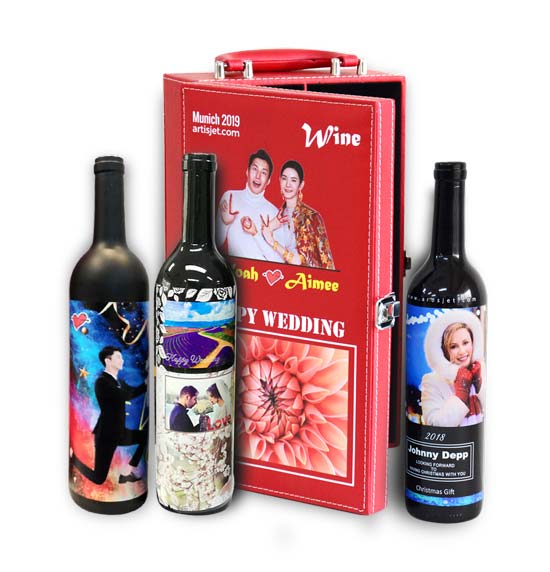 The custom cylindrical printing solution addresses to a wide range of customers as well as industry professionals in different domains.
This can have positive impact on beverage producers who can perfect their logo brand image and create unique labels for every type of beverages or bottle limited editions. Also it is a solution for print shops that can expand their printing expertise and print offers towards customers, or companies that look to create corporate gifts for their employees to much more.

The artisJet NEW ROT 360 degrees LED UV cylindrical printing solution and technology eliminates the need for paper or plastic labels, allowing the direct printing of complex designs, images, brand logos or simple text on bottles.
Turn the flatbed printer into a rotary printer within minutes and create personalized drink ware and custom gifts with digital personalized images and artworks direct onto bottles of any material. Achieve durable results, allowing sharp and vivid color printing with high adhesion and brightness to express your positive attitude towards life.
Main
market applications

for bottles and cylindrical objects printing

artisJet understands the need for variety and fast production, and that is why has to offer solutions based on everyone's capabilities and necessities. The NEW ROT 360 rotary device for bottles and cylindrical print is a full 360 degrees seamlessly printing technology, all the surface of the bottles are fully covered with the colorful images you want. In addition, without the cylindrical rotary jig, you can also print on the bottles, but only parts of the bottle surface.

As big as 22.5 cm maximum bottle diameter - Supported by the artisJet ROT Craft Master Software and ROT 360 attachment, the artis 5000U B2 LED UV printer is designed to print rotary with bigger diameters up to 22.5 cm (8.85 inches).

Highly precise direct printing on cylindrical products- With the perfect combination of stable artisJet mechanical moving system and the artisJet ROT 360 rotary jig, you can achieve accurate output results with a print resolution as high as 1440*5670 dpi.

All substrates and colors printing compatibility - Directly print on aluminum bottles, stainless steel materials and other metallic materials, as well as the glass, acrylic, wood or carbon materials etc. Additionally, it is easy to direct print on wax; custom candles printing gets more and more popularity among memorial and decorative use, such as in the wedding party or a birthday party.

Wide range of bottles and cylindrical objects - are used in different occasions with different characteristics, such as wine bottles, travel bottles, sports bottles, baby bottles, storage bottles, student bottles, home using bottles, candles glass holder, different candles, canned beverages, coffee thermos bottles, and more.

Effective printing on standard cylindrical shape - through artis 5000U B2 LED UV printer is joined by easy installation and user-friendly operation. Don't limit yourself to make just personalized bottles. With its eco-friendly printing feature, the artis 5000U empowers you to print on wood, metal, cardboard etc. and all the custom packages and cylindrical boxes needed for any occasion. Personalized cylindrical packaging is used for a variety of applications including: tubular metallic chocolate boxes, promotional drinks packaging, cardboard tea storage boxes, perfume packaging, personalized gift candles, Kraft paper tubes, cylindrical tube packaging and the list can continue.

Memorial candles or decorative candles - that are used in wedding parties, birthday celebrations or every big and happy moment with our families and colleagues are part of another great idea for cylindrical printing. artisJet ROT 360 rotary technology helps you to realize infinite originality and imagination.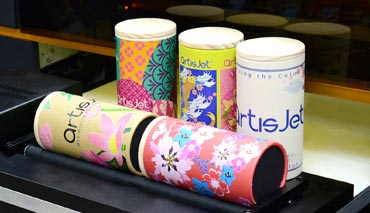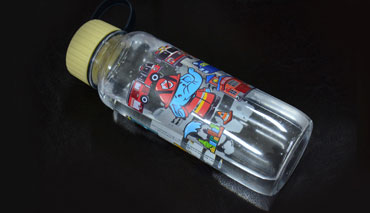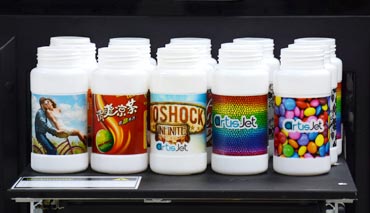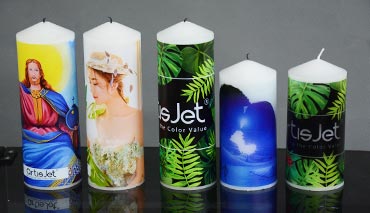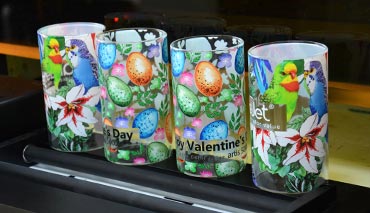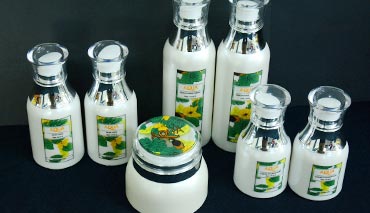 artisJet
NEW ROT 360 degrees cylindrical printing

solution

artisJet launched the ROT 360 degrees rotary device for improved cylindrical printing and to create endless possibilities when it comes to printing solutions. The rotary attachment was developed upon customers' request and demand for bottle printing solutions. This way, the artis 5000U B2 LED UV platform becomes a rotary printing machine, which accommodates cylindrical objects and bottles with a maximum print bottle diameter of 22.5cm (8.85 inches) and a minimum print diameter of 5.7 cm (2.24 inches). For smaller diameters cylindrical and tubular objects, the artisJet technical center will do custom rotary jig to meet the different rotating printing needs.

Small operational size
It only requires one computer PC and a working table.

Easy operation
Print directly from the computer software.

Full solution of both
Flatbed printer and Rotary Printing

with ROT 360 device
The advantages of ROT 360 device are boundless. The ROT 360 rotary device for artisJet's B2 LED UV printer allows direct printing of complex designs, images or simple line of text. Turn the flatbed printer into a rotary printer with artisJet's ROT 360 rotary attachment, this makes the artisJet LED UV printer a full solution for your business – you will get more complex products to the same high standard and quality of a flat product.
Choose the
Best Printer

for you

artisJet offers two professional LED UV printers, artis 5000U printer can meet the demands of printing direct to any substrate.