There is a wide variety of specialty printing techniques available for consumers who are interested in setting their printed products apart from the ordinary masses. And that's the case of Spot LED UV Varnish, a versatile, affordable and high impact printing effect.
UV VARNISH AND SPOT LED UV VARNISH
Is UV Varnish the same thing as Spot LED UV Varnish, or is it something else altogether?
While many people use the word varnish as a catch-all concept, you must know there are varnishes (clear inks), aqueous coatings (water-based), and UV coatings.
UV Varnish is nearly instantly cured by UV light, but usually it fully covers the substrate, acting as a protective layer.
Spot LED UV Varnish is a clear ink that implies partial coverage on the chosen spots or area of the printed surface. With the Spot LED UV varnishing, the LED UV inks will highlight specific texts or images, logos, and anything else you want to drag the attention to.
When the Spot LED UV Varnish is applied, it creates an elegant gloss effect (or matte effect, depending on the printing needs) which contrasts with the rest of the printed sheet or substrate and gives an attractive look to the printed item.
It can be successfully used for wood printing, business cards printing, wedding invitations and wedding cards printing, packaging printing, interior design items such as photo frames and wall decorations, special gift ideas, promotional items, corporate items, gift boxes, cosmetic packaging boxes, luxury paper bags, phone cases, personalized mobile accessories, book covers printing, brand logo printing on boxes to much more. It depends on your ideas, imagination and customer's requests.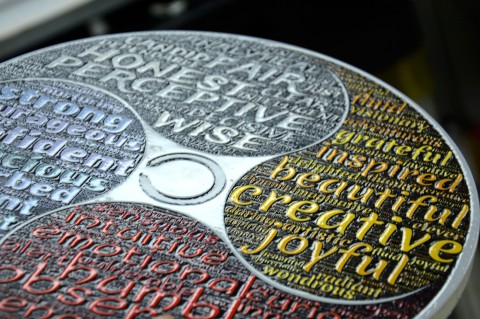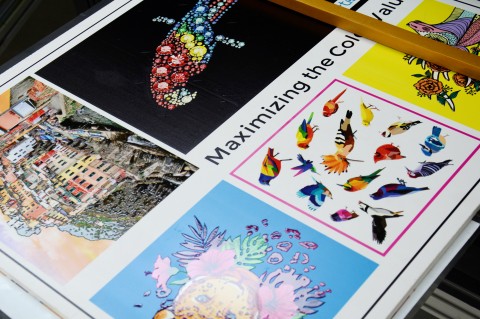 BENEFITS OF SPOT LED UV VARNISH PRINTING WITH ARTISJET
The extensive experience artisJet has gained in the Spot LED UV Varnishing has helped us develop a wide range of printing effects, such as spot gloss, matte varnish, 3D relief with raised varnish, subtle relief, strong printed textures, and scratch-resistant prints even for outdoor items, such as signage printing and door signs.
When the varnished areas are exposed to LED UV light, drying happens almost instantly. This is one of the reasons why the Spot LED UV Varnish application can achieve such a high level of precision.
Digital direct to substrate Spot LED UV Varnish with artisJet is perfect for short runs and even variable data printing. With both flat and raised printing options available, brilliant touchable effects can be created. Add to this, it reduces the set up costs, as it requires no films or screens.
HOW SPOT LED UV VARNISH WORKS WITH ARTIS 5000U PRINTER?
Equipped with artisJet latest technology, Spot Fine Control System, specialized UV Curing firmware and hardware, artis 5000U enables the users to realize the partial print of the image on demand.
Main features include:
1. Flexible varnish printing options. Empowered by artisJet V.9.0 Print Manager, the user is allowed to select their desired varnish print result from light effect or matte effect by one click.
2. High standard shinning colors. Raises the color performance into a higher level and protects the color to extend the print life.
3. Improved embossed and Braille printing.
4. Additional feature by varnish printing on dark materials.
5. Deliver a diamond printing result on demand.
The Spot LED UV Varnish has the potential to add color depth to the print. Spot LED UV Varnish Printing is characterized by very good running capabilities, easy handling, showing a high mechanical resistance. So when you use it in print projects, it's a good idea to take into consideration.
Watch the video and learn the easy-to-follow steps of artisRIP software on how to print glossy and matte varnish effects with artis 5000U A2+ LED UV printer.