This article will take you 8 minutes to go through. It will objectively analyze the things you should pay attention to before purchasing a UV printer and break down the pricing details on artisJet printers.
Before we start anything, let's look at the purchasing journey as a consumer. And questions you may have regarding the price. Speaking of which, it's very important to do researches on UV printers, to be clear of your business type and goals and finally, to purchase based on your goals.
Goals
1. Having a budget printer to prove a business concept as a trail

2. Having a quality printer for long term running.

3. Customization is an important part in your business.
If your goal is the first one, having an assembled printer might meet your needs. As a trial, you don't use it for long or on daily bases and it lowers the initial investment. But it does require you to have quite some UV printer operation experience as you will have to execute heavy maintenance work alone the way.
If your goals are the second and third one, we suggest you to consider an industrially made UV printer. Find out what's the difference between assembled printers and industrially made UV printers here with an easy to watch video, exploring UV printers with artisJet – things to consider before purchasing a UV printer.
Questions regarding prices.
1. Why UV printers' prices vary so much?
Analyze - the main price gap is between assembled printers and industrially made printers. Industrially made UV printers are generally 2-7 times if it's not more expensive than assembled ones with similar printing size.
2. If I decide to buy an industrially made printer, is it worth my investment?
Analyze - For this question you need to evaluate the ROI of your business based on the cost of the printer you are going to purchase. In this article, we will break down the ROI of consumers' business taking into account the cost of an artisJet printer.
3. With the cost displayed on the website. Is that all I need to start the customization process of my business? Is there any Invisible consumption?
Analyze - Ask the manufacturer about the package you will receive. Find out what's your warranty term. Find out what the fee after service contains. In this article, we will show you the price and the package of artisJet printers in very details.
4. I have other questions.
Ask away! Market research for price, quality, function and service comparison are very important before purchasing a UV printer. So you are off the right start researching price and more. Press the comment icon on the right corner and leave your questions.
Price positioning of artisJet printers
For many businesses considering a major investment, the natural inclination is to look for the best deal. But as with a vehicle purchase, the least costly option is not always the best investment. If you do a survey on price, not only artisJet printers are not cheap, they are on the highest price level comparing with other Asian manufacturers.
However we do encourage consumers to do research regarding function, size, warranty, price etc. among industrially made printer. And artisJet provides you a very competitive price here.
Here are some of the reasons why we can offer you a competitive price.
1. You are buying directly from the manufacturer. Except our headquarters and our direct authorized resellers around the world we don't authorize any other forms of products selling.
2. As a 15 years old brand, we have always been dedicated to small to medium sized printing equipment. This is also one of the reasons making our products one of the best in its category and the most cost effective.
3. Investment directions. Instead of investing in large scale marketing activities and advertising, we have been only focused on the investment of service, technology research, Production, and team building to secure user experience.
We value those because these are the main factors that got us our Intellectual Property & Patents, as well as Industry international product certification, and a global client database. And without the marketing and advertising expenses, we are more capable of offering a competitive price.
Price structures
Price. Here is the price range of different artisJet UV printers.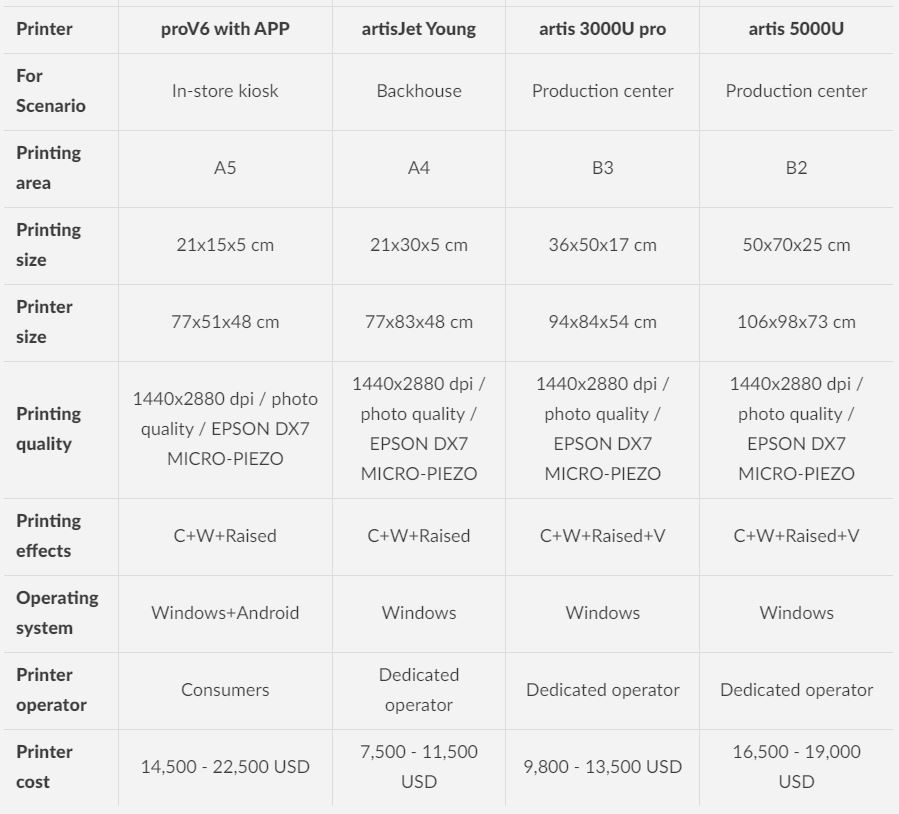 With the price users pay on the lists, all artisJet printers come with the following packages:
A. artisJet UV printers
B. Advanced software with Two-years-update-guaranteed
C. Double assurance, OQC management + Two years of warranty.
D. Return or exchange on DOA.
E. Services based on SLA for 2 years.
F. Related accessories.
A. Industrially made artisJet UV printers.
There are assembled / modified UV printers (that mostly assembled based on office printers) and industrially produced ones in the market. And crucial differences between these 2 types: price is one of the differences. If you have experience working in UV industry, and understand the differences, no need to search anymore. If you don't, please do a good study on this before making decisions based on prices and seller's descriptions (check out the video objectively discussing about industrially made UV printer and assembled UV printer. Each have their own advantages. From here you will have a much better idea on whether your business needs an industrially made UV printer or an assembled one.
Compare with prices of the assembled / modified UV printers, artisJet printers might seem like a big investment at the beginning. However, your return on investment (and ongoing profitability) is based on more than just the initial cost. When looking at a UV printer, the quality of the printer, the quality of the output, the effect of the output, the levels of work you will produce for your business and customers, how long does your printer last after purchase, how much effort and labor you will need to put in maintenance and the rest of the factors we will discuss about in the rest of this report. All will factor into the decision about which printer to purchase.
Now we are not saying assembled / modified UV printers do not own its market. If you are a user with a printer hardware background or you have a lot of experience working with mechanical jobs, an assembled one could be a good way to lower initial investment. On the other hand, for industrially made printers, every part in artisJet printer is designed for a reliable UV production system. All the vital parts are metallic. And they are designed and produced fitting to its functionality; all the electronics are in one center and industrially planned.
Take some of the components for example. For Y axis, the price range of magnetic encoding strip is between 5USD/PC to 150USD/PC, the price range of the travelling tank is between 30USD/set to 200USD/set; the price range of the ink tube is from 0.5USD/Meter to 50USD/Meter. As you can see, the cost of components vary so much from each other. And that's one of the many elements that causes the prices to vary so much between assembled printers and industrially made printers. And artisJet has been only selecting the most reliable and durable components for the printer production. The printer creates ZERO step errors while printing and needs very low maintenance in your production. It's a bigger investment than assembled / modified UV printers at the beginning but saves you money, effort and time after purchase.
B. Advanced software with Two-years-update-guaranteed
A solid hardware is no longer enough in the market nowadays. If you have worked in related business, you know you will spend some time to deal with software. And how much software could slow down or speed up your working process.
Here are some of the features of artisJet software
1. Easy to use!
Clear functionality zones - Job manage, Output setting, Device Maintenance, Output connection, Efficiency manage, language selection.
Click to converse. Swift from flatbed printing to ROT360 printing at one click.
Print cost, print time estimation, print preview, UV lighting direction, printing effects, third party software integration, print condition check and maintenance are visible to perform.
Right click and print directly with pre-set jobs.
Load and ENTER to automatically measure the product height.
2. Help simplify printing process
Easy print resolution calibration. Both X and Y axis and UV lighting are adjustable on actual print production demand.
Task/order tracking, easy saving and re-production
Easy Customization service of Workflow.
Language localization.
Supporting internetization and cloudization via hot folder, virtual printer technology.
3. Productive to maximize.
Flexible Ink-channel-set is to maximize the printer head life.
Set up to 200 copies for mass-customization production.
Print cost estimation and time evaluation for a job quote.
LAN network supports one-to-group job manage.
Automatic Command System enables the integration with robotic.
Open resources SDK for oriented-application software alignment.
As mentioned, artisJet's tech team has never stopped developing software related functions like application-orientation software, automation, internetization and cloudization matching the most advanced international standards. And we provide all our users with two years free software update service.
Learn more about how can artisJet printer's software make your work that much simpler.
C. OQC management+Two years of warranty
artisJet provides users with before & after double assurance to guarantee the quality of your equipment.
Before printer arrival - OQC management.
For each printer, we have strict order tracking system based on printer serial number. Your printer has its own production owner, quality control owner and service owner. The printer will be in full operation/printing production for 3-5 days before its departure from factory.
After printer arrival - 365 days FREE OF CHARGE products warranty. And FREE OF CHARGE software update. That include any Non-human damage to all mechanical & electrical components, UV Curing System, Control System and Spare Parts Kits. And any update of workstation and App. So you will not spend any more money on the hardware and software than what's on the price list in the next whole year.
D. Return or exchange on DOA.
artisJet guarantees exchange or return in the event that the artisJet printer you have purchased has DOA (dead on arrival). This grants you the right to receive a working replacement printer within 10 working day.
E. Services based on SLA for 2 years.
artisJet has a strong professional tech team that are dedicated to your after service. Including but not limited to printer installation guidance, software installation & training, print training, maintenance practice guidance and common troubleshooting guidance.
This brings up one of the concerns of users without printer using background: what if I can't operate UV printers well after purchase?
Combine the easy Operation of artisJet printers, and all in one software, users won't have trouble to learn to use them. And if you do, no worries. You have free access to unlimited online training and service for 2 years. We have professional and focused tech team to assist business owners who wanted to make a change and bring new content or expand their businesses. Because after all, artisJet printers are not only designed for professionals who have UV printing background but also for regular users to have a focus on their own work, with printing happening easily and a serve to their business not something they serve for.
Check out the following link to see why is service more important than what you might think it is in an UV printing related business and what's the service terms and team of artisJet: artisJet Service.
F. Related Accessories.
Besides the usual standard UV printer package like Nozzle check templates, Cleaning Solutions, Dampers etc. artisJet printer provide ink cartridges instead of ink bottles which will make your ink changing so easy and clean. Also customized templates for your very own products. Which simplifies your printing process to the max. Phone cases, golfs balls, toys, cosmetics and many other products, we customize templates for you no matter what it is. Learn more about how can templates make your printing process easier here.
Now there's still a question left to explore: What's the ROI of my business taking into account the money I put into artisJet printers?
And that brings up this step - Evaluate the current state of your business and your existing production platform / machine (if you already own one). Secondly, evaluate your new printer. Will it increase speed and productivity? Will it Improve efficiency? Will it give you more business opportunities? How profitable is your new UV printer?
Take a look at the table below for a realistic ROI analysis with phone case printing using artisJet Young printer for an example: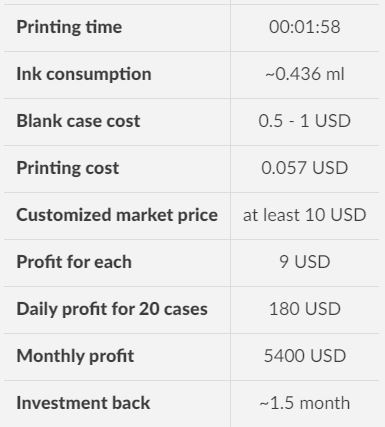 And that was the cost you can see and calculate. Here are a few things you need to pay attention for implicit cost.
Take training periods for example. Think about the time it will take you and your employees to get a hang of the new business. Your business can't operate until you and your staff are confident and comfortable. And if you have any problem you can't fix by yourself during production. Every hour and day that you spend time fixing it, is time, sales, and labor costs that are lost. And it affects your customer retention. You might be able to wait for the problem to get fixed, but your retail customers won't like the waiting and your bigger clients might take the bulk orders somewhere else. And don't mention the cost you can see which is paying for professionals to fix it. So all of these also strongly affect your investment and return: printer quality, production steadiness, training service, after sell service.
Bottom line, artisJet encourages you to do extensive research before you make final decision. After all, no matter if is to start a new business, upgrade your current production, expand your business or adding new projects for your brand, a UV printer is a big fixed-asset investment. It's always challenged to make a change and artisJet will be your solid assistant to you and your business, aim to get the outcome that deserve your effort.
In fact, artisJet has been a reliable partner to small and medium business owners in North America, South America, Europe, Asia and Africa. As well as an official vendor for many international consumer brands, cosmetics brands, mobile telecom operators, theme parks, and other corporations likes Estée Lauder, L'Oreal, T-mobile, Legoland, Procter & Gamble, etc. Find out more on business owners, clients and the brands that we have been working with. For business owners and clients: https://www.artisjet.com/index.php/en/en-stories .
Reach out to us today!
Follow the 4 steps here to better understanding how can artisJet assist you with your specific business needs:
1. Reach out and rise your printing demands;
2. artisJet provide you with printing solution and printer selection base on your business needs and printing demands;
3. artisJet provide printing sample base on your products;
4. Evaluate the printing solution. Evaluate artisJet printer and price. Evaluate samples effect and quality.