ArtisJet Blog
Our latest news and activities.
Details

Written by

Alina Sornea

Hits: 142
About C!Print Madrid 2018. After the success of 2017 edition in Madrid, now is time for the fifth edition, a consolidation time for the C!Print Madrid event. This year's event will take place starting from 25 to 27 September 2018, at Casa de Campo, Pabellon de Cristal, Madrid, Spain.
These 3 days of C!Print Madrid translate into bringing together all sectors in the market of visual communication as well as the new players from relevant markets such as designers (retail design, interior design, graphic design, promotional garments and gifts), decorators (fast furniture, interior decorations), photographers, branding, retails marketing to many more.
Add to this, one of the main challenges of the event is to showcase the new technologies through new related applications, from the latest technological innovations, mainly in the digital area.
artisJet in C!Print Madrid. This is the third year when artisJet is being part of C!Print Madrid. The artisJet LED UV printers and direct to substrate printing solutions will be showcased, once again, by our distributor, artisJet Espana – Abitec Tecnologia, in Stand E257, top floor in the Glass Pavilion.
What you'll discover in Stand E257? Explore artisJet LED UV platforms: from artis 2100U A4 LED UV ergonomic printer to artis 3000U A3+ LED UV printer and artis 5000U A2+ LED UV printer for quantity printing.
During the 3 days show, discover the full potential of direct to substrate printing solutions as startup business ideas or as an additional feature to your existing business: personalized promotional items for marketing purposes, corporate gifts, cosmetics printing on demand, leather customization with LED UV technology, bottle printing with ROT 360 cylindrical attachment.
In addition, discover the innovations and improvements in printing with artis 5000U LED UV printer: rotary printing availability and spot LED UV varnish printing for outstanding printing effects.
Moreover, discover the printing jigs availability for all printers, ensuring a perfect workflow for a wide range of applications: on demand custom jigs for lipstick tubes, fixtures for golf balls printing, phone case printing jigs, beauty products customization jigs (eye shadow and face powder containers, mascara tubes, face cream bottle caps etc.). The variety is conducted by imagination.
Visit Stand E257 in C!Print Madrid and discover artisJet's latest innovations in LED UV technology and all the solutions that will meet your printing requirements. Free up your imagination!
Remember: Stand E257 | 26 – 27 September 2018 | Casa de Campo, Pabellon de Cristal. See you in Madrid!
Find artisJet's event page on Facebook, Twitter, Instagram, Pinterest, Google+, Flickr, and YouTube and stay connected for upcoming news and details.
Like, follow and join us online to make sure you stay updated with the latest news on artisJet printers, direct to substrate printing solutions, technology and personalization ideas.
Details

Written by

Alina Sornea

Hits: 167
UNDERSTANDING DTG PRINTING
As the name suggests, Direct to Garment Printing, also known as DTG printing, digital direct to garment printing, is a process of printing on textiles and garments using specialized or modified inkjet technology. The two key requirements of a DTG printer are a transport mechanism of the garment and specialty inks that are applied to the textile directly and are absorbed by the fibers. DTG uses specialty water-based inks, which are absorbed by the fibers of the garment.
Know the Garment Printing techniques. Which garment printing method is better? What to compare. DTG printing versus screen printing, DTG printing versus heat transfer printing etc.? When it comes to printing a design, picture or logo on a garment, there are a number of methods. Screen printing, heat-applied transfers and now dye sublimation are widely used garment decorating techniques, but none truly compare to the capability of a DTG printer.
With dye-sublimation garment printing, the image is first printed onto a release or transfer paper, then placed in contact with a polyester textile under high heat and pressure. The heat causes the ink to sublimate, than turn from a solid to a gas and bond/transfer to the garment.
The heat transfer printing method applies custom designs to items like T-shirts or tablecloths through a process that uses a combination of heat and pressure.
The technique of printing images on garments using stencils and screens dates back to ancient China, screen printing has transformed over the years, but even in its present-day form, the process involves a blade or squeegee pushing inks through a stencil covered mesh or screen.
Digital Direct to Garment Printing. DTG prints can look as good as or better than traditional apparel printing processes, such as screen printing. The amount of time & labor involved with digital DTG printing is significantly lower than traditional methods.
Textile DTG printers using inkjet technology are attractive because the process of creating a printed garment from scratch using traditional technologies can be long and complicated. DTG printers for textile printing makes garment design and printing simple, accessible and cheap, especially compared to traditional screen printing. With a textile direct to garment printer you have all the ingredients for an exciting new business model.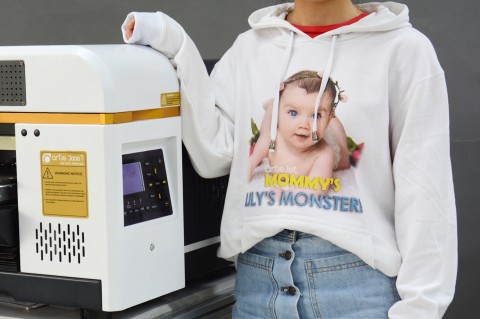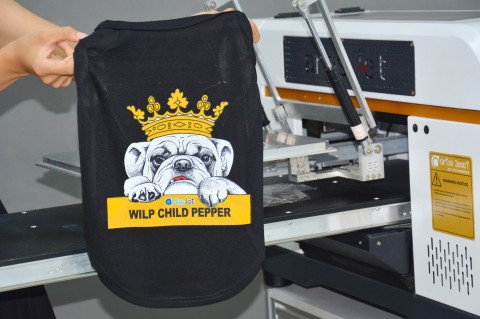 ADVANTAGES OF DTG PRINTING
There are certain advantages and ideal uses for the direct to garment printing process. Direct to garment printing uses a specially designed inkjet printer and specialized inks to print the design directly onto the garment, just as you might print a picture straight onto a piece of paper with a regular printer. The benefits of this include:
• Most color garments can be printed onto – DTG printing provides the potential to print onto virtually any color of garment, so you can create the design that you really want.
• Wide range of applications such as T-shirts, caps, sweatshirt, ties, personalized footwear like socks, tote bags and more.
• Water based garment inks and pigmented inks which are non-toxic and environmentally friendly, it has an excellent color fastness, high elasticity and non-cracking attributes, while the CMYK + White white inkjet technology gives outstanding vibrant prints on light and dark garment. The white ink channel makes printing on dark substrates way easier, producing high resolution quality prints both on cotton and polyesters.
• DTG printing system is widely used in small quantity printing business and customized high-end garments business.
• Various on demand printing plates to ease the printing process – easy print in low cost and no limit for the order quantity to your customers.
• Direct to garment printers generally require a specialized software package called a Raster Image Processor (RIP) to print properly. Modern RIP Software, also generates the white ink under base required to print on dark garments (for example black T-shirts), controls the amount of white and color ink laid down and color matching as well as other functions such as multi-shirt image placement and ink cost calculation.
• The process of direct to garment printing is simple.
a) Pretreat – Prepare your shirt for printing;
b) Load your printer – hoop your shirts on and get ready to print;
c) Print and Sell – let the printer do its work – then heat press and sell.
The technology is a revolution and stimulation in this field, bringing new colors and vitality. DTG printing systems are available to handle all pre- and post-treatment to produce personalized/customized fabrics, T-shirts, sportswear and other items of clothing and accessories, such as baby clothing, hats, bags, napkins and towels – on demand. If you want each T-shirt to be different and you want them printed in a four-color photographic digital printing process using a compact DTG desktop printer is really your only cost effective option.
If you are interested in short runs, prototyping, T-shirt printing or customized garments, the possibilities available to you are about to get very interesting.
You can reach us by several ways: Facebook, Instagram, Twitter, fill in the contact form or simply e-mail us by This email address is being protected from spambots. You need JavaScript enabled to view it..
Feel free to request a sample to discover the DTG printing capabilities with artisJet.
Details

Written by

Alina Sornea

Hits: 175
Know the details. Since 2001, Photo FEST India is a national trade fair of photographic materials and accessories in Kerala. Although of national level, there were international players in the field of photography. By 2004, Photo FEST India turned out to be the biggest brand show of photography accessories in India, not just introducing innovative products, but also providing business solutions to both exhibitors and visitors.
Organized by All Kerala Photographers Association AKPA, the 2018 edition is being held in Angamaly, Ernakulam, Kerala, at the Adlux International Convention Centre. AKPA is the flagship platform of the scores of professionals in Kerala, engaged in photography, videography and the allied fields. Currently, there are more than 15,000 active members to its credit.
During the 3 days event, from 12 to 14 July 2018, at PHOTOFEST INDIA – Photo, Video and Imaging Fair both visitors and exhibitors will discover a series of seminars and workshops, latest photo and video business trends, photo exhibition and even a fashion show.
artisJet direct to substrate printers at the event. You are invited to join artisJet and its partner representative, RS Marketing & Logistics Pvt. Ltd, in Booth No. 92 & 93 | Adlux Intl. Convention Centre. The reason? When it comes to digital technology, photography goes hand in hand with printing. Whether is LED UV printing or DTG printing, photography and direct to substrate printing boosts the personalization industry. Use unique photos, original artwork and graphic designs to create outstanding custom made products for print on demand businesses. Create wedding photography albums with LED UV technology; make custom T-shirts and all kind of textile and garments with DTG printers.
RS Marketing & Logistics Pvt, Ltd will await you with full printing solutions from artisJet: artis 5000U A2+ LED UV production printer, perfect for book cover printing, wedding gifts, custom gifts, gift packaging, and even bottle printing due to the NEW ROT 360 rotary attachment for cylindrical printing; and artis 3000T A3+ DTG system for textile printing with the advantage of customizing all kinds of garments: classic T-shirt printing, printing on T-shirt sleeves, canvas tote bags and backpacks printing, custom dog clothing, personalized baby clothing such as baby bibs, baby singlet suits, and baby bodysuits due to the eco-friendly DTG inks and perfect match with cotton substrates. Want more? Personalized uniforms such as custom aprons.
Join artisJet and RS Marketing & Logistics Pvt Ltd in Booth 92&93 – Adlux International Convention and Exhibition Center, PhotoFEST India, from 12 to 14 July 2018.
Stay connected with artisJet on social media! Look for us on Facebook, Instagram, Pinterest, Twitter, Flickr, YouTube! We will keep you updated with images from the event!
Details

Written by

Alina Sornea

Hits: 158
Taipei PACK 2018. Today already marked the start of Taipei Pack 2018 edition, a significant international exhibition on the continent of Asia. With a renowned background, Taipei International Packaging Industry Show brings together packaging industry professionals from all over the world, who seek to expand their businesses to Asian territory. The Taipei PACK event pairs with Foodtech & Pharmatech TAIPEI, FOOD TAIPEI, Taiwan Horeca and HALAL TAIWAN, making it Asia's premier packaging exhibition.
Organized by Taiwan External Trade Development Council (TAITRA) and Taiwan Packaging Association, the 2018 edition is being held in Taipei Nangang Exhibition Center, Hall 1, Ground Level, Area 1 and TWTC Exhibition Hall 1, Ground Level, Area D.
artisJet Packaging LED UV Printing Solutions brought to Taipei. During the 4 days event, you will discover a large variety of professionals with expertise in: packaging machinery and materials, packaging plant systems, filling / sealing / weighing machinery, printing machinery, food and pharmaceuticals packaging machinery, bag making machinery and many others.
artisJet's partner in Taiwan, Mega Printing Technology Co., Ltd., is already showcasing one of artisJet's A3+ LED UV printers, the artis 3000U printer model. Ergonomic in size, artis 3000U LED UV printer is suitable for small working environments, making it a versatile desktop printer for print on demand workflows.
With the capability of printing on an extensive array of media and applications for personalization businesses, artis 3000U is also suitable for packaging printing: cardboard boxes printing, cosmetics packaging, custom wedding gift packaging, wood boxes, gift packaging of different substrates, graduation gifts, customized small boxes for medals, prototype packaging printing to larger packaging items, due to its 9 cm printing height.
Visit us in Taiwan! If you want to see the artis 3000U A3+ LED UV printer, our partner will be waiting for you with onsite printing demonstration in Booth I0301 | Hall 1 | Taipei Nangang Exhibition Center, 27 – 30 June 2018!
Stay connected with artisJet on social media! Look for us on Facebook, Instagram, Pinterest, Twitter, Flickr, YouTube! We will keep you updated with daily images from the event!
Details

Written by

Alina Sornea

Hits: 176
About the event. Photography, Videography, Digital Imaging, Frame & Album Exhibition, or Photo Today Show, is an international exhibition that brings together professional and amateur photographers, film industry professionals, photo retailers, digital printing business players, graphic designers, resellers and many other photography industry related professionals.
When? Open doors today, 27 June and until 29 June 2018. Where? The all-in-one show dedicated to photography will be held in Bangalore International Exhibition Centre.
Photo Today has become a leading show for the industry. During the 3 day event, around 20,000 relevant visitors are expected to attend Photo Today 2018 edition.
Nevertheless, at Photo Today 2018 you will discover the latest digital imaging services and equipments, as well as other range of products related to the amazing creative world of photography.
The printers. artis 5000U is the best option when it comes to customize multiple wedding invitations, benefiting from its SPOT LED UV Varnish technology, which ensures a high gloss and diamond-like effect for your print finishes.
A great additional feature for artis 5000U, is the ROT 360 cylindrical device, which helps in personalizing both wedding bottles gifts and bottle packaging with the same design. Your choice!
The DTG printer levels up the garment printing industry by allowing printing complex graphics, artworks and images at high resolution output: T-shirt printing, baby clothing, jeans printing, tote bags printing, canvas bags, cotton shirts, aprons, dog clothes, sports socks, promotional garments for different events etc. Due to the custom on demand printing jigs, you can print on the short sleeve of the T-shirts or on the long sleeve of the sweat shirts and parkas too.
Details

Written by

Alina Sornea

Hits: 177
INDOOR DECORATIONS AND WOOD PRINTING
From large wood boards, canvas, art reproductions, wall décor, fine art and many other applications, the indoor decorations are probably the most requested products for the personalization printing industry, whether is for personal use or business related.
When it comes for printing, wood is a truly versatile material. One of the coolest features of wood photo printing is how the natural lines of the wood grain show through the lighter colors of a picture or photo. The primary reason for this is that no white ink is used in the printing process, so any white color is replaced with the natural color of the wood.
Wood frames come in different colors, sizes and shapes and even type of wooden material. You can print quality photos, logos and text not only on regular wooden boards, but directly onto different wood substrates, creating amazing indoor decorations or giveaways.
There is a wide variety of custom picture frames for your photos and artworks. Prints can be done on medium density fiberboard (MDF), an engineered dense, flat wooden product that has no knots. MDF is highly popular thanks to its affordability and versatility and is ideal for a range of applications, commonly used for indoor decorations.
PRINTING ON WOOD AND CANVAS WITH ARTISJET LED UV TECHNOLOGY
artisJet LED UV inks not only complement the natural look of the material, but also give the potential to build textured effects, giving canvases vivid dimension and a realistic finish that looks and feels like an oil painting! Overlays can also be added with spot LED UV varnish while printing on wooden boards to create photo frames. This printing process greatly enhances images of fine artwork and can add effects to photos, too.

With artisJet printers you have the ability to print on all these types of materials, achieving great results like a 3D raised printing effect.
Express your creativity by printing directly on stretched canvas and achieve high color density and quality results. Canvas prints bring a minimalist, modern element to any room and offer various material sizes and styles to choose from. Add vibrancy and style to any office or home by displaying your favorite artwork, designs or memories.
Printing on canvas is the preferred choice when going for a "painted" effect. Canvas prints enhance many decor styles with the contemporary gallery-wrapped edges. When it's time for a wall decor update, canvas prints are a simple way to transform your walls. They add texture and a stylish visual aesthetic. Whether you select one or two large canvas prints, they'll enrich the colors and furniture in any room.
Why stop at just one canvas print? A wall display package allows you combine elements to create your very own photo documentary. Create photo collages by printing one image onto multiple canvases, this way making a bigger final artwork for wall decoration. Play with frames, colours, styles and effects.
ARTISJET MULTIPLE LED UV WOOD PRINTING IDEAS AND BENEFITS
There is always a chance of variances between each print, and with digital LED UV wood printing the final products are precise and consistent. artisJet custom digital LED UV direct printing on wood and direct printing for indoor decorations allows changes and manipulations to designs to happen rather quickly and with minimal effort due to artisRIP software.
artisJet Direct to wood LED UV printing technology is also about anything you can image, and artisJet digital wood printers will deliver directly onto any type of wood, creating a durable and touchable colors, amazing image that you are always proud to display and share for personal memories or commercial occasions, everything with endless possibilities.
Start your own custom printing kiosk business with artisJet LED UV printers.
With artisJet LED UV printers, it's easy to start a kiosk printing business because it gives you the possibility to print on various applications in small spaces, instant print on wood frames of all shapes and sizes. The mall kiosks have proven the most successful for artisJet's clients who sell custom products. The shopping mall kiosks are generally promising high traffic, therefore a large number of potential customers.
artisJet LED UV platforms are the right choice when printing on wood substrates .
RECOMMENDED PRODUCTS FOR DIGITAL UV LED DIRECT TO WOOD PRINTING SOLUTIONS
In the end, indoor deco is about you and your business. So choose pieces that speak to your passion and print applications that will impress.
Request a sample and develop your indoor decorations ideas with artisJet. Ask informations by e-mail to This email address is being protected from spambots. You need JavaScript enabled to view it. and enhance the printing capabilities of your business.
Stay connected to artisJet for upcoming news! We are on Facebook, Twitter and Instagram! Like, follow and join us online to make sure you stay updated with details on upcoming news, events and our printers, direct to substrate printing solutions, and technology.
Details

Written by

Alina Sornea

Hits: 196
We see signs every single day. Drive down the street and you'll be confronted with road signs indicating which speed to drive at or directions to the town. In the workplace, you'll discover health and safety signs littered here, there and everywhere. You'll notice that shop signage is plentiful, detailing opening hours plus displays of discounts and deals.
So, what is signage? Signage is generally defined as any kind of graphic display intended to convey information to an audience. Signs are often used for advertising and marketing by companies or organizations.
TYPE OF SIGNS AND SIGNAGE
Health and safety signage. They can be found in places such as workplaces, nurseries, schools and offices. Signs provide information and warnings about hazards or threats which are essential to safety.
Informational signages. These are signs conveying information about services and facilities, such as maps, directories, instructional signs or interpretive signage used in museums, galleries, zoos, parks and exhibitions that enhance the customer's experience.
Persuasive Signage. Promotional signage designed to persuade users of the relative merits of a company, product or brand.
Directional signage. Directional signages are signs showing the location of services, facilities, functional spaces and key areas, such as sign posts or directional arrows.
Identification Signage. Indicate services and facilities, such as room names and numbers, restroom signs, or floor designations.
Safety and Regulatory Signage. Safety signs give warning or safety instructions, such as warning signs, traffic signs, exit signs, signs indicating what to do in an emergency or natural disaster or signs conveying rules and regulations.
ARTISJET LED UV DESKTOP PRINTERS TO SUPPORT SIGNAGE PRINTING BUSINESSES
artis 3000U and artis 5000U are ideal for general industrial use, restaurants, hotels, hospitals and indoor signage applications due to its eco-friendly ink system and technology. With its direct digital printing on all substrates with instant drying, the A3+ and A2+ LED UV platforms offer great printing performances at high speed and high resolution on all printing media. Add to this, if you intend to print small format signage, with a maximum printing area of 180 x 297 mm, artis 2100U is the right flatbed printer choice.
BRAILLE SIGNAGE
Have you ever stopped to think about how Braille signs are made? In the past, it has been an intricate process that takes time, money, and extremely specialized tools. If you wanted to add Braille signs to your offerings for your customers then it was a huge investment. But now, with the artisjet UV LED printers Braille signs can now be made easily and affordably.
artisJet UV LED printers create signage with colors, raised characters that meet ADA signage standards.
Braille LED UV technology is useful for all individuals, especially due to its ability to print raised dots in order to create Braille tactile signage for those with visual impairments. This technology provides an easier solution to making Braille applications signs, panels, keyboards for computer or other devices such as electronic calculators.
These UV LED Braille printing techniques are ideally reliable for plastic substrates, metallic substrate, direct to wood printing substrates, aluminum, PVC and many more which are cost-effective, time saving and a non-proprietary solution open to UV printer users.
Benefiting from the automatic repeat printing functionality for multiple layers with domed and rounded ink dropping shape, the artisJet direct LED UV printers allow you to deliver an inkjet height on the materials from 0.1 mm up to 10 mm at a fast production speed in one step. artis 5000U A2+ LED UV printer, the artisJet A3+ size LED UV available platforms, as well as the ergonomic artis 2100U A4 printer, all can achieve this creative potential by custom Braille printing and more!
VARNISH PRINTING FOR SIGNAGE
Spot varnish is a great way to maximize the contrast between matte and gloss surfaces. It allows you to apply varnish to a certain image or graphic on your printed piece, such as a logo or photo, while leaving the rest of the piece unvarnished.
The extensive experience artisJet has gained in the Spot LED UV Varnishing has helped us develop a wide range of printing effects, such as spot gloss, matte varnish, 3D relief with raised varnish, subtle relief, strong printed textures, and scratch-resistant prints even for outdoor items, such as signage printing and door signs.
With the enhanced artis 5000U platform, the spot LED UV varnish adds a gloss finish and UV coating that helps your signs stand up better to the elements outdoors. Moreover, it provides excellent protective quality as well as a raised touchable effect as the 3D embossed effect and Braille tactile effect, often used in direct to signage printing.
Raised colors printing, varnish printing and 3D effect for Braille applications and outstanding printing results can be easily achieved with artisJet's LED UV technology, enhancing the personalization businesses and impressing the customers.
These are just few of artisJet LED UV printers' features. In addition, artisJet A2+ LED UV platform offers 360 degrees cylindrical printing to produce printed water bottles, personalized bottles, gift bottles and much more. That's why artis 5000U LED UV printer becomes one of the best choices for all business ranges, from start-ups, small or developed businesses.
Request a sample and develop your signage ideas with artisJet. Ask informations by e-mail to This email address is being protected from spambots. You need JavaScript enabled to view it. and enhance the printing capabilities of your business.
Stay connected to artisJet for upcoming news! We are on Facebook, Twitter and Instagram! Like, follow and join us online to make sure you stay updated with details on upcoming news, events and our printers, direct to substrate printing solutions, and technology.
Details

Written by

Alina Sornea

Hits: 161
artisJet in FESPA Berlin 2018. artisJet will be part of the FESPA Berlin 2018 edition, Europe's largest exhibition for the wide format print. artisJet invites you to join us in FESPA 2018 and to discover its direct to substrate full printing solutions.
From 15 to 18 May, artisJet will showcase three of its well-known LED UV printer portfolio: from artis 2100U A4 format LED UV printer model, to the A3+ printer, artis 3000U LED UV system, as well as artis 5000U, the A2+ LED UV printer for increased printing production workflow.
All printers will await for its visitors in BOOTH D67 | HALL 3.1, along with multiple printed applications items: indoor decorations, wood frames, photo frames, glass printing solutions, phone cases, golf balls printing, promotional items (wood coasters, customized pens, key chains, pvc cards printing and vdp cards, name tags), book covers, agendas and notebooks and more.
Want more? What about LED UV printing directly on bottles and cylindrical objects? The NEW artisJet ROT 360 degrees technology and rotary attachment will turn the artis 5000U desktop flatbed printer into a rotary printer for on demand printing on bottles, cylindrical packaging, glass candle holders and direct to candles printing etc.

FESPA 2018 – things to know! Occupying ten halls with specific zones for various printing industry branches, such as screen, digital and textile printing solutions, the FESPA Global Print Expo in Berlin is right on the corner.
Starting next week, the FESPA Berlin 2018 event will bring together over 700 exhibitors (complete exhibitors list here) from different areas: screen printing, textile printing, digital printing, interior decor, signage solutions, packaging and display, and others.
During the four days event in Messe Berlin – Berlin Expo Center City, you will discover the newest products, the latest technologies and the best advice. For visitor badge registration, follow this link: FESPA 2018 registration.
The fair's past years' edition attracted an increased attendance from Eastern Europe, from countries such as Poland and Russia, in addition to the traditional audience from Western Europe and United States as well.
Discover artis 2100U, artis 3000U and artis 5000U LED UV printers and artisJet direct to substrate printing solutions in Booth D67 | Hall 3.1 | Berlin Expo Centre City. See you in FESPA 2018!
Stay connected to artisJet for upcoming news! We are on Facebook, Twitter, Instagram, and Pinterest and other platforms! Like, follow and join us online to make sure you stay updated with details on upcoming news, events and artisJet printers, direct to substrate printing solutions, and technology.
Details

Written by

Alina Sornea

Hits: 255
The game of golf is becoming more popular, and as a result, promotional golf products are more effective than ever before. By providing items that are commonly used during a game of golf, you can connect with your clients every time they pull out their clubs and go for a hit.
Amongst all the different methods and tools to market to your audience, promotional items could prove to be a perfect way not only to stay top of mind within your current customer base, but to also educate your prospects about your company and offerings as you work on growing and increasing awareness around your business.
Plan thoughtfully the design of your promotional items. Keeping your brand and colors in mind, gear your design towards an attractive and appealing structure that will make your recipient remember you and your business.
artisJet direct to golf ball printers can help you capture the orders, such as company logos, souvenir for celebrating an event or occasion, family and friends customized balls.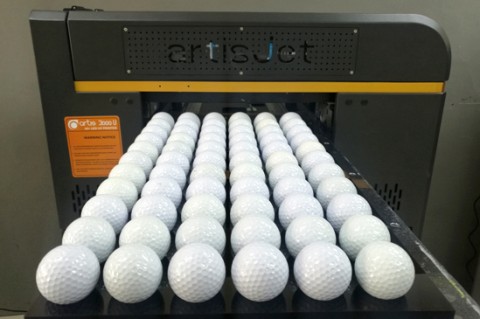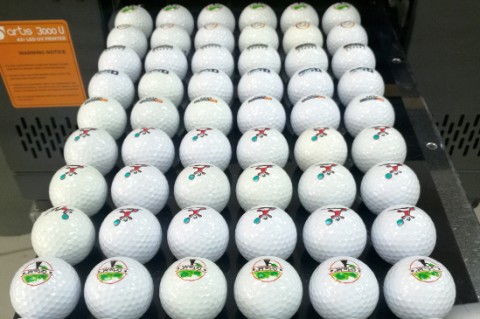 HOW TO PRINT ON GOLF BALLS?
artisJet LED UV printers provide many unique capabilities that are valuable for golf ball printing, including:
• Standard golf fixtures/jigs - are available to allow printing multiple golf balls in a single pass. artisJet customized golf balls printing solution adopts gorgeous and colorful ink system, and unique designed standard golf jigs allow printing high quality pictures, logos and text directly on multiple golf balls at one time.
• Rich yet sharp color performances - empowered by the piezo print technology and anti-static print systems, artisJet custom golf ball print solution delivers the colors directly on the golf balls in photo quality and highest sharpness.
• Glitter/ varnish print result on demand - equipped with latest DTS3 Varnish ink, artisJet printers support the clear printing to enhance the performances of the printed products on demand.
• Fast production speed at low cost - by importing the files into the artisRIP software, the products will be ready in few minutes. You can print multiple balls in single pass with custom jigs. For A3+ LED UV printers, the size of the jig is 55*30 cm, which means printing 72 pcs / one pass; for artis 2100U A4 LED UV printer, the jig size allows printing 24 pcs / one pass.
• Variety of substrates - Print unlimited applications on different kind of materials like acrylic, plastic, wood, leather and much more.
Business owners and golf fanatics should consider customized golf balls not only for games and sports but also as one of the hottest products on the golf market. Customized golf balls can be used as promotional items, gifts, corporate promotion items or to simply give the golf balls a special unique differentiation from other market players.
A logo is the one element that should encompass a message, image, voice, brand… all in one! If the logo is done the right way, it will communicate the point of differentiation and help businesses stand out while positioning in the consumers' mind.
There are many creative ways that can connect businesses with their clients, and one of these is through promotional golf products.
Stay connected to artisJet for upcoming news! We are on Facebook, Twitter and Instagram! Like, follow and join us online to make sure you stay updated with details on upcoming news, events and our printers, direct to substrate printing solutions, and technology.
Discover artis 2100U, artis 3000U and artis 5000U LED UV printers and artisJet direct to golf balls printing solution and more in FESPA BERLIN 2018 15-18 MAY in Booth D67, Hall 3.1 Berlin Expo Centre City look for artisJet in Booth D67 | Hall 3.1 | Berlin ExpoCenter City.
Details

Written by

Alina Sornea

Hits: 211
Do you like to play with colors and use them wherever you can? The perfect packaging idea will be to use the full color box. Such a box attracts the attention of a larger audience. Make them stand out on the shelf – you can add your own company print on the package.
Simplicity and shape can go a long way. Round shaped boxes are the perfect choice for high-end gift and retail packaging. Cylindrical shaped boxes are distinct in their style; it can be used to package any types of products from tea, coffee, and chocolate to beauty products.
artisJet's extensive knowledge of printing and production ensures you to get the very best guidance for packaging innovations that support key business objectives.
Designed by the idea of simple operation, artis 5000U printer allows you to start your own business for small sized round and cylindrical packaging. Although perfect for quantity printing and larger applications (up to 100 mm in height and 51*71 cm printing area), artisJet's A2+ LED UV printer is suitable whether for small working environments, home business, office business, shopping mall kiosks, and chain store business as well.
Add to this, with the recently launched ROT 360 technology, the artis 5000U LED UV printer becomes a rotary printing machine, which accommodates cylindrical objects with a maximum print bottle diameter of 7.6 cm and a minimum print diameter of 5.7 cm.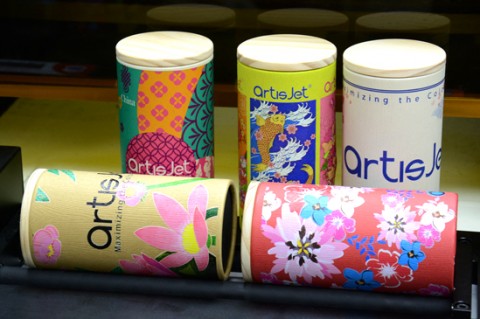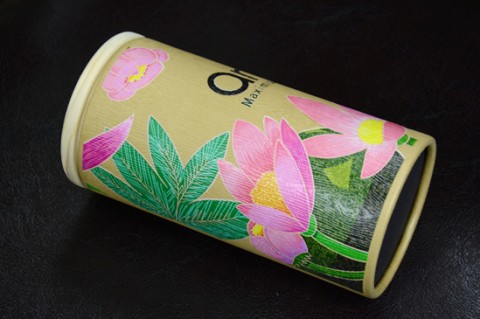 The artisJet LED UV printers are designed for all the printing possibilities on demand. With its environmentally friendly printing solutions, it empowers you to print on wood, metal, cardboard etc. and all the custom packages needed for any special occasion.
Personalized round boxes are used for a variety of applications including: chocolate boxes, drinks packaging, perfume packaging, gift boxes, personalized gift candles, bottle packaging, cylindrical tube packaging, Kraft paper tubes and more.
To support this idea, you can develop your workflow with digital printing on cylindrical objects such as personalizing a tea box with a photo, favorite quote, company logo or custom artwork. This way, you will create a gift that will be used and admired for years. Amp up the creativity and assign different colors for each tea flavor so your customers can easily find them and you can effortlessly monitor the inventory.
A wonderful addition to any tea lover is tea nook or even the company break room. Cardboard boxes or paper tubes packaging allow printing of the design on the walls of a box too, which makes it a very sophisticated branding channel. Moreover, with ROT 360 device you can create amazing cylindrical packaging for tea storage.
All in all, packaging is the only marketing channel that reaches all of your clients.
Explore our options to create a personalized round box printed with artis 5000U that matches your brand personality and reflects your brand image seamlessly.
Ask for artis 5000U and custom rotary device ROT 360 product quotation by e-mail to This email address is being protected from spambots. You need JavaScript enabled to view it. and enhance the printing capabilities of your business.
Better look for artisJet's products and visit us at FESPA BERLIN 2018 15-18 MAY in Booth D67, Hall 3.1 Berlin Expo Centre City and discover more of what artisJet's printing technologies and solutions can do for your business.
We are on Facebook, Twitter, Instagram, Pinterest, Google+, Flickr, and YouTube and stay connected for upcoming news and details.
Subcategories