Whether you intend to catch the eye of a customer browsing the shelves of their local bottle shop, or create a memorable keepsake for a wedding or anniversary party, artisJet has the perfect solution for you.
The perfect gift is equal parts thoughtful, unique and desirable - personalized bottle wine is all three. It's time to bring your personalized products to life by using amazing, high quality, full vivid colors direct-to-substrate printing with artisJet printers.
In order for you to create a powerful business by making beautifully designed, durable custom bottles printed within minutes, artisJet recommends the artis 5000U and artis BR U1800 LED UV printers, due to their custom rotary device availability and printing height.
360 DEGREES LED UV PRINTING ELIMINATES THE NEED FOR LABELS
Custom LED UV rotary printing with artis 5000U accommodates cylindrical objects with a maximum print bottle diameter of 7.6 cm and a minimum print diameter of 5.7 cm. 360 degrees LED UV direct to substrate printing technology eliminates the need for label substrates.
The advantages of ROT 360 device are boundless. The ROT 360 rotary device for artisJet's A2+ LED UV printer allows direct printing of complex designs, images or simple line of text.
Turn the flatbed printer into a rotary printer – this makes the artisJet LED UV printer a full solution for your business – print on flat boxes, but with 3D embossed effect and raised colors.
Add the ROT 360 device on artis 5000U A2+ LED UV printer to change it into a rotary printing machine – create personalized drink ware, custom wedding bottles, and special gifts such as wine bottles and so on.
With artisJet's ROT 360 rotary attachment, you will get more complex products to the same high standard and quality of a flat product.
Achieve full prints on the personalized bottles with no breaks, seams or overlaps. The ROT 360 technology ensures perfectly combined prints, from one edge to the other, empowered by artisJet's user-friendly Print Manager and artisRIP V9.0 software.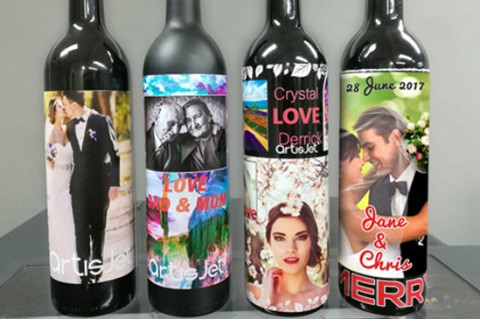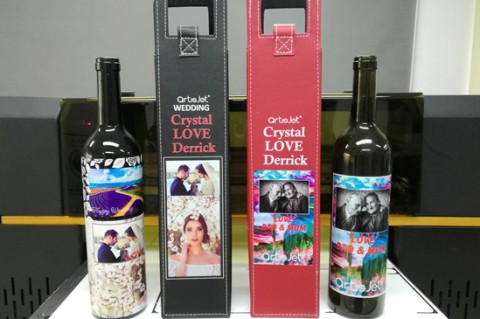 WEDDING GIFT BOXES AND CUSTOM BOTTLES PRINTING SOLUTION
Don't limit yourself to make just personalized bottles gifts for wedding; you can also have personalized wedding favor boxes for bottles. The options are ENDLESS. These beautiful boxes provide a stunning way to display wine bottles and are a great addition to any personalized wine gift .The wine will be consumed but these boxes will last forever.
Customize a canvas, wood, cardboard or jute wine gift box with direct to substrate LED UV printing technology to add a personal touch. The jute gift packaging items below are unique. A bottle of wine in an ecological packaging forms a perfect alternative to packing paper or the standard box.
Direct to substrate LED UV printing technology is also about anything you can imagine, and artisJet digital printers will deliver directly onto any type of wood or hessian materials creating durable and touchable colors, amazing images that you are always proud to display and share for personal memories.
Being able to personalize with the name of the happy couple and their wedding date, gives these boxes a unique edge which will make a favorite for many years.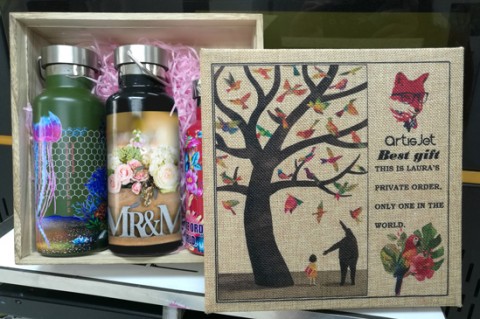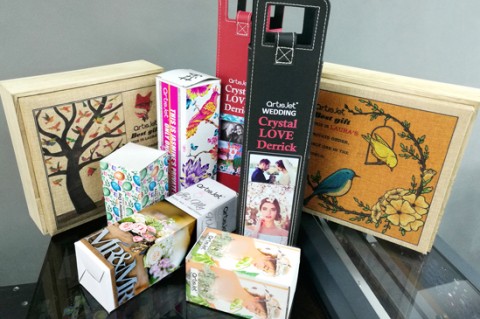 DEVELOP YOUR IDEAS WITH ARTISJET CYLINDRICAL PRINTING.
There are no surprises here! You'll love the vivid colors and bright print of these personalized wine bottles.
High color vibrancy, sharpness, and detailing results. The LED UV ink is a kind of pigmented ink with photo initiators which delivers rich, deep colors to maintain their vibrancy. The LED UV ink is unique due to its layering performance. This way, you can achieve 3D embossed prints and textured printed artwork on the wooden boxes. Enhance the wooden wine box with raised letters printing.
Request a sample and develop your ideas with artisJet. Ask for artis 5000U's custom rotary device ROT 360 by e-mail to This email address is being protected from spambots. You need JavaScript enabled to view it. and enhance the printing capabilities of your business.
Stay connected to artisjet for upcoming news! We are on Facebook, Twitter and Instagram! Like, follow and join us online to make sure you stay updated with details on upcoming news, events and our printers, direct to substrate printing solutions, and technology.