SECURE THE
COLOR PERFORMANCES
PROFESSIONAL SOLUTION FOR MATERIAL DURABILITY ON DEMAND


WHY UV COATING?
UV ink compatible, the coating is used for certain materials that require special treatment with coating agent, this way ensuring color printing durability on some materials, and enhanced features: scratch resistance attributes, better print protection, abrasion resistance, scratches, rubbing or ink smudging, increasing the print durability under frequent use or external factors.
COMPATIBLE TO ARTISINK DIRECT TO SUBSTRATE
The coating treatment can be applied to the special materials such as glass, aluminum, ceramics etc., that will be printed with any of artisJet printing models and artisInk direct to substrate inks.
WHAT MATERIALS MIGHT NEED COATING?
Some of the substrates can be directly printed, but some require special preparation with coating before printing. Almost all types of metal materials: aluminum – brushed aluminum, aluminum board, aluminum setter, PS aluminum, mirror aluminum; steel – galvanized steel, tinning steel, color painted steel; iron, copper, as well as on glass, ceramics, plastic materials.
HOW TO APPLY THE UV COATING?
Please refer to each coating user manuals.

BRCP-U COATINGS AVAILABILITY
BRCP-U Coating from artisJet brand, with 100ml, 500 ml or 1000 ml quantity / bottle. Bottles available: metal coating, glass coating, plastic coating, aluminum coating.

Download product datasheet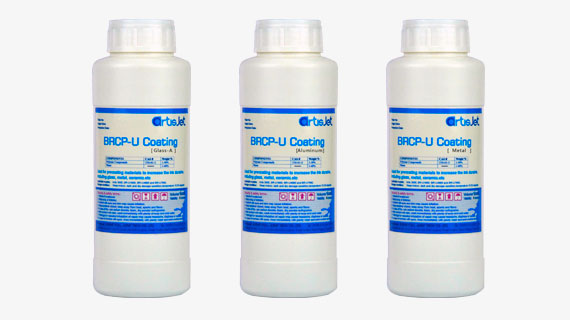 Ordering Information
| | | |
| --- | --- | --- |
| Product No. | Description | Ink Compatibility |
| | | |
| BRCP-U-100-001 | Coating for metallic substrates, 100 ml | All artisJet printers |
| BRCP-U-500-001 | Coating for metallic substrates, 500 ml | All artisJet printers |
| BRCP-U-1000-001 | Coating for metallic substrates, 1000 ml | All artisJet printers |
| BRCP-U-100-002 | Coating for glass-A substrates, 100 ml | All artisJet printers |
| BRCP-U-500-002 | Coating for glass-A substrates, 500 ml | All artisJet printers |
| BRCP-U-1000-002 | Coating for glass-A substrates, 1000 ml | All artisJet printers |
| BRCP-U-100-003 | Coating for glass-B substrates, 100 ml | All artisJet printers |
| BRCP-U-500-003 | Coating for glass-B substrates, 500 ml | All artisJet printers |
| BRCP-U-1000-003 | Coating for glass-B substrates, 1000 ml | All artisJet printers |
| BRCP-U-100-004 | Coating for aluminum substrates, 100 ml | All artisJet printers |
| BRCP-U-500-004 | Coating for aluminum substrates, 500 ml | All artisJet printers |
| BRCP-U-1000-004 | Coating for aluminum substrates, 1000 ml | All artisJet printers |
| BRCP-U-100-005 | Coating for plastic substrates, 100 ml | All artisJet printers |
| BRCP-U-500-005 | Coating for plastic substrates, 500 ml | All artisJet printers |
| BRCP-U-1000-005 | Coating for plastic substrates, 1000 ml | All artisJet printers |