artisJet Services
Service is as important as products, even more
Service matters when you purchase new equipment especially something like a UV printer. So does product, tech, design...and other factors. But as a customer, you already know that, didn't you? We are not trying to remind you customer service is important. We do want to remind you to take it into priority consideration before purchasing a UV printer.

Including but not limited to following reasons:
1) Implicit cost.
Take training periods for example. Think about the time it will take you and your employees to get a hang of the new business. Your business can't operate until you and your staff are confident and comfortable. And if you have any problem you can't fix by yourself during production. Every hour and day that you spend time fixing it, is time, sales, and labor costs that are lost. And it affects your customer retention. You might be able to wait for the problem to get fixed, but your retail customers won't like the waiting and your bigger clients might take the bulk orders somewhere else. And don't mention the cost you can see which is paying for professionals to fix it.
2) Productivity.
Of course the quality of the UV printer and the software are the decisive factors to your productivity. But maintenance practice guidance, common troubleshooting guidance are also important. These affect your stability of continuous productivity. Unless you are a user with a printer hardware background. Having a strong service team to guide you when needed will come very handy in your.
High production efficiency and ROI
How can service help secure your investment success?
High production efficiency and ROI supported by full automation, Intelligence edge, reduced labor cost, internetization even cloudization are the most important essentials to secure your business success in today's business environment, the same applies to the custom-printing business.

In artisJet, a solution pairing your custom printing demand with smooth operation, effective production and hassle-free maintenance for long run is everything we instill in our daily work. artisJet support and service team protect your investment in the printers by maximizing the value of our experiences and the performances of the devices. With the standardization of SLA (Service Level Agreement), on-site, online services, extended warranty, and custom service packages, artisJet will cover the journey of your success.
Solid assistance
Customer care service introduction
artisJet has a strong professional tech team that is dedicated to your after service, aiming to be your solid assistance. Your customer care service including:
Successful Installation of artisJet printer and software
Hardware - artisJet printer installation by artisJet customer care team;
Software - All in one artisJet printing software installation on your designated computer.
Production training
Hardware - artisJet printer user training. No matter you have a UV printing background or zero UV knowledge. We have a solution to your specific training.
For users with UV printing background, our technical team can take you to explore the printing needs of excellence.
For unexperienced users, our team will ensure that you get from zero to one in a simple and understandable way, master the printing process and achieve the best printing effect and efficiency.
Maintenance training
Truth is a regular 90 seconds maintenance can escort your printer go far and long effortlessly. So we will make sure you or your stuff are able to do your own maintenance without anyone's help.
Trouble shooting
A superhero also needs an assistant. As a business owner, you are professional in your business and we are your assistant when you meet troubles in printing. 2 years of free trouble shooting service is visibly time and cost saving.
Service methods
- on site (on demand);
- online (Zoom meeting / Teams meeting / WhatsApp);
- phone call;
- E-mail – E-mail consulting and Q&A, weekly and / or monthly reporting based on your needs, updates on direct communication process with your offices and stores.
Service hours
With a reservation, you can book an online service / guidance anytime of the day. Whether it is 6 in the morning or the middle of the night, we will arrange the team to be there and guide you until your problem is fixed.
Response time
(GMT+8 8am-8pm) 2 hours
Unlock the simplicity of being professional
Service Availability, Visibility and Customization
Reaching the access of flexible yet standard service package is vital to you. You have your own demand and plans for your unique business based on your actual conditions, and artisJet understands.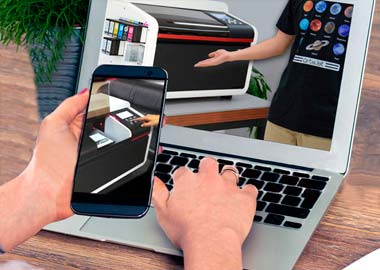 Online Standard Service
Designed for all users with professionally done dynamic and static documents via online (Teams, Zoom, Wechat, Sunlogin, Teamviewer, etc) with professional team.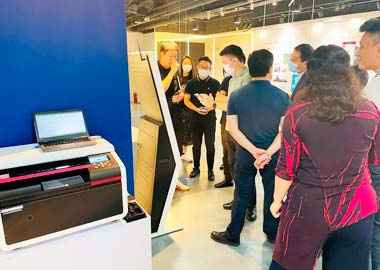 Onsite Pro Service
A tailored solution and related documents for your print demand with on-site services with global access. Event or fair support services are available at the same time.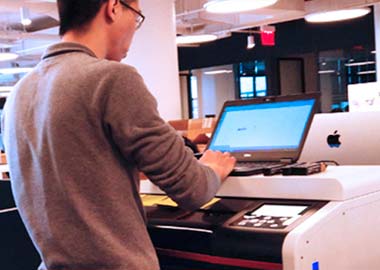 Service Pro
To fit your specific demand, artisJet team will provide custom workflow, IT integration, Software customization, and project implement.
artisJet Team
Dedicated to your goals
artisJet has never spent capital on third party advertising, branding and related fields. Our investments have only been putting in - technology research, production, service power, users experience improving. Yes, service power is one of the things we value the most. As we know besides the quality of the printing hardware and software, service is the next most important and related thing to users. We are proud to be your professional and solid assistant.
Members of the team have from 2 to 10 years work experience within the team. All members of the team have service ability in English. The team covers the followings skills: hardware production, assemble, use, troubleshooting, accessories maintenance, printing, replacement, software installation, upgrade, computer graphics, pattern design, sample design and more.
Get to know our service team members
Jerry Lee |
Technical support supervisor
Jerry has served more than 500 users in 47 countries. And he was voted the most patience consultant from both clients and his own team.
---
Bruce Duan |
Senior technician
Bruce has served many clients throughout the five years he's been with the team. Fun fact: due to long-term cooperation with cosmetics brands. Bruce knows no less of various cosmetics than any girl might does.
---
Liam Liu |
artisJet technician
Printer installation, maintenance and overhaul. Software installation, printing problem solving, printing process training and more. Liam is an all-round player.
---
Lucy Gao |
Sample testing supervisor, software technician
Lucy has helped many clients achieved printing solutions they have not achieved before. Her professionalism and effort is well recognized by partners and clients.
---
David Liang |
Printing production consultant, software technician
10 years working experience within artisJet customer care team. Specialized in Software installation, troubleshooting, printing process training, software usage training, products launch on artisJet printing APP and Sample testing.
---
Cheryl Lee |
artisJet software technician
As one of the youngest members of the team, she has brought many ideas and creations to the exploration of customers' sample printing needs.
Land your creative business ideas
Evaluate, test, pilot and ODM
To what extent can your design come to life? What would the real outcome look like? Can you meet different requirements of your customers? How does your team operate the customization process smoothly?
artisJet value your contact with us with all respect to your creative business plans and ideas, artisJet understand how it is important for you to evaluate the project and artisJet how excited you will become if your idea is materialized.
EVALUATION
Mutual-discussion and study is never enough before you action. Raise your demand, discuss with us and we will study till we are confident enough to make the business proposal for you.

TESTING AND SAMPLES
While in printing, you will need to take color sharpness, color richness, color durability, color resistance and more into the consideration.

PILOTING
A successful pilot will secure the successful roll-out for your project. With our field support team and services, acceleration of your business becomes touchable.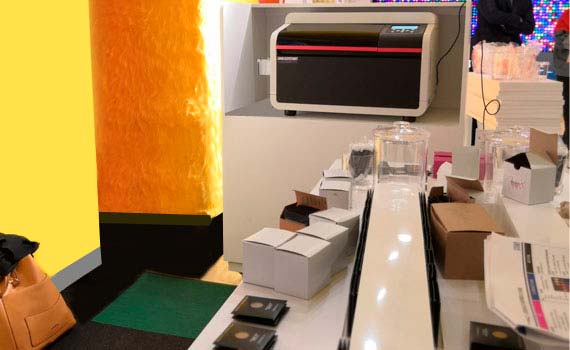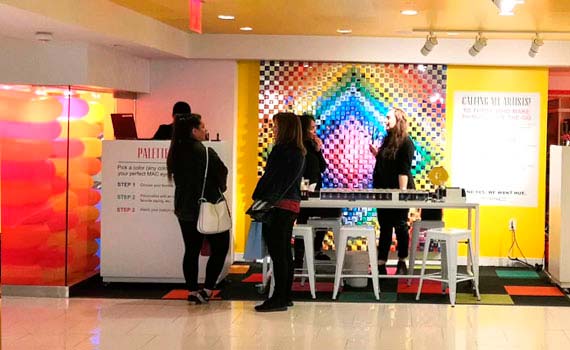 Learning is never hard
Keep aligned with the latest happens
Understanding of the printer, software and printing tips is important to you, but getting to understand 123 about other's business might inspire your business at the same time.
artisJet established its learning center with
www.artisjet.xyz
and you will have the privilege of being able to understand all the related documents or stories you are interested.