ArtisJet Blog
Our latest news and activities.
Details

Written by

Shan Lu, edited by Alina Sornea

Hits: 382

Ever since the outbreak of Covid-19, most of us have been hampered by travel restrictions both home and abroad, but thanks to an increasingly robust program to bolster the use of smart technologies, artisJet was able to switch swiftly and seamlessly to a cloud-based service system that's even more efficient and cost-effective for all stakeholders.
The embrace of a cloud-based service system, which reduces paper usage and carbon emissions, also echoes artisJet's commitment to ESG initiatives in 2023 and beyond.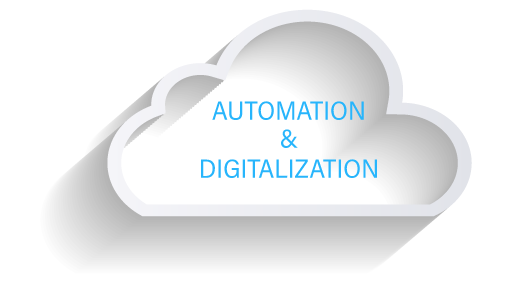 1. Automation and Digitalization
Our confidence in our ability to remotely service clients stems from the digitalization of our products and the standardization of our operating procedures, which can significantly cut down printing production time and printing labor costs.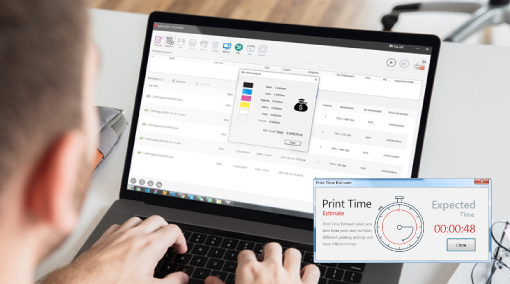 1.1. Print Time and Print Cost Estimation
A glowing example of automation is the printing time and cost estimation for each print job, which enables users to adjust settings and allocate resources accordingly.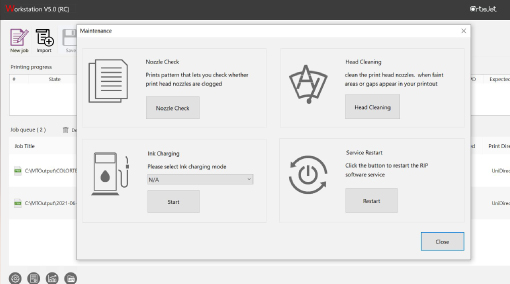 1.2. One-Click Maintenance
Before thinking how to clean a clogged print head, it's better to prevent the print head from clogging in the first place. With just one click of a button, this function can clean the nozzles and ensure the proper performance of the print head, also expanding its lifespan.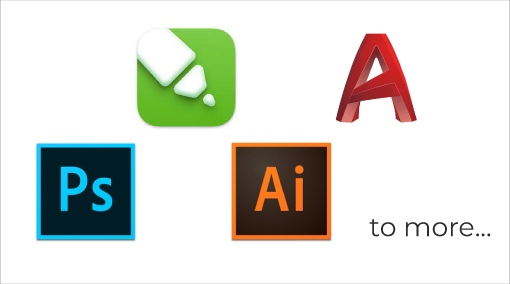 1.3. Third-party Compatibility
artisJet Workstation can be incorporated into any existing workflow owing to its high compatibility with 3rd party applications, including Photoshop, Adobe Illustrator and many more. Printing jobs can be exported to the printer directly from the design software.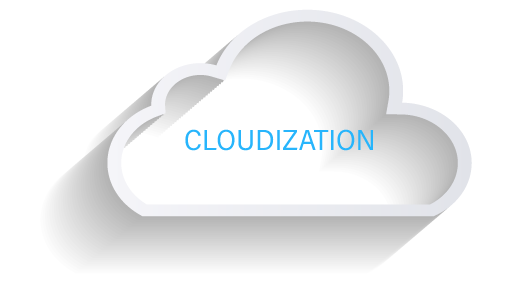 2. Cloudization
Even before the pandemic hit, artisJet has been boosting the standardization and cloudization of products and services.
artisJet.xyz is a one-stop accessible all-inclusive online platform providing comprehensive how-to resources for artisJet product users to get machines up and running, perform routine maintenance and conduct common troubleshooting, with the online assistance of artisJet tech support. Here is an example video on how to do the nozzle check – >click to watch in the original post.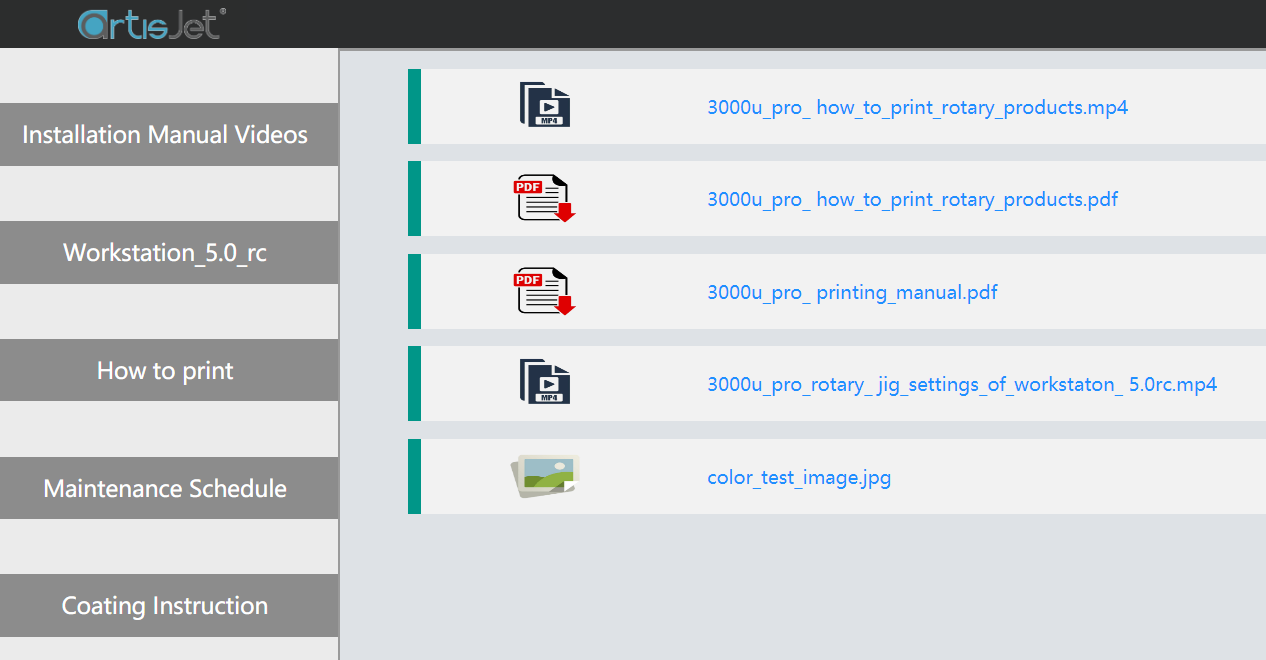 Members of artisJet support team all possess high level of English proficiency and 5+ years of industry experience. Every technician is well trained to guide clients through any potential issues as if being onsite by their side.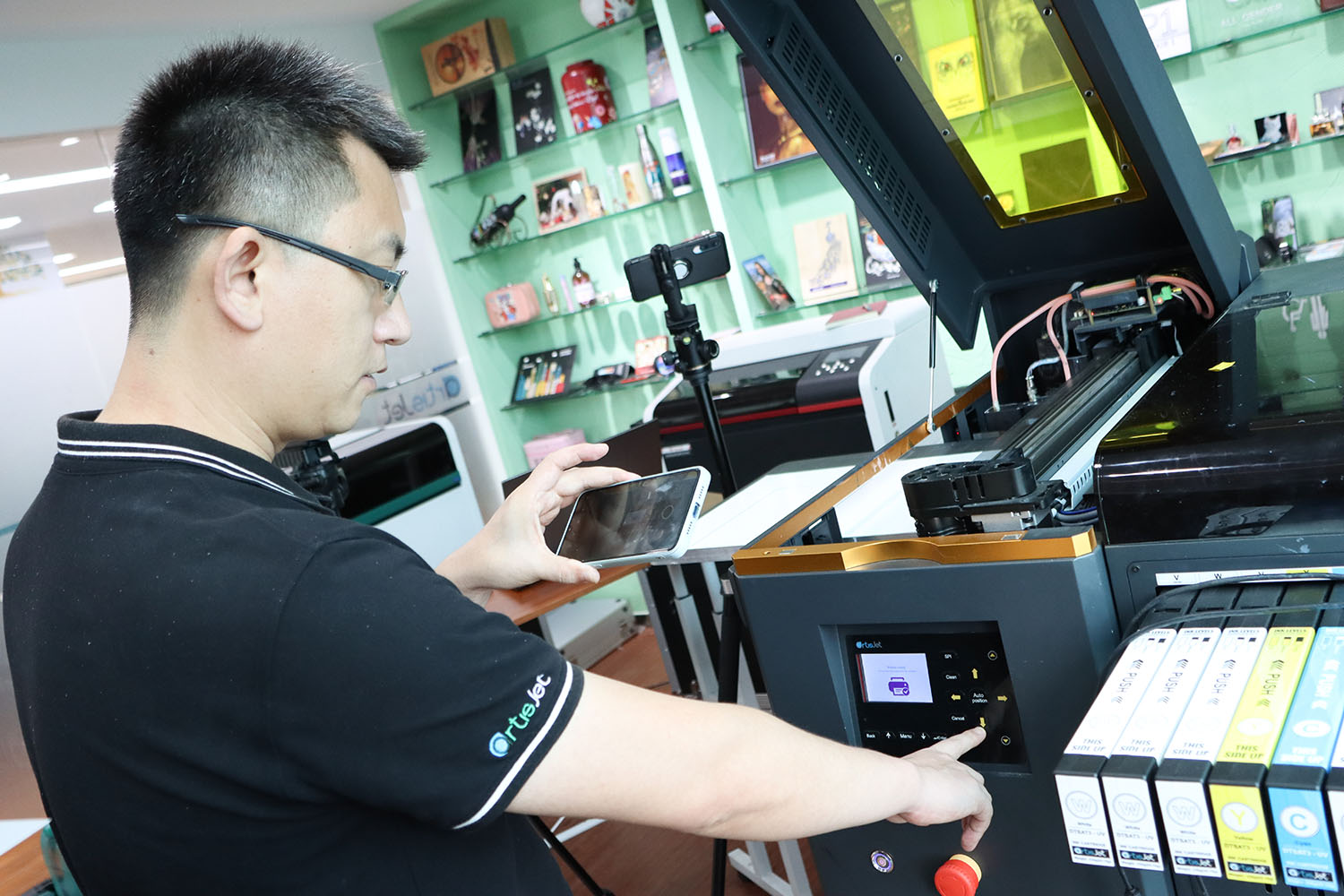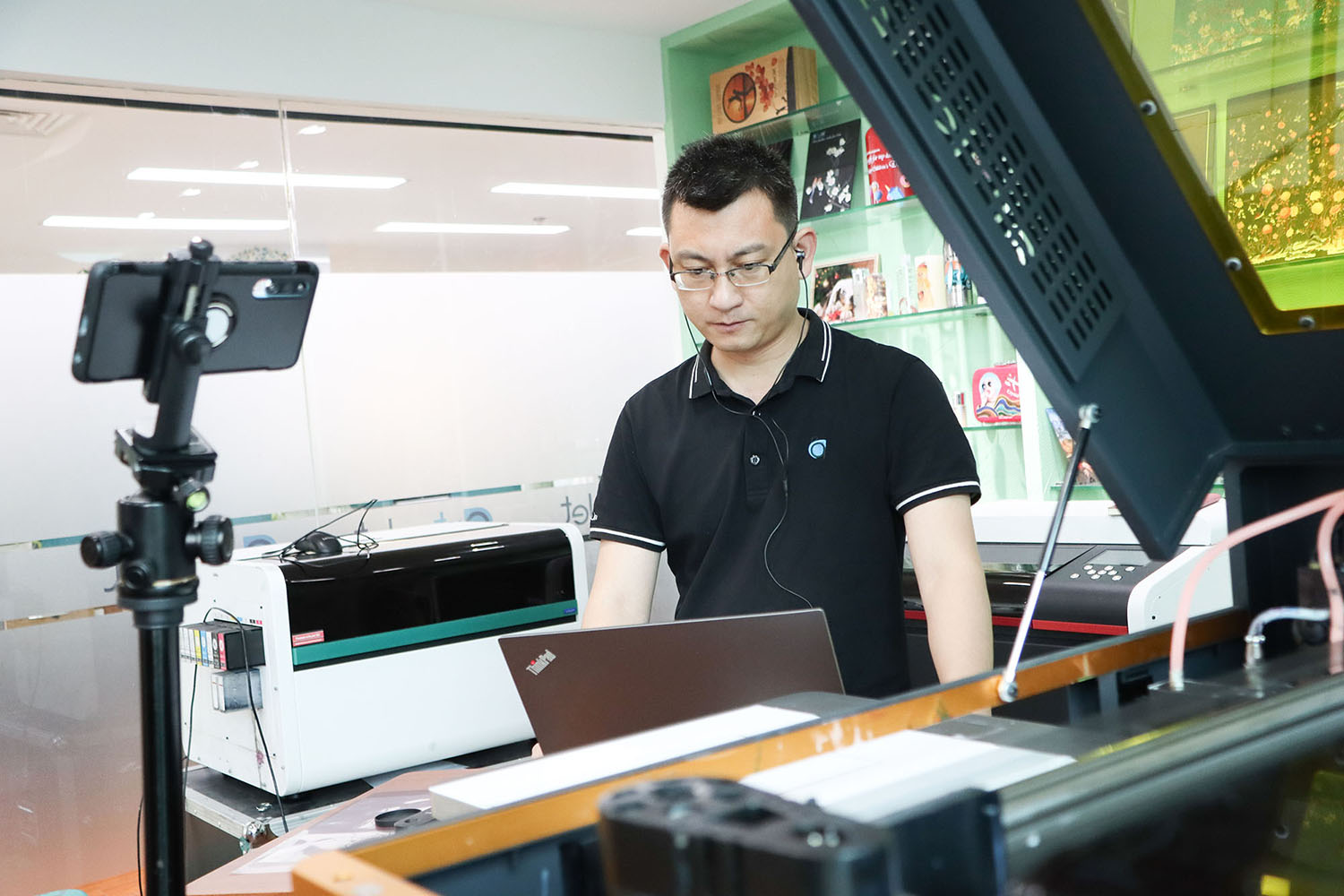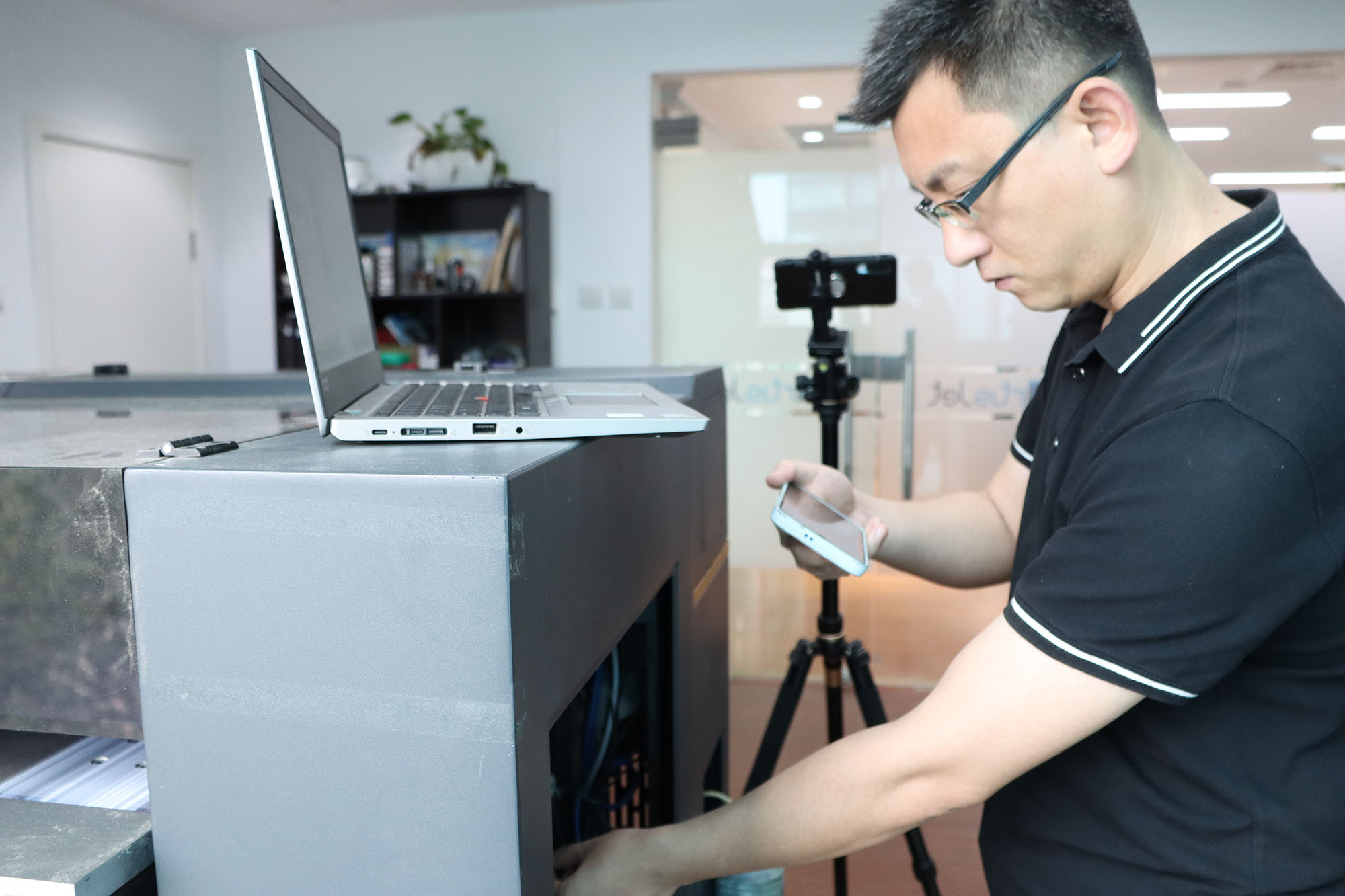 With the step-by-step video / graphical instructions and the live assistance of the support team, mastering the machine would be a breeze for anyone with or without any technical background.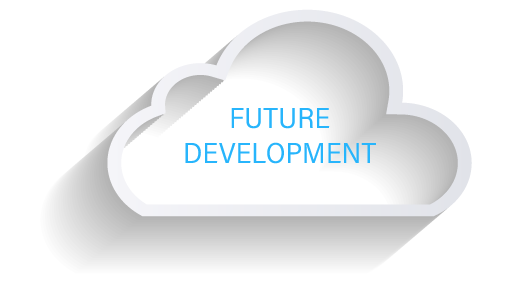 3. Future Development
It has been said that localization is part of globalization. While artisJet is now more than capable of providing services and support remotely, we can appreciate the value and peace of mind that local support can bring to clients. Therefore, we are actively seeking out and cultivating international partners to further enhance our services and logistics, and ensure accessibility of artisJet products in their local areas.
Details

Written by

Shan Lu, edited by Alina Sornea

Hits: 566

If you are an advanced user or just setting up your artisJet printer, you might have seen this setting called "Halftone Dither" in artisJet Workstation, right?
And if you are puzzled by the technical term, let alone its functions, you are not alone. In fact, that is the norm, not the exception.
However, knowing what the halftone dither does could prove useful in some very specific scenarios.
So, what is halftone dithering setting for?
It determines the amount of "feather" or "partial overlap" each pass of the printed ink shares with the one immediately before and after it.
Put plainly, it serves as a valve controlling how sharp or smooth the transition between different parts of the printing is.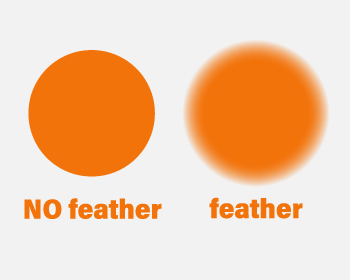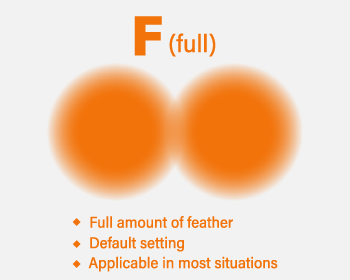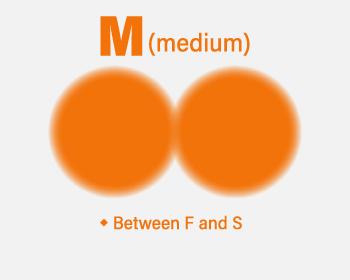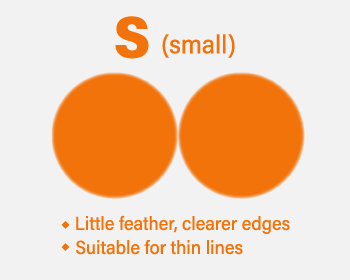 The default setting is F (full), which is capable of satisfactorily handling most printing requirements, because for the vast majority of tasks we do need to smooth out the transitions and ensure photorealistic quality of the artwork with no banding.
However, certain situations might arise that call for a divergence from the default setting.
S (small) is best suited for printing patterns involving distinct thin lines such as small text or dial meters. By minimizing the feathering of ink, the edges of the lines are crystalized.
The distinction becomes more pronounced as the lines get thinner.
Note that the effect can sometimes be perceived as not only sharper, but also lighter in color density. Experiment with different settings to see which combination works best for your project.
Check out this side-by-side comparison between the effect on solid color printing with F and S feathering respectively. You can clearly see the banding in the one with S feather.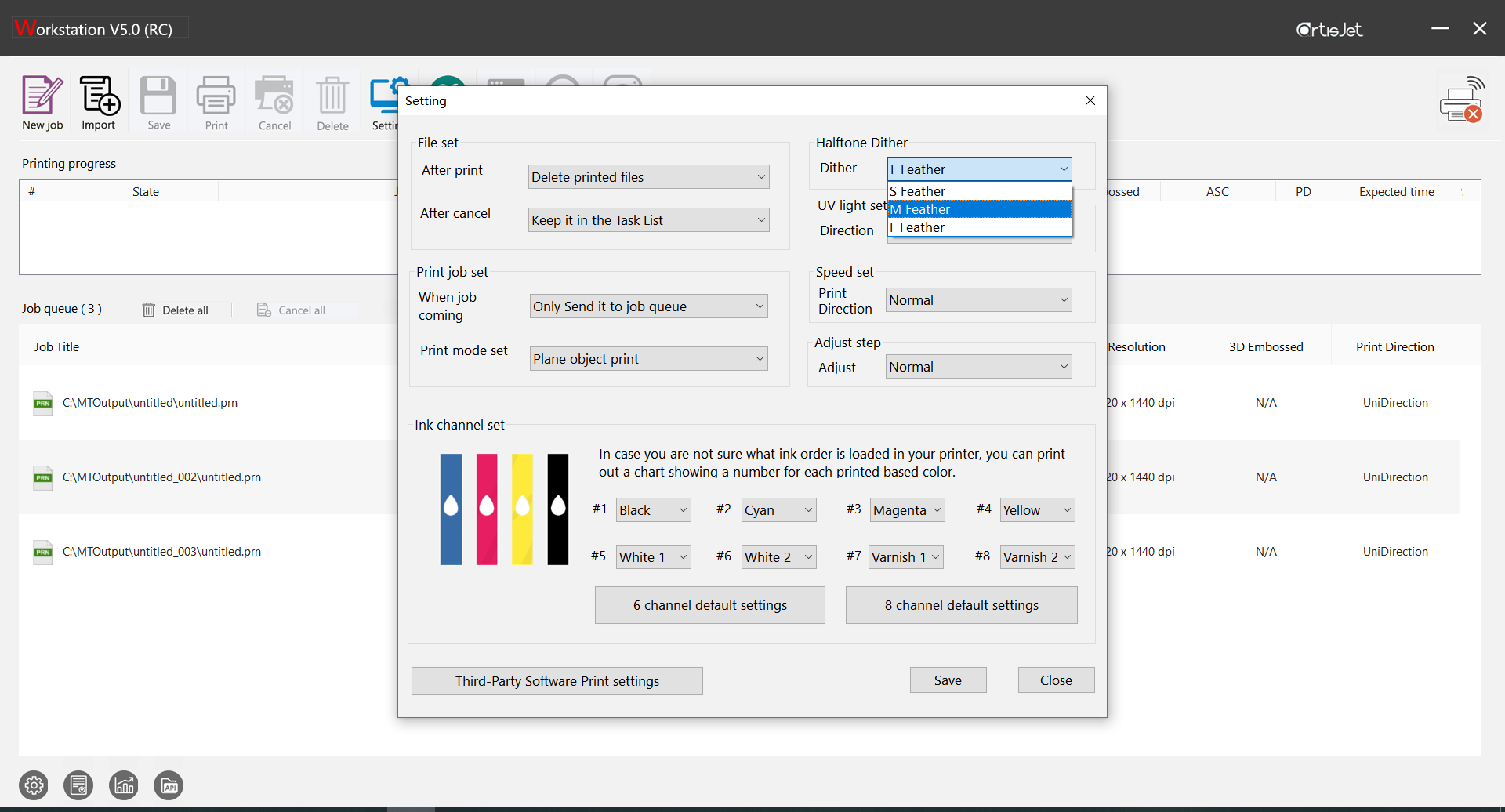 But if your work hardly involves any demands for printing thin lines, just know that most people are very happy with the default setting (F).
Is there any function in your printing work and production in general that you have stumbled upon and haven't use at all? Share your thoughts with us.
Do you have questions about artisJet Workstation printing software? Give us a shout here and let's discuss more.
Original post from artisJet WeChat channel.
Details

Written by

Shan Lu, edited by Alina Sornea

Hits: 346

artisJet, with its instant custom print solutions, is well-suited to empower a wide variety of businesses, but are there scenarios in which people are advised NOT to go with artisJet? In other words, does artisJet actually turns away potential clients for any reason?
The answer is YES. Here are three reasons artisJet is not for you or might not be for you.
Reason No. 1
artisJet is not for you if you prioritize short-term expediency over long-term sustainability
Even though some of our clients are just starting out, they have big dreams in the future. We are eager to grow steadily together with our clients to help them succeed in realizing those dreams in years to come.
That's why, over the last 15 years, artisJet has been consistently and heavily investing in R&D to pursue innovation and system upgrades, so that our support for clients can be sustainable.
Some of our customers have been with us for more than a decade, and have used more than one generation of artisJet printers and systems.
Knowing that artisJet will be there for them in the long haul gives clients the peace of mind when they choose artisJet.
Reason No. 2
artisJet is not for you if you are a technical expert who doesn't require simplified operation and professional assistance
Someone who feels the compulsion to constantly tweak the hardware and software, to manipulate complex settings, or enjoys troubleshooting without professional assistance, probably won't be too thrilled with artisJet's simplified process.
With foolproof one-click operations within the artisJet Workstation software and a dedicated tech support team, artisJet aims to take care of the geeky aspects so that users who can't be bothered with technical know-hows can simply get the job done and carry on with their lives. Watch the video nelow and see what one-click maintenance with artisJet is.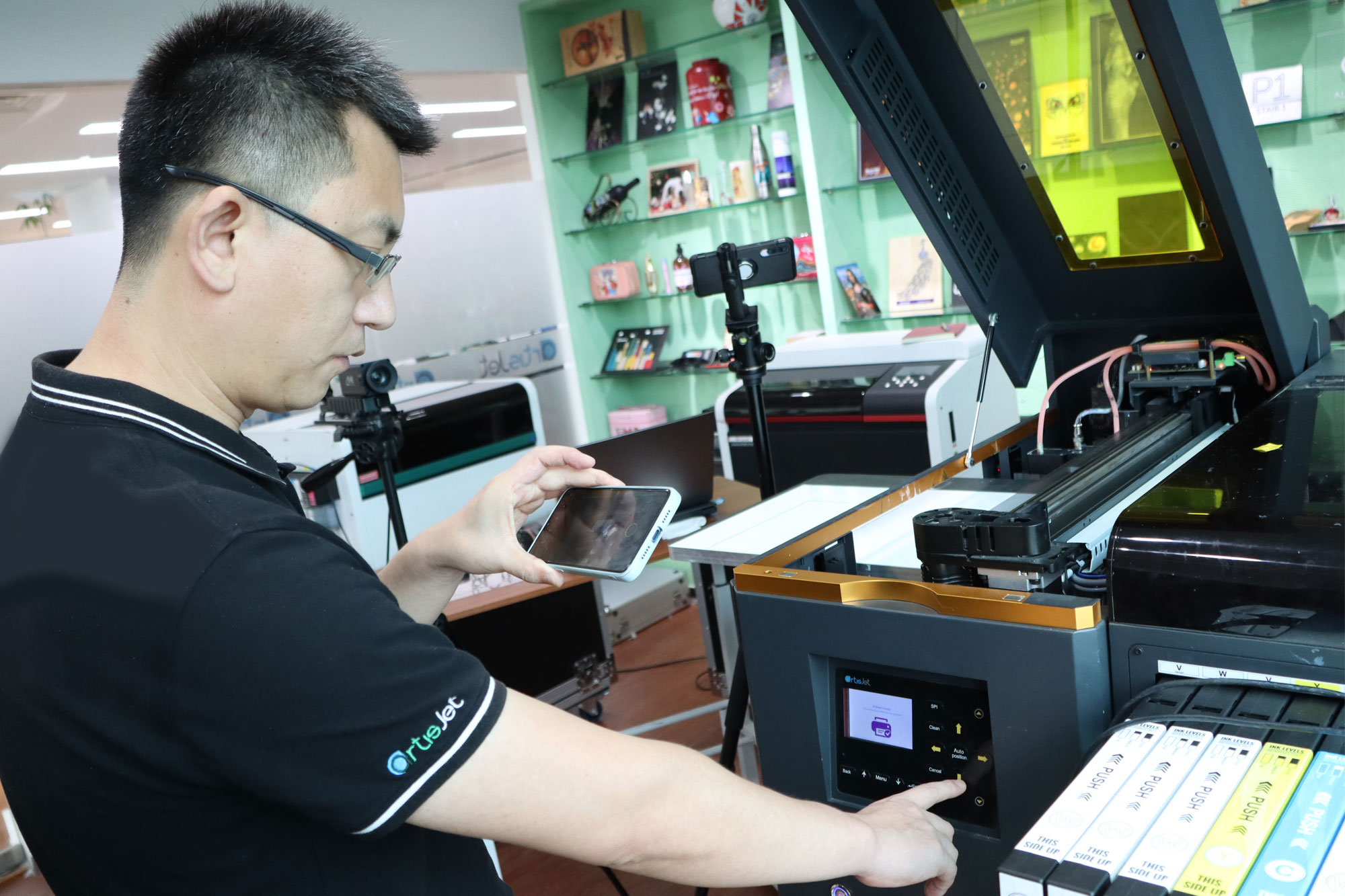 Reason No. 3
artisJet is not for you if you are looking for a low-end products for a low-budget project
There's a massive market for UV printing equipment for businesses with limited budget and expectations, and we would've enjoyed being responsive and feasible for all business projects.
However, it became clear that factors like precision, durability, and user-friendliness couldn't be reconciled with competitive pricing. Hence we are more prepared to meet the demand of the middle-to higher range of the market where the initial cost is not the determinant factor.
Echoing the first reason above, advanced and user-friendly technologies, more often than not, produce enough savings in labor costs in the long run to make up for their initial outlays manifold.
One of the tech features is the third-party software compatibility, which allows users to print directly from virtually any image-processing application through the means of HOT FOLDER.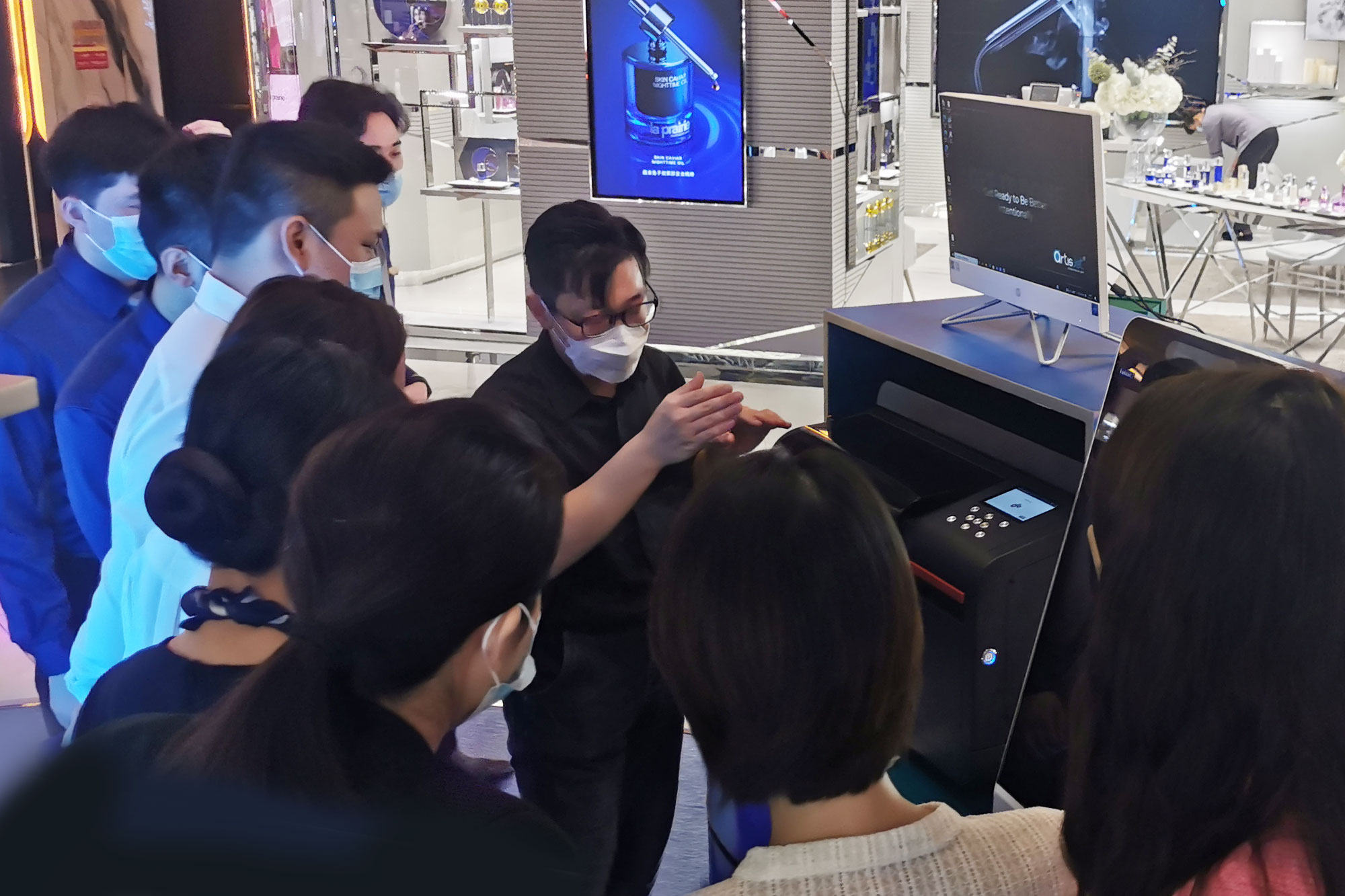 With these being said, there's actually a more fundamental reason behind the ones outlined above. Namely, we feel obligated to devote full attention to serving the right clients well. For that to happen, we have to let some opportunities go.
However, if you don't find yourself included in any of these situations, you are more than likely someone we can help. Please do not hesitate to reach out to us via artisJet.com or find more contact details here.
Original post from artisJet WeChat channel.
Details

Written by

Shan Lu, edited by Alina Sornea

Hits: 474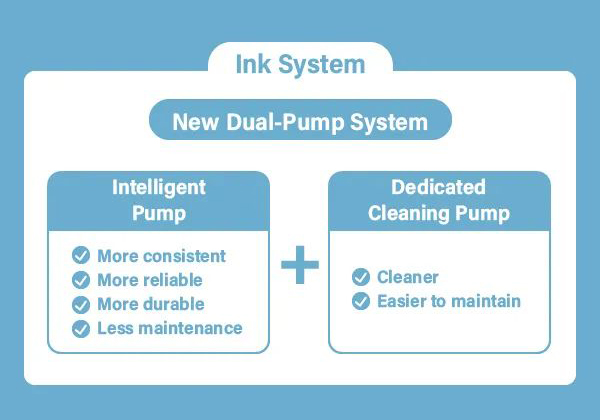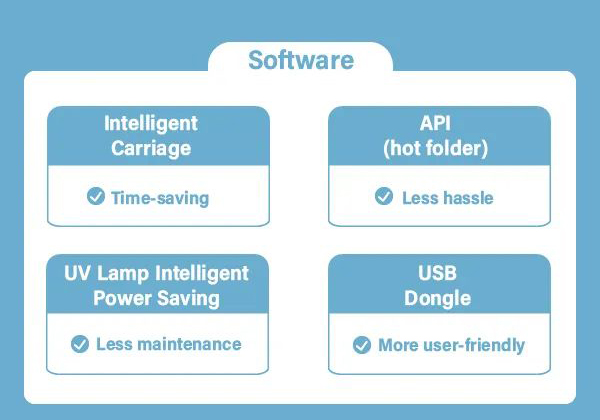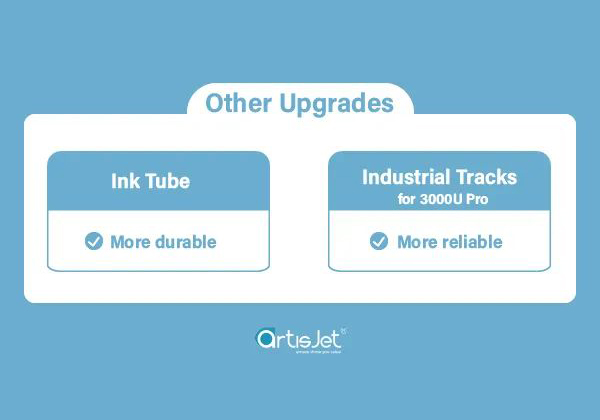 Technological innovation and system upgrades have always been at the core of artisJet's way of meeting and exceeding customer expectations, Whatever matters most to customers, whether it's making things more efficient, cost-effective, durable, or easier to use, matters the most to us.
After gathering and analyzing extensive feedback and suggestions from our customers for the past months and years, we have identified two key areas that our customers are particularly interested in and care about:
1. The durability of the ink system;
2. The user experience of the software.
And we have dedicated a tremendous amount of resources to the research and development of these and other areas that matter greatly to customers and end-users, seeking improvements that will ultimately help propel our customers to success.
Part 1 – The New Dual-Pump System
More precise, more consistent, more durable, cleaner, and less maintenance
Replacing the single pump system powered by direct current motors, we have invested in a new dual-pump system that enjoys significantly higher durability, precision, consistency, cleanliness, and less maintenance.
Pump #1

Intelligent Pump

The mechanism for pumping ink to the printhead has been completely revamped.

The New Mechanism

Replacing the suction pump, which operates by drawing air out from one end of the tube, the new intelligent pump delivers ink from cartridges to the printhead by externally squeezing the ink tube in tiny and precise increments. A new electronic driver has also been installed (shown above) to facilitate the meticulous motion.

High Consistency

The squeezing mechanism is programmed to produce a steady and precise flow of ink throughout the system at all times, rather than the fluctuating pulses generated by the suction pump. Instead of sucking in a minuscule amount of air along with the ink like the suction pump, the new pump ensures a closed loop of ink, thus precluding any air bubble in the ink tube.
High Precision/Reliability
This high consistency also paves the way for higher degrees of precision and reliability. Cleaning and maintenance results can be relied upon without multiple tries to ascertain the accuracy of any single process. In other words, the pump can be eliminated as a potential factor in causing any inaccuracy.
High Durability/Less Maintenance
Owing to the nature of its mechanism, the old pump was unavoidably exposed to the ink, which has the potential to cause issues for the pump and the electric system. The new intelligent pump, by contrast, bears no direct contact with ink as they are always separated by the tube, thereby eliminating any adverse effect ink has on the pump system. The new Intelligent Pump was thus designed for permanent service.
Pump #2
Dedicated Cleaning Pump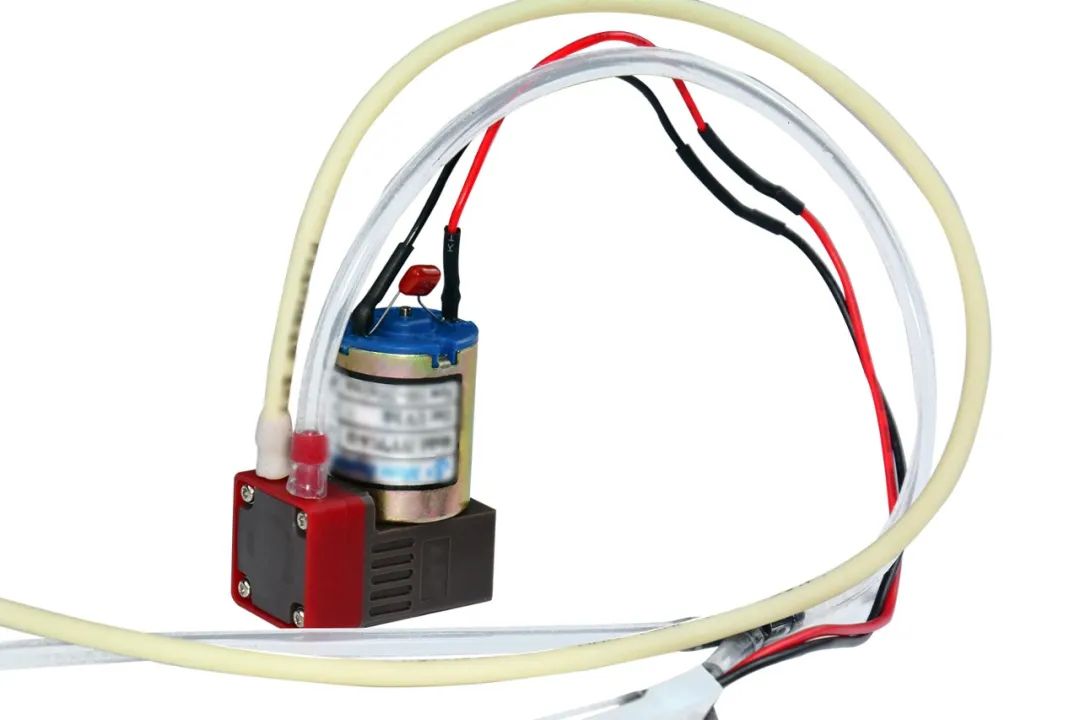 Keeping It Clean
Responding to the user feedback that the ink waste bin might spill during moving or transport, another pump has been put into place to drain the ink waste bin. This will keep both the interior and exterior of the printers neat and tidy, making it easier to maintain its clean condition.
Part 2 – Improvements in Software

Intelligent Carriage (beta)
More time-saving
If only a small area within a large surface needs to be printed, the printhead can be directed to cover only this small area, saving a lot of time by not going all the way to the border.

UV Lamp Intelligent Power Saving
Less maintenance
UV lamp can be programmed to be turned on over the printed area and automatically turned off where the ink doesn't apply. Besides saving energy and prolonging the life of UV lights, it minimizes the potential printhead issues resulting from unnecessary light reflection.
API (hot folder)
Less hassle
By using a hot folder to generate print tasks, the desired settings can be programmed for each hot folder. As long as you know the required specification for the final print, all the files brought in this folder, regardless of their own sizes and resolutions, will be printed to this exact specification.Hot folders now support PNG as well.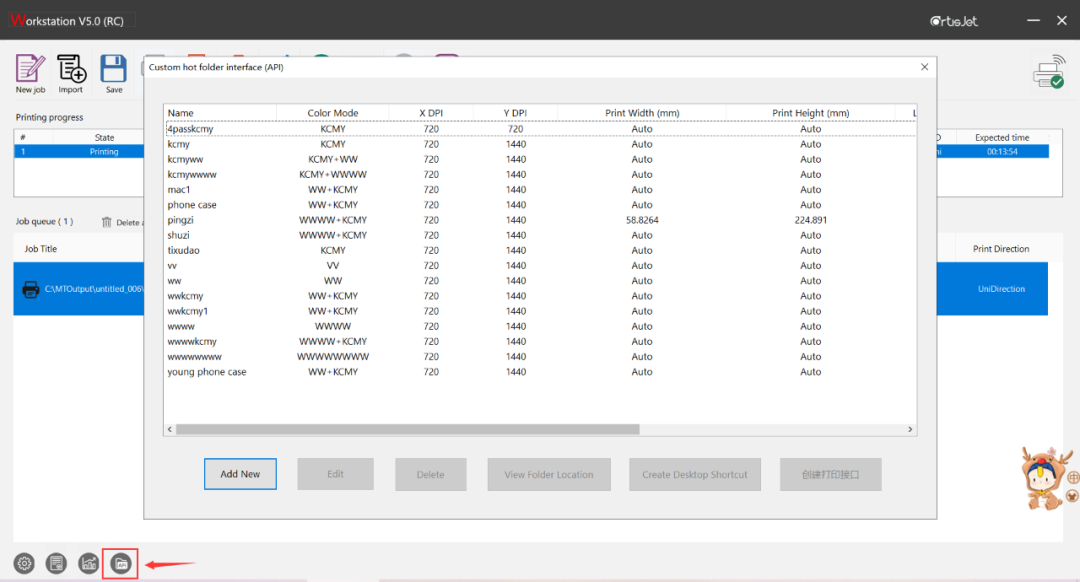 USB Dongle
More user-friendly
If the USB dongle is not connected or accidentally removed, a pop-up window would appear suggesting the dongle is not detected. And the RIP software will automatically start when a USB dongle is detected.
Part 3 – Other Upgrades
New Ink Tube
More durable, more corrosion-resistant
A key portion of the ink tube, which has been occasionally reported to become less durable after extended usage, is replaced by a premium one produced by Saint-Gobain, which enjoys the highest industry standard in terms of corrosion resistance. It's thus also designed for permanent service.p>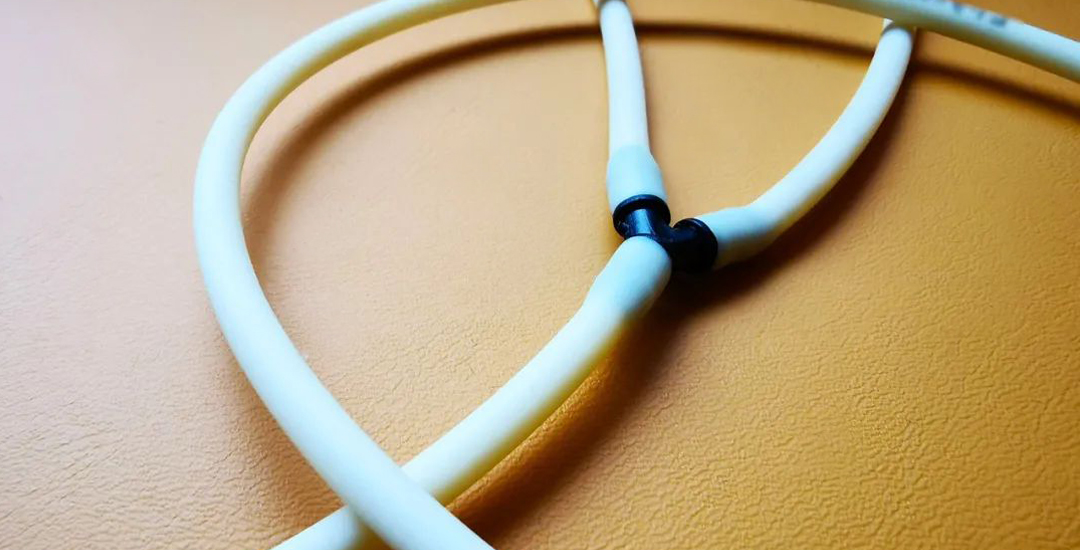 New Industrial Tracks for 3000U Pro
More precise, less maintenance
The new kinetic system of the artis 3000U pro flatbed platform is equipped with the industrial tracks that are already seen on other artisJet models, taking the place of the wheels system. The motions of the platform are now more measured and precise, while the mechanical elements require less maintenance and have a longer life span.
Conclusion
These are among the major upgrades that artisJet has introduced in the newer versions. We have also implemented a myriad of minor tweaks and adjustments throughout the mechanical and electronic systems to fine-tune the performance and enhance the user experience. We believe that these upgrades will help boost printing production efficiency and ease of use, while improving the bottom lines for our clients. We'll continue to listen to user feedback and discover what matters most to our customers.
Interested in digital inkjet printing solutions with artisJet? Reach us today and schedule a LIVE DEMO WEBINAR. We are here for you via Live Chat, by e-mail, by phone and direct messaging with our professional team representatives.
Follow us and subscribe to @artisJet official WeChat channel to get instant company updates. Read the Original post from artisJet's official WeChat Moments channel, here.
Details

Written by

Shan Lu, edited by Alina Sornea

Hits: 485

Printing standard Braille doesn't have to be a frustratingly complex endeavor. Leveraging smart technologies that enable users to uncomplicate and speed up the production process, artisJet digital inkjet printers can, with just a few clicks, deliver ADA-compliant Braille printing on a limitless variety of materials.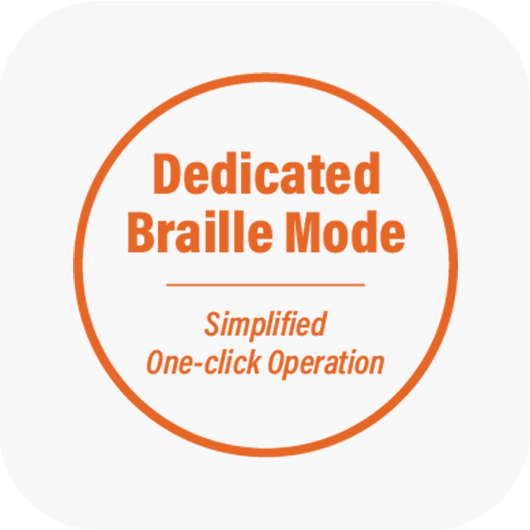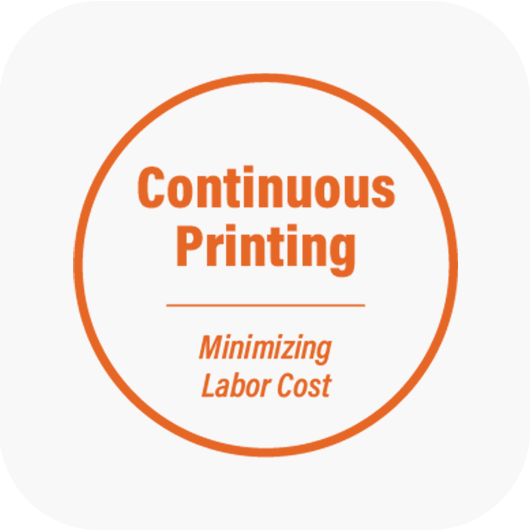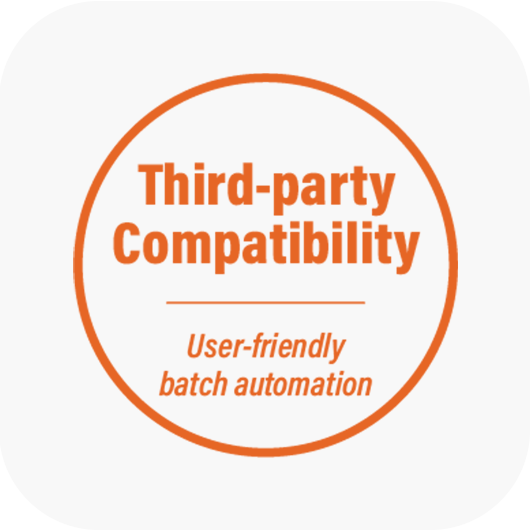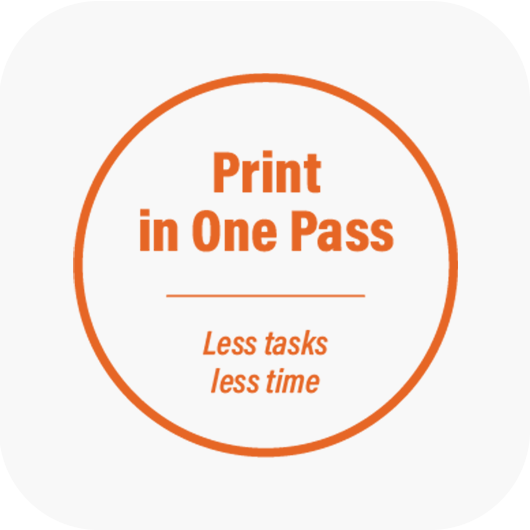 THE TECHNOLOGY
DEDICATED BRAILLE MODE – Simplified one-click operation
To print ADA standard Braille, simply select the built-in Braille mode and you'd be good to go. All the settings for the shape and size of the dots have been pre-programed to strictly follow the exact official standards.
If normal embossed effect is also required, there are three thickness level presets to choose from, and the desired effect will be rendered in one run.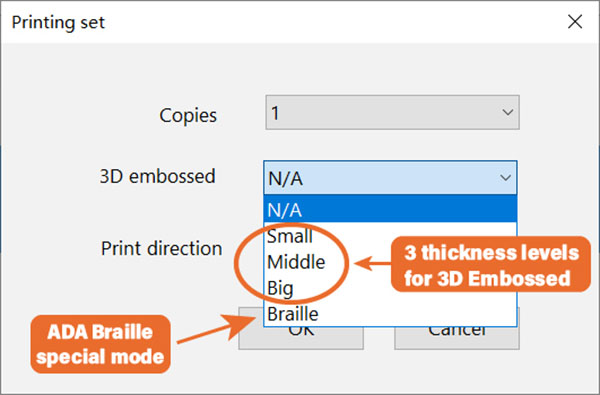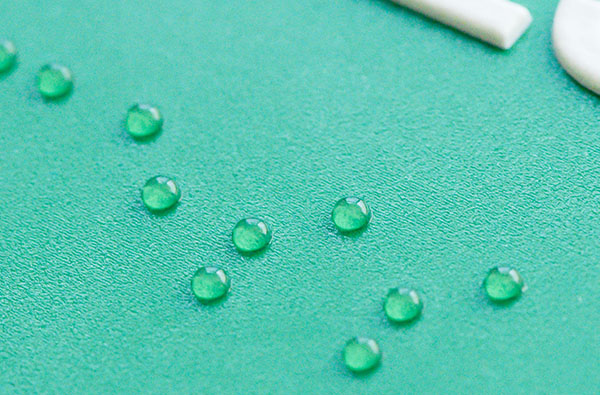 CONTINUOUS PRINTING – Minimizing labor cost
artisJet Workstation can combine multiple tasks for the same job together to drastically streamline the workflow.
For example, to accomplish the effect below, the three separate tasks: (1) printing color, (2) embossed effect, and (3) Braille, can be set up to automatically proceed one after another without the need for any manual operation in between, saving considerable time and labor costs.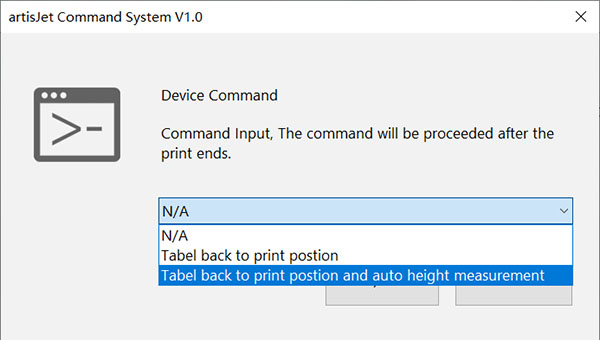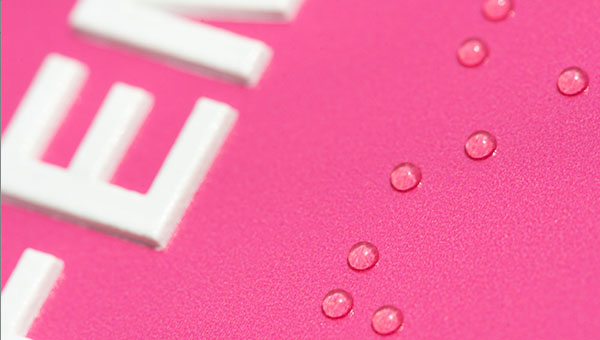 THIRD-PARTY COMPATIBILITY – User-friendly batch automation
Since artisJet Workstation is fully compatible with common third-party editing softwares including Photoshop, Illustrator, and many more, it can be seamlessly integrated into any exisiting workflow.
Through hot folders, creating printing jobs is as easy as drag-and-drop. artisJet Workstation will handle the rest.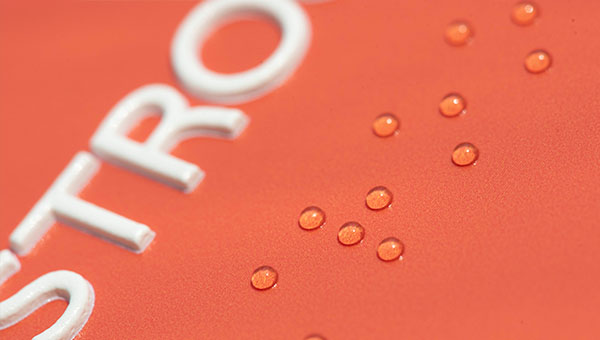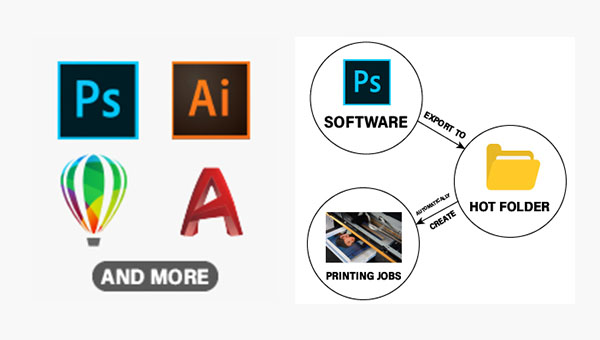 PRINT IN ONE PASS – Less tasks, less time
artisJet printers apply Braille printing in one pass, eliminating any time lost caused by multi-stage processes and extra tasks that have to be programmed.
Through hot folders, creating printing jobs is as easy as drag-and-drop. artisJet Workstation will handle the rest.

THE RESULTS
Durable
Thanks to the high degree of scratch resistance bolstered by UV printing technology, Braille dots and other embossed effects produced by artisJet are able to withstand heavy use.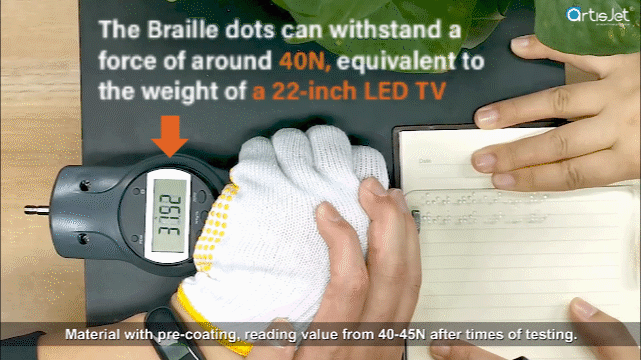 Smooth and elegant
With no rough edges, the dome-shaped Braille dots exude a refined touch. A polished and sleek effect that unfailingly pleases businesses and users alike.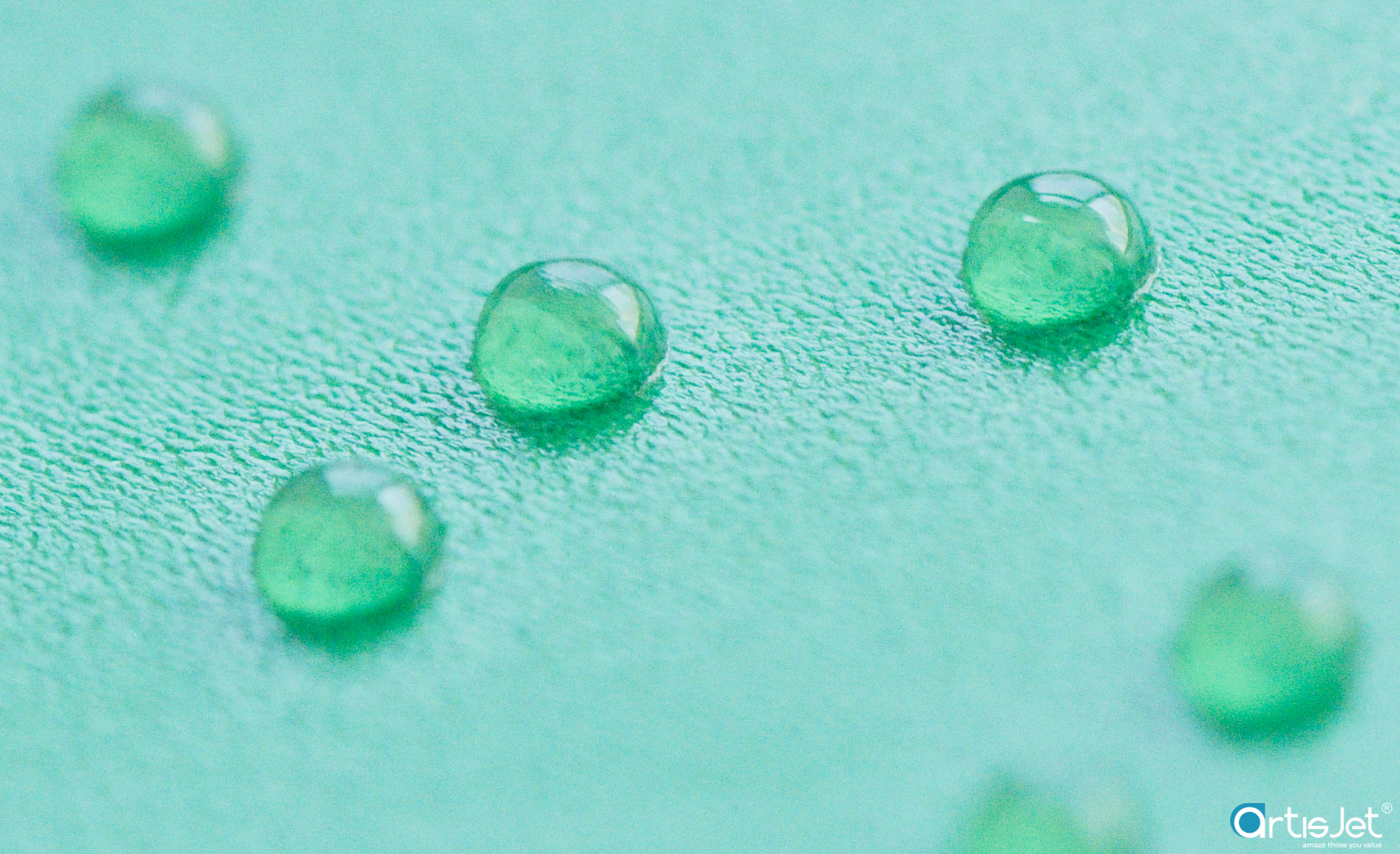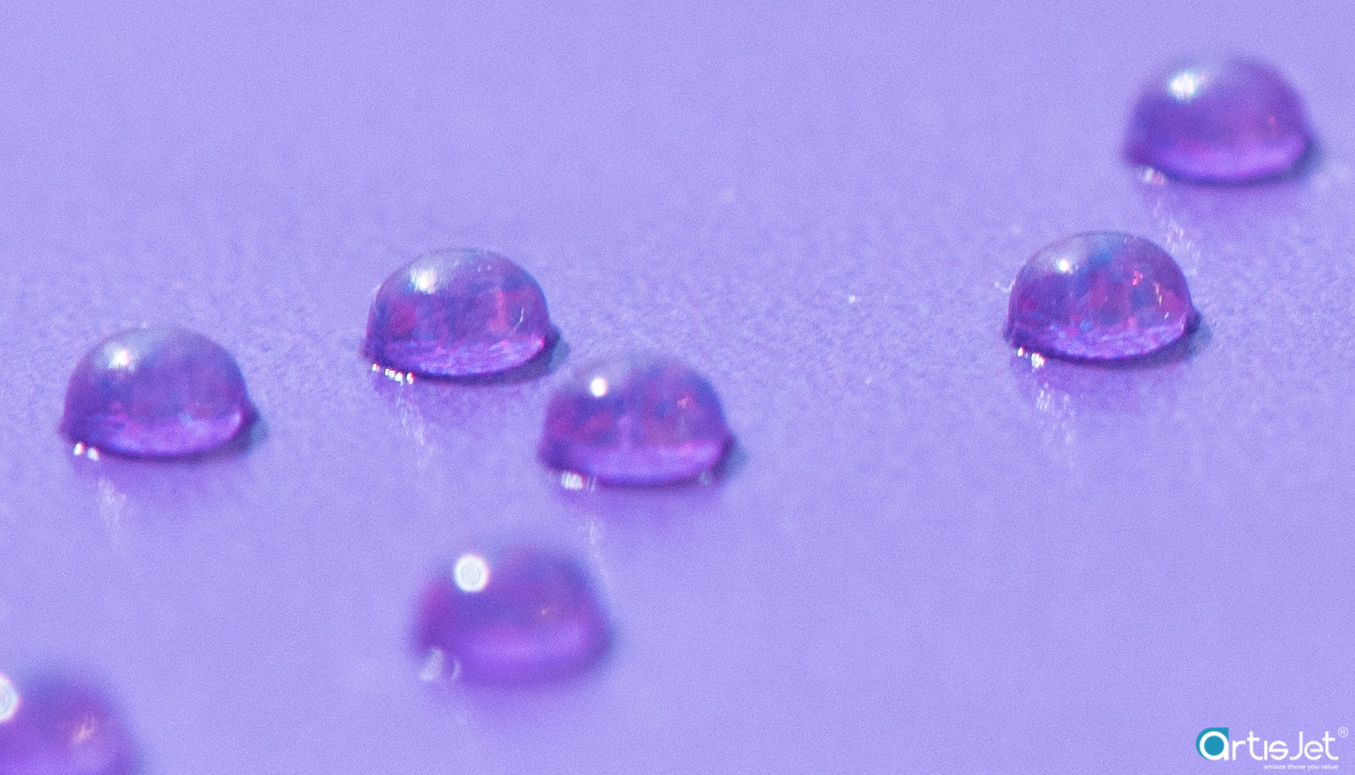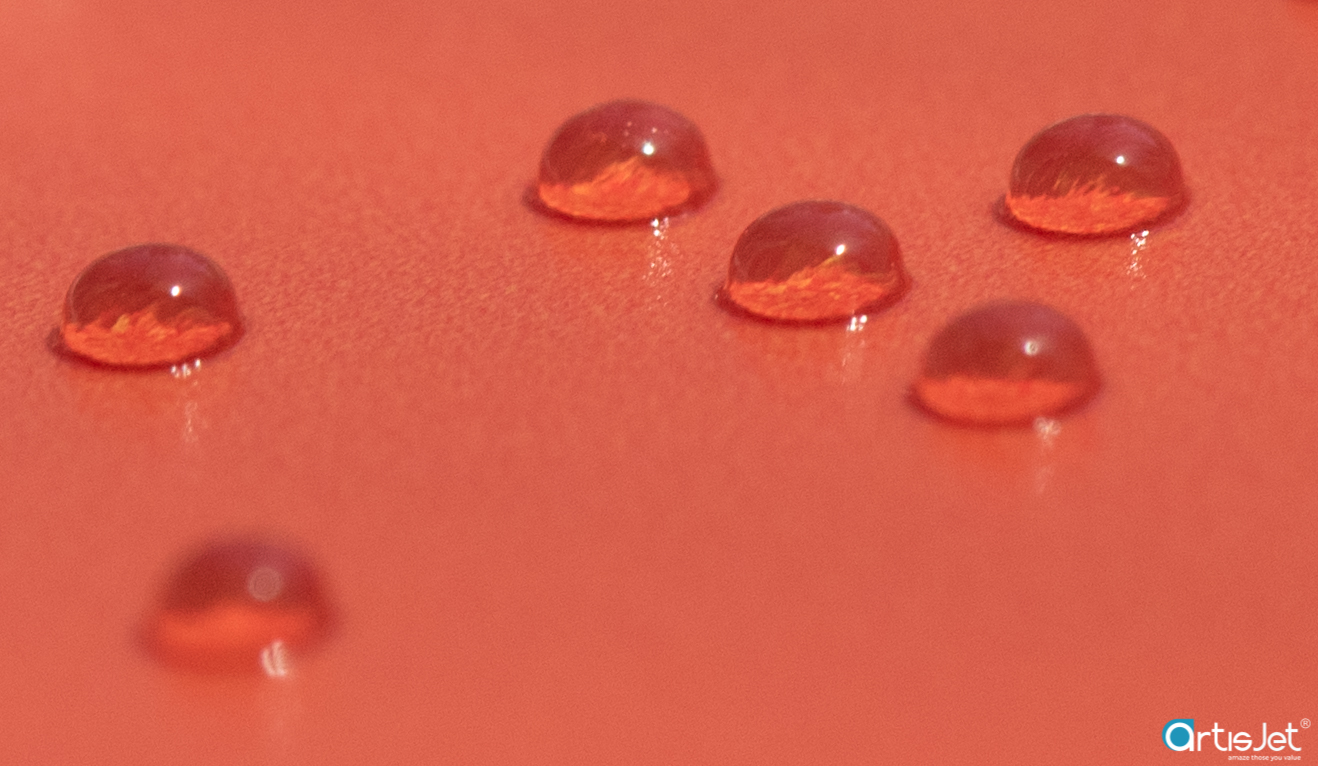 Compliant
You can choose from two ink options, varnish (transparent ink) (image 1) and solid white ink, for different visual and tactile effects. The white dots can then be covered with color ink (image 2).
Details

Written by

Alina Sornea

Hits: 3752

What sets a UV LED printer apart from different printing technologies is the unique UV curing technology. What is UV curing technology? UV curing is a photopolymerization process that uses UV energy to change a liquid to a solid. The UV LED printing technology refer to a non-impact, inkjet printing technique that instantly cures or dries jetted ink droplets directly onto the printable substrate. It's amazing what a single UV LED printer can produce.
A LED UV print system gives the possibility to print on various materials, such as plastic, and on different kind of products: plastic items, acrylic awards, small plastic desktop signs, plastic watt meters and industrial labels, acrylic key chains, plastic packaging, custom plastic cards, plastic blank media cases for CD and DVD covers, plastic smartphone accessories to many other plastic derivatives items.
The ability to function at optimum levels, even during long-lasting and high volume printing jobs with consistent quality output, makes UV LED technology an effective printing solution. However, it can happen sometimes to experience a print failure even on a seemingly working system.
Which are the common problems of UV LED digital direct plastic printer for long-term run? Two main factors of the UV LED print system that might affect the clean and clear plastic prints:
The flying inks which will stain the materials with some small ink droplets. All of the digital printers are delivering the colors by piezoelectric technology which is firing, shooting out, and instantly solidifying the inks during the direct printing on the substrates. However, there are some ink droplets randomly spraying or splashing due to the air while the printer is on. This will create dust and make the ink system dirty and the print head also. This could shorten the printer head durability.
The static electricity from materials which will over spray the artwork. Surface static charge is also the cause of many common printing defects. What's causing the static electricity and ink over spraying? The power of the static electricity interferes with the ink direction while printing, pulling the ink particles away from their intended trajectories causing printing defects including over spray. Static electricity is generated by an unbalance between the molecular construction of relatively non – conductive insulators such as plastics, paper, glass, ceramics and other non – conductive materials. Not only can these particles land in the wrong places, but they can also be pulled back toward the printhead, which can cause clogging of the printhead.
HOW ARTISJET SOLVES THE ABOVE FACTS AND WHICH ARE THE BENEFITS?
Filtering system to absorb the floating droplets to eliminate the ink dust. Equipped with a professional filtering system near to the carriage (about 7 cm), the artisJet digital UV LED direct plastic printers are minimizing the dust generated by the inks. This translates into longer life of the whole ink system and delivering clean and clear prints.
Anti – static system to neutralize the electricity from the materials and ensure the 100% ink droplets direction. Installed in the materials loading port 2 cm before the start of printing, artisJet electrostatic rods can produce a large number of positive and negative air mass charges, through ion radiation area of the object on the charge and then neutralize it. When the surface of the object is negatively charged, it will attract the positive charge in the radiation area; when the surface is positively charged, it will attract the negative charge in the radiation area so that the surface of the static electricity is neutralized.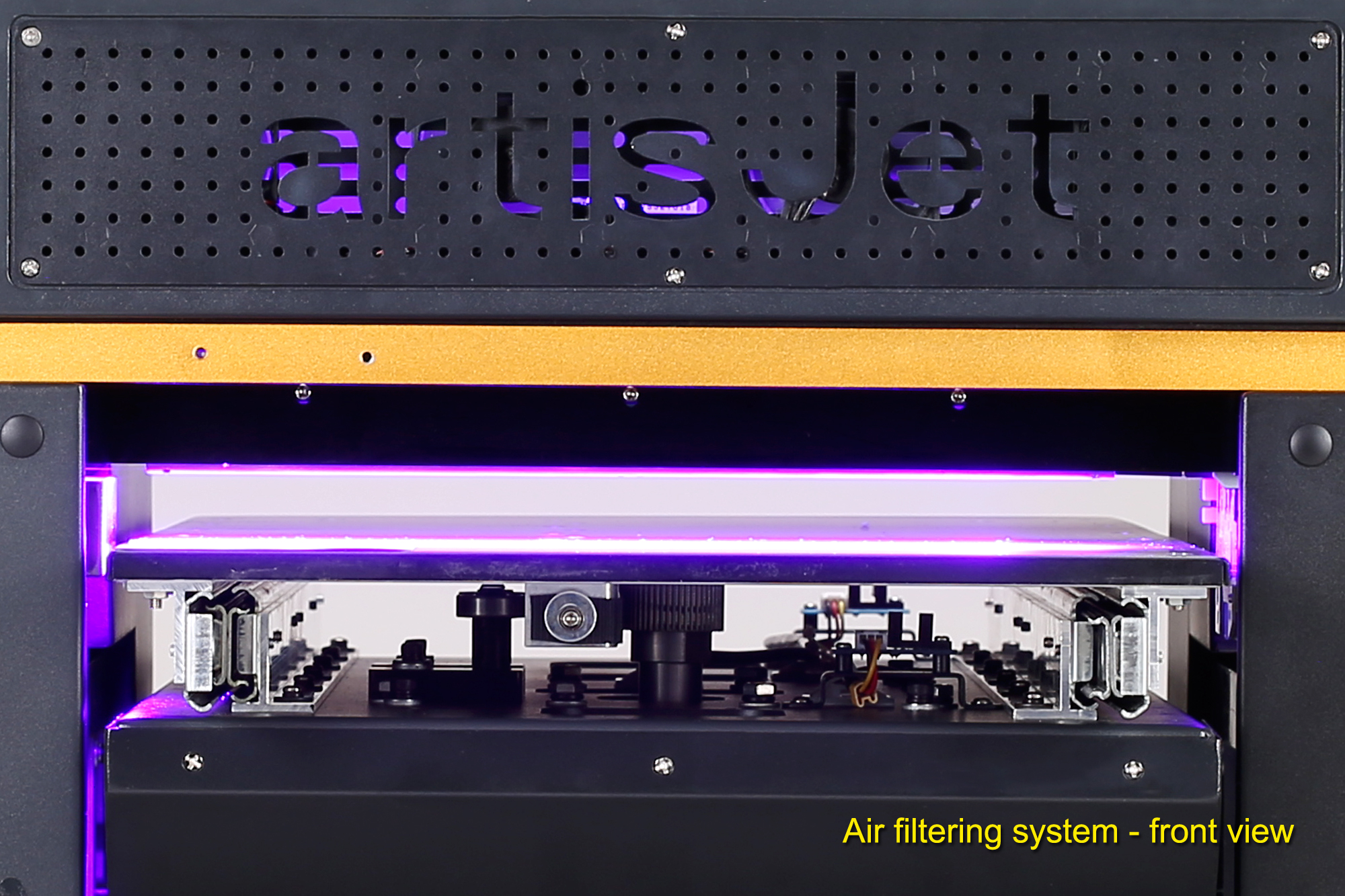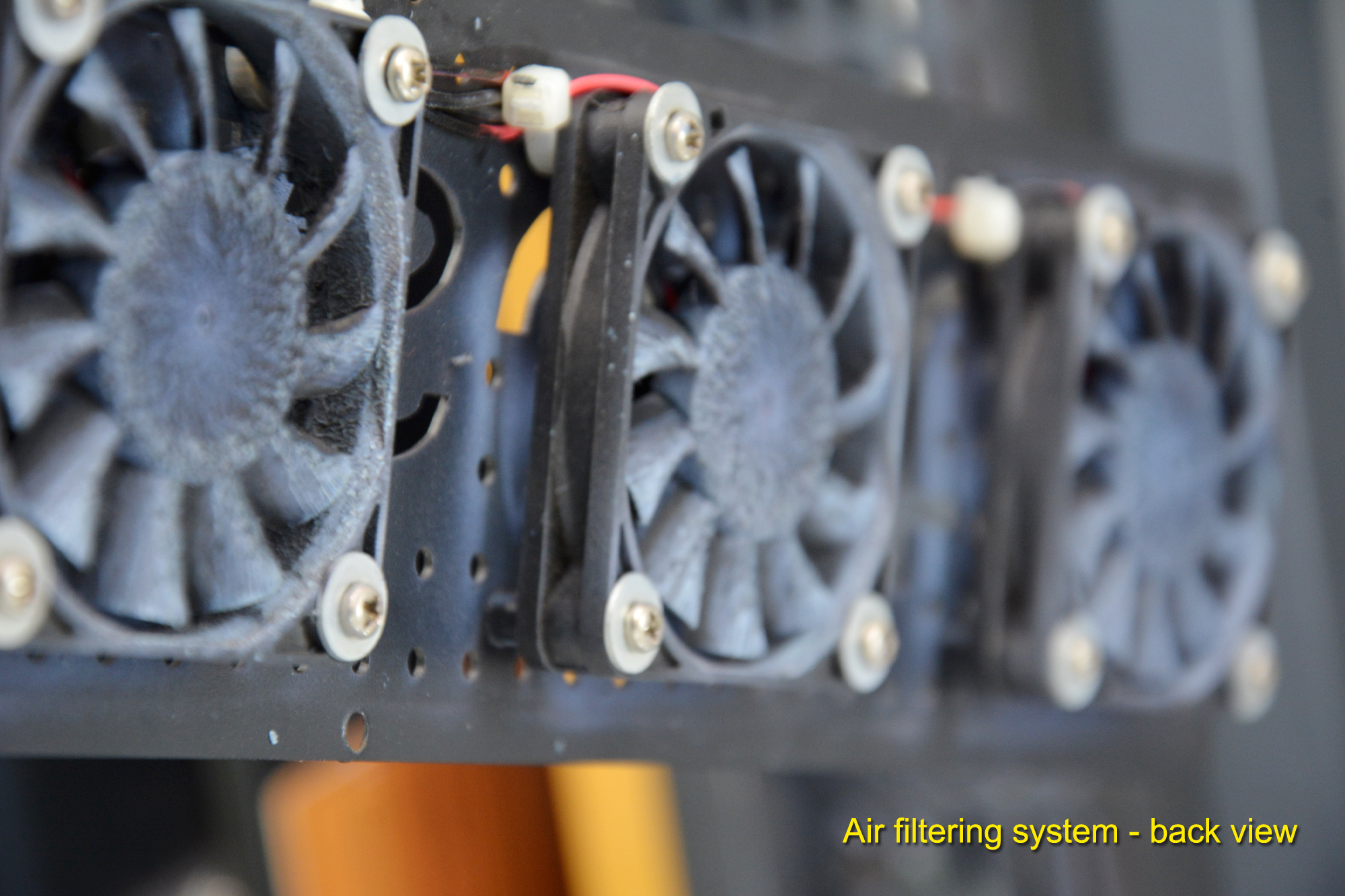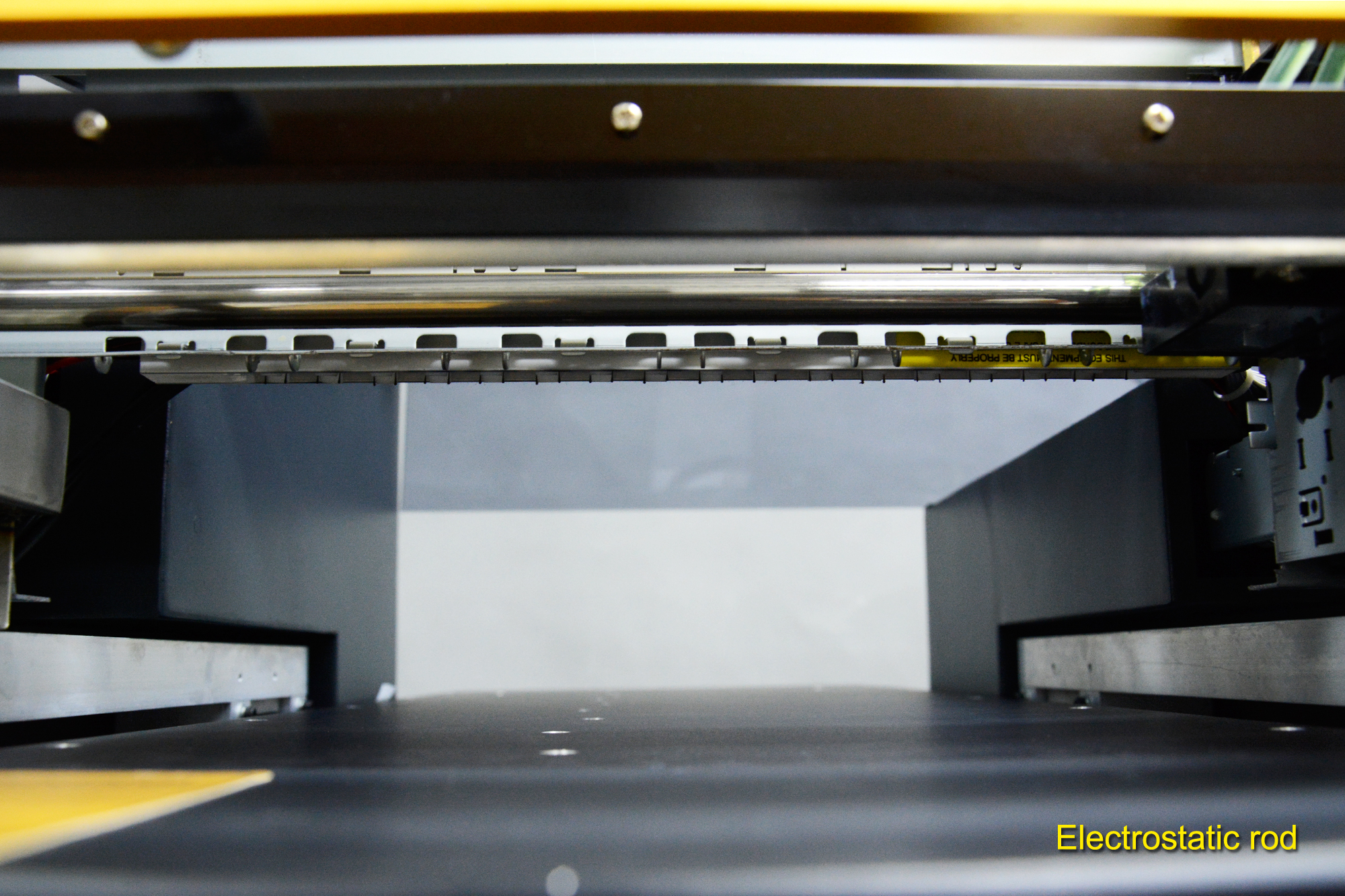 UV LED systems require very little space and are easy to integrate into small spaces. The UV LED printers produce no ozone emissions or hazardous waste concerns, which makes it eco-friendly printers and safe to operate even in crowded places such as public print shops, digital stores, shopping mall kiosks etc.
Don't let over spraying, dust and static electricity interfere with the printing workflow and lower the production. Fortunately, there are solutions for taming and removing these aspects while printing. Just find which artisJet UV LED flatbed printer is suitable for you and what works best to meet your printing requirements.
Want to know more about direct plastic printing and other printing solutions from artisJet UV LED print systems? Reach us by direct message on available social media platforms: artisJet Solutions, artisJet Technology, Instagram, Twitter, Pinterest, fill in the contact form or simply e-mail us by This email address is being protected from spambots. You need JavaScript enabled to view it..
Feel free to request a sample to discover the printing capabilities of artisJet digital direct printing systems.
Subscribe to artisJet YouTube channel for printing solutions videos, learn how to use artisJet printing software to achieve different outstanding print effects, discover video testimonials and maintenance video support to much more.
Details

Written by

Alina Sornea

Hits: 2847
UNDERSTANDING DTG PRINTING
As the name suggests, Direct to Garment Printing, also known as DTG printing, digital direct to garment printing, is a process of printing on textiles and garments using specialized or modified inkjet technology. The two key requirements of a DTG printer are a transport mechanism of the garment and specialty inks that are applied to the textile directly and are absorbed by the fibers. DTG uses specialty water-based inks, which are absorbed by the fibers of the garment.
Know the Garment Printing techniques. Which garment printing method is better? What to compare. DTG printing versus screen printing, DTG printing versus heat transfer printing etc.? When it comes to printing a design, picture or logo on a garment, there are a number of methods. Screen printing, heat-applied transfers and now dye sublimation are widely used garment decorating techniques, but none truly compare to the capability of a DTG printer.
With dye-sublimation garment printing, the image is first printed onto a release or transfer paper, then placed in contact with a polyester textile under high heat and pressure. The heat causes the ink to sublimate, than turn from a solid to a gas and bond/transfer to the garment.
The heat transfer printing method applies custom designs to items like T-shirts or tablecloths through a process that uses a combination of heat and pressure.
The technique of printing images on garments using stencils and screens dates back to ancient China, screen printing has transformed over the years, but even in its present-day form, the process involves a blade or squeegee pushing inks through a stencil covered mesh or screen.
Digital Direct to Garment Printing. DTG prints can look as good as or better than traditional apparel printing processes, such as screen printing. The amount of time & labor involved with digital DTG printing is significantly lower than traditional methods.
Textile DTG printers using inkjet technology are attractive because the process of creating a printed garment from scratch using traditional technologies can be long and complicated. DTG printers for textile printing makes garment design and printing simple, accessible and cheap, especially compared to traditional screen printing. With a textile direct to garment printer you have all the ingredients for an exciting new business model.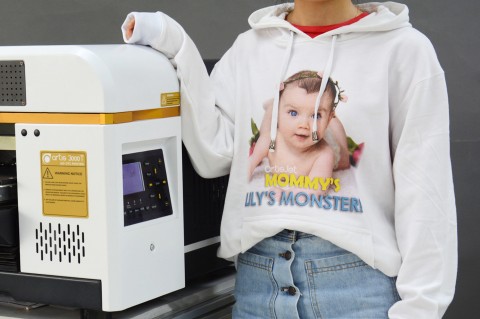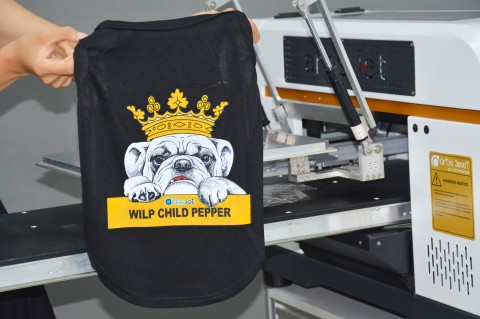 ADVANTAGES OF DTG PRINTING
There are certain advantages and ideal uses for the direct to garment printing process. Direct to garment printing uses a specially designed inkjet printer and specialized inks to print the design directly onto the garment, just as you might print a picture straight onto a piece of paper with a regular printer. The benefits of this include:
• Most color garments can be printed onto – DTG printing provides the potential to print onto virtually any color of garment, so you can create the design that you really want.
• Wide range of applications such as T-shirts, caps, sweatshirt, ties, personalized footwear like socks, tote bags and more.
• Water based garment inks and pigmented inks which are non-toxic and environmentally friendly, it has an excellent color fastness, high elasticity and non-cracking attributes, while the CMYK + White white inkjet technology gives outstanding vibrant prints on light and dark garment. The white ink channel makes printing on dark substrates way easier, producing high resolution quality prints both on cotton and polyesters.
• DTG printing system is widely used in small quantity printing business and customized high-end garments business.
• Various on demand printing plates to ease the printing process – easy print in low cost and no limit for the order quantity to your customers.
• Direct to garment printers generally require a specialized software package called a Raster Image Processor (RIP) to print properly. Modern RIP Software, also generates the white ink under base required to print on dark garments (for example black T-shirts), controls the amount of white and color ink laid down and color matching as well as other functions such as multi-shirt image placement and ink cost calculation.
• The process of direct to garment printing is simple.
a) Pretreat – Prepare your shirt for printing;
b) Load your printer – hoop your shirts on and get ready to print;
c) Print and Sell – let the printer do its work – then heat press and sell.
The technology is a revolution and stimulation in this field, bringing new colors and vitality. DTG printing systems are available to handle all pre- and post-treatment to produce personalized/customized fabrics, T-shirts, sportswear and other items of clothing and accessories, such as baby clothing, hats, bags, napkins and towels – on demand. If you want each T-shirt to be different and you want them printed in a four-color photographic digital printing process using a compact DTG desktop printer is really your only cost effective option.
If you are interested in short runs, prototyping, T-shirt printing or customized garments, the possibilities available to you are about to get very interesting.
You can reach us by several ways: Facebook, Instagram, Twitter, fill in the contact form or simply e-mail us by This email address is being protected from spambots. You need JavaScript enabled to view it..
Feel free to request a sample to discover the DTG printing capabilities with artisJet.
Details

Written by

Alina Sornea

Hits: 19978
artisJet ink system refers to a whole system installed in the artisJet direct to substrates printing machines. It's a complex system and at the same time very simple to follow. The ink system has multiple parts, each one with a specific functionality: to pump, transmit, filter, fire/shoot out, wipe/clean the ink as well as storage the wasted ink. Moreover, the ink system has a self - automated maintenance functionality.
Ink containers (ink bottles). It refers to the ink tanks displayed in the form of ink bottles or refillable cartridges. artisJet is applying the open sourcing small ink bottles (1) with a volume capacity of 200 ml of inks for each ink color for continuous ink supply system (2). WHY? In the first place, because is easy to refill inks at a low cost for the machine user and their continuous production with portable loading, filtering and refilling system.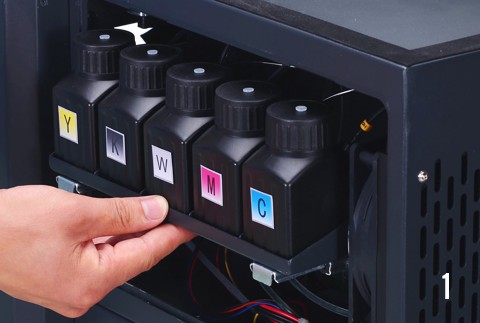 The second main reason of choosing accessible and refillable ink containers is that the small ink bottles will avoid decantation of the ink sediments if the ink will stay in the bottles for a long time. That is why, it is recommended to use the inks within 45 days, and otherwise the TiO2 from the LED UV ink will settle down gradually affecting the ink quality and also the entire ink system. The ink consumption is very low in artisJet digital direct to substrates printing systems. We need only 30 ml of all inks combined for each printed square meter. To understand better, a printed square meter can be translated into about 130 IPhone 6 mobile covers with full printing coverage.
There are few operation tips for the ink containers: to replace or clean the ink bottles every 3 – 5 months and to avoid spraying when refilling the ink bottles and to follow the operation menus.
Ink pumping (or ink pump / ink service station). The ink pump (3) refers to a system that suctions the ink from the containers and it will direct the ink into the entire ink system via a motorized pump (4) with the spongy cap top (5) connected to the printer head (6) using vacuum power. The entire pumping system is structured as it follows: pump motors, cap tops and plastic frames.
A pinion gear of the pump motor rotates in the clockwise direction and the ink is suctioned. The cap tops unit is designed to make airtight in the cap sticking fast to the printer head surface so that the ink suction can be performed by the driving force of the pump unit. When the printer is in standby status or is power off, the cap unit prevents the ink from thickening.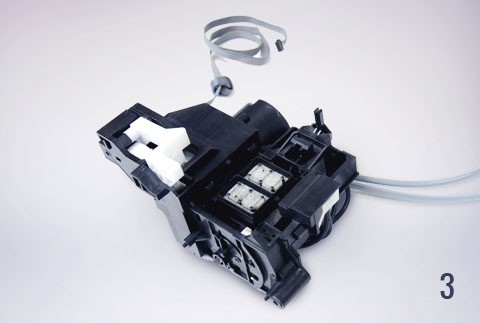 Operation tips for ink pump: keep practicing the cleaning of the cap top by automatic cleaning and replace the cap top every 3 months.
Ink transmitting (ink tubes). These refers to a system or a part that makes the path for the ink delivery to the printer head. artisJet applies 3*2 mm of dark plastic tubes with a standard length of 1.5 meters protected by the ink tube tank (7). One end of the ink tubes is connected to the ink tanks (8) and the other one is connected to the damper (9). Each ink tube has a number code (10), from 1 to 8 in the situation of an 8 ink channels printer (C, M, Y, K, W, W, W, W) as artis 3000U LED UV printer is.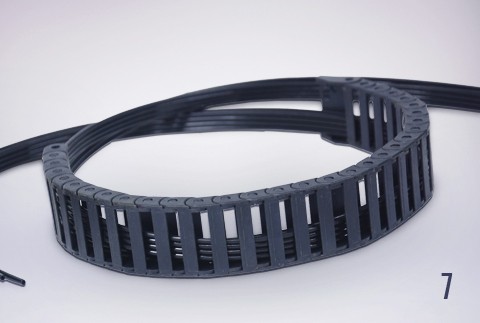 Ink filtering (ink dampers). It refers to a part connecting the ink tube to the printer head, containing the inks and filtering them before the last step to ink firing. The dampers (11) are made of plastic with foil filtering matt inside (12). The black port of the damper makes the connection with the printer head (13), while the ink tubes are fixed on the golden ports of the damper (14). The ink filtering is installed on the carriage and it moves with it. There is one damper for each color.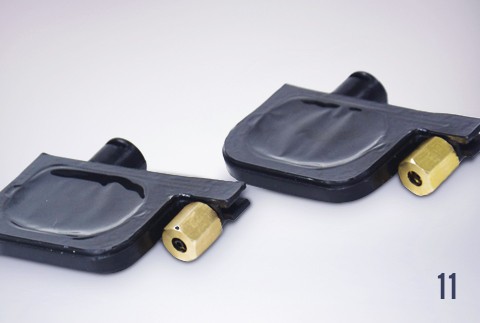 Ink firing. This is the part of the process when the colors are fired to the substrate. The printer head is the one responsible with shooting the inks onto the printing materials and it is placed on the carriage cart. The functionality of the ink firing process is based on the mother board.
Before firing ink to start a printing process, a nozzle checking must be done. The purpose of nozzle checking and head cleaning is to check that all the colors can print well and this way you can keep the ink system work properly.
Ink wiper and ink cleaning. The ink wiper (15) is a part of the ink system that is made from silicon rubber. The wiper is installed nearby the ink pump and its role is to clean the wasted ink during the printing process on the mirror side of the printer head.
Wasted Ink Tank. During the pumping and printing process, the wasted ink is stocked into an ink bottle (16, 17).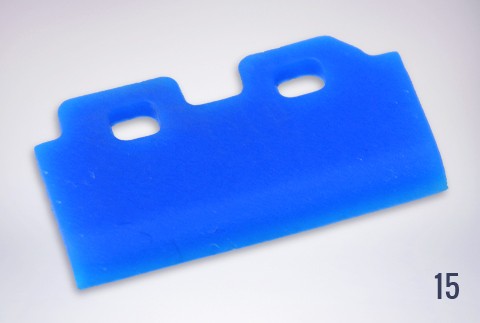 Ink system maintenance modules. There are two ways of safe maintenance of the ink system. One way is the self – automated maintenance module or automatic cleaning functionality (18) which refers to a system that powers the ink system maintenance on demand when the user is away. Another way of doing the cleaning maintenance is manually.
Details

Written by

Alina Sornea

Hits: 3003
Whether you are new to digital LED UV printing or an experienced user, this article aims to help you in understanding better the artisJet LED UV ink system. But first, there are few points we have to highlight regarding artisJet LED UV technology.
Flash On Ink Firing System. One of the most important features is the Flash on Ink Firing System (FOIF) which makes the LED UV printer to electronically activate only the UV LEDs when the ink is fired. As a result, the printer head lifetime is maximized and it lasts up to 8 months of continuous operation. The UV LED module can last up to 25,000 working hours. FOIF helps to protect the whole ink system at the same time including the ink pump, wiper, dampers and cap tops.
Control On Demand System (COD) and LED UV curing. Designed for flexibility and simplicity, artisJet COD system is digitally controlling the UV LED curing mode to adapt for different substrates and working environments. The LED UV curing is a technology that has been advancing in the last few years and is considered as the best available on the market today.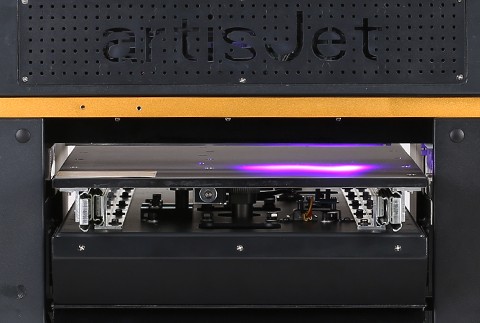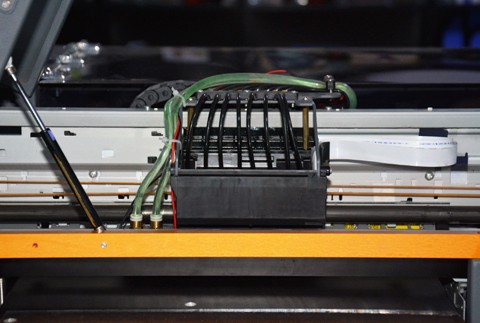 artisJet LED UV Continuous Ink Supply System. CISS Ink Systems are designed to offer quality printing results without wasting time by changing cartridges. The continuous ink supply system is made of refillable ink tanks that are connected to the printer head until the ink is shoot out to the printing materials. Unlike the traditional ink cartridges which often requires replacements, the CISS allows the 100% utilization of the available inks making it suitable for high volume applications, therefore is cost saving.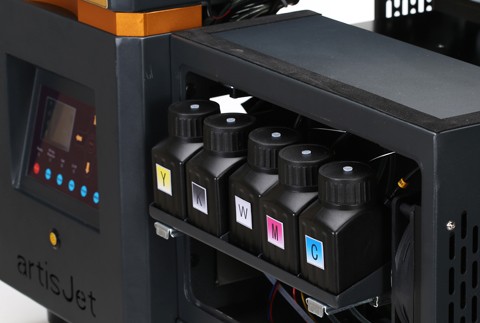 LED UV ink system and its components. A LED UV ink system is made of multiple component parts as follows:
Ink bottles, which contain the ink liquid and is the ink source of the printer; the ink bottles comes in 3 types of containers for every user needs: 250 ml, 500 ml and 1000 ml;
Ink tubes, which help transferring the inks from the ink bottles to the carriage cart; a tube fixer is stabilizing the tubes onto the carriage;
The ink dampers filter the inks while transmitting the inks from the ink tubes and connecting to the printer head holders;
The printer head, which is the one responsible with shooting the inks onto the printing materials, it is placed onto the carriage cart.
The wiper is a small part that wipes the waste ink on the printer head mirror back side;
The ink pump powers, cleans and suctions the inks during the printing work;
The waste ink tank contains the waste ink accumulated from printer head during print.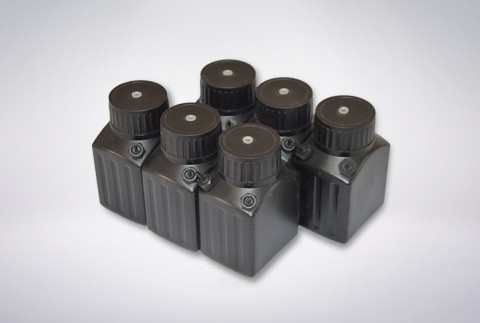 Benefits of LED UV CISS ink system. When it comes to printing industry, the LED UV curing helps your business to move away from adverse and harmful toxic drying methods. Enjoy the many improvements by moving towards safer and eco-friendly working environment.
A LED UV system is a game changer and a main characteristic is the instant curing of the inks, so there is no need for drying time or powder. Moreover, you get the possibility to print on various materials, without constraints, even on heat – sensitive substrates and achieve high-end printing effects on plastics or any other material that don't absorb inks.
Details

Written by

Alina Sornea

Hits: 3348
What is UV LED Print Technology? A system allowing the DIRECT digital prints onto all materials with instant drying speed, 3D embossed / textured printing results, sharp color performances, strong color durability and eco-friendly features.
How it works? UV stands for ultraviolet, while LED is the shortcut of Light Emitting Diode; the UV wavelength is from 1 to 400 nm, where the UV LED printing systems are using 365 – 395 nm. The name of the UV LED printer is given by the ink type, the DTS3 and DTSAT3 LED UV inks that artisJet systems are printing with. The UV LED lamps cure the digital pictures, letters, numbers printed from the printer hardware immediately during the print and change the liquid into solid substrates.
What are the main features of UV LED print? With its unique drying method from the UV LED lighting, the UV LED printing technology offers an instant dry during the digital print process. Due to its strong compatibility to wide range of materials, the UV LED print technology enables the direct print onto all type of products. Another characteristic of this technology is the stability on the white inks, which allows the direct print on dark and light materials. The instant drying feature allows a layered, textured and 3D embossed printing result. Without the VOC inside of the inks, the UV LED print technology is eco-friendly.
What are the advantages of artisJet's UV LED print technology? Long life of UV LED lamps with wave length of 365 and 395 nm and 12,000 working hours is one of the main advantages. The flexible UV LED power adjustment for different materials printing on demand, the built-in liquid cooling system for safe and continuous printing production, as well as the piezo equipped with anti-static print system for high resolution digital direct printing makes the UV LED technology stand out. Another advantages of printing with LED UV technology is the wide range of products with different printing sizes and speed for all business levels and the low cost maintenance yet with high ROI (return on investment) on artisJet CISS system. Moreover, DTS3 and DTSAT3 inks allow the printing on both rigid and flexible substrates. That is why artisJet provides not only a printing business, but a business training as well.
What are the artisJet UV LED print technology mainly used for? It is about anything, anyone and everywhere. artisJet LED UV print technology is mainly used for:
customized phone cover printing (www.instacase.com, www.gocase.com.br, www.skinkin.com, www.hairyworm.com); personalized wood frame printing (www.woodpost.com, https://www.etsy.com/shop/WoodLifePrints?ref=hdr_shop_menu); PVC card printing (www.ownster.uk); dial face for meters and watches (www.cromptonusa.com, www.bjpinghe.com); trophy, awards and plaques (www.sportsfort.com, www.uniontrophy.com); promotional items (www.image-code.net, www.impressionsdpa.com, www.istersouvenir.rs); balloons, toys and play around (www.balloonmonkey.co.uk, www.picsolve.biz).