DEDICATED INK
FOR ENHANCED ID CARD SOLUTIONS
SPECIALLY FORMULATED DTSAT4 INK FOR CARD PRINTER


Manufactured with ISO Certification, and other ink certifications such as RISC, RoHS, REACH, ECO etc., artisJet DTSAT4 inks were developed with highest quality and performance standards.
The DTSAT4 LED UV curing inks designed for artisJet Proud ID card printer, provide the best printing results on the different card types and cards substrates, ensuring stability and durability even for mass-production (200 card pieces load / pass).
VIVID AND SHARP DETAILS ON CARDS
Easily recreate images and text by direct propelling ink droplets onto the card surface, printing smaller details at a higher resolution.
100% USE OF INK FOR COST SAVING
Enabling printing of 8000+ of M6 card size with only one set of inks.
IMPRESSIVE GRAPHICS PRINT WITH HIGH ADHESION
Deliver full color graphics with impressive photographic images and stylish finishes for different card needs, initiating a strong bond with the substrate.
SAFE AND CERTIFIED INKS
artisInk has been proved by RoHS, REACH, CS65, RISC Certificates. Eco-friendly ink, no VOC emissions, safe for all usage, longer shelf life of inks.
PROVEN ANTI-DISCOLORATION FEATURES
Proven high color quality and lasting prints through cross-cut / temperature / humidity color durability tests.
HASSLE-FREE HANDLING AND MAINTENANCE
Quick and easy to install ink cartridges on card printer, with ink supply levels check to determine ink estimates.

230ML INK CARTRIDGES AVAILABILITY
DTSAT4 inks from artisJet brand, with 230 ml ink quantity / cartridge. Package available in 4 colors, CMYK.
Printer compatibility with automatic feeding digital UV card printer full color artisJet Proud ID card printer.
Colors
Cyan
Magenta
Yellow
Black

Download product datasheet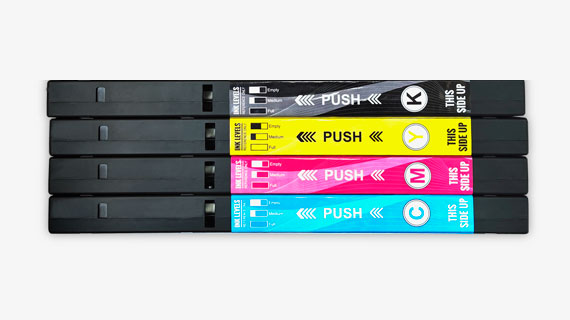 Ordering Information
| | | |
| --- | --- | --- |
| Product No. | Description | Ink Compatibility |
| | | |
| DTSAT4-230-001 | Cyan ink DTSAT4, 230 ml | artisJet Proud ID Card printer |
| DTSAT4-230-002 | Magenta ink DTSAT4, 230 ml | artisJet Proud ID Card printer |
| DTSAT4-230-003 | Yellow ink DTSAT4, 230 ml | artisJet Proud ID Card printer |
| DTSAT4-230-004 | Black ink DTSAT4, 230 ml | artisJet Proud ID Card printer |


Go green with artisJet's DTSAT4 card printing inks. Print toxin free and virtually odorless. DTSAT4 inks for card printer are environmentally friendly. The inks are cured and fixed to the substrate when being activated with UV light. The curing process hardens the ink, without any evaporation. Ideal for wide variety of card printing customization.