artisJet Custom
Direct To Substrate Printing Jigs
TAILORED TEMPLATES TO FIT YOUR PRODUCTION NEEDS

Get to know jigs
Acceleration for print simplification and efficiency
What are jigs and fixtures? Jigs and fixtures are also being called templates, holders or attachments. How they serve?

1). Secure the accuracy
It holds the products on the table avoiding any misposition during the printing therefore ensuring the high accuracy.

2). Production efficiency enhancement.
For single product mass-customization production, the jig will enable the operators to load dozens of products onto the table directly while the printer is printing the other load.

No matter the type of product, printing fixtures / printing jigs are one of the main tools for direct to substrate customization process that keeps the printing accuracy.
What does this means? If you have a business that requires printing on products like golf balls, phone cases, different pens, promotional items such as lighters, key chains, and other small size items, the printing jigs and fixtures are key tools for high print quality.
These printing tools are used to hold dimensional products in fixed position during the printing process, making it an important component for LED UV inkjet printing.
Customize, design, produce and deliver on your desire
Getting professional with us and raise your demand today to us
What are the main features of artisJet printing jigs? To avoid costly production delays and defects, artisJet introduces upgraded and customized tools to fulfill any printed product requirement in terms of shape and size.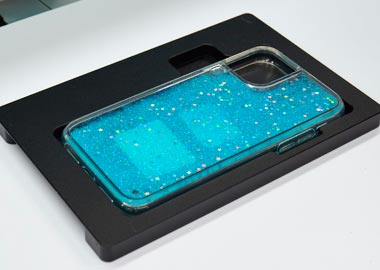 True customization even for SINGLE product
100% customization service on your demand no matter what your product is, we are able to design for anything printable.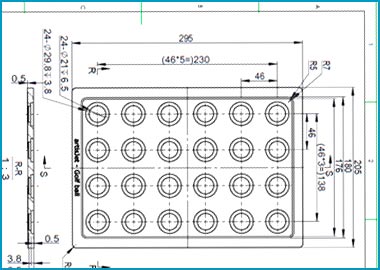 Professional design and production
We invest in 3D scanning of each product, produce the prototyping and the best pre/after treatment to best fit the scenarios and products.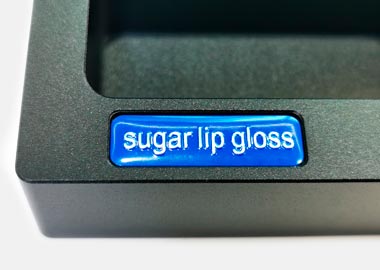 Product identification labels
Easily identify the product jig by designed embossed blue labels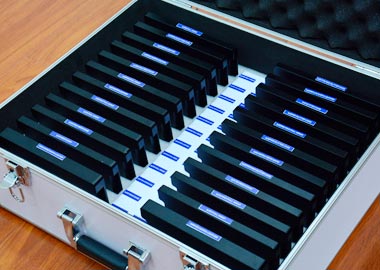 Lighter material manufacture
Durable aluminum made, without adding a significant amount of weight to the printer's flatbed. Easy to carry custom jigs collection case.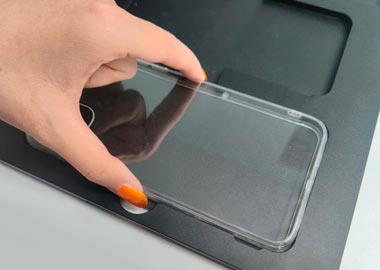 Matte black finish
Minimizes reflection by absorbing light, and helps avoiding prematurely curing the ink or nozzle blockage.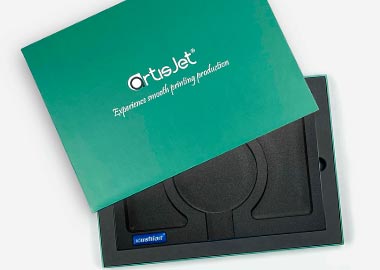 Protective individual packaging
Each jig comes with its custom size box, for safe storage.
Make you a lot more advanced
Apply to be more competitive
What are the advantages of printing jigs and fixtures? How printing jigs can improve LED UV print quality? Custom jigs, fixtures and templating with artisJet printers help you accelerate production speed to market and manage printing personalized products on demand, by holding the products in place at all stages of the printing process.
Maintain maximum print quality and printing accuracy
Rapid product placement and flatbed loading time
Reduce light reflection and ink mist
Quick fixture resetting with new products
Increasing productivity by templating layout
Minimizing to completely reducing rejecting prints
Customized multiple sample printing in one single pass
Time-saving solution with reduced manual operation
Get the one that belongs to you
Standard, customized and prototyping
As a time saving solution, artisJet developed different types of printing jigs, both ready-made templates and the possibility to scan and prototype on demand printing jigs according to your business needs, available for a wide range of applications customization and also multiple items printing in one pass.

From pen printing jig, phone case printing jig for all brands (iPhone cases, Samsung cases, Huawei cases, etc.), card jig, pet tags jig, airpods jig, phone holders jig, golf products jigs, cd jig, to jigs for cosmetics such as lipstick jig, rotary jig for bottle printing and for very small cylindrical objects, jig for sunglasses, T-shirt jig, and anything else you might need to print and requires a printing fixture.

artisJet produces printing jigs of different sizes, depending on the product needs: from very small jigs to fit single products (jig for one phone case jig, single lipstick jig, one lighter jig, even jig for gold bracelet rotary printing, etc.) to A4 jigs, or B3 and B2 size jigs to fit the different printers' flatbeds sizes. Take for example the jigs for pen printing: depending on the size of the pens, an A4 size jig has 12 slots available for pen printing, but here's a hint: you can use two A4 jigs to fit a larger flatbed, and print 24 pens in one pass. Larger pen jigs for B2 size flatbeds can print 60 pens in one pass.
A B3 custom made jig for golf markers allows printing 77 golf markers in one shot. The smaller the item, more slots are available on the printing jig, with endless possibilities.

We will always find solutions to ease the printing workflow for different range of products. What jigs do you need?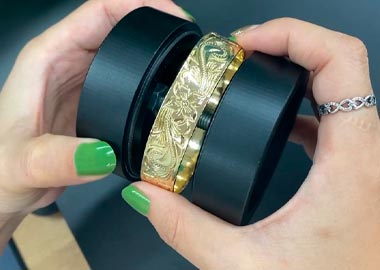 Gold bracelet jig for rotary printing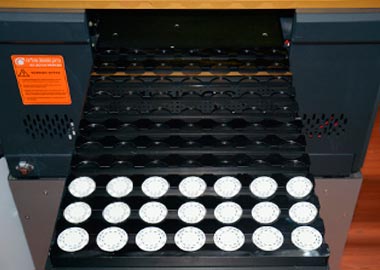 Multiple golf marker jig printing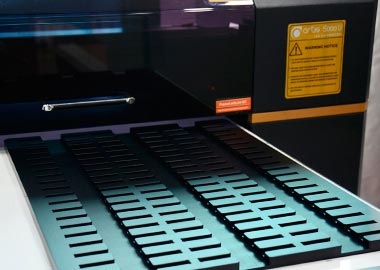 Pen jig for 60 pens printing in one pass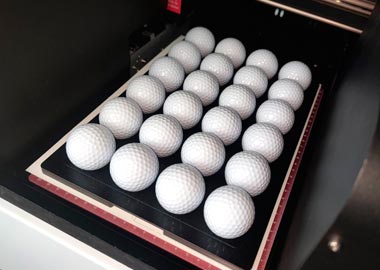 Golf balls printing jig for A4 LED UV printer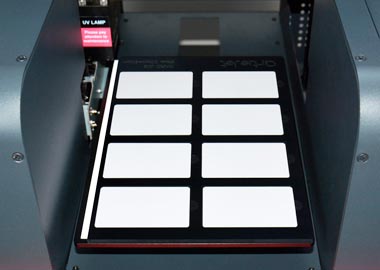 Cards printing jig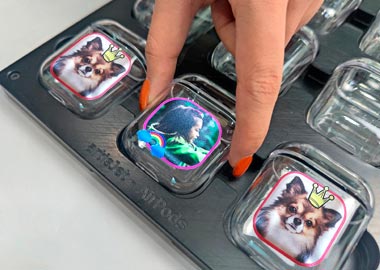 Airpods case jig
How it works?
A hassle-free solution for software, hardware and workflow
Select the jig that you need for your product and place it on the flatbed's indicated XY axis. One by one, add your products on the custom jig, all products should perfectly fit the dedicated slots within the template, error-free. Now you are ready to print multiple samples in just one pass! Want to know how LED UV printing with custom jigs works? Watch the
YouTube video on artisJet channel
to see how easy is to print with jigs!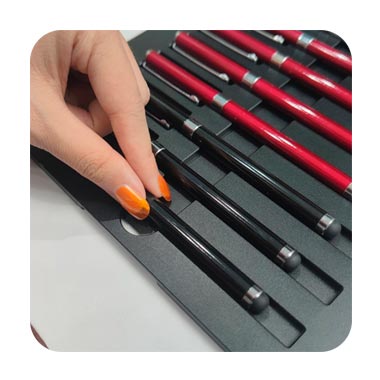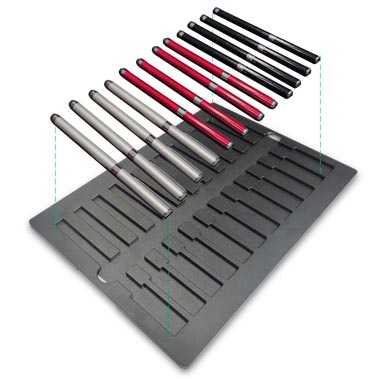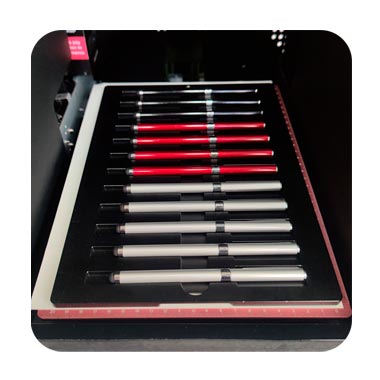 What's more?
Cylindrical printing with artisJet ROT 360 degrees solution
The fast conversion from flatbed printing to rotary printing / cylindrical printing it is a multifunctional creative resource for different printing options and rotary capabilities. You get one printer with two different customization needs, and a space saving solution. How? With ROT 360 degrees rotary device from artisJet, easy to install on the artisJet' s LED UV flatbed printers.
This accommodates printing on smallest cylindrical products of 1.5 cm (0.59 inches) and up to 22.5 cm (8.85 inches) diameter!


Call us now
Whatever your type of products are, it is better to take some time to ensure you have the right tools for your printing workflow. The right printing jigs that will accompany your artisJet printer will contribute to a much more efficient workflow and also reducing hassle maintenance and production downtime. If you have more questions about custom made jigs from artisJet, do not hesitate to contact us! We are here for you.