Do you like to play with colors and use them wherever you can? The perfect packaging idea will be to use the full color box. Such a box attracts the attention of a larger audience. Make them stand out on the shelf – you can add your own company print on the package.
Simplicity and shape can go a long way. Round shaped boxes are the perfect choice for high-end gift and retail packaging. Cylindrical shaped boxes are distinct in their style; it can be used to package any types of products from tea, coffee, and chocolate to beauty products.
artisJet's extensive knowledge of printing and production ensures you to get the very best guidance for packaging innovations that support key business objectives.
Designed by the idea of simple operation, artis 5000U printer allows you to start your own business for small sized round and cylindrical packaging. Although perfect for quantity printing and larger applications (up to 100 mm in height and 51*71 cm printing area), artisJet's A2+ LED UV printer is suitable whether for small working environments, home business, office business, shopping mall kiosks, and chain store business as well.
Add to this, with the recently launched ROT 360 technology, the artis 5000U LED UV printer becomes a rotary printing machine, which accommodates cylindrical objects with a maximum print bottle diameter of 7.6 cm and a minimum print diameter of 5.7 cm.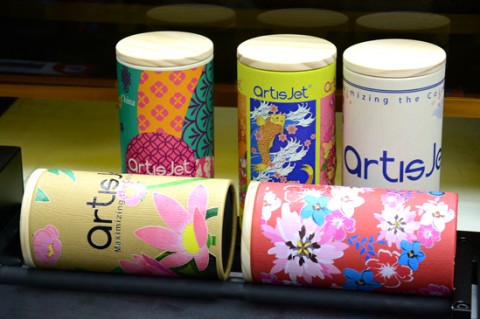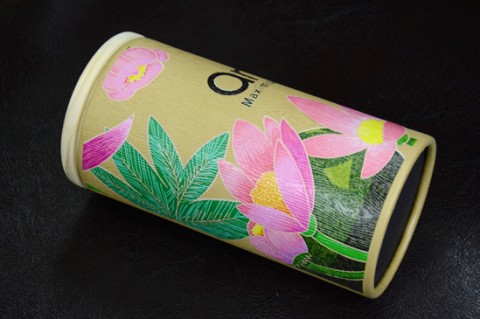 The artisJet LED UV printers are designed for all the printing possibilities on demand. With its environmentally friendly printing solutions, it empowers you to print on wood, metal, cardboard etc. and all the custom packages needed for any special occasion.
Personalized round boxes are used for a variety of applications including: chocolate boxes, drinks packaging, perfume packaging, gift boxes, personalized gift candles, bottle packaging, cylindrical tube packaging, Kraft paper tubes and more.
To support this idea, you can develop your workflow with digital printing on cylindrical objects such as personalizing a tea box with a photo, favorite quote, company logo or custom artwork. This way, you will create a gift that will be used and admired for years. Amp up the creativity and assign different colors for each tea flavor so your customers can easily find them and you can effortlessly monitor the inventory.
A wonderful addition to any tea lover is tea nook or even the company break room. Cardboard boxes or paper tubes packaging allow printing of the design on the walls of a box too, which makes it a very sophisticated branding channel. Moreover, with ROT 360 device you can create amazing cylindrical packaging for tea storage.
All in all, packaging is the only marketing channel that reaches all of your clients.
Explore our options to create a personalized round box printed with artis 5000U that matches your brand personality and reflects your brand image seamlessly.
Ask for artis 5000U and custom rotary device ROT 360 product quotation by e-mail to This email address is being protected from spambots. You need JavaScript enabled to view it. and enhance the printing capabilities of your business.
Better look for artisJet's products and visit us at FESPA BERLIN 2018 15-18 MAY in Booth D67, Hall 3.1 Berlin Expo Centre City and discover more of what artisJet's printing technologies and solutions can do for your business.
We are on Facebook, Twitter, Instagram, Pinterest, Google+, Flickr, and YouTube and stay connected for upcoming news and details.