PRINT SHOPS AND ONLINE CUSTOM CHRISTMAS GIFT SHOPPING
Christmas is one of the busiest holidays time during the year. Everyone is looking for that perfect, unique gift to impress their friends, families and loved ones. That is why most customers take by storm not only the printing stores, but mostly the online print shops.
Why the online print shops? Because this online business type comes in hand for the customers always on the rush. A well-developed online printing business ensures all the means for a neat personalized product and user-friendly ordering process.
This can be achieved by providing a wide range of artwork libraries, digital designs collections, easy-to-personalize unique designs by making templates available, as well as fonts, image upload availability to much more. All these contribute to the best customer online experience. Ordering is fast and easy, and the customers can order just the amount they need.
As a print shop and online printing business, you have to continuously look to improve the customer experience.
By aiming to simplify the direct color output onto all types of products, artisJet direct to substrate printing solutions come in hand not just for direct customers on demand personalized products, but also helping businesses to reach the best online and offline experience, to discover the most valuable printing business ideas, directions and solutions.
artisJet understands that each business is unique. That is the reason that artisJet aims to fulfill your requirements and needs by creating full personalized solutions.
ARTISJET CHRISTMAS PRINTING SOLUTIONS AND IDEAS
Custom CD and DVD printing for Christmas. From CD printing (compact discs printing), DVD printing, to vinyl record discs printing and its packaging, capture not only the special video memories or songs album music collections that were recorded on the disc, but also personalize all of it for visual communication purpose, to showcase the custom Christmas message. Turn the CD or DVD itself into a unique custom greeting card.
artisJet LED UV platforms ensure direct full edge-to-edge color artwork printing over the entire area of the disc, CD, DVD or vinyl record. You can print directly on light color discs, or benefit from white ink availability to print on dark colored discs and achieve the bright and sharp CMYK color printing of the image / artwork / label.
Want outstanding print effects? The printing is permanent due to the high quality instant-curing UV LED inks. The multiple layer white ink printing will give depth to the prints due to 3D embossed raised effect. Extra print effect is achieved by the varnish ink on demand availability which ensures a glitter and shine effect.
Add to this, for a complete CD / DVD printing solution, customize the CD cases, DVD and vinyl disc covers as well. Direct print and personalize vinyl cardboard packaging, DVD plastic covers or CD hard covers, DVD packaging, CD packaging for music production, music marketing, music albums, games industry (custom CD game covers), or wedding custom CD gifts to much more.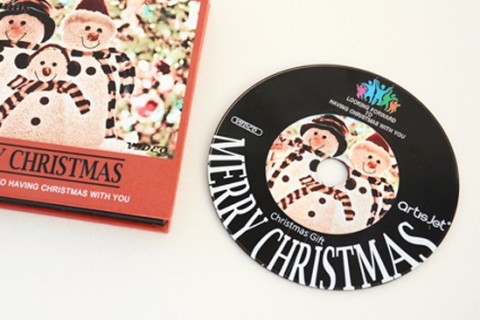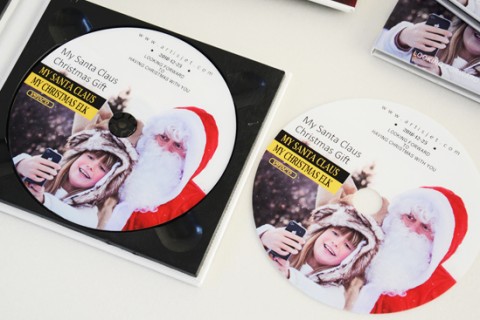 Greeting cards printing. It's time for season's greetings, when everyone wants to send a personal Christmas card. Custom Christmas cards can come in all shapes, sizes and substrate type.
artis 5000U A2+ LED UV printer is just the solution to meet the cards printing production process: from cards design, to cards templates, cards printing jig support for perfect fix and cards artwork match. Direct print on custom Christmas PVC cards, season's greeting custom cards, Christmas gift cards, Christmas voucher cards, Christmas shopping cards and any other idea you might have to make your printing business stand out. Personalized cards can be a unique gift idea for a company's employees. Add the personalized Christmas cards to the Christmas party gifts.
Christmas luggage travel tags. Almost all kind of items can become a special Christmas gift, even a simple luggage name tag. Transform a boring plastic loop luggage tag into a creative Christmas gift for those who enjoy travelling. artis 5000U LED UV printer gives the possibility to print multiple tags in one pass, with different designs, even on aluminum luggage tags (full image printing on custom travel tags). It's a time-saving solution which ensures a fluid production workflow. And time is very important during Christmas holidays, when customers want to get their orders on time.
Christmas tree decorations. Christmas ornaments don't have to be just glass or plastic globes. Give your customers the chance to be unique by direct printing on flat wooden decorations for Christmas. It can stand as Christmas greeting cards too, with photo print or custom messages on tree-shaped wooden decorations, round-shaped ornaments, Christmas photo gift decorations, custom LED UV Christmas decorations etc. The options are endless.