Customized printed items refer not only to a specific business or customers. The print-on-demand products are ideal for different merchants and brands that are looking to create unique items with different designs to sell it to their customers.
CHRISTMAS GIFTS PRINTING APPLICATIONS IDEAS
Christmas cardboard round flower boxes. Nowadays, the flower boxes and flower bouquet boxes are definitely a trend, replacing the wrapping paper: cylindrical flower box, cardboard round flower boxes, square flower packaging, cardboard boxes of all shapes and sizes.
Imagine that a flower delivery shop can create not only a unique flower bouquet upon customers' requirements, but a complete and impressive personalized full product. How, you might ask? Apart from adding their own logo brand to the flower box, it can be also added the client's personal message towards their loved ones. This message can be a direct printed text on the box cap, a full image printing, creative graphic designs and complex illustrations. To this it adds the traditional flower card messages, displayed in a more attractive way by making use of different printing effects: 3D embossed effect, tactile prints, Spot UV LED Varnish ink printing for glossy and smooth print finishes, matte effects, white ink printing, and combinations of these effects for the ultimate product customized on all levels.
Solution. artisJet ensures you to get the very best guidance for packaging innovations that support key business objectives.
Designed by the idea of simple operation, artis 5000U A2+ LED UV printer is suitable for direct printing on packaging products, such as flower boxes and box or gift caps of all kinds of sizes and shapes. Although perfect for quantity printing and larger items, it also enables easy printing on box caps with up to 100 mm height. Multiple box caps can be printed in one pass due to the 51 by 71 cm printing area.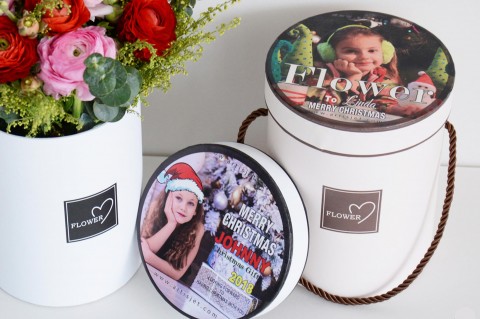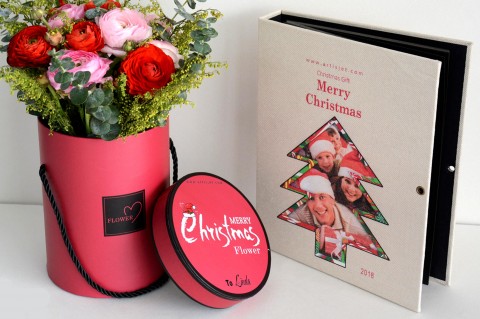 CHRISTMAS PACKAGING PRINT SOLUTIONS FOR SWEETS STORES
Custom chocolate boxes. Personalized Christmas boxes, Christmas gifts and Christmas packaging are used for a variety of applications, including chocolate boxes, candy boxes, cookie boxes, and packaging for sweets shops, gift shops and more.
Moreover, these stores may impress their customers by giving them the option to customize not only the chocolate product itself, but also allowing them to create one of a kind gift. Chocolate stores can meet on demand unique personalized chocolate orders comprising printed Christmas messages, Christmas favorite quotes or Christmas custom artwork, Christmas design and wintery landscape or personal photo images.
Custom chocolate boxes can come in a variety of shapes and materials: tin boxes, plastic boxes, hessian boxes, canvas box tops, kraft paper boxes or cardboard packaging etc.
Solution. To support this idea, candy stores, confectionery stores, chocolatiers or bakeries can customize their own packaging boxes for special occasions or holidays by in-store printing and in-house customization. How? This can be acquired by purchasing their direct printer for continuous activity and personalized production.
artis 5000U UV LED system will help the confectionery stores to create sophisticated designs, gifts and personalized products that will be highly appreciated by their customers. Add to this, although with a large printing area, the A2+ tabletop printer has the perfect size which makes it suitable for small working environments. The inks are environmentally friendly, while the built-in air purification systems ensure a clean and safe working environment.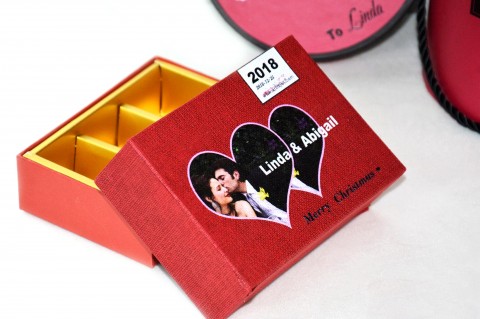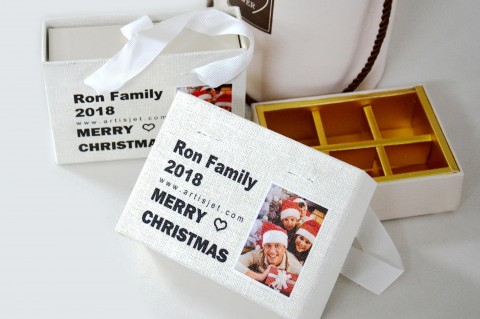 WINE BOTTLES PERSONALIZATION AND ROTARY PRINTING SOLUTIONS
Personalized Christmas wine bottles and custom wood bottle stands. Design your own personalized custom wine bottles, wine gifts, wine custom labels and bottle packaging. The custom bottle printing solution addresses to a wide range of industry professionals: from wine producers who can perfect their logo brand and create unique labels for every type of wine or limited wine editions, to print shops that can expand their printing expertise and print solutions and print offers towards customers, companies that look to create Christmas corporate gifts for their employees and many others.
Solution. This year, artisJet launched the ROT 360 degrees rotary device for cylindrical printing. The rotary attachment was developed upon customers' requests and demand for bottle printing solutions. This way, the artis 5000U UV LED platform becomes a rotary printing machine, which accommodates cylindrical objects and bottles with a maximum print bottle diameter of 7.6 cm and a minimum print diameter of 5.7 cm.
The 360 degrees LED UV printing technology eliminates the need for paper labels, allowing the direct printing of complex designs, images, brand logos or simple text. Turn the flatbed printer into a rotary printer within minutes and create personalized drink ware, custom wine bottles, and special Christmas gifts. Print on bottles perfectly jointed prints, with no breaks, seams or overlaps. This is what makes artis 5000U printer a full solution for businesses, empowered by artisJet's user-friendly and easy operational Print Manager and artisRIP V9.0 software and upgrades.