SOHO PRINT BUSINESS SCENARIOS AND IDEAS
Working from home? Start up or expanding your business?
Online store, offline store, chain stores, and for any other business location, artisJet can give you all the equipment, materials, service, and all the training you need to be able to create a powerful business making beautifully designed phone accessories within few minutes.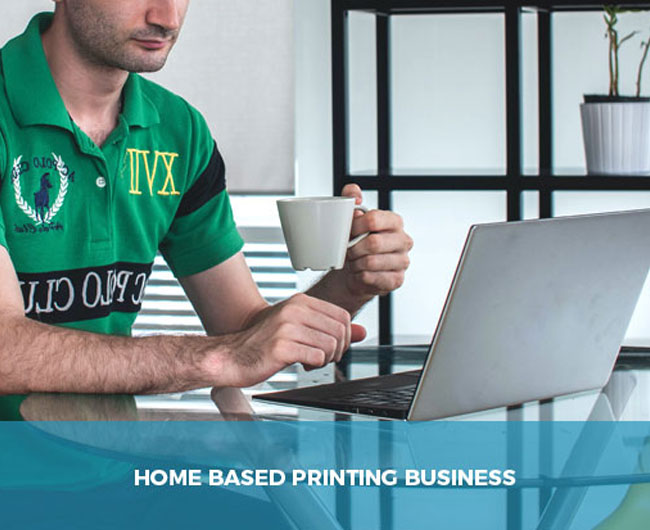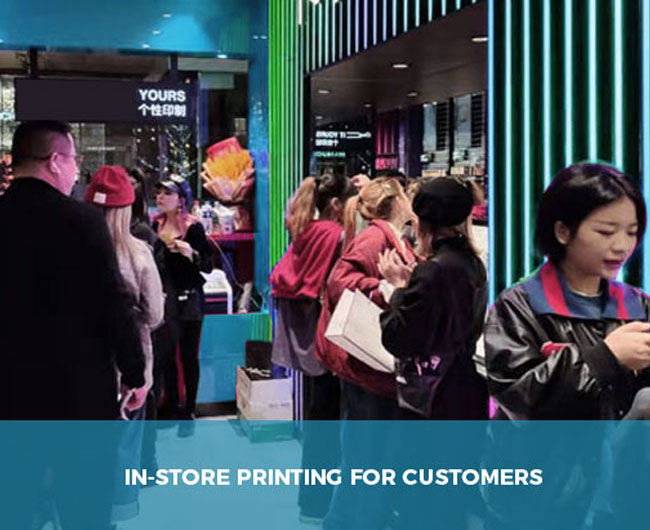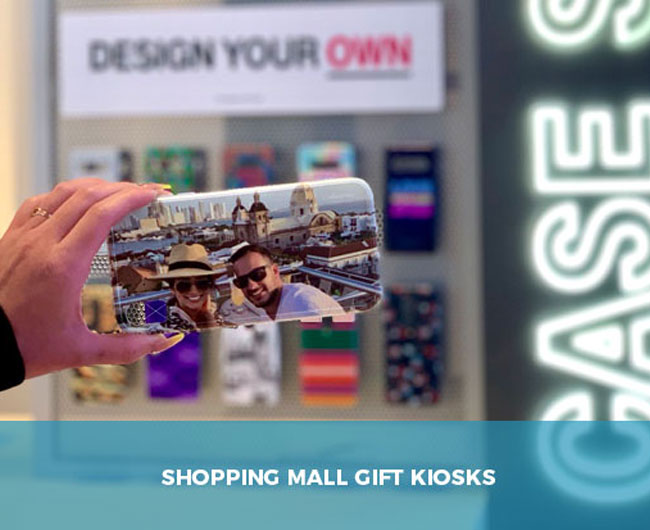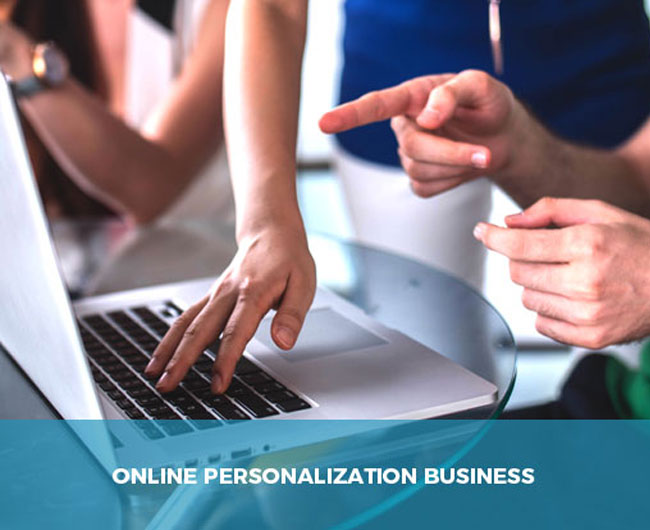 WHAT CAN YOU PRINT?
Print on any phone case model from any brand!
From iPhone, Samsung, HTC, Sony, LG, Huawei, MI, Vivo to any other available mobile brands.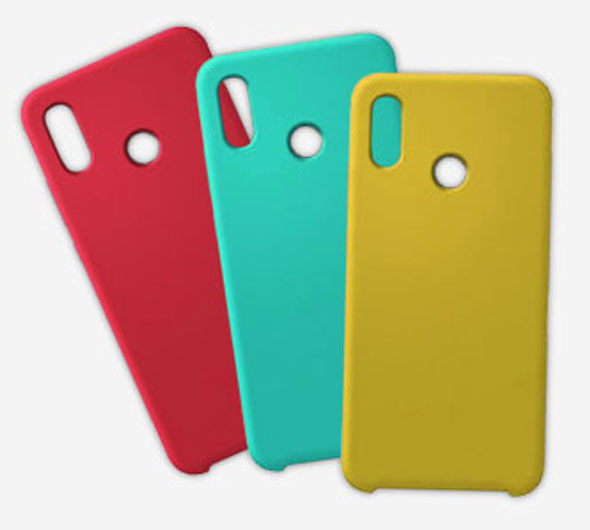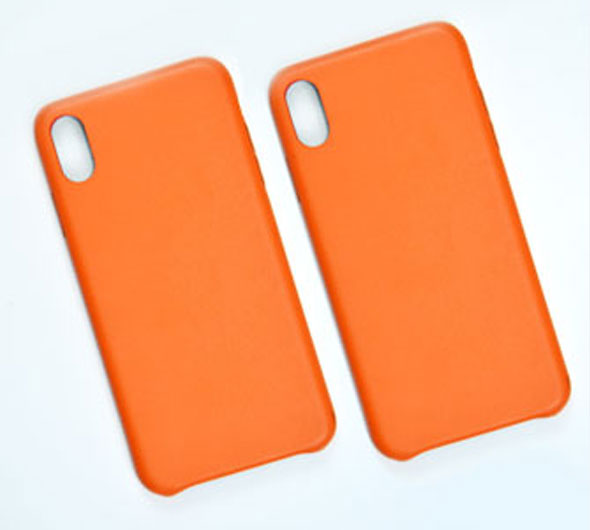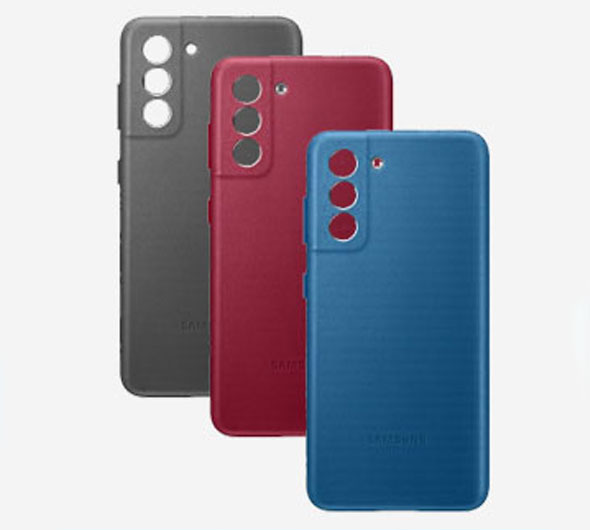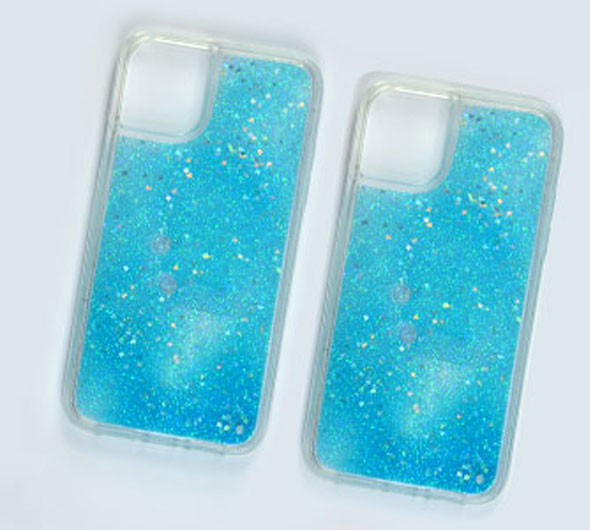 Print on various substrate materials.
The phone case materials can be leather, TPU, plastic, acrylic, wooden, glass, metal, aluminum, silicone, and many others that are available in the market.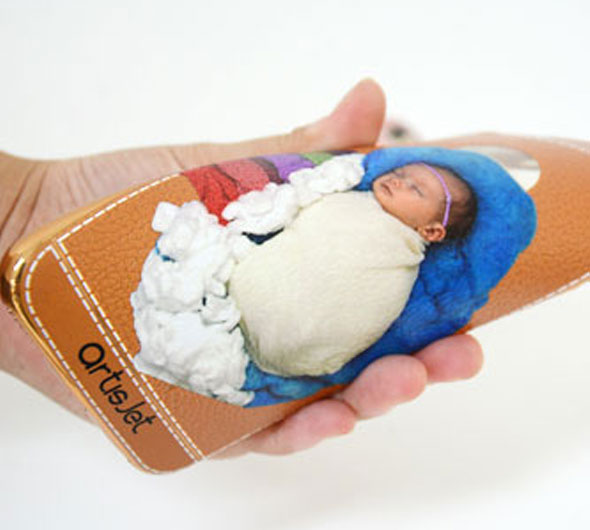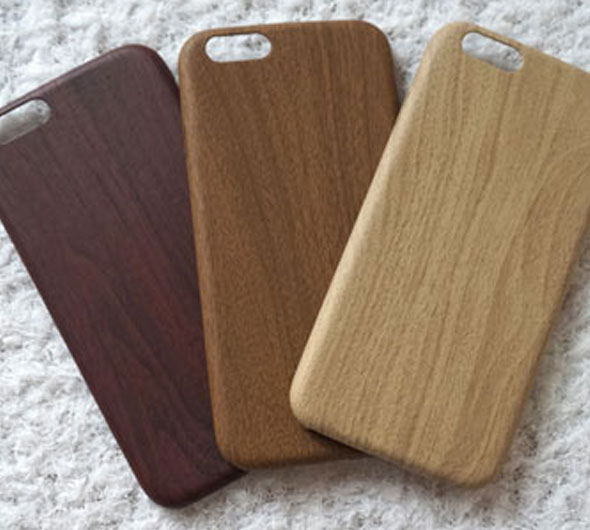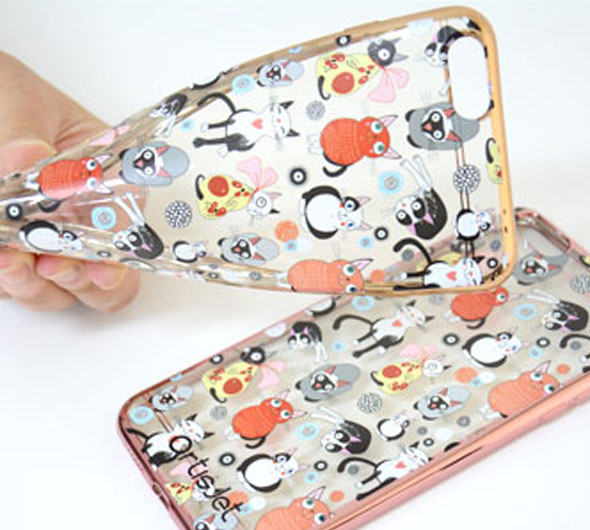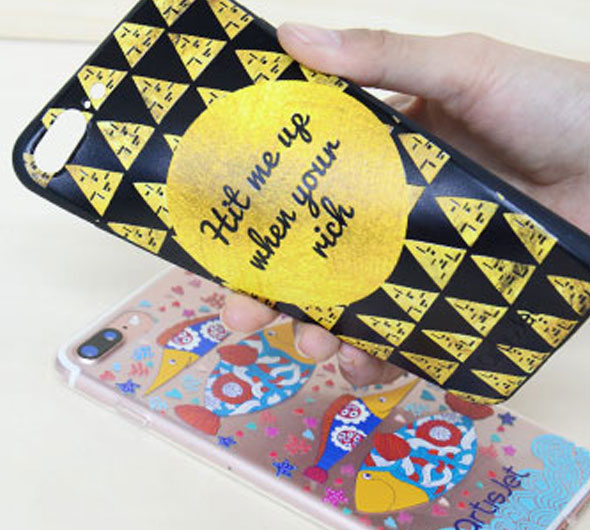 Print on an extensive variety of smartphone accessories.
Not only artisJet Young printer can work with all phone cases, but it can also print on airpods, airpod protective cases , earphone cases, phone chargers, power banks and phone chargers, phone grip holders , and many other mobile accessories.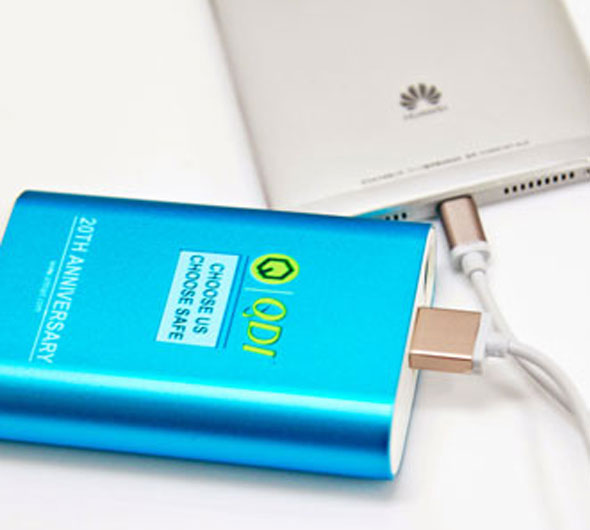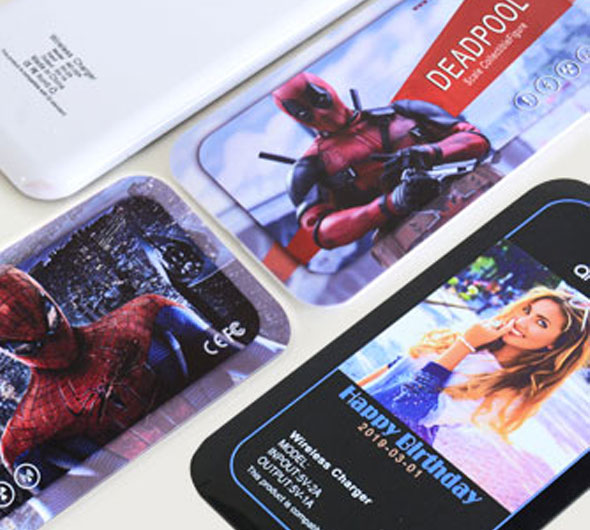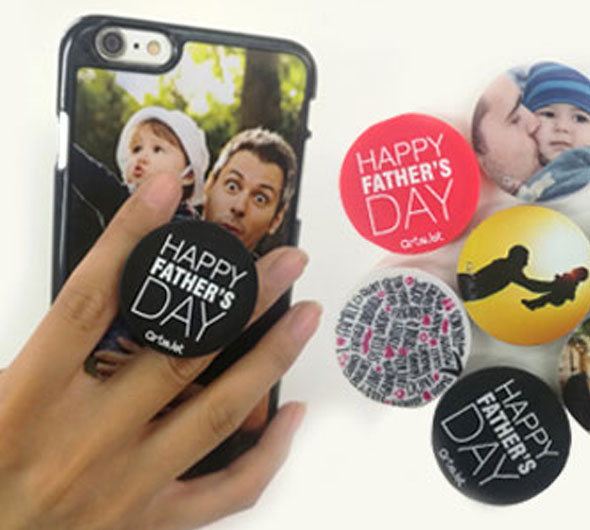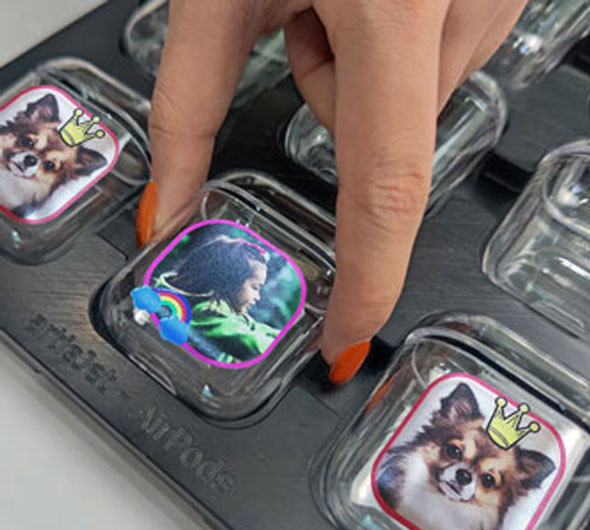 HOW CAN YOU PRINT?
One click printing.
artisJet Young allows direct printing from a third party which saves so much work and time. And the Control System detects the printing height and positioning of your phone case automatically, leaving your printing work just a click of the button. Learn more about customized phone case printing with artisJet Young by watching the VIDEO.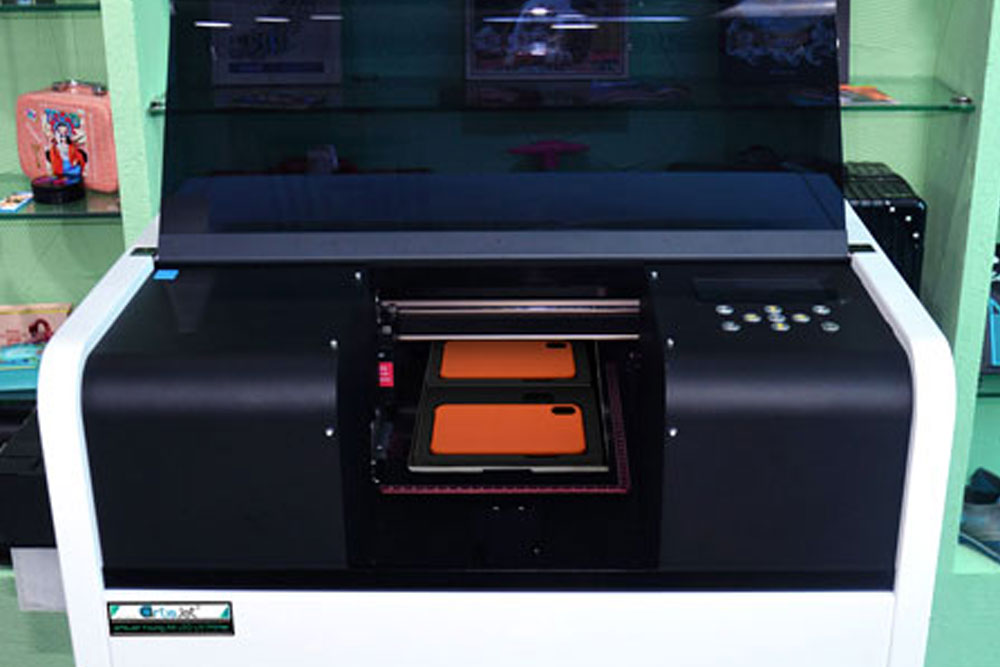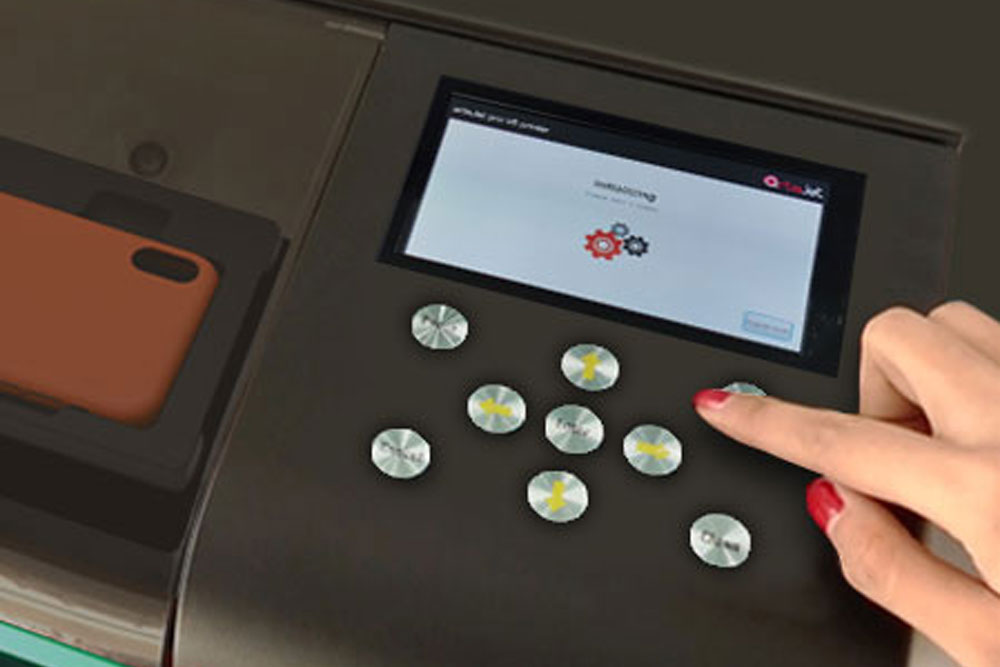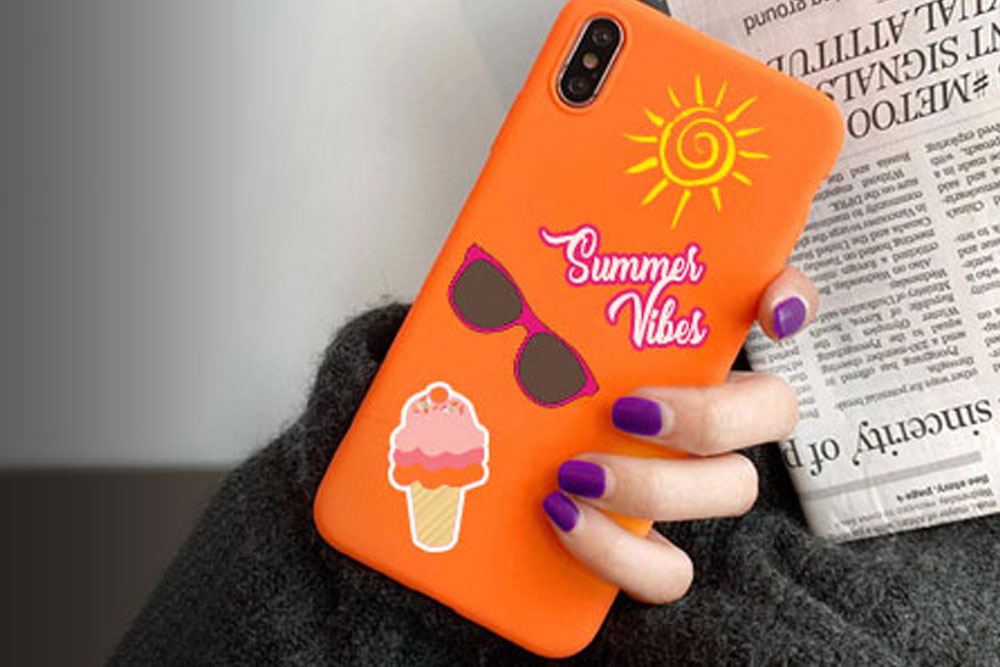 Templating.
artisJet is providing you an all-round solution for your business and that including details such as tailored templates to fit your production needs. Templates help you to manage your printing demands effortlessly, and accelerating production speed.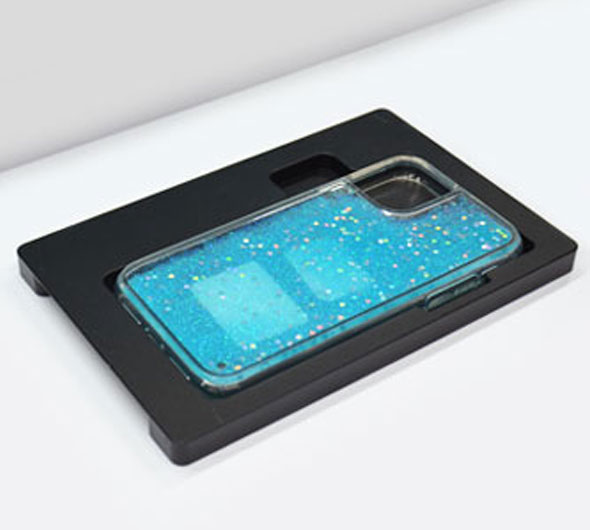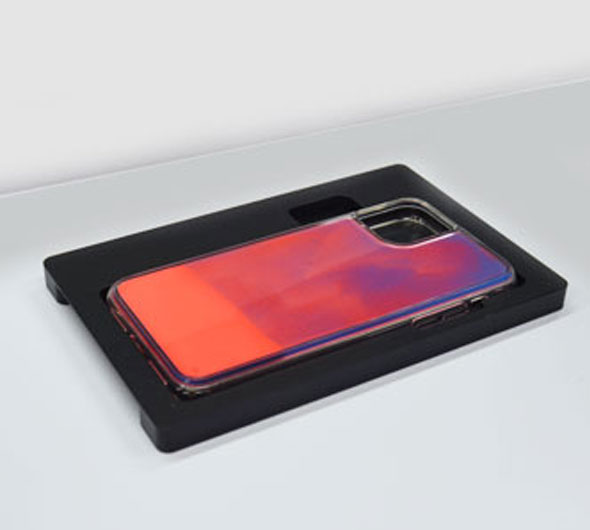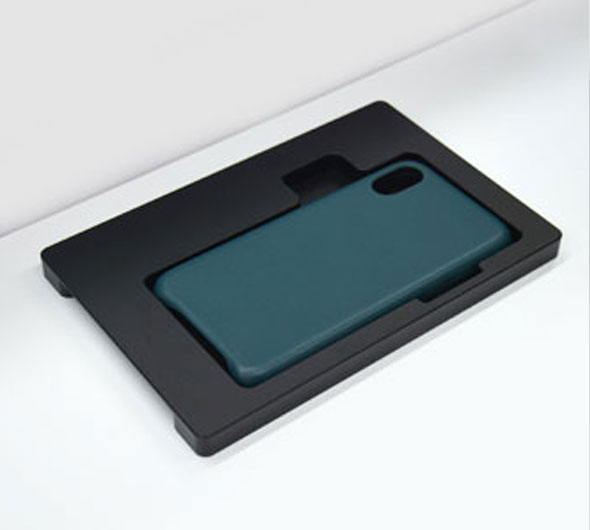 Powerful Software.
Software is the soul to your printer. Never underestimate its power. With the help of artisJet's powerful Workstation & RIP Software, you can speed up the printing process, avoiding unnecessary manual operations. And also print directly from a series of compatible artwork / images resources (.jpg, .tiff, .pdf, .eps, PSD, etc.), and various designs (real photos, graphics, emoji, stickers…). All these releases you from the endless work of format conversion, photo editing, switching from one software to another, and instead directly print anything you want on your phone case or smartphone gadget accessories.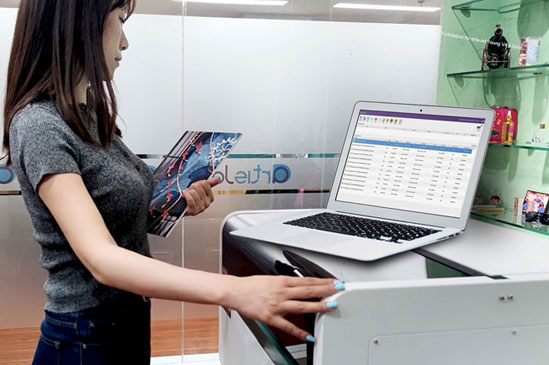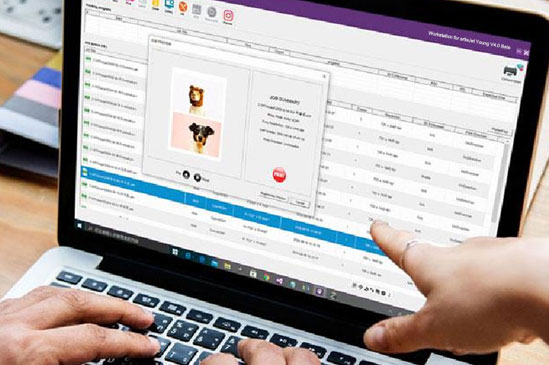 SMALL PRINTER, BIG HELPER
Excellent customization by quality, effects and efficiency.
Don't forget phone accessories have been and still are some of the most popular print on demands products. And that makes the business profitable, less risky but more competitive. And artisJet Young is right here to help our clients get advantages in competition by printing quality, effects and efficiency. Up till now, artisJet Young has brought excellent customization service for thousands of business owners that work with smart phone accessories all over the world.
Small size printer - With a size like this, 76 * 74 * 46 cm (D*W*H), Young printer could easily fit in your store or home and also to carry, transport or re-locate as needed.
Quality printer - Quality is a basic necessity for your successful business. And artisJet Young will help you to build a solid foundation. High color density & perfect gradient print finishes, initiating a strong bond with the phone cases; superior scratch & alcohol resistance, with up to 3 years outdoor durability and under continuous use.
Over the top print effects - Over the top printing effects make your photo cases standout! Smooth and sharp color quality, photo-realistic images, with variety of printing effects, including shiny surface and 3D embossed effect.
Workflow efficiency - artisJet Young is empowered by a strong hardware and app software end development, a duo which enables smart, simple, and fast printing workflow.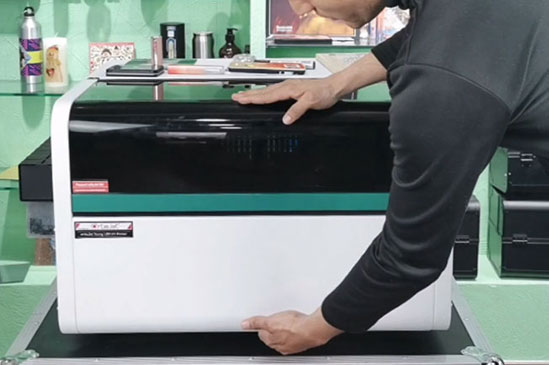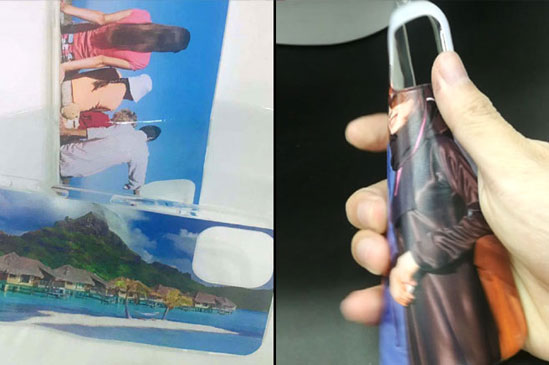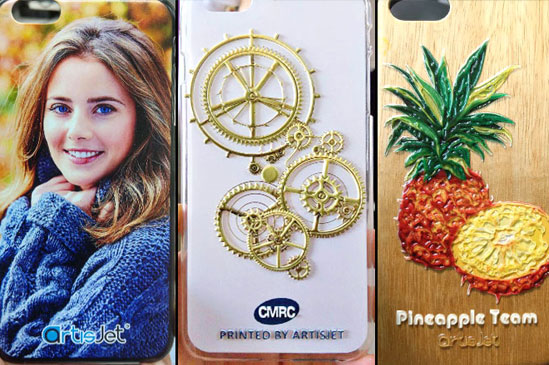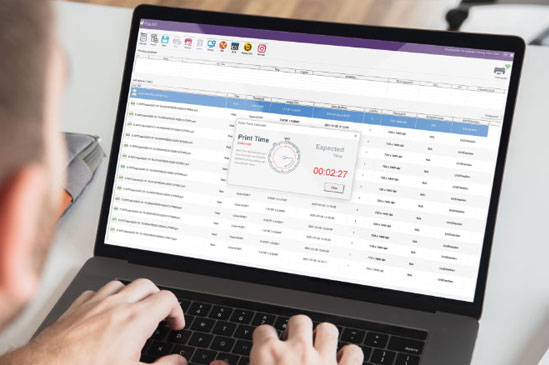 ODORLESS & ENVIRONMENT FRIENDLY SOLUTION
Here is what artisJet Young does for your safety operation.
If you have some experience with UV printing, you might notice the smell if the printer is working in a relatively closed place. That is because the LED ultraviolet curing lamp will produce a slight ozone during production, usually the smell is light, and the amount is small. But in the actual production, the UV flatbed printer adopts a closed dust-free workshop for customers with relatively high production requirements. This will cause a large smell in the process of UV printing. That's why we should always keep it in a ventilated or open place. Here is what artisJet young printer does for you about the "smell", but not just the "smell".
Strong Built-in LED UV System - The strong built-in LED UV system in FULLY ENCLOSED printer. All printing happens inside of the machine, with no air going directly out from the printer.
Eco-friendly ink - The ink system and the Built-in UV LED light source from the printer head dries the ink just milliseconds after it's applied to the printed sample.
Professional Air Purification System - Equipped with a professional AIR PURIFICATION SYSTEM with several filters, the artisJet Young printer reduces emission of the pollutants and ensures that all usages of the printers are harmless. The Air Purification System keeps the air clean, with a wind of 150 CMB / Hour.
Safety RISC evaluation - RISC did an evaluation targeting the "smell" regarding the potential air emissions from the inks during the operation and other safety issue on artisJet printers. And artisJet has passed the certifications of RISC, RoHS, REACH regarding safety and ink quality. Those big supports for what might looks like a "small element" is one of the reasons that make artisJet Young printer safe to have. Not only in a workshop, in your living room for a home business, but also in a shopping mall with people walking around, or even for a school.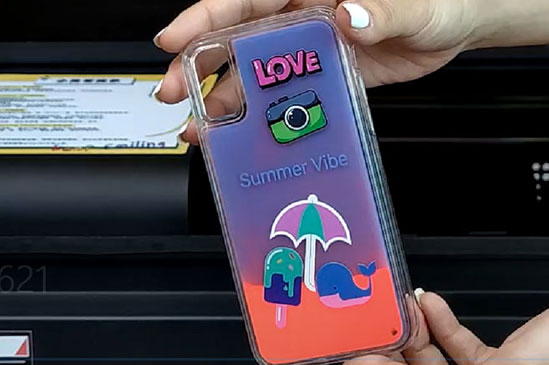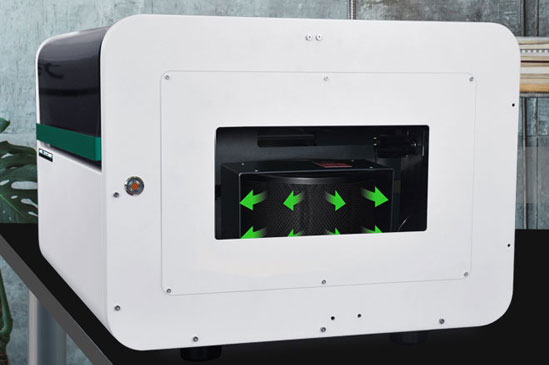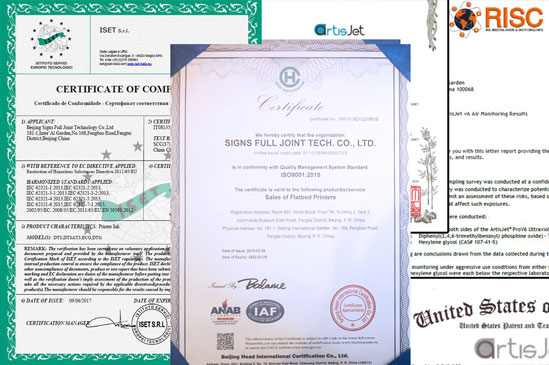 SAVING THE INVISIBLE COSTS
Machine consumables.
The service life of machine parts determines the amount of input you need to invest after your purchase. artisJet Young is an industrially made UV printer. Every part in the printer is designed for a reliable UV production system including mother boards, ink systems, UV system, software, mechanical designs and others. All the parts are designed to be stable and error free in the UV printing system. The piezoelectric print head is developed to last for a lifetime, with proper care.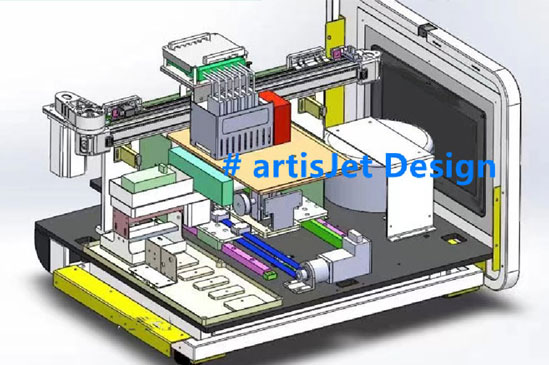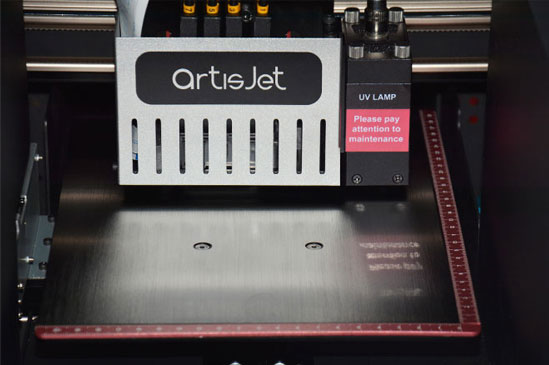 Mobile accessories print consumption.
The printer head's UV LED light source with condenser lenses dries the ink during printing. And artisJet Young provides you economical and cost-effective advantage for the ink you use in your business.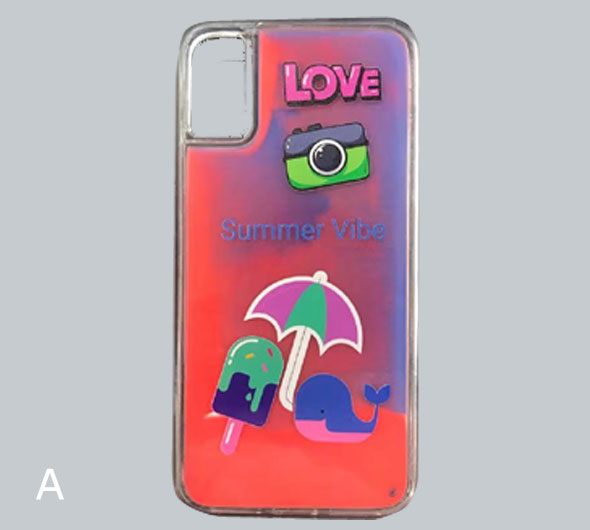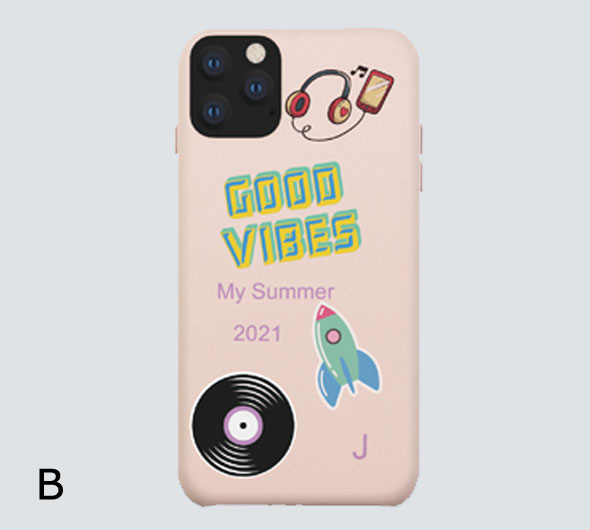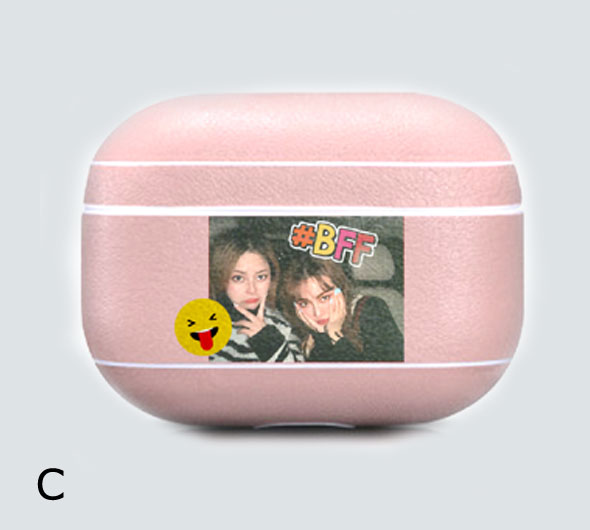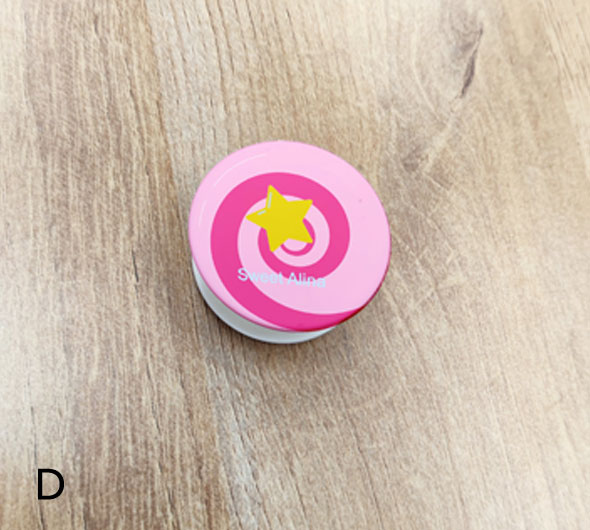 Maintenance - no daily maintenance for artisJet Young.
A high maintenance printer means you are spending more money, time and effort after purchase it. So maintenance is a key factor for your printer than you cannot over look! The Young printer is designed to have the user focus on their own work, not to pay a lot of effort and attention on working on the printer. And that includes providing you effortless maintenance. The workstation helps you to proceed with easy nozzle check, automatic ink flow and ink system cleaning progress status monitoring in quick simple steps. And instead of ink bottles, Young printer provides hustle free ink cartridges replacement.
Labor cost
Keep in mind that artisJet Young is designed to have the user only focus on their own business, not to become or hire a professional for the printing job or to do a lot of mechanical and technical work. So from starting the printer for the very first time, the printing workflow to the maintenance, artisJet Young will lower your labor cost to the least by making every step simple so you and your staff could easily do it without any professional help. Take the start for example. Place and load the printer from any even surface, plug the ink cartridges, and start to click from the software for the initial installation immediately.
artisJet service methods to support you
Onsite services - Provide device setup and installation, production and maintenance training;
Online education - On-time advice, when needed, re-training and video meeting via available medias;
Implementation support - New product templates, customization on demand;
Reporting - Updates on direct communication process with your offices & stores;
Preventative maintenance trips - Pro-active visits upon scheduled notification, additional support on demand;
Troubleshooting - Standard resolve & response time based on classification matrix (minor / major / critical).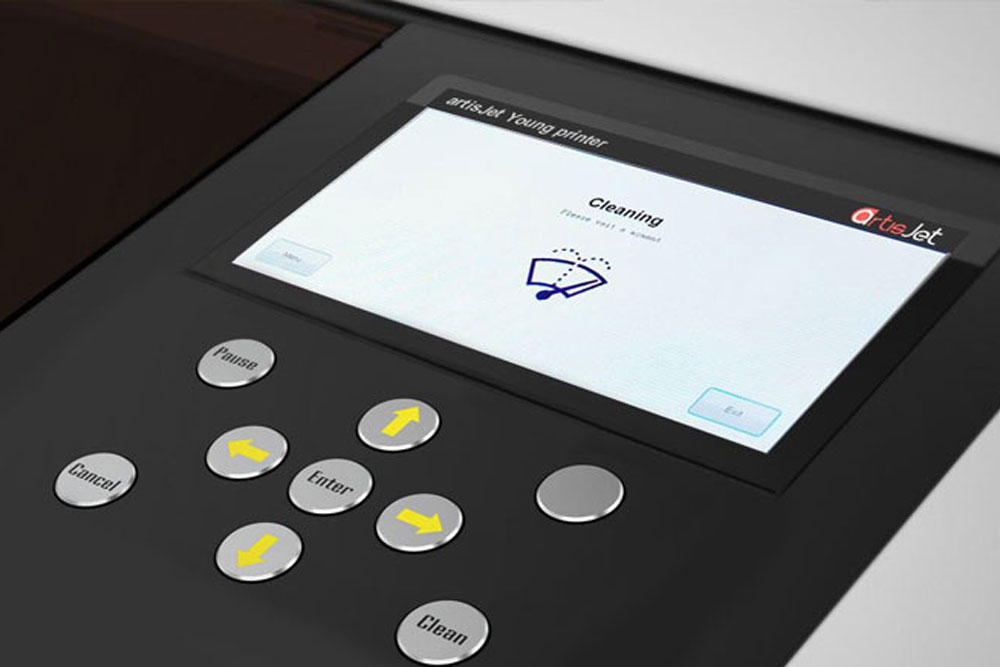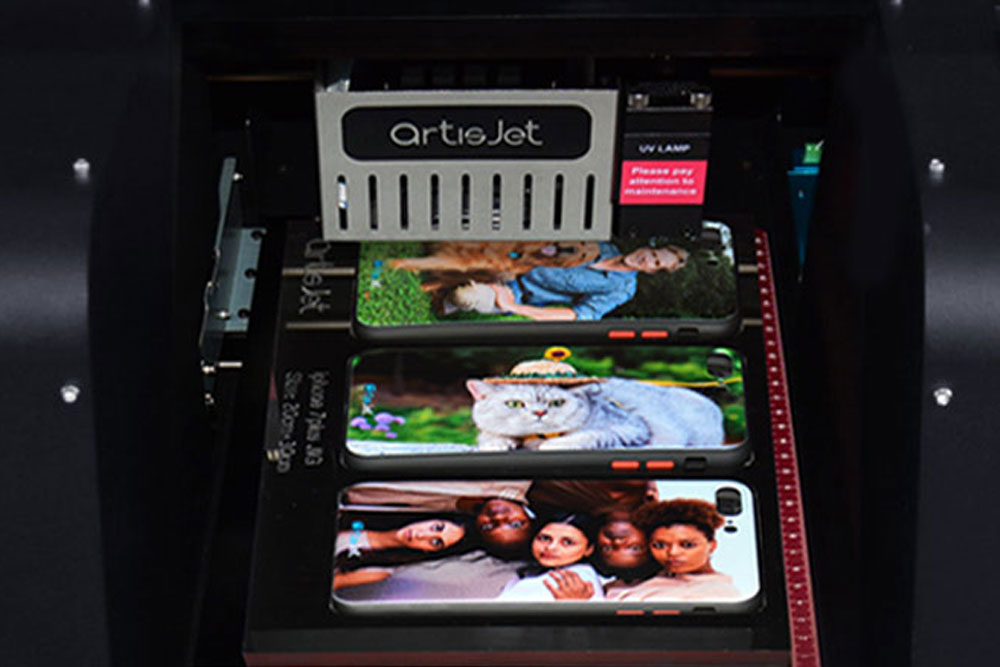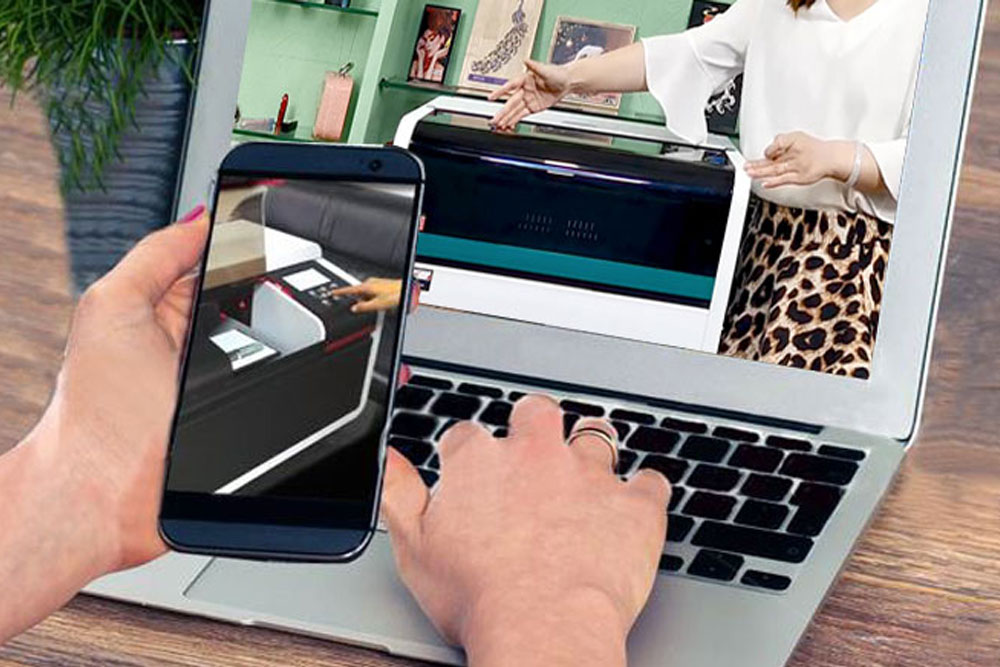 Stay connected to artisJet for upcoming news and events. Follow us on social media: artisJet Solutions, artisjet Technology, and artisJet America Facebook pages, Instagram, Twitter, and discover the wide range of printing solutions and printed samples on Pinterest and Flickr accounts.
Subscribe to artisJet YouTube channel for printing solutions videos, learn how to use artisJet software for different printing effects, discover video testimonials and maintenance video support to much more.