Direct to wood coaster printing to stand out from the crowd. Numerous materials to print on and one of them is the very versatile wood. Wood is a natural product and can vary in appearance. Let's take for example the wood slices which can be made out of natural tree branches. These can be turned into many things and wood is the most suitable substrate to create out of ordinary custom printed drink coasters. Besides being a table accessory, natural wood coasters would be great items to display around the house or to showcase special moments as memorable personalized gifts.
Personalized natural wood coasters – a better way of promoting an event. Decorative natural wood coasters made from wood slices do more than protect surfaces if they are used as items to promote the specials in your restaurant or pub. Coasters can vary in diameter and thickness and this is why you can choose a simple look by printing on thin wood substrate finishes or by printing on rustic wood coasters for durable and impressive personalization results.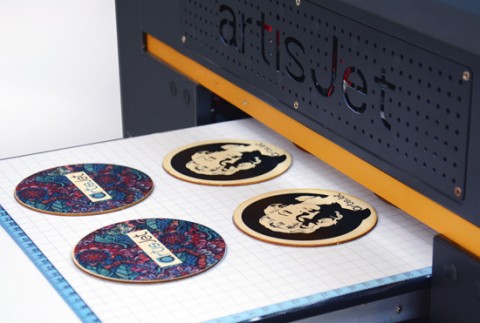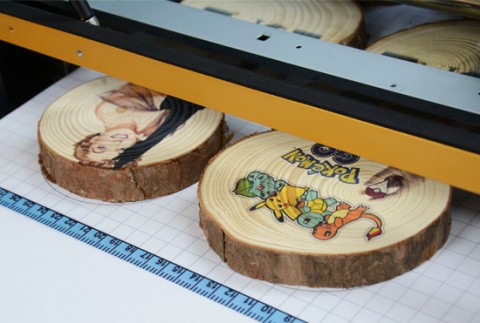 From simple ideas to outstanding printing results. Personalized wood coasters are suitable for any LED UV printers, giving the possibility to print any colors and shapes directly on the surface of the finished or natural wood coaster. Each custom wood coaster is unique, mainly when printing on lightly sanded or smooth satin wood surface, achieving both durable vibrant colors and natural texture of the wood substrate.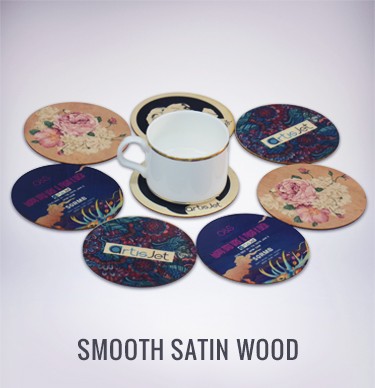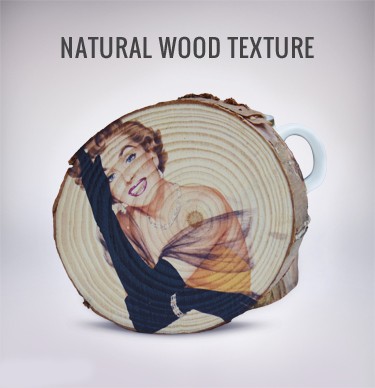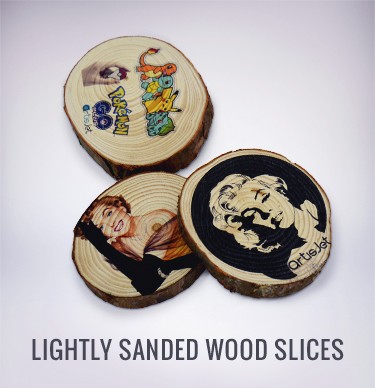 artisJet technologies to support customer ideas. When it comes for wood coaster printing technology, one of the most important customer needs is the flexibility of producing their printed items and that means reducing costs and increasing benefits. Printing by sublimation can be quite expensive, while choosing direct to wood coaster LED UV technologies can be cost –effective due to multiple items printed at one pass. Secondly, is about the wood substrate compatibility with the inks and the heat resistant which is enough to withstand the UV lights during curing. Also, the inks on wood are water resistant, producing long lasting digital LED UV printed artworks on wood coasters, even when exposed outdoors or if water is spilled multiple times on the wooden coaster.
That is why, artisJet works hard to transform the customizing printing process in an easy and fast operation and LED UV artis line printers meets all these requirements. From A4 to A2+ size solutions, direct to wood coaster printing as well as any other wood substrate media, such as wood frames, wood packaging, wood pen and anything you can think of that is made of wood, has never been easier and more available to start a printing business. Request a sample and develop your ideas with artisJet.