WHICH ARE THE KEY FACTORS FOR STARTING A CUSTOM PRINTING KIOSK BUSINESS?
Where can you place your kiosk business? There are multiple lucrative selling channels: mall kiosks, special events kiosks, corporate promotions kiosks, airports kiosks are just some of the selling channels that are experiencing great results with selling personalized products. But the mall kiosks have proven the most successful for artisJet's clients who sell custom products. The shopping mall kiosks are generally promising high traffic, therefore a large number of potential customers.
Flexible business solution. What products to display in a mall kiosk business? Think VERSATILITY: all the products you can get into a kiosk. FLEXIBILITY is another advantage of a small size printing businesses like kiosks.
How's that? First of all, is about the products you sell. So don't limit yourself to making one item. If a product doesn't work, you can shift to a new product, and the personalization industry offers you MULTIPLE CHOICES to choose from: phone case printing, office stationery printing, gifts and giveaways printing, promotional items printing, coasters printing, photo frame printing, gift boxes printing and so much more. The options are ENDLESS. And secondly, you can choose to relocate, as shopping malls are placed almost everywhere.
Moreover, you can take advantage of special events and holidays (Easter, Christmas, Mother's Day, Valentine's Day, sports events etc.) and transform your business into a seasonal printing kiosk business.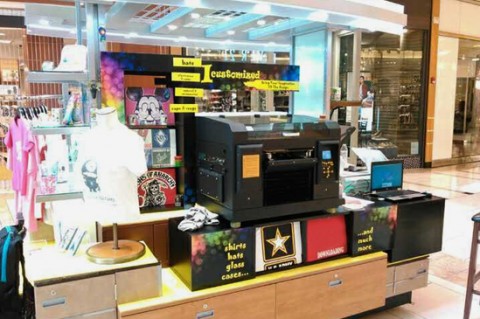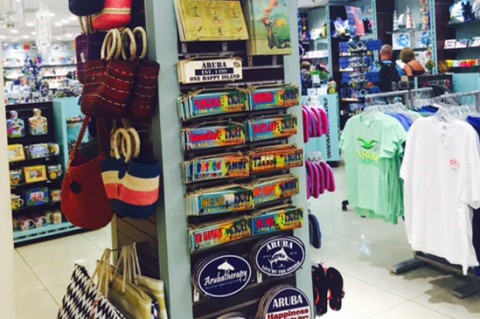 The time-saving solution. If you are starting from scratch, a kiosk printing business is widely used and has a great market range in the personalization industry. Add to this, a kiosk business is the best way to approach the customers, is TIME-SAVING, the customer doesn't have to deal with long production waits or high shipping costs. They will be happy to get a customized service for a LOWER PRICE than other competitors and right away.
High Return on Investment. While the costs of establishing a permanent retail location can be steep, kiosks can be an easier way to step forward towards a personalization printing business with a lot LESS RISK. Starting a printing kiosk business is an effective idea for a business with LITTLE INVESTMENT and little space, but with HIGH ROI.
Fortunately, a printing kiosk business is a reliable way to produce a quick return on investment. It will begin generating revenue and you could recoup your costs within months or weeks. With a permanent mall location, you can build a clientele and predict how the business will go.
HOW CAN ARTISJET HELP YOU START UP A KIOSK PRINTING BUSINESS?
artisJet gives you the printing solution for your idea: equipment, materials and in-depth training, everything you need to create a powerful business making various beautifully designed, durable custom products printed within minutes.
Space saving installation solution. With artisJet LED UV printers, it's easy to start a kiosk printing business because it gives you the possibility to print on various applications in small spaces.
For a kiosk business, artisJet recommends two LED UV printers from artisJet product portfolio: artis 2100U A4 LED UV printer and artis 3000U A3+ LED UV printer.
artis 2100U and artis 3000U LED UV printers' main characteristic is their ERGONOMIC DESIGN, a feature that entitles these units as being the SMALLEST IN THE MARKET for their product category. That is the reason why this UNIQUE size feature makes artisJet's A4 and A3+ printers to stand as EASY TO HANDLE desktop units that are suitable for small working spaces, home-based businesses, small shops and more. You'll get quality and productivity on few square meters.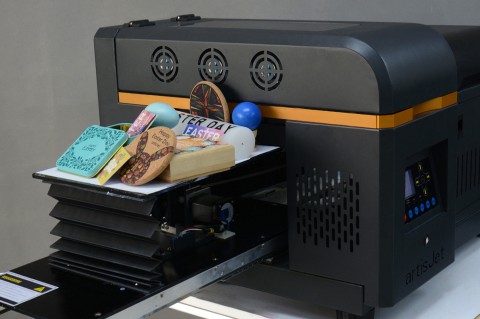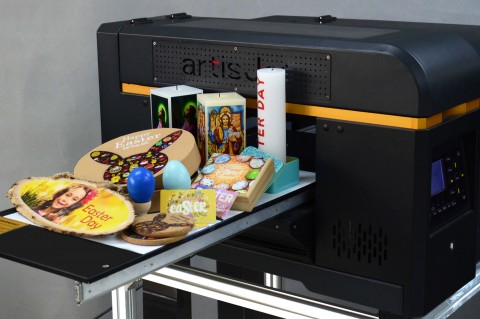 artis 2100U
Printing area:
18*29.7 cm
Printing height:
5 cm
Printing time/A4:
4 minutes
Machine size:
57*56*44 cm (D*W*H)
artis 3000U
Printing area:
28*60 cm
Printing height:
9 cm
Printing time/A4:
3 minutes
Machine size:
64.5*69*49 cm (D*W*H)
Fast and efficient production speed. Equipped with a long life LED UV curing lamps, artis 2100U A4 and artis 3000U A3+ LED UV printers require no warm-up time, making it efficient to use. Due to the integrated LED UV lamps which instantly cure ink during printing, both systems are beneficial for printing directly onto substrates. Add to this, the CONTINUOUS INK SUPPLY SYSTEM ensures an economical product cost.
With TOTAL MEDIA VERSATILITY, both LED UV units are suitable not only for printing on various applications (PVC cards, pens, key chains, coasters, promotional items, office stationery, giveaways etc.) but on a wide range of substrates and materials as well: direct printing on wood and wood derivatives, direct printing on acrylic applications, direct printing on plastics, leather, silicone and many more.
All of these can be achieved with HIGH-RESOLUTION quality printing up to 2880 dpi, EASY OPERATION,and FAST PRODUCTIVITY.
Safe and environment-friendly machines. artisJet's LED UV systems can print on various colors on the surface and gives a quality finish printing that won't suffer any transformation because of heat or pressure, as the LED UVs work with LOW TEMPERATURE and are also ENERGY EFFECTIVE.
artisJet LED UV printers are great for use in crowded places due to ENVIRONMENTAL FRIENDLY characteristics: ODORLESS, almost SILENT machines, ECO-FRIENDLY ink due to LED UV INSTANT DRYING feature.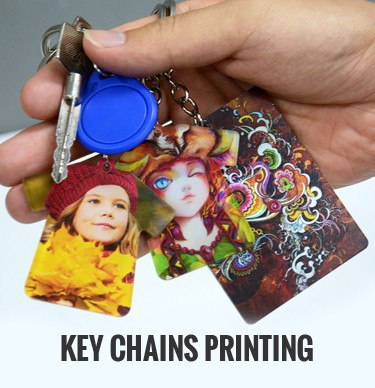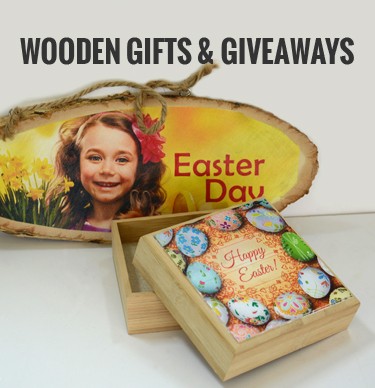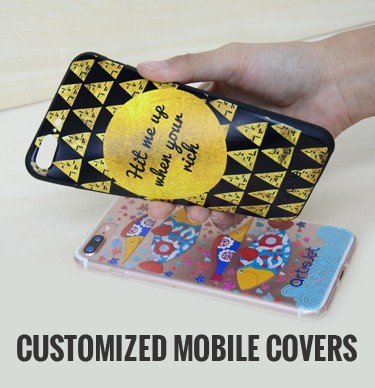 You can ask for a demo on the machines, as artisJet is able to run through a wide range of applications for the machines based on your request and to show you the digital LED UV printing capabilities of artisJet printers related to your business needs.
Need help on evaluating your printing business ideas? Get your FREE SAMPLE TESTING on your request by contacting artisJet at This email address is being protected from spambots. You need JavaScript enabled to view it. and realize your kiosk printing business plans with artisJet solutions.