CREATE EXPERIENCES, NOT JUST PRODUCTS
From 14 to 17 May 2019, join artisJet for 4 days of creative solutions, innovation, product introductions, live print demo, personalized giveaways, and great time for networking. Where to find us? STAND B5-H94.
artisJet delivers digital Direct to Substrate Printing innovations, which empower people and businesses to create, personalize and inspire their own life styles. We are driven to provide the best digital printing solutions and ideas for print on demand businesses and start-ups.
artisJet Direct to Substrate printers on display?
artisJet proV6 – the very NEW A5 Mini LED UV Printer, it will be officially launched in FESPA Munich 2019, as its first public introduction. The smallest LED UV printer from artisJet ensures an increased productivity by FULL AUTOMATION IN ONE CLICK and on demand API support (e.g. Cloud Printing systems). The comfort and functional design makes artisJet proV6 suitable for small batch printing customized items such as: cosmetics primary packaging, promotional products, RFID cards, smartphone creative accessories etc.
The newly upgraded artis 5000U A2+ LED UV printer - print big and up to 25 cm (9.84 inches) height at an optimal cost with the new on demand Cartridges Continuous Ink Supply System. Print on signage applications, packaging, home decorations (wood printing, ceramics, glass etc.), custom travel luggage and luggage tags, bottle and cylindrical items to more. Add to this, benefit from Spot Varnish availability for glossy and diamond print effects.
The on demand ROT 360 degrees improved rotary technology for artis 5000U printer, ensures direct printing on very small items diameter, such as pens (1.5 cm)! The full and complete 360 degree spin of the cylindrical objects returns seamlessly jointed prints.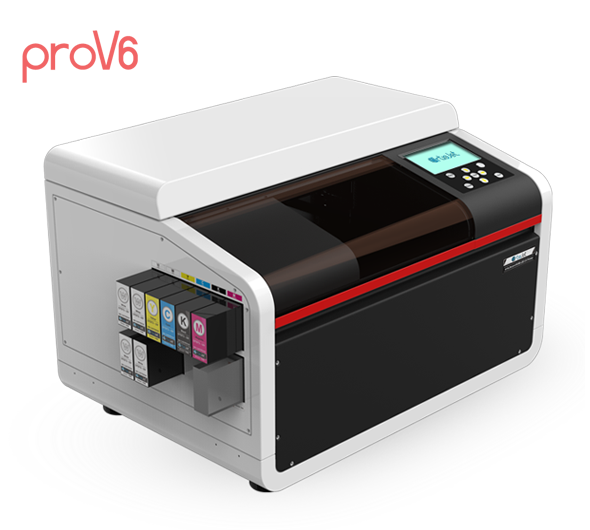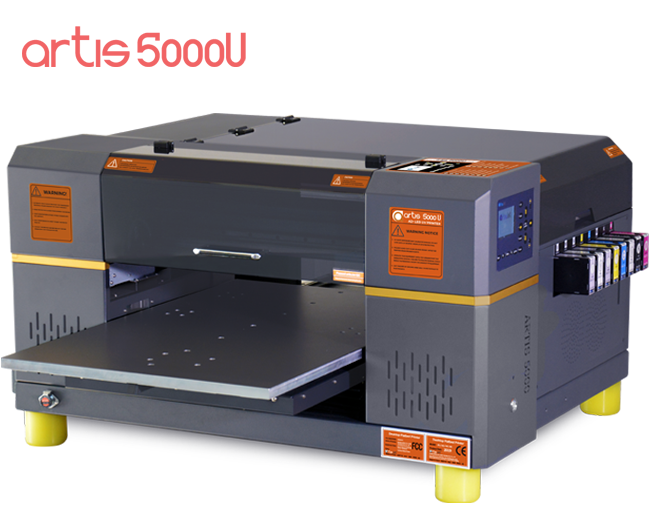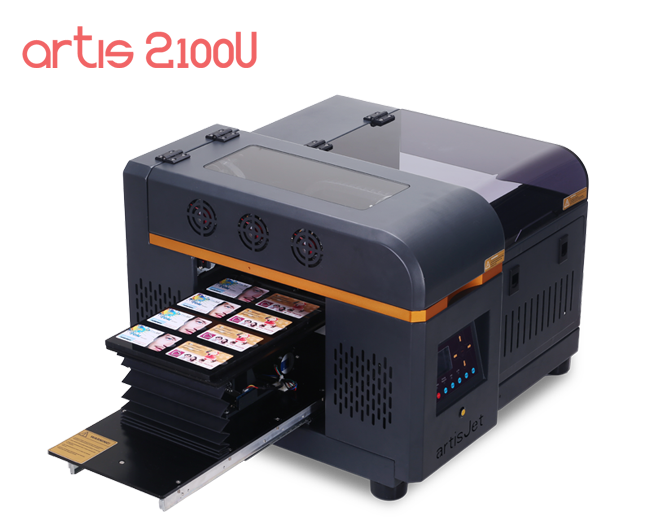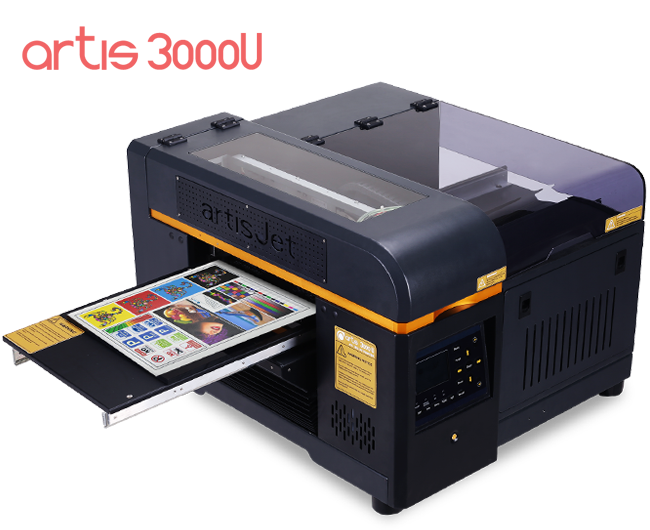 Visit STAND B5-H94 starting 14 May and rediscover how easy is the on demand printing with artis 2100U A4 LED UV ergonomic printer. Benefit from the total media versatility to direct print on a broad array of substrates and personalized products: custom corporate gift items, promotional items such as pen printing, acrylic key chains printing, print on leather notebooks, CD printing, logo printing, promotional branding items, marketing products to much more.
Ergonomic in size, the artis 3000U A3+ LED UV printer is suitable for small working environments, making it a versatile desktop printer for print on demand workflows. With the capability of printing on an extensive array of media and applications for personalization businesses, the artis 3000U is also suitable for packaging printing due to the 9 cm printing height (cardboard boxes, wood boxes, gift packaging, graduation gifts, small boxes for medals, prototype packaging etc.). Materialize your creativity with stable colors on long print runs and mixed media printing jobs, and enjoy the 3D textured and embossed photo realistic printing, as well as Braille tactile print effect, not just for Braille signage but for any kind of items that requires Braille language.
FESPA MUNICH 2019 – "AN EXPLOSION OF POSSIBILITIES"
About the event. FESPA Global Print Expo 2019 is Europe's largest exhibition for the wide format print industry, where over 700 exhibitors will showcase their latest innovations and product launches in the digital, textile and screen printing sectors from different areas: graphics, signage, interior décor, garment decoration, fast fashion, media and substrates, promotional products, 3D printing, fine art, digital printing equipment, screen print equipment, garment embroidery equipment, software and much more.
When and where? Running from 14 to 17 May at the Messe Munich, Germany, the visitors will have the opportunity to meet and discover the newest products, the latest technologies and the best advice in the industry.
GET YOUR FREE BADGE FOR FESPA!
Follow this link: https://registration.n200.com/survey/0wb4nomq5qojj?actioncode=NTWO001577DDV&partner-contact=39xq0h3j05baq&partner-invite=0pqwo0u631ry8
Stay connected to artisJet for upcoming news and events. Follow us on social media: artisJet Solutions, artisjet Technology, and artisJet America Facebook pages, Instagram, Twitter, and discover the wide range of printing solutions and printed samples on Pinterest and Flickr accounts.
Subscribe to artisJet YouTube channel for printing solutions videos, learn how to use artisJet software for different printing effects, discover video testimonials and maintenance video support to much more.