ARTISJET PHONECASE SOLUTIONS FOR EMBOSSED PRINTING
You may be a designer looking to start a new brand or an online retailer looking to boost your catalog of products, artisJet has the solution. There is no minimum order with artisJet LED UV printers as everything can be printed on demand.
The specialty about printing phone cases and phone covers with artisJet platforms is that the prints can be embossed. You can feel the texture on the phone case. With artisRIP software is easy to know how to emboss the part that you want to be printed with raised colors in the design. Basically, you control what should be embossed and textured.
Custom raised printing can be achieved with multiple layers for inkjet height, delivering varnish and glossy print capability and durable 3D characters printing, with a letter thickness up to 10 mm.
With features as high color brightness, clearness and resolution, the embossed and textured effect gives the possibility to print graphics offering the potential to enhance the results on the substrates by adding vivid colors.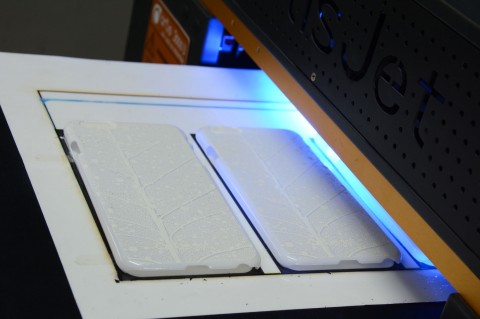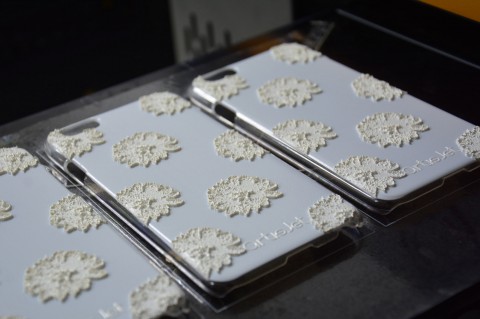 With instant UV curing, artisJet systems ensure printing layered texture or raised printing effect, providing a dimensional print on protective cases and covers for electronics, regardless the type of the material.
UV LED printing offers high quality of the printed image, graphic, artwork, logo or text with durable adhesion of the inks onto metal, various types of plastic, TPU, acrylic and so many rigid an flexible substrates. The UV LED ink is durable and scratch resistant even when printed in multiple layers to achieve the raised effect. The ink adheres perfectly to the substrate.
Create raised texture phone cases on a multitude of brand phone cases: IPhone, Samsung, Huawei, Sony, HTC etc. that will stand out in the market.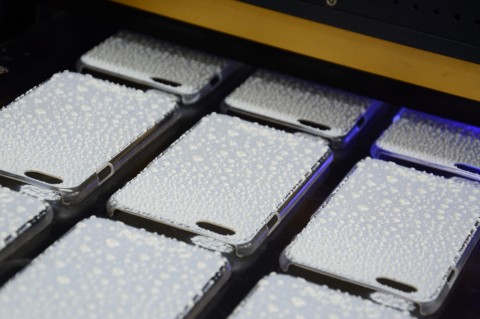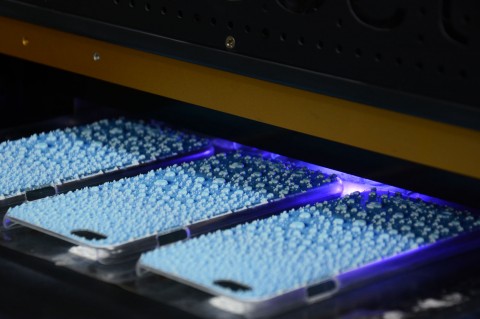 Simple printing process for touchable designs. You can print all types of case with any color in 3D raised effect. Just place the case you need to print onto the working table, edit the artwork you need to print from artisJet case RIP, adjust the software settings and output from artisRIP directly and enjoy the customized phone case final product.
UV LED curing system is ideal to print directly on any case with immediate dry. The ease of printing can also be achieved by multiple printing which is done just by one click on control panel. The white ink capability ensures that all the colors of cases can be printed directly, including white case, black case and transparent case. Due to the anti – static printing system, you can get clear prints even on transparent materials.
LED UV printing options for your phone case business enhancement.
artis 2100U A4 LED UV printer is an ergonomic desktop printer suitable for desktop home based businesses. It is designed to print on multiple small items such as phone covers. It can print 4 Iphone 6 cases at one time pass, due to the special jig for phone cases.
artis 3000U A3+ LED UV desktop printer is great for medium business runners, offering best color performances. It is instantly drying the inks directly on any kind of phone case material such as electroplated phone case printing, TPU phone case printing, acrylic phone case printing, leather phone cover printing, white substrate printing, customized transparent phone cases printing and other phone cases types you can think of for printing.
artisJet A4 and A3+ LED UV systems allow you to print high resolution, photo quality images, logos and detailed text with raised graphics on mobile phone cases and tablet covers.
artisjet gives you all the equipment and materials as well as the training to create a powerful business making beautifully designed, durable custom phone cases with time saving and cost effective printing production.
Interested in artisJet's printing solution for your business? Discover more by sending your inquiries to This email address is being protected from spambots. You need JavaScript enabled to view it. or easily use the contact form on artisJet website.
You have a favorite printed application sample? Request a sample!