Custom LED UV rotary printing enables you to personalize the look of your products without making use of any additional paper labels. The most innovative way to finish, personalize and decorate cylindrical objects, bottles, some jars shapes, and packaging is the LED UV printing technology.
Many customers have asked about the print option on cylindrical objects with the artis 5000U A2+ LED UV printer. That is why artisJet took the time to create an effective cylindrical device, the new rotary jig for artis 5000U. The wait is finally over. artisJet is launching its new rotary attachment for artis 5000U.
Discover artisjet's solutions to print on bottles and cylindrical objects, and enter into the new era of creating personalized special products.
BENEFITS OF PRINTING WITH THE NEW ROT 360 DEGREES TECHNOLOGY
The advantages are easy to figure out. One of them is the ability to directly print multiple colors at high speed and without heavy metals using a quick, simple and low-cost curing process. LED UV light provides exactly this! These solutions enable users to process a variety of materials at maximum production speeds, with low-input power requirements. Produce branded and personalized bottles and other cylindrical items quickly and easily and make use of artis 5000U with the new rotary jig.
Check the ROT 360 degrees device highlights:
1. 360 degrees printing on a wide range of cylindrical products and materials: direct print on wine bottles, tea cans, cylindrical packaging, wax candles, aluminum bottles, steel tumblers, stainless steel cups, glass drink ware to much more.
2. ROT offers accurate and vivid prints benefiting from its motorized driven system.
3. With the latest artisRIP V9.0 software and ROT Print Manager, enable color and white printing in one pass directly on all colors substrates (black, transparent, dark, glossy)
4. Empowered by artisJet DTS3 LED UV ink technology, ROT 360 degrees enables rich and sharp color performances.
5. Realize full 360 degrees continuous spin jointed seamlessly on cylinders.
6. Go Green and ECO with the lowest power consumption to 30W.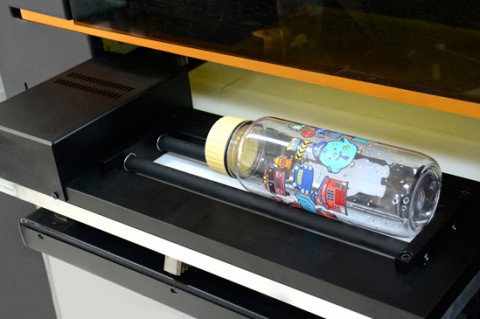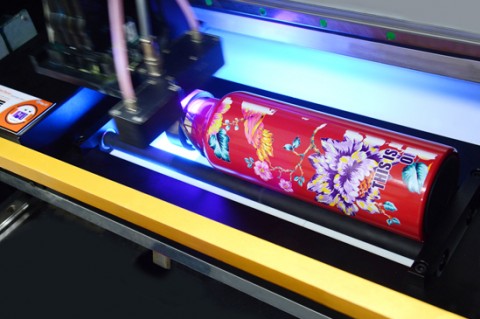 artis 5000U flatbed LED UV printer delivers bottle printing capabilities to your business, so that you can easily introduce 360° cylindrical printing to produce printed water bottles, personalized bottles, gift bottles and much more.
artisJet digital printing on cylindrical and round objects such as bottles gives you UNLIMITED substrate color choices both white and full color prints on all colors.
WHAT CAN YOU PRINT WITH ARTISJET PRINTING SOLUTION FOR CYLINDRICAL ITEMS?
You can print a diverse range of bottle substrates such as: plastic, PET, metal, aluminum, stainless steel, glass, ceramic, and any other material that has a cylindrical and rounded shape. There are various bottle types you can print like wine bottle, water bottle, baby bottle and storage bottle.
Flexible and reliable, artis 5000U LED UV printer designed for small environments is the perfect choice for top quality products requiring vivid, brilliant, and high-definition printing.
Choose from a large variety of ideas: custom drink ware printing , custom metal water bottles printing, aluminum bike bottles printing, baby bottles, metallic sports bottles printing , aluminum cans printing, wedding glass bottles printing, wine bottles printing , gift bottles printing, candy bottles, cosmetic bottles, jars, decorating bottles for interior design, candles, candle holders, personalized products for holidays, food rounded cylindrical packaging, decorative bottles to much more.
WHAT ARE ARTISJET`S ROT 360 DEGREES PRINTING SPECIFICATIONS?
Custom LED UV rotary printing with artis 5000U accommodates cylindrical objects with a maximum print bottle diameter of 7.6 cm and a minimum print diameter of 5.7 cm.
Print the full circumference of the bottle within minutes. For a full size image printing (139.2146 mm * 208.7 mm), an 8 pass print resolution, and white and color simultaneous printing, you can achieve full bottle diameter coverage with rotary jig and artis 5000U LED UV system, within 10 minutes printing time.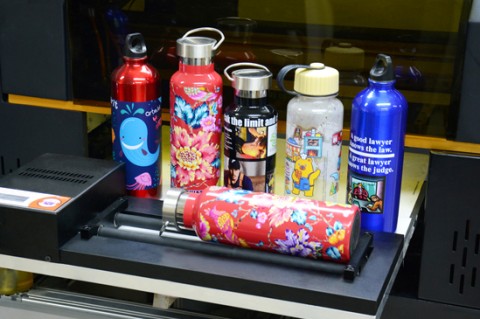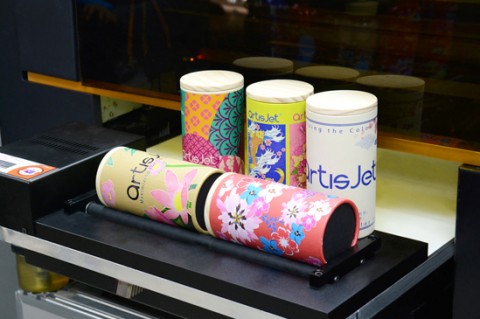 HOW TO USE THE ROT 360 DEGREES ROTARY DEVICE WITH ARTIS 5000U PRINTER?
Printing on cylindrical objects such as bottles has never been easier. From the placement of the jig on the flatbed and till the final printed cylindrical object, the new bottle printing jig of artis 5000U requires few easy-to-follow steps to enhance your workflow.
From a technical point of view, the rotary attachment has a simple design, which makes it easy to handle and user-friendly. The first step is to fix the rotary jig on the table and connect the power line with printer. When the printing is starting the bottle is moving the rotary jig by motor of rotary instead of flatbed movement. After setting all the printing options according to the printing needs, just manually place the cylindrical bottle on the artisJet device and press print.
The ROT 360 degrees rotary device effectively fits the working area and is attached to the printer's flatbed. (20 x 40.2 x 7.2 cm). The new rotary attachment device customized for bottle printing with artis 5000U A2+ LED UV printer is available in two colors, on demand: black metal rotary jig and gold metallic rotary jig.
Interested in cylindrical and bottle printing with ROT 360 degrees technology?
Ask for artis 5000U's custom rotary device ROT 360 by e-mail to This email address is being protected from spambots. You need JavaScript enabled to view it. and enhance the printing capabilities of your business.