Launched in DRUPA 2016 exhibition in Dusseldorf, Germany, artis 5000U is artisJet's LED UV multifunctional solution for both large format and quantity printing and heavy applications as well, with a weight support of up to 45 kg.
artis 5000U has an A2+ print area which makes it the LED UV printing system that is able to meet the personalization printing businesses demands such as quantity printing in no time. Due to its convenient and ergonomic design, artis 5000U can outrun the advantages of any other desktop printing machines, combining the large production with small working spaces for business performances.
ARTIS 5000U LED UV PRINTER AND APPLICATIONS VERSATILITY
artis 5000U A2+ LED UV printer supports a broad array of substrates, including everything from PVC rigid and flexible boards, leather, cardboard to all kinds of wood, metal, aluminum, MDF, fine art canvas, glass and more. It's about anything you can think of, without worrying of affecting the environment before, during or after the printing job.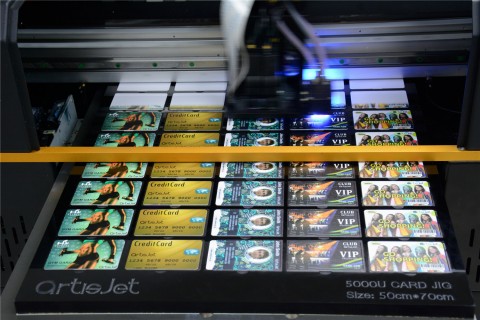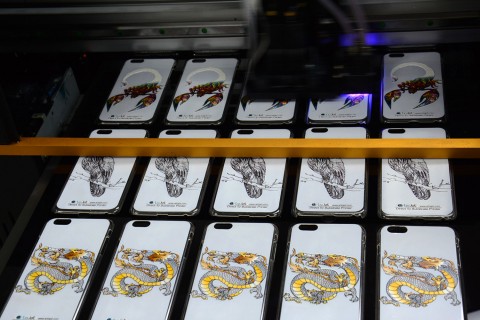 With white print support and white and color simultaneously direct printing on dark and light materials, artis 5000U is a dedicated flatbed printer for large format sheets and boards and quantity production applications as well, delivering vivid colors and fine details on mobile covers and phone cases, PVC card printing, indoor decorations printing, wood boards printing, photo frames, packaging and much more.
artis 5000U is ideal for general industrial use, restaurants, hotels, hospitals and indoor signage applications due to its eco-friendly ink system and technology. With its direct digital printing on all substrates with instant drying, artis 5000U A2+ LED UV platform offers great printing performances at high speed and high resolution on all printing media.
Raised colors printing with 3D effect for Braille applications and outstanding printing results can be easily achieved with artisJet's A2+ LED UV platform enhancing the personalization businesses and impressing the customers.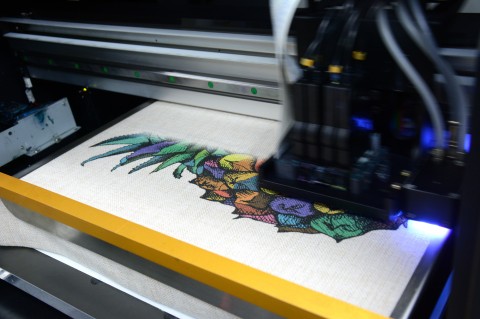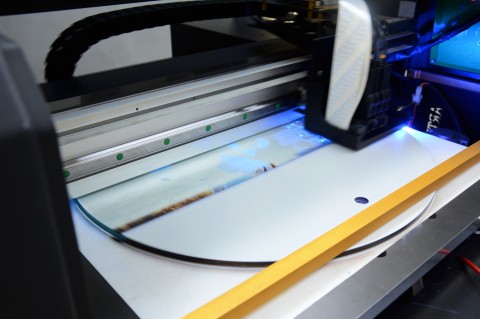 ARTIS 5000U, LED UV TECHNOLOGY AND ENVIRONMENT
LED UV and LED UV ink terminology.
LED UV is different in many ways than UV systems and one thing is the small amount of heat the LED UV platforms emit. Therefore, the small amount of heat release is LED UV technology main feature which ensures the possibility to print on various media and applications, regardless the substrate's material or thickness.
The low heat release feature translates into another printing benefit: immediate printing jobs, enabling artis 5000U LED UV printer to save production time and reducing the energy consumption even during quantity printing. When the ink drops onto the printing material, it will dry instantly due to LED UV curing, providing durable prints.
Due to the low viscosity of LED UV inks, less ink is usually required for a normal printing job, which can result in significant cost savings for the printer's business.
Does the machine have to be in a separate room with special ventilation?
The answer is no. artis 5000U as well as all artisJet LED UV printers can be handled in any working environment: whether it is a home business or crowded places such as shopping malls. Being not only more energy efficient, the LED UV printers are a greener eco-friendly solution for printing businesses, even for children applications.
How fade resistant are the prints and they can be used for exterior use?
For indoor use, most of the materials can last for 3 to 5 years or longer time, it depends on the situation. artisJet LED UV printing systems can be used for outdoor applications, but it must be used a pre-treatment before printing and after the printing job in order to protect the colors, such as varnish printing.
These are just few of artis 5000U LED UV printer's features. In addition, artisJet A2+ LED UV platform offers advanced characteristics that are significant for every personalization business: high printing speed and more production volume.
Moreover, consider the printer's ease of use, maintenance requirements and operational costs even in industrial applications, which recommends artis 5000U A2+ LED UV platform as a professional printing solution for all business ranges, from start-ups, small or developed businesses. There is always place for more.
Interested in artisJet's 5000U LED UV printing solution for your business? Discover more by sending your inquiries to This email address is being protected from spambots. You need JavaScript enabled to view it. or easily use the contact form on artisJet website.
You have a favorite printed application sample? Request a sample!