What is DTG printing? Direct to garment printing or DTG printing is a process of printing on textiles or garments using specialized technology.
What is digital printing? Digital printing on garments is a much newer process than the traditional screen printing. Digital direct to garment printing allows you to import your artwork and designs to specialized computer software, adjust as you prefer and then direct print on the surface of your product.
A primary advantage of DTG printing is the lack of set-up costs and instant turnaround time not associated with traditional garment printing such as screen printing. The screen printing process it's made by heat transfer, while DTG digital printing will be directly on the fabric, as the ink is directly adhered to the material, translating into long lasting and non-cracking printing results.
This way, no matter how complex the artwork is, the end users and customers will benefit from a high quality product with high amounts of details and gradient color output. These are some of the features that artis 3000T A3+ DTG printer relates to.
artis 3000T and artisJet DTG technology.
Ink technology developments have significantly improved ink performance and lowered ink costs. artis 3000T DTG printer is great for small printing jobs, with the ability to print on both light and dark garments, towels, pillows, socks and more. Its versatility makes it a very popular model among artisJet users.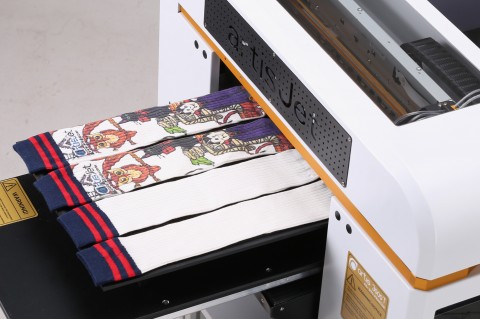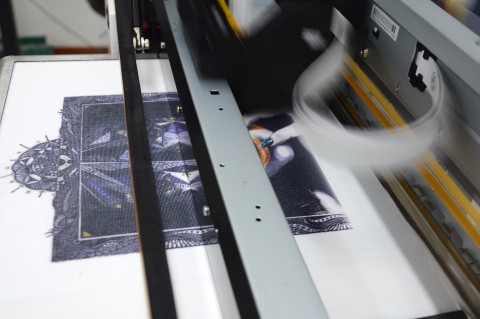 artis 3000T uses four colors plus white (CMYK + WWWW) inkjet technology which gives outstanding vibrant prints on light and dark garments. The white ink channel makes printing on dark substrates way easier, producing high resolution quality prints both on cotton and polyesters.
With its unique lateral loading platform architecture and ergonomic design, artis 3000T is an easy to carry, space saving of users' production location platform.
When it comes about the printing process, artisJet digital direct to garment printing technology used for artis 3000T A3+ platform allows media printing without hand contact to the fabric during the printing process, therefore achieving a more precise image. This prevents the image distortion that takes place in screen printing.
How the DTG printing process works?
First of all, artisJet printers make use of artisJet's very own specialized software, artisRIP. The powerful artisRIP Software is compatible with most graphic programs such as Photoshop, Illustrator, Corel Draw etc. It supports white ink printing and is easy to realize vivid colors printing quality.
The artwork is imported into the software, adjusted accordingly and then printed directly on the fabric, whether is a T-shirt, a pillow or any other garment you are planning to print. Moreover, artisJet uses multiple types of T-shirt printing jigs that will perfectly fix the material on the working table, ensuring an easy printing process and accurate printing output.
artis 3000T Direct to Garment Inks.
artisJet's DTG inks are 100% non-toxic, harmless and environmentally friendly. They are 100% biodegradable water based inks which deliver excellent color fastness, high elasticity features and non-cracking attributes, resulting into lasting printing results on garments. The DTG inks are cured instantly while printing, without the need of any pre-treatment.
With a superior garment print quality, artis 3000T can print up to 320*600 mm. The low running cost as low as 15 to 40 cents per T-shirt print, the simplified maintenance due to the integrated core technologies, the color accuracy and sharpness as well as the eco-friendly and odorless water based textile inks, makes artis 3000T suitable for achieving quality production.
On the basis on printing experiences, artisJet has been trying to offer the solution that brings not only a lower cost but also an easier production method, therefore, a higher profit.