On the market, there is an increasingly demand for printing cylindrical objects. The ability to print on round and cylindrical objects such as bottles eliminates the need for labels and this can give customers more creative license on packaging graphics and copy, for example.
WHAT'S THE BENEFIT OF DIRECT PRINTING ON CYLINDRICAL OBJECTS?
Not only packaging and labeling industry but also gifts and promotional items, are some of the market forces that require the possibility of printing on cylindrical products, in terms of mass customization, graphics changes and more. The ability to print on cylindrical applications combined to LED UV technology dramatically reduces the workflow process and keeps a turnaround times short. Add to this, the quality printing results within minutes with a high-end and vivid color output.
That is why artisJet took the time to create an effective cylindrical device in terms of settings and functions, user-friendly and intuitive operational convenience. It's easy to install and operate.
Moreover, the artisJet digital direct LED UV rotary printing successfully replaces the multi-pass silk-screening or offset applications.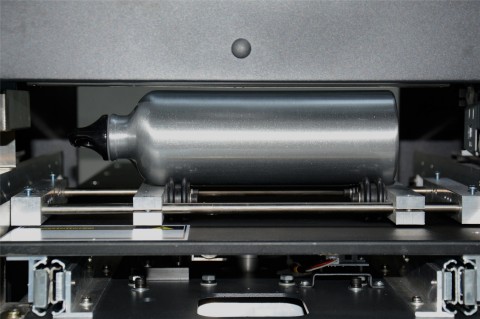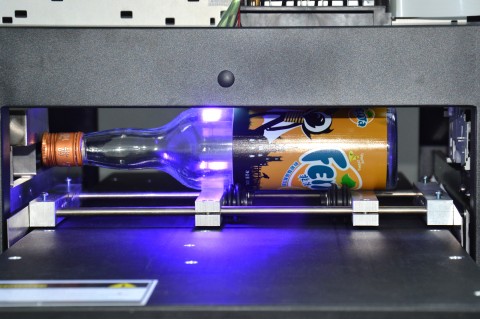 WHAT ARE ARTISJET'S ROTARY PRINTING SPECIFICATIONS?
artisJet's cylindrical device is a custom designed attachment for the artis BR U1800 A3+ LED UV system, due to the printer's maximum height adjustment up to 170 mm. The rotary device effectively fits the working area and is attached to the printer's flatbed.
artisJet's rotary device can direct print on cylindrical objects with a full end to end 360 degree spin of the cylindrical product. This way, you can maximize your media surface by printing the entire circumference of it.
WHAT TYPE OF GRAPHIC FORMAT IS REQUIRED FOR ARTISJET ROTARY PRINTING?
Custom LED UV rotary printing with artis BR U1800 accommodates cylindrical objects with a maximum print bottle diameter of 8 cm (3.15 inches) and a maximum printable bottle length of 32 cm (12.6 inches). Add to the rotary print parameters, the number of prints is one bottle at a time, using artisJet's software, artisRIP V9.0, which allows adjusting the graphics and images to perfectly fit the bottle object and to shape your printing needs. With artisRIP V9.0 software you can print any graphic format, from Ai files, PS files, jpeg files, png files to more. You import the graphics / image/ artwork / design to artisJet software, adjust them as you wish so you can get the best printing results to impress the customers. Another feature of the cylindrical device is the possibility to print white and color prints simultaneously.
WHAT OPTIONS ARE AVAILABLE?
What can you print with artisJet printing solution for cylindrical items? You can print a diverse range of bottle substrates such as: plastic bottle printing, PET bottle printing, metallic bottle printing, aluminum bottle printing, stainless steel bottle printing, glass bottle printing, and any other bottle material that has a cylindrical and rounded shape. After setting all the printing options according to the printing needs, just manually place the cylindrical bottle on the artisJet device and press print.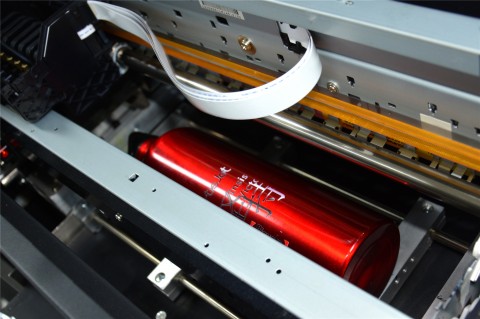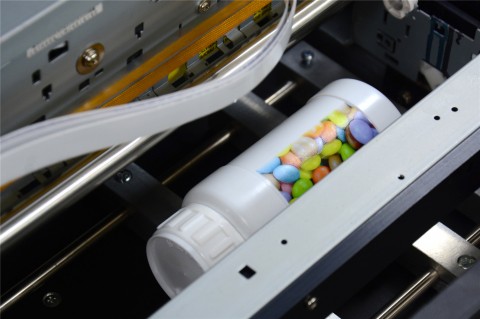 artisJet LED UV printer's custom cylindrical attachment is the perfect jig for perfect cylindrical printing results. Choose from a large variety of ideas: custom drink ware printing, custom metal water bottles printing, aluminum bike bottles printing, metallic sports bottles printing, aluminum cans printing, wedding glass bottles printing, wine bottles printing, gift bottles printing, candy bottles printing and any other form of bottles and bottled ideas within few minutes. Easy to load and unload system artisJet rotary device becomes a flexible tool that will adjust to your needs.
artisJet digital printing on cylindrical and round objects such as bottles gives you UNLIMITED substrate color choices both white and full color prints on all colors. With the rotary device, artis BR U1800 gets an upgrade and becomes a bottle printing machine, a bottle printer, a LED UV printer for cylindrical objects.
Ask for artis BR U1800's custom rotary device by e-mail to This email address is being protected from spambots. You need JavaScript enabled to view it. and enhance the printing capabilities of your business.