SMART CARD / RFID CARD PRINTING IN-HOUSE CUSTOMIZATION
LINQ | BIRMINGHAM, ALABAMA, USA | BUY.LINQAPP.COM

Challenge
Linqapp is a smart card brand that uses RFID cards as media to help people share the customized info that they need by slight touching with your smartphone. Based on this modern networking feature, they're developing fast under the current conditions of Covid-19 pandemics, where social distancing is a safety measure. And now they're developing more and more products besides LINQ RFID cards.
Before connecting with artisJet, the company had to work with a third party who provided pre-made PVC cards and RFID card technology, and then again collaborating with a local provider for customized printing of the cards, for logo printing on cards, but using re-transfer technology. All these have turned into higher production costs and longer time delivery on top, up to 4 weeks waiting times, which meant the delivery to their customers would have been even longer since the time of their order placement. To avoid all these challenges and to free themselves from all the hassle work, the company's target was having a machine of their own and do the custom printing by themselves.
Solution
As the company needed a printing solution with a machine that offers both quality and reasonable costs, as well as to lower the production time and shorten the delivery time, after some research, LINQ has reached artisJet for card printing solutions, choosing artisJet Young A4 small LED UV printer, compared to a card printer only from a different brand.
Why Linq chose artisJet? One of the main reasons Linq has chosen the artisJet Young printer for smart card printing, was printer's specs and features compared to other card printer brands, and the freedom the Young printer gave them by trying different cards shapes and materials, without being limited to a specific card size and card printing only. Secondly, the A4 printer was their first choice as it fulfilled their production demands starting in the autumn of 2020, when they had orders of around 30 – 50 cards each day.
Once they've started their in-house smart card production, all expectations were met: faster quality printing, time-saving production and speeding up delivery. All these together led to an increased customer trust, therefore increased orders, enabling also the possibility of launching new smart cards applications.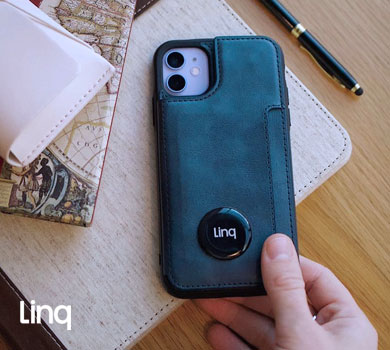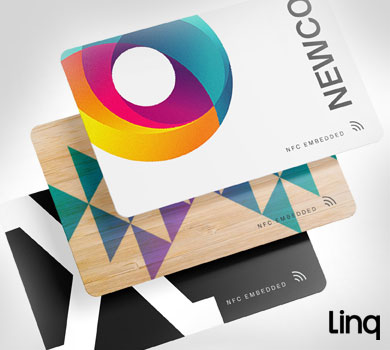 Results
The in-house printing operation did not require any qualified operator: after installation and training services provided by artisJet, Sam Holloway, the company's representative, was in charge of receiving and processing the artwork from customers and handle the printing with artisJet, being the Young model operator since machine arrived to their location in US. Sam has highly praised artisJet Young, with its printing quality, and stable printing system, as previously he was concerned about after-sales service in case he would have encounter any issues with the printer, which was not the case. Moreover, he came back to us to discuss the purchase of a bigger machine.
Why did Linq purchase a bigger size machine, artis 5000U B2 LED UV printer, after using artisJet Young for half a year? "Things are booming!" Sam told us. By having the custom printing business done by themselves has saved much production time and costs with customers' orders, being able to develop more new products, such as Linq Tap, Linq Hub, Linq Band, and others.
From 30 – 50 cards each day, their production reached more than 100 cards printing per day. So they needed a bigger printer to keep up with the increasing orders, while the smaller printer started to be used for company's activities in different locations around US, as it was easy to transport. To facilitate the transportation, they've ordered a case for the small printer.
What's more? The 100% match between company's requirements and artisJet offer, as well as the flexibility of the in-house production and with the developing of their business, Linq is planning to purchase another artis 5000U production LED UV printer. Stay tuned for story updates!
Watch Linq smart card presentation video