ROTARY PRINTING ON GOLD BANGLES AND GOLD NAME PLATES CUSTOMIZATION
CHARLES DEVINE | HAWAII, USA | ANELA'S JEWELRY

Challenge
With many years in the Hawaiian market, Anela's Jewelry, or Anela's Jade is a family business, selling handcrafted Hamilton Gold and other Gold or Silver jewelry. They also provide handmade organic materials earrings (wood jewelry and bone jewelry).
How can artisJet help their jewelry store? Anela's Jewelry was producing its own engraved jewelry using lase and CNC engraving machines. Charles Devine, the store co-owner, has contacted artisJet looking for a solution to personalize and make designs for jewelry with the logo and name on it after cutting and engraving, as it was welcomed by local people, mostly customizable gold name pendants for necklaces especially, but also on gold bangles / bracelets.
They've tried different options, by using the CNC engraver spindle and then add UV paint by hand, but this was a very tedious process, too much hand work, messy and taking too much time to do it. Moreover, the bangles and the name pendants have special designs with raised patterns on the edges, and had to take into consideration the space between printing head and sample. All in all, it is about reaching an easy way to automatically print on jewelry.
Solution
In the beginning, Charles enquired for name plate printing solutions, and artisJet Young A4 LED UV printer has been recommended, as it seemed a better fit for their in-store gold name plates printing. As the customer mentioned the need to print on gold bangles as well, artis 3000U pro B3 LED UV printer was the right machine for their printing needs for larger and cylindrical items, and also consider other features such as printing height and flatbed automatic height adjustment possibility.
Another concern has been raised: how durable the prints are, especially if printing on metal and in wearable conditions is subjective to sweat and humidity and frequent use of the jewelry by their clients? The printing durability on metal products is enhanced and protected by special coating for the metal, to increase color adhesion, hence durable colors for wear resistance. To better understand the coating process, artisJet sample testing team provided a live demo for bottles printing to show the easy use of the software and the ink durability on glass, and how the ink behaves with and without special coating agent, as an example.
To be sure the inks work best on their actual products, Charles has sent their own samples for print testing on bangles. We've been closely communicating during the sample testing, sharing videos and photos, and as Charles shared his satisfaction with the print and process, the samples were shipped to Hawaii: "We are happy with it!" and they proceed on ordering the artis 3000U pro LED UV machine. Without any printing experience in UV LED printing, once the printer reached Hawaii, it has been followed by customer training, printing test and learning process.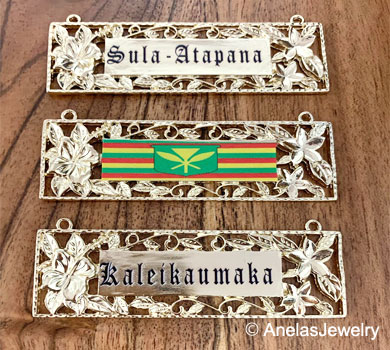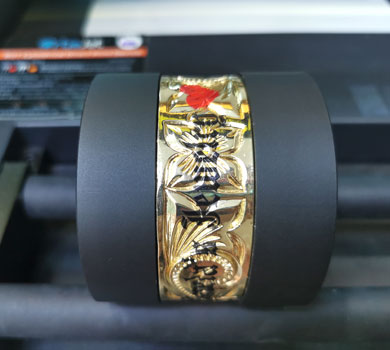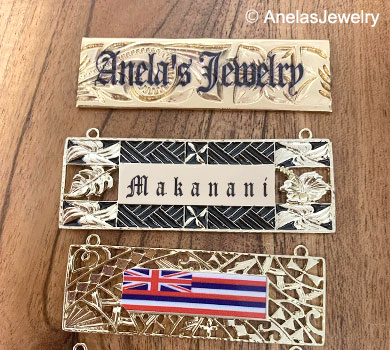 Results
One week later, we've received more samples to create custom jigs for 7 different bangle sizes and rotary device. The beautiful part is that this was a challenge for artisJet too, finding an affordable and feasible solution for the customer by creating one jig to fit all bangle sizes, instead of creating 7 different jigs. Once again, there was continuous communication with printing demonstration, and as they were happy with the testing of the new jig, it was ready for production. Recently, they've introduced flag printing on the Hamilton gold pendants, as well as printing name plates with 3D embossed effect.
What was the overall experience using the new printer? Charles is on the process of experiencing and operating the machine and highly praised the printer: "It is easy to use and saves a lot of time doing the job and becomes more efficient as we've got lots of inquiries from customers instead of hand painting on it after engraving. I will introduce to other friends who are doing business as well, if later on still satisfied with the printer".
WATCH VIDEO OF ROTARY PRINTING ON GOLD BANGLE WITH LED UV PRINTER