CREATIVE QUALITY WOOD SLICES CUSTOMIZATION WITH ARTISJET IN AUSTRALIA
MARCUS THOMPSON | WARBURTON, VICTORIA, AUSTRALIA | STRINGYBARKSUPPLIES.COM

Challenge
Stringybark Supplies, Australian company founded by Marcus Thompson, is a company offering quality wood slice products for weddings, crafts, pyrography, and kids items as well. By seeing the potential for timber products and the uniqueness of each cut slice, the challenge was that of producing a beautiful natural product that is eco-friendly by design, functional and entirely made in Australia. More than that, the company gets the wood from sustainable sources, they harvest wood from environmentally beneficial sources, such as invasive tree sources that are growing where they shouldn't, while the bigger pieces are from introduced tree species, mostly from trees that have fallen naturally or need to be removed for safety reasons. "Bottom line is we never cut down trees unless there is a good reason for it".
Solution
Marcus was considering buying a second hand printer, but he also considered buying a new printer with artisJet, as he had the possibility to explore the print system with another artisJet Australian user.
Our collaboration first started back in 2018, when Marcus decided for artis 3060U LED UV printer with artisJet (printer not available in our present offer), allowing him to start his creative business with wood slices personalization, aiming to print 20 – 100 pieces per day: custom wood slice coasters, save the date wood slice with magnets, wood tags, personalized wedding favors coasters, wooden Christmas ornaments, coloring wood slices (print the pattern, you color it).
As Marcus needed to print onto wooden pieces that are different in size and height (wood slices diameter of 40 – 250 mm, and up to 5 mm thickness), he needed to know the precision to which he needed to make the wooden items to be printed successfully. "Is there a maximum variance in height of the items to be printed onto? For example, if one piece is 8 mm height and other is 8.5 mm or 9 mm that will be ok, or it will be greatly reduce print quality? Is there a chance of damage to the printer / print head if it collides with the work piece while printing? Is there anything in place to prevent this from happening?"
With the 3060U printer model, the platform allowed table height adjustment according to sample thickness, equipped with sensors to warn the user for going too close to the head, and prevent damage. But it was recommended to print same thickness wood plate on each printing, no more than 0.5 mm difference.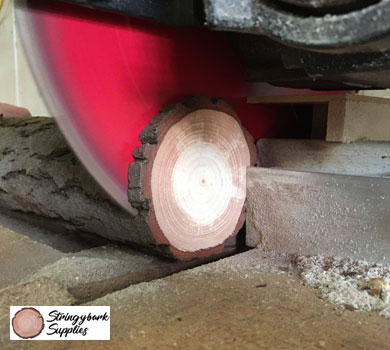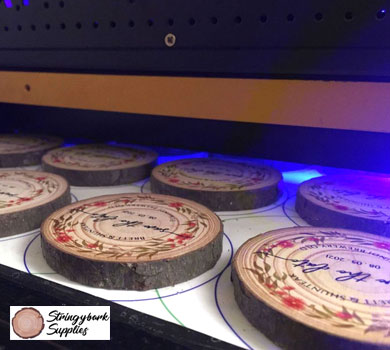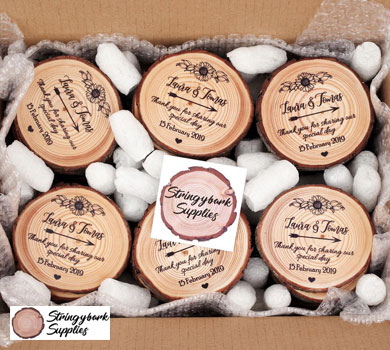 Results
"We often get asked – 'how do you get the images on the wood!?' Well, we print directly onto the timber using a very specialized printer and UV cured inks! Once cured on the timber, the ink is very stable. It can't be peeled off, and won't smear or smudge if it gets wet!"
Marcus stayed in touch with artisJet team along the way, sharing his thoughts about the first LED UV printer purchased from artisJet: "The printer is going great! I have been printing lots of coasters and more recently some larger signs and photographs on wood. Very happy with my purchase!". "Business is going great with your printer. It has been a good investment. Thank you".
Recently, Marcus got back to artisJet, stating the first printer is still running very well, but he is looking for a larger printer, to expand the business. By comparing two of artisJet platforms for multiple printing, artis 3000U pro and artis 5000U, Marcus went further with the 5000U LED UV production platform. With the new artisJet print models such as the 5000U, some of the benefits are the auto-height adjustment, as the printing distance between print head and material can be up to 5 mm.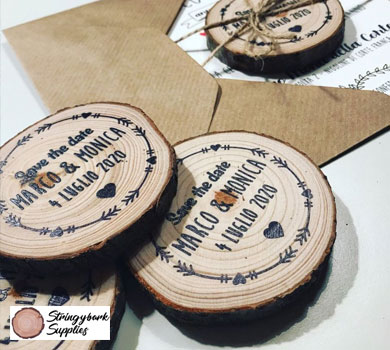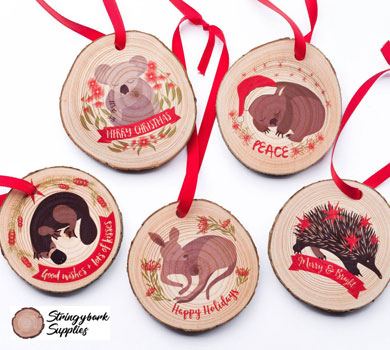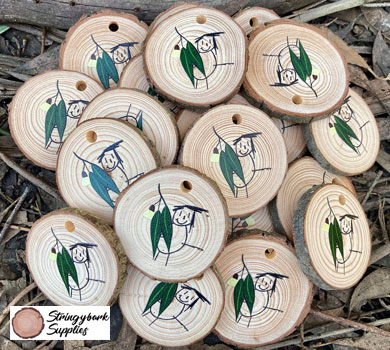 In August 2021, second printer was installed and ready: "The new printer is working very well. The advanced software and hardware is much better. Being able to send files directly from Illustrator via the HOT FOLDER is a very big benefit to me. Also start up is easier and quicker and the ink cartridges are far less messy than the ink bottles in the old printer. I am very happy with it : )".
Having a strong collaboration, Stringback Supplies team is available to contact and visit for those in the Australian area who are thinking to start or develop a customization business, and would like to see artisJet LED UV machines as live demonstration. Marcus and his team will happily assist you and sharing their knowledge with digital LED UV customization, with on demand request.