LEARN, CREATE, EXPLORE, AND PERSONALIZE – LEGO FIGURES CUSTOMER JOURNEY
MATT BROOMALL | NEW JERSEY, USA

What's the best way to keep intruders from entering your home? Put LEGO bricks all over the floor. Or just set an alarm system, because building LEGOs is so exciting and you don't want to lose any LEGO piece. :)
From classic bricks, building block sets for all ages, kid-friendly themed sets to very complex ones, or simply enjoying the small LEGO figures collections or capturing family photos and memories from LEGOLAND by customized LEGO puzzles, it's a fact: LEGOs can be for any age, children or grown-ups, everyone is hooked on LEGO toys and LEGO world.
And so is Matt Broomall, home-based business owner for LEGO figures printing, located in New Jersey, United States, who started his LEGO customization idea from his passion with LEGOs.
Challenge
Matt reached artisJet back in January 2022, for his small size LEGO figures printing. Our communication started from his LEGO printing needs and artisJet's experience with LEGO items, already providing the solution for LEGOLAND Park in Florida and some European locations. His biggest concerns were the maintenance of the printer and the running costs. "I'm having hard time printing on the LEGO figures without any sort of jig or frame to put it on. I'm going to resend the piece I would like the jig for." A custom jig to hold the LEGO pieces was also needed, but because of the extensive waiting time with the local shipping company, Matt decided to have his own-made jig, which turned out just perfect for his LEGO printing requirements.
Solution
For small size items printing such as LEGO toys figures, the recommended printing model was artisJet Young A4 UV LED system. The ROI, print time estimates, ink cost calculation and automatic minimal maintenance in one click directly from artisJet Workstation solved much of his concerns, backed by training videos and technical videos, appreciating the pre-sales and after-sales customer support.
The automated system for flatbed height adjustment accommodates different sizes products up to 50 mm height (1.97 inches). The ACS Control System detects the sample's height and positioning automatically in one click, due to integrated sensors.
Results
After LEGO sample testing based on Matt's needs and once full printer installation and training was completed with artisJet's technical team, Matt thought the printed LEGO figures are with very high quality. Asked how the experience of the whole journey was, Matt replied: "I have finished the installation and training and it's great".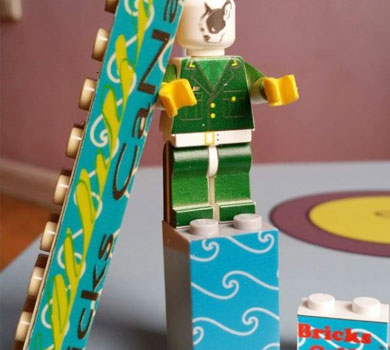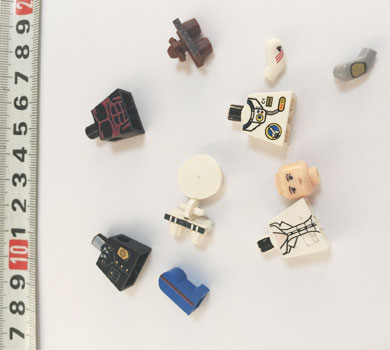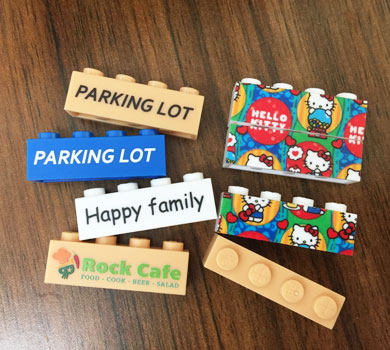 Do more
Even though LEGO pieces are very small, you have the possibility to choose the solution that better fits your business needs: opt out for a smaller printer for small quantity printing, or choose the large format printing if your daily production requires more customized products. Some of our established LEGO business heroes since 2018, are managing their LEGO figures customization with artis 5000U B2 UV LED printer. In addition, the on demand customized jigs for 50 x 70 flatbed size allows printing on multiple LEGO pieces: print the LEGO minifigure heads, arms, bodies etc..
Would you like to know more about how to complement your LEGO business with digital inkjet printing solutions? Reach our professionals and let's schedule a meet up, we would love to hearing from you.