UNDERSTANDING DTG PRINTING
As the name suggests, Direct to Garment Printing, also known as DTG printing, digital direct to garment printing, is a process of printing on textiles and garments using specialized or modified inkjet technology. The two key requirements of a DTG printer are a transport mechanism of the garment and specialty inks that are applied to the textile directly and are absorbed by the fibers. DTG uses specialty water-based inks, which are absorbed by the fibers of the garment.
Know the Garment Printing techniques. Which garment printing method is better? What to compare. DTG printing versus screen printing, DTG printing versus heat transfer printing etc.? When it comes to printing a design, picture or logo on a garment, there are a number of methods. Screen printing, heat-applied transfers and now dye sublimation are widely used garment decorating techniques, but none truly compare to the capability of a DTG printer.
With dye-sublimation garment printing, the image is first printed onto a release or transfer paper, then placed in contact with a polyester textile under high heat and pressure. The heat causes the ink to sublimate, than turn from a solid to a gas and bond/transfer to the garment.
The heat transfer printing method applies custom designs to items like T-shirts or tablecloths through a process that uses a combination of heat and pressure.
The technique of printing images on garments using stencils and screens dates back to ancient China, screen printing has transformed over the years, but even in its present-day form, the process involves a blade or squeegee pushing inks through a stencil covered mesh or screen.
Digital Direct to Garment Printing. DTG prints can look as good as or better than traditional apparel printing processes, such as screen printing. The amount of time & labor involved with digital DTG printing is significantly lower than traditional methods.
Textile DTG printers using inkjet technology are attractive because the process of creating a printed garment from scratch using traditional technologies can be long and complicated. DTG printers for textile printing makes garment design and printing simple, accessible and cheap, especially compared to traditional screen printing. With a textile direct to garment printer you have all the ingredients for an exciting new business model.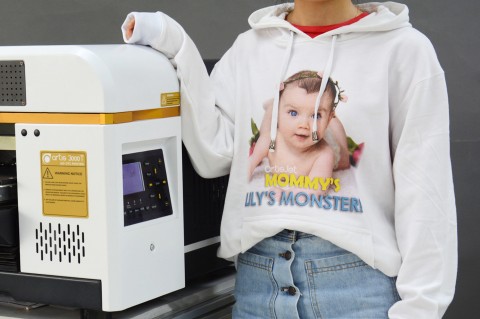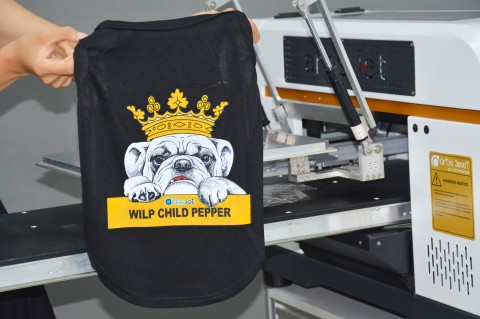 ADVANTAGES OF DTG PRINTING
There are certain advantages and ideal uses for the direct to garment printing process. Direct to garment printing uses a specially designed inkjet printer and specialized inks to print the design directly onto the garment, just as you might print a picture straight onto a piece of paper with a regular printer. The benefits of this include:
• Most color garments can be printed onto – DTG printing provides the potential to print onto virtually any color of garment, so you can create the design that you really want.
• Wide range of applications such as T-shirts, caps, sweatshirt, ties, personalized footwear like socks, tote bags and more.
• Water based garment inks and pigmented inks which are non-toxic and environmentally friendly, it has an excellent color fastness, high elasticity and non-cracking attributes, while the CMYK + White white inkjet technology gives outstanding vibrant prints on light and dark garment. The white ink channel makes printing on dark substrates way easier, producing high resolution quality prints both on cotton and polyesters.
• DTG printing system is widely used in small quantity printing business and customized high-end garments business.
• Various on demand printing plates to ease the printing process – easy print in low cost and no limit for the order quantity to your customers.
• Direct to garment printers generally require a specialized software package called a Raster Image Processor (RIP) to print properly. Modern RIP Software, also generates the white ink under base required to print on dark garments (for example black T-shirts), controls the amount of white and color ink laid down and color matching as well as other functions such as multi-shirt image placement and ink cost calculation.
• The process of direct to garment printing is simple.
a) Pretreat – Prepare your shirt for printing;
b) Load your printer – hoop your shirts on and get ready to print;
c) Print and Sell – let the printer do its work – then heat press and sell.
The technology is a revolution and stimulation in this field, bringing new colors and vitality. DTG printing systems are available to handle all pre- and post-treatment to produce personalized/customized fabrics, T-shirts, sportswear and other items of clothing and accessories, such as baby clothing, hats, bags, napkins and towels – on demand. If you want each T-shirt to be different and you want them printed in a four-color photographic digital printing process using a compact DTG desktop printer is really your only cost effective option.
If you are interested in short runs, prototyping, T-shirt printing or customized garments, the possibilities available to you are about to get very interesting.
You can reach us by several ways: Facebook, Instagram, Twitter, fill in the contact form or simply e-mail us by This email address is being protected from spambots. You need JavaScript enabled to view it..
Feel free to request a sample to discover the DTG printing capabilities with artisJet.