Eco Solvent Printers
PORTFOLIO
PRODUCE VIVID COLORS AND SHARP DETAILING
artisJet' s eco-solvent flatbed printers are based on the micro-piezo head technology compatible with BRD and BRP eco-solvent ink, an eco-friendly solvent dye or pigmented ink suitable for children applications.
artisJet eco solvent ink enables direct printing on many different substrates without any pre-treatment or pre-coating.
The eco dye system is suitable to produce signage, promotional items, stationery, small decoration, different industrial items such as dial meters, industrial labels and more.
It can print on a variety of materials including PVC, plastic, leather, wood, ceramic, acrylic, etc.
Regarding user attributes and targets, the eco-solvent printer is ideal for designers, shop runners, or multiple shop business with different locations, as well as for professional users oriented with high environmentally friendly standards or focusing on customization for kids-friendly products.
Some of artisJet's long-time customers print on pens, lighters, rulers, photo frames, awards, trophies, balloons, toys, and many more.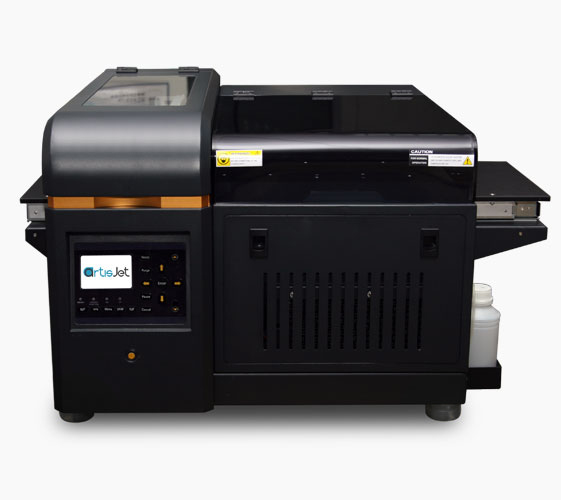 ---
A3+ print size W33*L60*H10CMM
CISS ink system with BRD9 and BRDPC inks
Products without demand of white ink print
Print on aluminum, plastic etc. in light colors
3 minutes / A4 size printing speed