ArtisJet Blog
Our latest news and activities.
Details

Written by

Alina Sornea

Hits: 1957
We see signs every single day. Drive down the street and you'll be confronted with road signs indicating which speed to drive at or directions to the town. In the workplace, you'll discover health and safety signs littered here, there and everywhere. You'll notice that shop signage is plentiful, detailing opening hours plus displays of discounts and deals.
So, what is signage? Signage is generally defined as any kind of graphic display intended to convey information to an audience. Signs are often used for advertising and marketing by companies or organizations.
TYPE OF SIGNS AND SIGNAGE
Health and safety signage. They can be found in places such as workplaces, nurseries, schools and offices. Signs provide information and warnings about hazards or threats which are essential to safety.
Informational signages. These are signs conveying information about services and facilities, such as maps, directories, instructional signs or interpretive signage used in museums, galleries, zoos, parks and exhibitions that enhance the customer's experience.
Persuasive Signage. Promotional signage designed to persuade users of the relative merits of a company, product or brand.
Directional signage. Directional signages are signs showing the location of services, facilities, functional spaces and key areas, such as sign posts or directional arrows.
Identification Signage. Indicate services and facilities, such as room names and numbers, restroom signs, or floor designations.
Safety and Regulatory Signage. Safety signs give warning or safety instructions, such as warning signs, traffic signs, exit signs, signs indicating what to do in an emergency or natural disaster or signs conveying rules and regulations.
ARTISJET LED UV DESKTOP PRINTERS TO SUPPORT SIGNAGE PRINTING BUSINESSES
artis 3000U and artis 5000U are ideal for general industrial use, restaurants, hotels, hospitals and indoor signage applications due to its eco-friendly ink system and technology. With its direct digital printing on all substrates with instant drying, the A3+ and A2+ LED UV platforms offer great printing performances at high speed and high resolution on all printing media. Add to this, if you intend to print small format signage, with a maximum printing area of 180 x 297 mm, artis 2100U is the right flatbed printer choice.
BRAILLE SIGNAGE
Have you ever stopped to think about how Braille signs are made? In the past, it has been an intricate process that takes time, money, and extremely specialized tools. If you wanted to add Braille signs to your offerings for your customers then it was a huge investment. But now, with the artisjet UV LED printers Braille signs can now be made easily and affordably.
artisJet UV LED printers create signage with colors, raised characters that meet ADA signage standards.
Braille LED UV technology is useful for all individuals, especially due to its ability to print raised dots in order to create Braille tactile signage for those with visual impairments. This technology provides an easier solution to making Braille applications signs, panels, keyboards for computer or other devices such as electronic calculators.
These UV LED Braille printing techniques are ideally reliable for plastic substrates, metallic substrate, direct to wood printing substrates, aluminum, PVC and many more which are cost-effective, time saving and a non-proprietary solution open to UV printer users.
Benefiting from the automatic repeat printing functionality for multiple layers with domed and rounded ink dropping shape, the artisJet direct LED UV printers allow you to deliver an inkjet height on the materials from 0.1 mm up to 10 mm at a fast production speed in one step. artis 5000U A2+ LED UV printer, the artisJet A3+ size LED UV available platforms, as well as the ergonomic artis 2100U A4 printer, all can achieve this creative potential by custom Braille printing and more!
VARNISH PRINTING FOR SIGNAGE
Spot varnish is a great way to maximize the contrast between matte and gloss surfaces. It allows you to apply varnish to a certain image or graphic on your printed piece, such as a logo or photo, while leaving the rest of the piece unvarnished.
The extensive experience artisJet has gained in the Spot LED UV Varnishing has helped us develop a wide range of printing effects, such as spot gloss, matte varnish, 3D relief with raised varnish, subtle relief, strong printed textures, and scratch-resistant prints even for outdoor items, such as signage printing and door signs.
With the enhanced artis 5000U platform, the spot LED UV varnish adds a gloss finish and UV coating that helps your signs stand up better to the elements outdoors. Moreover, it provides excellent protective quality as well as a raised touchable effect as the 3D embossed effect and Braille tactile effect, often used in direct to signage printing.
Raised colors printing, varnish printing and 3D effect for Braille applications and outstanding printing results can be easily achieved with artisJet's LED UV technology, enhancing the personalization businesses and impressing the customers.
These are just few of artisJet LED UV printers' features. In addition, artisJet A2+ LED UV platform offers 360 degrees cylindrical printing to produce printed water bottles, personalized bottles, gift bottles and much more. That's why artis 5000U LED UV printer becomes one of the best choices for all business ranges, from start-ups, small or developed businesses.
Request a sample and develop your signage ideas with artisJet. Ask informations by e-mail to This email address is being protected from spambots. You need JavaScript enabled to view it. and enhance the printing capabilities of your business.
Stay connected to artisJet for upcoming news! We are on Facebook, Twitter and Instagram! Like, follow and join us online to make sure you stay updated with details on upcoming news, events and our printers, direct to substrate printing solutions, and technology.
Details

Written by

Alina Sornea

Hits: 3586
The game of golf is becoming more popular, and as a result, promotional golf products are more effective than ever before. By providing items that are commonly used during a game of golf, you can connect with your clients every time they pull out their clubs and go for a hit.
Amongst all the different methods and tools to market to your audience, promotional items could prove to be a perfect way not only to stay top of mind within your current customer base, but to also educate your prospects about your company and offerings as you work on growing and increasing awareness around your business.
Plan thoughtfully the design of your promotional items. Keeping your brand and colors in mind, gear your design towards an attractive and appealing structure that will make your recipient remember you and your business.
artisJet direct to golf ball printers can help you capture the orders, such as company logos, souvenir for celebrating an event or occasion, family and friends customized balls.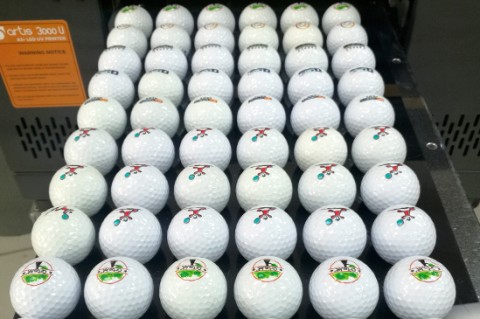 HOW TO PRINT ON GOLF BALLS?
artisJet LED UV printers provide many unique capabilities that are valuable for golf ball printing, including:
• Standard golf fixtures/jigs - are available to allow printing multiple golf balls in a single pass. artisJet customized golf balls printing solution adopts gorgeous and colorful ink system, and unique designed standard golf jigs allow printing high quality pictures, logos and text directly on multiple golf balls at one time.
• Rich yet sharp color performances - empowered by the piezo print technology and anti-static print systems, artisJet custom golf ball print solution delivers the colors directly on the golf balls in photo quality and highest sharpness.
• Glitter/ varnish print result on demand - equipped with latest DTS3 Varnish ink, artisJet printers support the clear printing to enhance the performances of the printed products on demand.
• Fast production speed at low cost - by importing the files into the artisRIP software, the products will be ready in few minutes. You can print multiple balls in single pass with custom jigs. For A3+ LED UV printers, the size of the jig is 55*30 cm, which means printing 72 pcs / one pass; for artis 2100U A4 LED UV printer, the jig size allows printing 24 pcs / one pass.
• Variety of substrates - Print unlimited applications on different kind of materials like acrylic, plastic, wood, leather and much more.
Business owners and golf fanatics should consider customized golf balls not only for games and sports but also as one of the hottest products on the golf market. Customized golf balls can be used as promotional items, gifts, corporate promotion items or to simply give the golf balls a special unique differentiation from other market players.
A logo is the one element that should encompass a message, image, voice, brand… all in one! If the logo is done the right way, it will communicate the point of differentiation and help businesses stand out while positioning in the consumers' mind.
There are many creative ways that can connect businesses with their clients, and one of these is through promotional golf products.
Stay connected to artisJet for upcoming news! We are on Facebook, Twitter and Instagram! Like, follow and join us online to make sure you stay updated with details on upcoming news, events and our printers, direct to substrate printing solutions, and technology.
Discover artis 2100U, artis 3000U and artis 5000U LED UV printers and artisJet direct to golf balls printing solution and more in FESPA BERLIN 2018 15-18 MAY in Booth D67, Hall 3.1 Berlin Expo Centre City look for artisJet in Booth D67 | Hall 3.1 | Berlin ExpoCenter City.
Details

Written by

Alina Sornea

Hits: 2551
Do you like to play with colors and use them wherever you can? The perfect packaging idea will be to use the full color box. Such a box attracts the attention of a larger audience. Make them stand out on the shelf – you can add your own company print on the package.
Simplicity and shape can go a long way. Round shaped boxes are the perfect choice for high-end gift and retail packaging. Cylindrical shaped boxes are distinct in their style; it can be used to package any types of products from tea, coffee, and chocolate to beauty products.
artisJet's extensive knowledge of printing and production ensures you to get the very best guidance for packaging innovations that support key business objectives.
Designed by the idea of simple operation, artis 5000U printer allows you to start your own business for small sized round and cylindrical packaging. Although perfect for quantity printing and larger applications (up to 100 mm in height and 51*71 cm printing area), artisJet's A2+ LED UV printer is suitable whether for small working environments, home business, office business, shopping mall kiosks, and chain store business as well.
Add to this, with the recently launched ROT 360 technology, the artis 5000U LED UV printer becomes a rotary printing machine, which accommodates cylindrical objects with a maximum print bottle diameter of 7.6 cm and a minimum print diameter of 5.7 cm.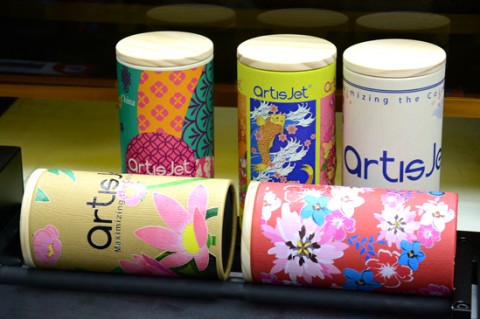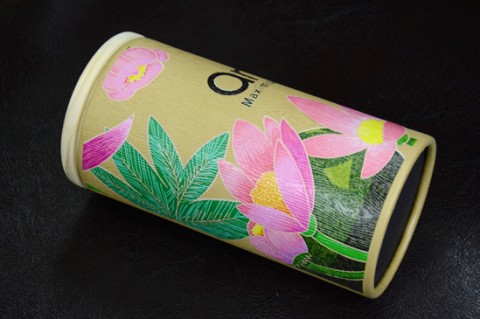 The artisJet LED UV printers are designed for all the printing possibilities on demand. With its environmentally friendly printing solutions, it empowers you to print on wood, metal, cardboard etc. and all the custom packages needed for any special occasion.
Personalized round boxes are used for a variety of applications including: chocolate boxes, drinks packaging, perfume packaging, gift boxes, personalized gift candles, bottle packaging, cylindrical tube packaging, Kraft paper tubes and more.
To support this idea, you can develop your workflow with digital printing on cylindrical objects such as personalizing a tea box with a photo, favorite quote, company logo or custom artwork. This way, you will create a gift that will be used and admired for years. Amp up the creativity and assign different colors for each tea flavor so your customers can easily find them and you can effortlessly monitor the inventory.
A wonderful addition to any tea lover is tea nook or even the company break room. Cardboard boxes or paper tubes packaging allow printing of the design on the walls of a box too, which makes it a very sophisticated branding channel. Moreover, with ROT 360 device you can create amazing cylindrical packaging for tea storage.
All in all, packaging is the only marketing channel that reaches all of your clients.
Explore our options to create a personalized round box printed with artis 5000U that matches your brand personality and reflects your brand image seamlessly.
Ask for artis 5000U and custom rotary device ROT 360 product quotation by e-mail to This email address is being protected from spambots. You need JavaScript enabled to view it. and enhance the printing capabilities of your business.
Better look for artisJet's products and visit us at FESPA BERLIN 2018 15-18 MAY in Booth D67, Hall 3.1 Berlin Expo Centre City and discover more of what artisJet's printing technologies and solutions can do for your business.
We are on Facebook, Twitter, Instagram, Pinterest, Google+, Flickr, and YouTube and stay connected for upcoming news and details.
Details

Written by

Alina Sornea

Hits: 2921
Whether you intend to catch the eye of a customer browsing the shelves of their local bottle shop, or create a memorable keepsake for a wedding or anniversary party, artisJet has the perfect solution for you.
The perfect gift is equal parts thoughtful, unique and desirable - personalized bottle wine is all three. It's time to bring your personalized products to life by using amazing, high quality, full vivid colors direct-to-substrate printing with artisJet printers.
In order for you to create a powerful business by making beautifully designed, durable custom bottles printed within minutes, artisJet recommends the artis 5000U and artis BR U1800 LED UV printers, due to their custom rotary device availability and printing height.
360 DEGREES LED UV PRINTING ELIMINATES THE NEED FOR LABELS
Custom LED UV rotary printing with artis 5000U accommodates cylindrical objects with a maximum print bottle diameter of 7.6 cm and a minimum print diameter of 5.7 cm. 360 degrees LED UV direct to substrate printing technology eliminates the need for label substrates.
The advantages of ROT 360 device are boundless. The ROT 360 rotary device for artisJet's A2+ LED UV printer allows direct printing of complex designs, images or simple line of text.
Turn the flatbed printer into a rotary printer – this makes the artisJet LED UV printer a full solution for your business – print on flat boxes, but with 3D embossed effect and raised colors.
Add the ROT 360 device on artis 5000U A2+ LED UV printer to change it into a rotary printing machine – create personalized drink ware, custom wedding bottles, and special gifts such as wine bottles and so on.
With artisJet's ROT 360 rotary attachment, you will get more complex products to the same high standard and quality of a flat product.
Achieve full prints on the personalized bottles with no breaks, seams or overlaps. The ROT 360 technology ensures perfectly combined prints, from one edge to the other, empowered by artisJet's user-friendly Print Manager and artisRIP V9.0 software.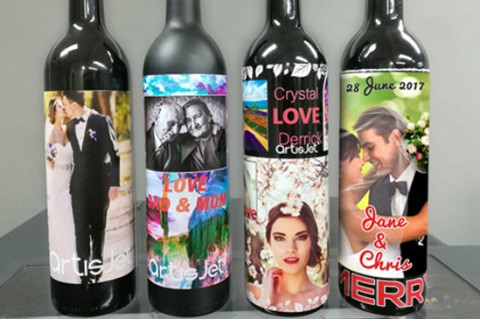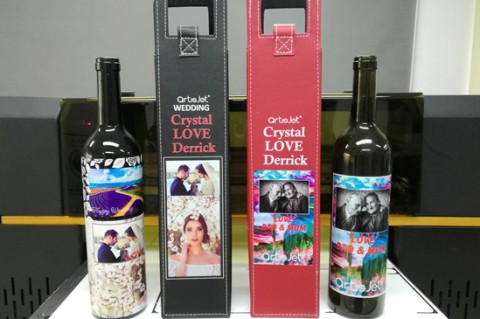 WEDDING GIFT BOXES AND CUSTOM BOTTLES PRINTING SOLUTION
Don't limit yourself to make just personalized bottles gifts for wedding; you can also have personalized wedding favor boxes for bottles. The options are ENDLESS. These beautiful boxes provide a stunning way to display wine bottles and are a great addition to any personalized wine gift .The wine will be consumed but these boxes will last forever.
Customize a canvas, wood, cardboard or jute wine gift box with direct to substrate LED UV printing technology to add a personal touch. The jute gift packaging items below are unique. A bottle of wine in an ecological packaging forms a perfect alternative to packing paper or the standard box.
Direct to substrate LED UV printing technology is also about anything you can imagine, and artisJet digital printers will deliver directly onto any type of wood or hessian materials creating durable and touchable colors, amazing images that you are always proud to display and share for personal memories.
Being able to personalize with the name of the happy couple and their wedding date, gives these boxes a unique edge which will make a favorite for many years.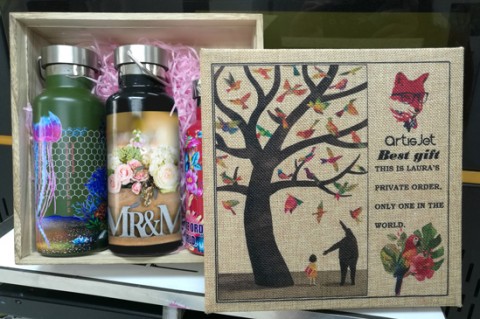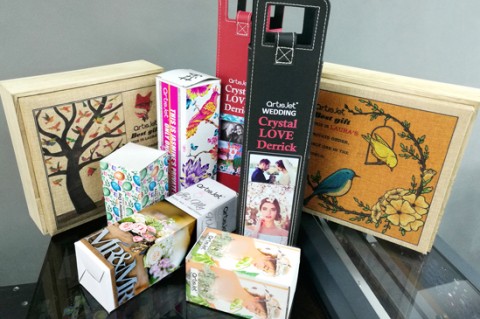 DEVELOP YOUR IDEAS WITH ARTISJET CYLINDRICAL PRINTING.
There are no surprises here! You'll love the vivid colors and bright print of these personalized wine bottles.
High color vibrancy, sharpness, and detailing results. The LED UV ink is a kind of pigmented ink with photo initiators which delivers rich, deep colors to maintain their vibrancy. The LED UV ink is unique due to its layering performance. This way, you can achieve 3D embossed prints and textured printed artwork on the wooden boxes. Enhance the wooden wine box with raised letters printing.
Request a sample and develop your ideas with artisJet. Ask for artis 5000U's custom rotary device ROT 360 by e-mail to This email address is being protected from spambots. You need JavaScript enabled to view it. and enhance the printing capabilities of your business.
Stay connected to artisjet for upcoming news! We are on Facebook, Twitter and Instagram! Like, follow and join us online to make sure you stay updated with details on upcoming news, events and our printers, direct to substrate printing solutions, and technology.
Details

Written by

Alina Sornea

Hits: 4471
People purchase candles not only as gifts, but to scent and decorate their homes and places or business. Love printing on candles? They're perfect for celebrations like birthdays or weddings, but can also be beautiful for holidays, too.
Printing on Candles has never been so easy and looked so good.
Imagine being able to print directly onto any candle with full color! Now you can! The first thing you will need to do is come up with an idea of what you want to put on the candle. This can be a photo or a quote or anything else that you can think of.
The LED UV curing is considered as the best available on the market today and its main characteristic is the instant drying ink while printing at the same time. The cooler cure of an LED system also opens up new print applications on temperature sensitive and thin substrates.
As less heat is dissipated from a LED lamp, it is easier to keep the media flat under the shuttle, so printing on wax is easier because the printer is not melting the substrate. Less operating heat also prevents material distortion, making it easier to rewind and re-register colors. And because of the uniformity and long-term consistency of LED lights, designers can develop safer, more stable and more reliable processes for low-migration printing.
The light sources deliver high uniformity and consistency over time, giving the end user confidence in the quality of the process. Now that UV LED curing has gained worldwide acceptance, more and more users are recognizing the real-world benefits.
With artis 5000U you can print direct on candles, the ROT offers accurate and vivid prints benefiting from its motorized driven system.
Have a look at these pictures of LED UV printing on candles, some great results and easily achieved using artis 5000U rotary device. Empowered by artisJet DTS3 LED UV ink technology, the ROT 360 degrees enables rich and sharp color performances.
Realize full 360 degrees continuous print jointed seamlessly on any cylinders and candles too.
You can also print on candles holders. A personalized candle holders are the perfect decoration or gift for iluminate their home with heartwarming memories.Each time they light a candle they will see a sweet message printed directly on candle holders.
Choose from a large variety of ideas: personalized candle for holidays, wedding candle, memorial candle, personalized photo candle, birthday personalized candle and so on.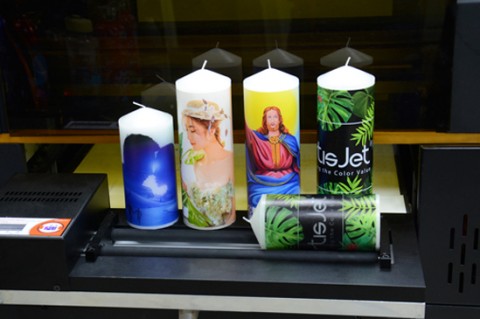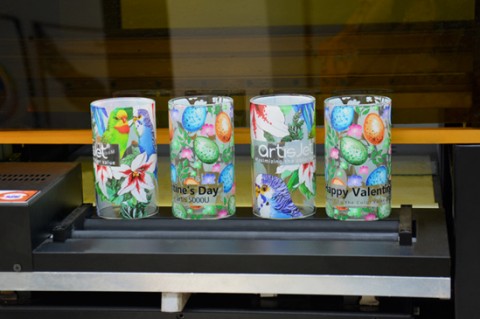 Details

Written by

Alina Sornea

Hits: 3314
Need some inspiration for your printing project? Such as wine bottles, candy bottles, wedding glass bottles, jars, metallic sports bottles and so on. Have you ever wondered how these items often times have a company logo, customized or personalized design printed on them?
UV LED cured cylindrical printing is an exciting new technology. It allows accurate and fast full-color digital decorating on black, color or clear cylindrical-shaped products. The utilization of UV cured cylindrical printing technology has grown exponentially over the past years.
ARTISJET UV LED PRINTER DEDICATED TO CYLINDRICAL PRINTING APPLICATIONS
artisJet's rotary device can direct print on cylindrical objects with a full end to end 360 degree spin of the cylindrical product. This way, you can maximize your media surface by printing the entire circumference of it. artisJet's cylindrical device is a custom designed attachment for the artis BR U1800 A3+ LED UV system, due to the printer's maximum height adjustment up to 170 mm. The rotary device effectively fits the working area and is attached to the printer's flatbed. The rotary fixture for flatbed UV printers is easy to install and remove in just a few minutes so that the printer can be used for both cylindrical and flatbed printing on a daily basis.
Custom LED UV rotary printing with artis BR U1800 accommodates cylindrical objects with a maximum print bottle diameter of 8 cm (3.15 inches) and a maximum printable bottle length of 32 cm (12.6 inches), all printed with a resolution of 1440 by 1440 dpi.
You can print a diverse range of bottle substrates such as: plastic, PET, metal, aluminum, stainless steel, glass, ceramic, and any other material that has a cylindrical and rounded shape.
Choose from a large variety of ideas: custom drink ware printing, custom metal water bottles printing, aluminum bike bottles printing, metallic sports bottles printing, aluminum cans printing, wedding glass bottles printing, wine bottles printing, gift bottles printing, candy bottles, cosmetic bottles, jars, decorating bottles for interior design, personalized products for holidays, food rounded packaging.
For example: A printed sports bottle is the kind of product that can be used for promotional purposes. These plastic sports bottles are durable promotional products that are great to hand out at sporting events where drinking beverages or water is required. A custom sports bottle is the type of promotional product that can be handed out to all target markets, because everybody needs to drink and stay hydrated, so just about everyone can make use of a personalized sports bottle.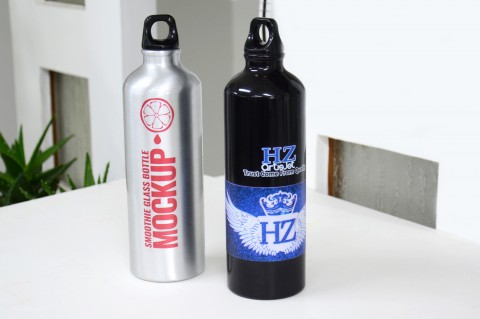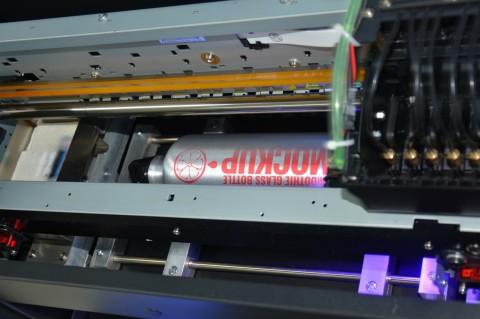 Understanding the artis BR U1800 print and software
How to print on bottles? Are you ready to get started? Follow these easy to use steps to begin.
artis BR U1800 gives you unlimited substrate color choices so you don't have to settle for only printing on white or light colored cylindrical objects. Simply select the desired artwork size and preferred color settings, load your product into the rotary fixture and you're ready to print.
The first step is the adjustment of the rotary attachment (1). Put the media on the rollers and ensure the line at the highest point of the media shall be distanced about 5 mm away from the back of center line of the ink pump. This is necessary to follow to avoid ink spray from the print head when printing on the arc of bottles. The next step is to drive installation of the software for bottle printing.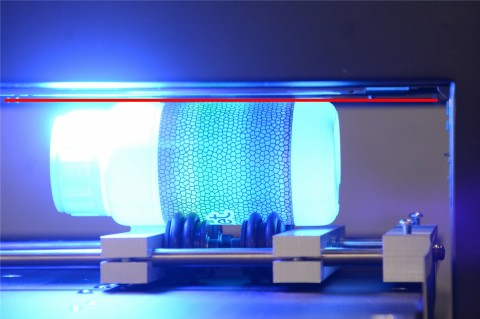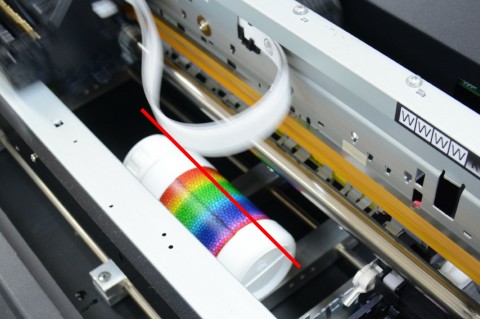 There are a few characteristics of software setting: The printing resolution is 1440*1440 dpi; Bottle print only refers to three print types: Color only, White & Color only, White & Color simultaneously; (INK: CMYK- Optional for color only; White: Optional for white only or White & Color simultaneously.)
White Mode: It decides the way of printing white ink as a background layer.
artisJet's RIP software allows the setup of white ink based on the printing requirements. One of these requirements is to: print white inks according to the nature of the bottle's substrate color (dark or light). The darker the substrate, the more white inks.
Another white ink setup capability is White (Simulate Spot Color): whenever there is color element, white inks will be printed, with the same volume. Add to this, the White Density allows you to adjust the volume of white inks, while the White Channel num can adjust the concentration of the white inks.
White and color relation: This can change print mode for white and color inks. White only: Optional for white only; Two layer: White+ Color print at on pass (color follows White); Two layer: White+ Color print at on pass (White follows Color).
White invaginate: This is capable of covering white edge. Choose "Big" to avoid white edge when printing white and color simultaneously. Make a difference in covering the whole white edge.
For a better understanding we want to show you two cases of printing:
1.White bottle for color only;
2.Transparent bottle for white& color simultaneously.
For first case steps:
a) Measure the circumference of body of bottle and height of artwork. Make the artwork size within the circumference (figure 2).
b) Input the artwork into Rip software and set up its size and location. Pay attention to: print direction and print location. The setup software should have the follow ticks: INK-CMYK; White Invaginate- Big; Feather- Auto.
c) Adjust the height of bottle according to print head (Attention: Adjust manually the height of bottle a little far away from the print head to ensure no collision.)
d) Start printing.
Case 2 (figure 3): same steps less the software setup. You have to choose: Ink- white; white mode- white (simulate spot color); white channel rum-4; white & color relation- two layer, base white.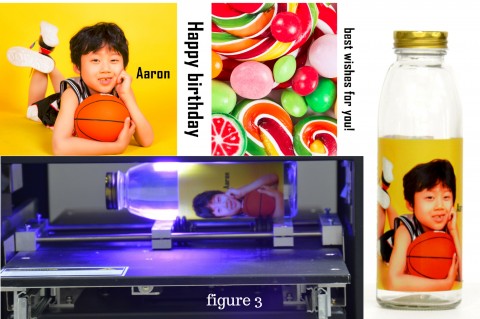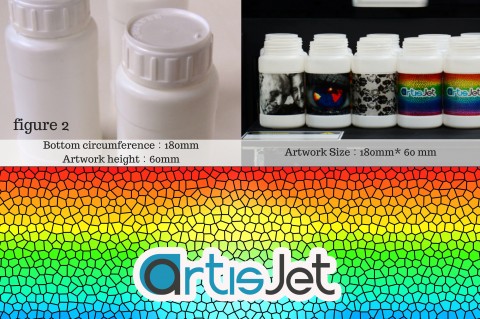 It's time to bring your personalized products to life by using amazing, high quality, full vivid colors direct-to-substrate printing with artisJet and its bottle printing attachment of artis BR U1800, 360 degrees printing on a wide range of substrates, user-friendly print settings and functions via artisRIP v 9.0 software.
Do we draw your attention?
artisJet is continuously working to improve your workflow and printing experience. We are excited to announce soon we will come up with a surprising new rotary device for our printers. Bottle printing is a valuable solution for personalization businesses. That is why, artisJet is looking to provide complete direct to substrate printing solutions in one place.
Stay connected to artisjet for upcoming news! We are on Facebook, Twitter and Instagram! Like, follow and join us online to make sure you stay updated with details on upcoming news, events and our printers.
Details

Written by

Alina Sornea

Hits: 3615
There is a wide variety of specialty printing techniques available for consumers who are interested in setting their printed products apart from the ordinary masses. And that's the case of Spot LED UV Varnish, a versatile, affordable and high impact printing effect.
UV VARNISH AND SPOT LED UV VARNISH
Is UV Varnish the same thing as Spot LED UV Varnish, or is it something else altogether?
While many people use the word varnish as a catch-all concept, you must know there are varnishes (clear inks), aqueous coatings (water-based), and UV coatings.
UV Varnish is nearly instantly cured by UV light, but usually it fully covers the substrate, acting as a protective layer.
Spot LED UV Varnish is a clear ink that implies partial coverage on the chosen spots or area of the printed surface. With the Spot LED UV varnishing, the LED UV inks will highlight specific texts or images, logos, and anything else you want to drag the attention to.
When the Spot LED UV Varnish is applied, it creates an elegant gloss effect (or matte effect, depending on the printing needs) which contrasts with the rest of the printed sheet or substrate and gives an attractive look to the printed item.
It can be successfully used for wood printing, business cards printing, wedding invitations and wedding cards printing, packaging printing, interior design items such as photo frames and wall decorations, special gift ideas, promotional items, corporate items, gift boxes, cosmetic packaging boxes, luxury paper bags, phone cases, personalized mobile accessories, book covers printing, brand logo printing on boxes to much more. It depends on your ideas, imagination and customer's requests.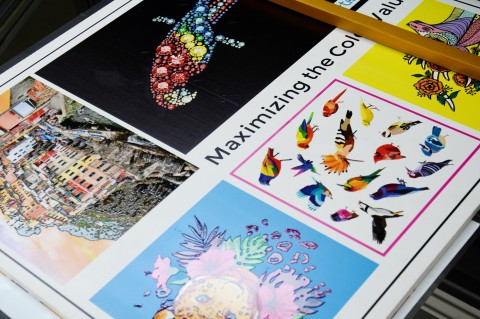 BENEFITS OF SPOT LED UV VARNISH PRINTING WITH ARTISJET
The extensive experience artisJet has gained in the Spot LED UV Varnishing has helped us develop a wide range of printing effects, such as spot gloss, matte varnish, 3D relief with raised varnish, subtle relief, strong printed textures, and scratch-resistant prints even for outdoor items, such as signage printing and door signs.
When the varnished areas are exposed to LED UV light, drying happens almost instantly. This is one of the reasons why the Spot LED UV Varnish application can achieve such a high level of precision.
Digital direct to substrate Spot LED UV Varnish with artisJet is perfect for short runs and even variable data printing. With both flat and raised printing options available, brilliant touchable effects can be created. Add to this, it reduces the set up costs, as it requires no films or screens.
HOW SPOT LED UV VARNISH WORKS WITH ARTIS 5000U PRINTER?
Equipped with artisJet latest technology, Spot Fine Control System, specialized UV Curing firmware and hardware, artis 5000U enables the users to realize the partial print of the image on demand.
Main features include:
1. Flexible varnish printing options. Empowered by artisJet V.9.0 Print Manager, the user is allowed to select their desired varnish print result from light effect or matte effect by one click.
2. High standard shinning colors. Raises the color performance into a higher level and protects the color to extend the print life.
3. Improved embossed and Braille printing.
4. Additional feature by varnish printing on dark materials.
5. Deliver a diamond printing result on demand.
The Spot LED UV Varnish has the potential to add color depth to the print. Spot LED UV Varnish Printing is characterized by very good running capabilities, easy handling, showing a high mechanical resistance. So when you use it in print projects, it's a good idea to take into consideration.
Watch the video and learn the easy-to-follow steps of artisRIP software on how to print glossy and matte varnish effects with artis 5000U A2+ LED UV printer.
Details

Written by

Alina Sornea

Hits: 3282
WHAT IS VARNISH?
Varnish ink allows you to enhance and protect the quality of the printed image, artwork, text or logo. It's mainly clear and can be applied either before or after the printing work.
Varnish is considered to be one of the best methods available to enhance the appearance of a printed substrate. You can see the difference once you apply the UV varnish ink and you can add profits to your bottom line.
Direct varnish ink printing offers vibrancy and dramatic colour effect, creating a lasting impression and making your printed applications production more likely to be retained.
Its use brings value in every aspect of the printing industry. Varnish is basically clear ink and can give glossy, satin or matte printing finishes. You can add varnish to the printing area for shiny effect or to highlight specific areas of a printed piece by adding depth to a logo or image.
APPLICATIONS OF DIRECT VARNISH PRINTING
The glossy varnish offers a smooth, shiny and glossy surface of the printed substrate. In the sunshine, the surface reflects light and that is why the printed media has the very bright and lustrous color. A glossy varnish increases the saturation and depth of colors while improving image contrast and adding anti-scratch features.
Moreover, it provides excellent protective quality as well as a raised touchable effect as the 3D embossed effect and Braille tactile effect, often used in direct to signage printing.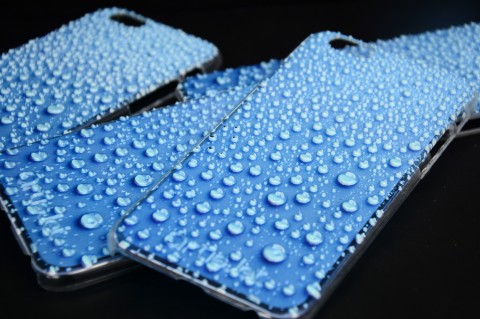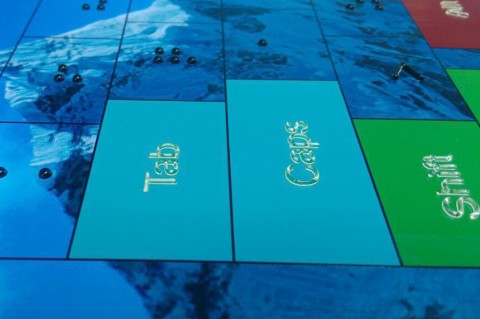 A matte varnish is the most popular finish used for printing different products such as wood frames, wood packaging and many more. Using a matte varnish in the case of imagery printing tends to soften the image, giving it a vintage matte look as well as a lush tactile quality to the printing surface.
ARTISJET DIGITAL LED UV VARNISH PRINTING BENEFITS
Varnish can be printed first, as a base for the CMYK colors to ensure color performance and even raised effect. Also, it can be applied after the artwork colors were printed to provide a glossy look or vintage matte finish, depending on what result you aim for.
Believe it or not, varnishing makes easy to clean and handle a LED UV digitally printed image. To sustain this idea, find out that varnishing can offer durable prints by making them water resistant prints. Being able to splash water on a varnish printed item can add value for customers because this way they have the possibility to print applications such as direct LED UV signage printing that can last longer even outdoors.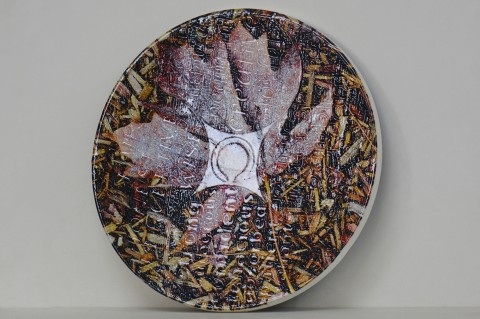 By varnish printing, the colors appear noticeably richer and vibrant and add the benefit of the fast drying of print on the production line due to LED UV drying process.
Another important feature for varnish printing is that the varnishing is typically cost effective.
No matter the effect you aim to achieve from varnish printing, you have to take advantage of the features from this type of printing and incorporate it to your business. From luxury cardboard / metal / wood packaging to wooden boards used as indoor decorations or multiple types of substrates used as outdoor and indoor signage, as well as direct LED UV printing on phone cases or electronic gadgets and many more, varnish printing with artisJet offers multiple possibilities for your printing business and for your customers.
Details

Written by

Alina Sornea

Hits: 2618
FIDGET SPINNERS – WHAT ARE THEY?
Fidget spinners are small devices that can rotate between the user's fingers. For sure fidget spinners are the hit toy-gadget of the year. These addictive stress-relieving toys spin in your hand for up to two minutes or even more, promising an easy operation with one hand. But that is not what artisJet sees important for these spinning gadgets.
The fidget spinners come in various colors, sizes, and designs. And this is where artisJet comes in action. Why the customers have to buy already customized fidget spinners when they can get a very own personalized spinning toy with the designs they choose?
artisJet launched new ideas on the fidget spinners printing. artisjet LED UV printers are capable of direct printing on any kind of fidget spinners substrates: plastic fidget spinners, metal fidget spinners, and any materials they may be made of. It can print also on the ring fidget, therefore on the whole hand spinner toy.
HOW TO PRINT ON FIDGET SPINNERS?
In order to ensure an easy-to-follow printing process on fidget spinners, artisJet created custom made printing jig that allows printing 24 fidget spinners at one pass within few minutes. The jig can be used for a portrait format printing on artis 3000U A3+ LED UV printer, but at the same it can be used in a landscape format on artis 5000U A2+ LED UV printer.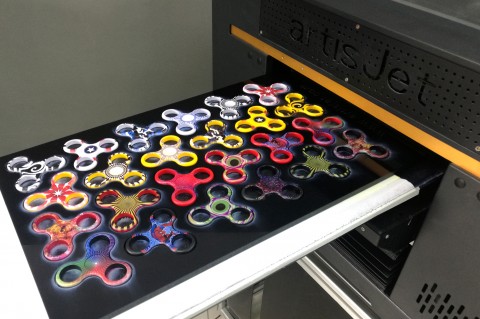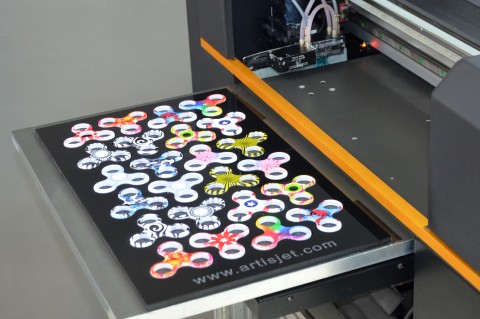 It's your choice how would you like to print. Just make the adjustments with artisJet RIP software and hit print. Demonstrating features of the artisRIP software are made in such a way so you can easily understand how to use it.
WHAT KIND OF DESIGNS CAN BE PRINTED ON FIDGET SPINNERS?
The designs can be printed on the full spinner toy, perfectly covering all of its round edges. The resulted prints are of high quality, with a gradient color output, rainbow color, high precision image printing and anything else you have in mind.
Let's take printing on a white plastic fidget spinner as an example. What you have to do? After making all the settings in artisRIP software, the first step is printing the colors. After the colors have been printed, a layer of varnish printing is required. Besides acting like a protective layer, the varnish printing enhances the printed colors by giving an extra glossy and lustrous look.
You can customize fidget spinners as desired and deliver the designs in the smoothest way with vibrant fun colors for premium look and feel.
Any creative personalized fidget spinners can be printed. If you have any more creative pictures to print or if you want to create unique, custom made funny items for your customers too, artisJet digital LED UV direct printing solution on fidget spinners is a really great and strong idea for personalization businesses and a catchy custom made solutions for customers, as the fidget spinners are so trendy nowadays.
Do we draw your attention? Ask for product quotation and details on fidget spinner printing solution with artisJet at This email address is being protected from spambots. You need JavaScript enabled to view it..
Details

Written by

Alina Sornea

Hits: 2226
WHY YOU SHOULD START YOUR OWN CUSTOM CASES KIOSK BUSINESS?
Starting a kiosk business is an effective idea for a business with little investment and little space, but with high ROI. With artisJet LED UV printers, it's easy to start a kiosk printing business because it gives you the possibility to print on various applications in small spaces.
For example, customized cases and electronic production printed covers are an all popular preference for smartphone and other devices users of all ages. This has triggered the phone case printing business to sparkle as a highly advantageous opportunity.
The consumer finds great value in investing in a protective cover. Statistics show that 9 out of 10 phone users will choose a personalized phone case and cover and for tablet as well. In phone case business, the better the design and durability of the cover, the more it will be demanded. Being able to get a case with any image on it at a competitive price within minutes is quite a value proposition to consumers.
Phone and tablet case printing is widely used and has a great market range in the personalization industry. Add to this, a kiosk business is the best way to approach the customers: the customer doesn't have to deal with long production waits or high shipping costs. They will be happy to get this service for a lower price than online competitors and right away.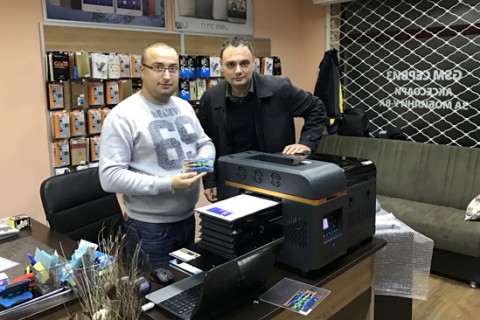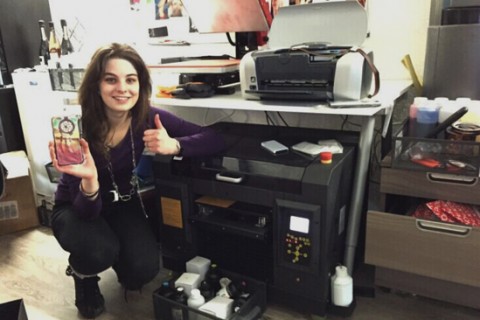 HOW TO START A CUSTOM PHONE CASE KIOSK BUSINESS?
In order for you to create a powerful business by making beautifully designed, durable custom phone cases printed within minutes, artisJet recommends the artis 2100U A4 LED UV printer, which will print not only on phone cases but on various substrates, materials, and applications.
But if your startup idea involves not only printing on phone and tablet cases but also larger items such as wooden or canvas photo frames and wall decorations, artisJet recommends artis 3000U A3+ LED UV printer.
For other applications, both artisJet A4 and A3+ LED UV systems have the ability to print on PVC cards, golf balls, pens, key chains and others, making it ideal for custom gifts items printing, giveaways printing, promotional items printing, office stationery printing etc.
Which LED UV printer to choose for kiosk case printing business? Due to the integrated LED UV lamps which instantly cure ink during printing, both systems are beneficial for printing directly onto phone and tablet case materials such as ABS, polycarbonate, plastics, acrylic, leather, silicone and any other type of case material available on the market.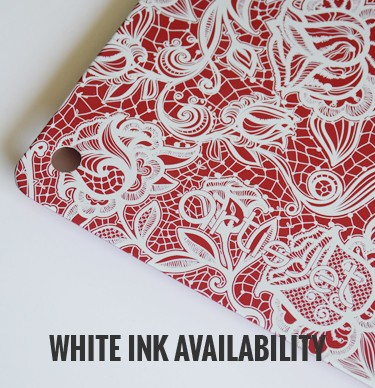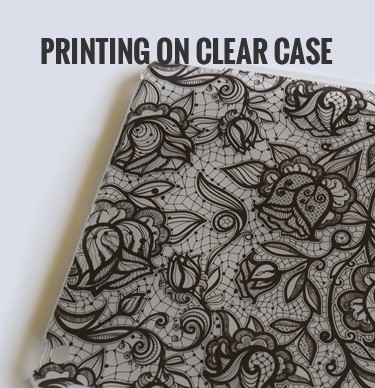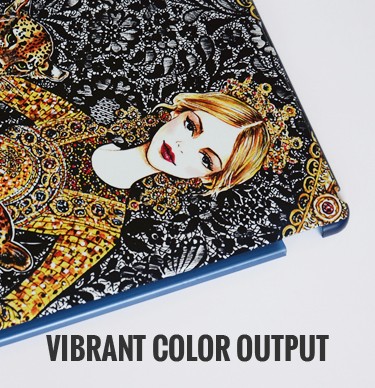 When it comes to choosing the right quality printer for your commercial needs, you can get high performance and speed printing solution at reasonable price range. With a built-in continuous ink supply system (CISS) and 6 ink channels (CMYK + WW) at an effective cost for artis 2100U printer and 8 ink channels (CMYK + WWWW) for artis 3000U, these printers are everything you need to start a phone and tablet case kiosk printing business.
ARTISJET LED UV SYSTEMS' PRINTING CAPABILITIES
In terms of printing capabilities, artis 2100U and artis 3000U LED UV printers, like any other LED UV printers of the artisJet product line, have the advantage of printing RAISED GRAPHICS. This feature has different names on the market: raised graphics, raised colors printing, 3D effect printing, embossed printing, textured printing, tactile color effect, touchable colors and more.
Custom raised printing can be achieved with multiple layers for inkjet height, delivering varnish and glossy print capability and durable 3D character printing, with a letter thickness up to 10 mm. The ink consumption is a virtually non-issue. For example, you can print one plastic phone case with embossed effect within 2.5 minutes (white ink four times and color ink one time). You can print the raised color effect on a plastic tablet case in 5 minutes (white ink six times, color ink one time).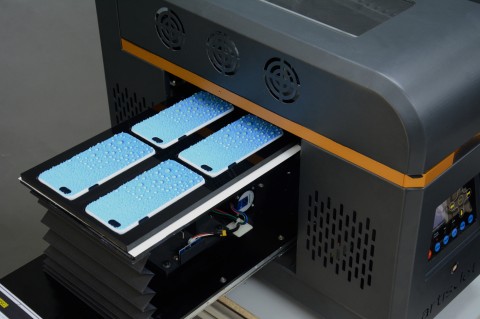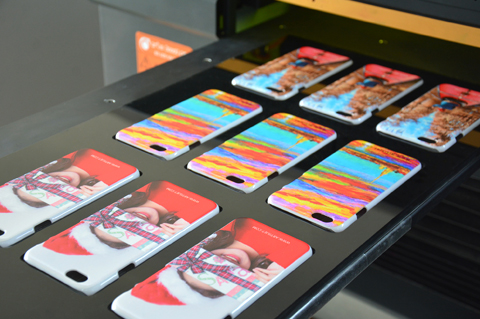 Printing on a white silicone phone case with only color ink it will take just 30 seconds. In order to print a regular leather tablet cover using just color ink, with artis 3000U it will take 1.5 minutes. Take note that you can also print directly on the smartphone itself.
Looking to add clear cell phone cases to your business product line? Some machines only print on hard clear substrates, does not print white ink and the final images are not vibrant. With a high printing resolution, artisJet's 2100U and 3000U are ergonomic versatile printers suitable for both flexible and hard substrates. Moreover, both systems have a white ink channel for printing on dark and transparent materials, which adds quality in order to create genuinely unique products that make a VIABLE BUSINESS.
You can print on any phone case model and brand with an EFFECTIVE COST of 0.016 $ / iPhone 6 case. Supporting any type of files, with artis 2100U you can print 4 iPhone 6 covers in one pass within 3-4 minutes. With artis 3000U you can print 9 iPhone 6 cases in one pass within 6-7 minutes, depending on the artwork complexity.