ArtisJet Blog
Our latest news and activities.
Details

Written by

Alina Sornea

Hits: 1596
About the event. COPI'S – Communication art print image sign is a business to business exhibition for printing and advertising industry in Bulgaria. The 6th edition of the trade show is a 3 day event (2 – 4 October, which will be held at Inter Expo Center in Sofia, Bulgaria.
COPI'S 2017 edition will put on display the latest trends, news, and technologies in several categories: graphic design, advertising, digital printing, publishing, consumables, photography, visual communications, signage, innovative arts, promotional souvenirs and gifts, office stationery, textile printing to more. It is an event from where you have a lot to choose.
artisJet at the trade show. One of the best ways to identify business opportunities is to be part of this kind of industry-oriented events. As usual, artis printers and its technologies will be represented by artisJet's partner in Bulgaria, MRP Trade.
MRP Trade will showcase artisJet's ergonomic servo driven A4 LED UV printer, artis 2100U. In Stand B8 | Hall 2, you will discover a smart printer characterized by simplified operation, increased printing quality and versatile printing capabilities (golf balls printing, small signage printing, Braille printing, 3D embossed effect, varnish print, to more) all combined for a minimal operational cost.
Learn the facts in Stand B8 | Hall 2 | Inter Expo Center | Sofia, Bulgaria. The event is on the roll already, so hurry up to discover more about the best direct to substrate printing products in the upcoming two days.
Here's a bonus: you will have the opportunity to achieve more information about artisJet DTG technology and how to direct print on light or dark textiles with minimum investment yet with bright and lasting color results.
Details

Written by

Alina Sornea

Hits: 1711
Event's background. The International Graphic, Paper and Creative Industry Fair – Grafima, has been present for decades on the list of major European exhibitions. This year, Grafima has reached its 39th edition, gathering various industry professionals from Serbia and the whole world (16 countries, 810 total participants).
More colors mean more life. Under the slogan "More Colors", Grafima presents products, services, technical and technological achievements ranging from graphic industry, packaging and advertising materials to advanced technologies, printers (hardware and software), machine industry and IT equipment.
artisJet at Grafima 2017. With one of its technical support based in Europe (Serbia), artisJet aims to help its customers and future connections to reach the best online and offline product information and to discover the most valuable printing business ideas, directions and solutions.
At the event, you will discover a dedicated team whose key objective is to make a positive difference by providing suitable business solutions and reliable products to be integrated into complex workflows.
Visit artisJet in booth 4010, Belgrade Fair, starting 27 to 30 September. During these 4 days of Grafima fair, artisJet will demonstrate once again the printing capabilities of its eco-friendly LED UV technology, through its re-known LED UV platforms: artis 2100U A4 LED UV printer and artis 3000U A3+ LED UV printer.
But this is not all. You will get insights of how this technology works and understand its capabilities; you will find both small format direct to substrate flatbed printing solutions and high productivity solutions for quantity printing; you will see the high quality output on a multitude of substrates, in any size and shape (wood packaging printing, indoor decorations, personalized phone covers, custom promotional items, pvc cards printing, signage printing etc.) with special effects: Braille production, 3D embossed and textured prints, glossy effect, matte finishes to more.
Join artisJet in Belgrade Fair, Serbia, starting tomorrow, 27 September, in booth 4010. Keep track of the event and updates on artisJet Facebook page event.
Details

Written by

Alina Sornea

Hits: 1574
Throwback. C!Print Madrid 2016 was the third edition of the event, establishing itself as the reference event for both exhibitors or active professionals of the printing industry, and visitors with high interest in personalization businesses, creative print and others.
There was a real growth of 22% of additional exhibitors regarding the 2015 edition, and the numbers speak for themselves, according to event's report.
C!Print Madrid 2017. Tomorrow marks the start of the fourth edition in Madrid, where you will discover a broad range of activities from different exhibitors in all sectors: 3D printing, digital printing, textile printing, printed applications, printing business solutions, consumables, creative design, direct to substrate printing to more.
Direct to substrate printing innovation with artisJet. If you are in a continuous searching for direct to substrate LED UV printing solutions, during the 3 days at C!Print Madrid (26 - 28 September), you will discover simple but full printing solutions to start, develop or enhancing a business for customized items, gifts and on demand printing.
What can you print with artisJet LED UV printers? Visit artisJet's Spanish partners in booth E289 and booth A250, to discover two of the artisJet printing systems that will enhance your workflow: artis 2100U A4 LED UV printer - small in size, but great for printing a large variety of applications; and artis 3000U, the well-known A3+ LED UV production platform with a high definition output on plastics of any thickness due to the anti-static module.
For more information and updates, follow artisJet events page on Facebook and check the exhibition's official website. See you in Madrid!
Details

Written by

Alina Sornea

Hits: 2084
artisJet has recently launched its DTG printers portfolio newcomer, artis 3060T A3+ DTG printer.
artis 3060T stands out not just as a printer for large scale production, but also for those who are looking for ideas to start-up a business, introducing a variety of new opportunities and sales.
artis 3060T is a one-stop business opportunity, offering a ton of ideas for textile printing startups. From brick and mortar stores to shopping mall businesses, everyone can benefit from artis 3060T printing possibilities.
HOW IS ARTIS 3060T DTG PRINTER DIFFERENT FROM COMPETITORS?
Starting from the desktop size and ergonomic design platform till its printing valuable output, artis 3060T printer is part of artisJet's DTG product line. How's that outstanding?
artisJet owns the hottest direct to garment technology in the industry. artisJet's DTG product line is being used by everyone from home based businesses, to retail stores, screen printers, embroiders, all the way to large online and onsite businesses which produce thousands of shirts per day. And artis 3060T A3+ DTG printer makes no exception.
artisJet's new addition can print on both light and dark garments, and various textile substrates such as cushions, towels, jeans, baby clothes, cotton tote bags, cotton socks and many more.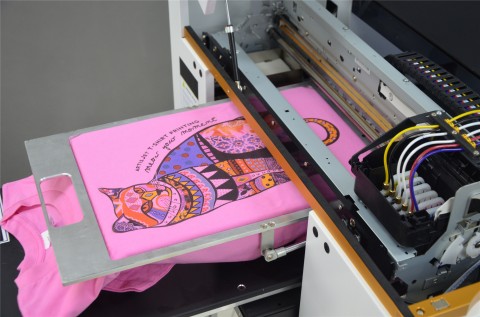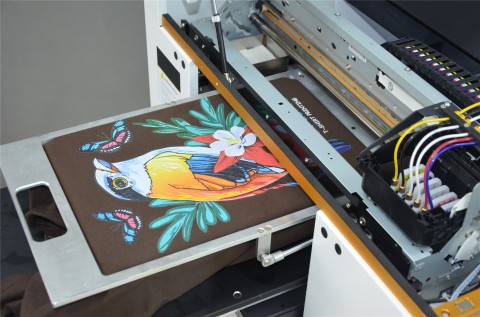 SIMPLY A RELIABLE PRINTER.
On different specialty forums, you can find business owners saying they are continually receiving requests for printed garments, other than T-shirts, but it is a service they do not provide.
artis 3060T is artisJet's digital direct printing solution and recommendation in this direction. It's suitable and reliable when it comes to print on demand with lower costs not just for the business runners, but also for the end consumer. This way you know for sure you will expand your services and increase profits.
SMALL JOBS OR HIGHER PRODUCTION?
With the help of artisRIP software and by setting it up at a 1440 x 720 dpi resolution, 70% color ink limit for a dark color T-shirt, and a 24 x 29.5 cm size artwork, you will have the final result within 12 – 15 minutes print time.
artis 3060T DTG Printer is great for small jobs. With an ink cost of less than 20 cents per shirt (standard print size on light shirts) and speeds of 60 to 80 seconds for a standard size image, you can get great production. You can hook more than one machine to a single computer (optional software) for higher production.
With 6 ink channels and a Refillable Continuous Ink Supply System, artis 3060T opens up volume opportunity, increased sales and loyalty among customers who need customized objects regularly.
Is artis 3060T A3+ direct to garment printer the solution you are looking for? Ask for a product quotation and online support to This email address is being protected from spambots. You need JavaScript enabled to view it..
Details

Written by

Alina Sornea

Hits: 3061
FIDGET SPINNERS – WHAT ARE THEY?
Fidget spinners are small devices that can rotate between the user's fingers. For sure fidget spinners are the hit toy-gadget of the year. These addictive stress-relieving toys spin in your hand for up to two minutes or even more, promising an easy operation with one hand. But that is not what artisJet sees important for these spinning gadgets.
The fidget spinners come in various colors, sizes, and designs. And this is where artisJet comes in action. Why the customers have to buy already customized fidget spinners when they can get a very own personalized spinning toy with the designs they choose?
artisJet launched new ideas on the fidget spinners printing. artisjet LED UV printers are capable of direct printing on any kind of fidget spinners substrates: plastic fidget spinners, metal fidget spinners, and any materials they may be made of. It can print also on the ring fidget, therefore on the whole hand spinner toy.
HOW TO PRINT ON FIDGET SPINNERS?
In order to ensure an easy-to-follow printing process on fidget spinners, artisJet created custom made printing jig that allows printing 24 fidget spinners at one pass within few minutes. The jig can be used for a portrait format printing on artis 3000U A3+ LED UV printer, but at the same it can be used in a landscape format on artis 5000U A2+ LED UV printer.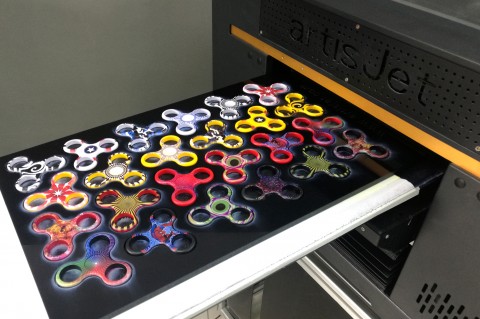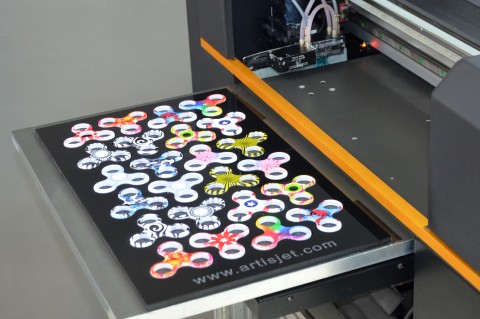 It's your choice how would you like to print. Just make the adjustments with artisJet RIP software and hit print. Demonstrating features of the artisRIP software are made in such a way so you can easily understand how to use it.
WHAT KIND OF DESIGNS CAN BE PRINTED ON FIDGET SPINNERS?
The designs can be printed on the full spinner toy, perfectly covering all of its round edges. The resulted prints are of high quality, with a gradient color output, rainbow color, high precision image printing and anything else you have in mind.
Let's take printing on a white plastic fidget spinner as an example. What you have to do? After making all the settings in artisRIP software, the first step is printing the colors. After the colors have been printed, a layer of varnish printing is required. Besides acting like a protective layer, the varnish printing enhances the printed colors by giving an extra glossy and lustrous look.
You can customize fidget spinners as desired and deliver the designs in the smoothest way with vibrant fun colors for premium look and feel.
Any creative personalized fidget spinners can be printed. If you have any more creative pictures to print or if you want to create unique, custom made funny items for your customers too, artisJet digital LED UV direct printing solution on fidget spinners is a really great and strong idea for personalization businesses and a catchy custom made solutions for customers, as the fidget spinners are so trendy nowadays.
Do we draw your attention? Ask for product quotation and details on fidget spinner printing solution with artisJet at This email address is being protected from spambots. You need JavaScript enabled to view it..
Details

Written by

Alina Sornea

Hits: 4162
WHAT IS ARTISJET ROTARY ATTACHMENT?
The artisJet rotary attachment was already introduced in a previous article. artisJet's cylindrical device is a custom designed attachment for artis BR U1800 A3+ LED UV system, due to the printer's maximum height adjustment up to 170 mm. The rotary device effectively fits the working area and is attached to the printer's flatbed. The cylindrical device ensures printing on a multitude of bottle substrate materials and sizes: aluminum, plastic, metal, glass, opaque, transparent, small bottles or wine bottles, any type of bottle that you need to customize by digital LED UV direct printing.
From a technical point of view, the rotary attachment has a simple design, which makes it easy to handle and user-friendly. What makes the bottle media rotate on the device? The artisJet rotary attachment is made of 3 major parts: silicone rollers (1), distance bars (2), and installation ports (3).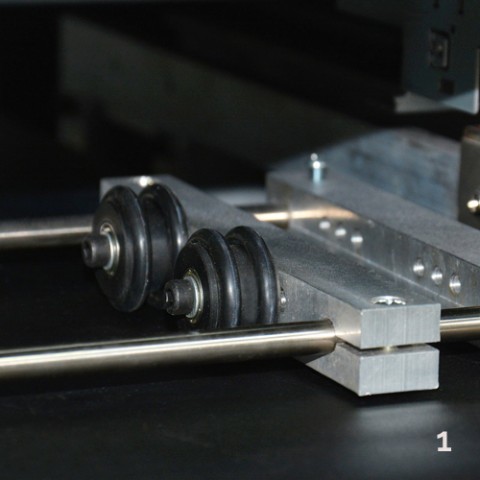 Preparation before printing: print principle and key points.
Print on cylindrical products directly with the rotary attachment by rotating the bottles through fixing the rotary jig on the working table. The print area should be regular subjects and the printing area should be the highest point of the bottle. Install the rotary jig correctly as instructed by artisJet user menu.
HOW TO INSTALL THE ROTARY ATTACHMENT?
There are 4 silicone rollers on the rotary attachment. These silicone rollers are the ones that drive the substrates to be printed through the friction force.
The four silicone rollers are fixed through the screw holes (4). It can be easily adjusted for different positions (5), depending on the bottle diameter. All four silicone rollers shall evenly reach the flatbed and rotate smoothly as the flatbed moves (6).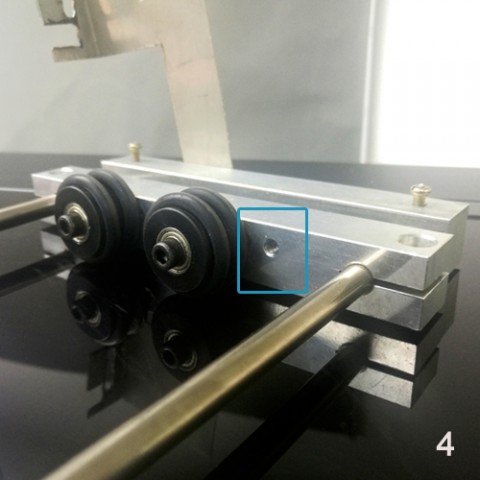 Custom LED UV rotary printing with artis BR U1800 accommodates cylindrical objects with a maximum print bottle diameter of 8 cm (3.15 inches) and a maximum printable bottle length of 32 cm (12.6 inches). Therefore, the distance bar it is for different sizes of bottles and it can be adjusted based on each bottle length for printing on demand: small (7), medium (8) or big (9), up to 32 cm in length.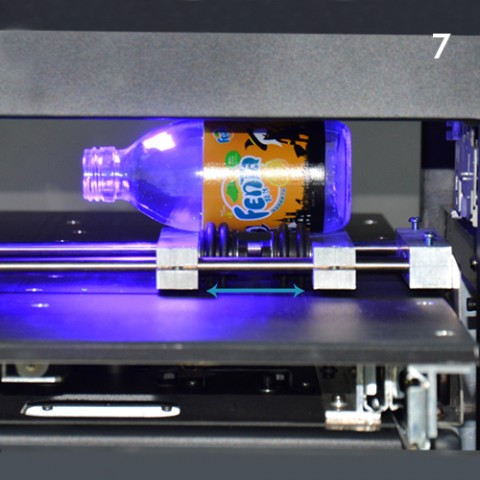 The installation port is applied for the right installation of the rotary attachment. The first step is to adjust the position of the rotary attachment by fixing the four rollers through different screw holes (5). Second step implies moving the printer's flatbed back and forth after fixing the rotary attachment in order to ensure that all four rollers rotate smoothly. If not, the rotary attachment shall be adjusted to ensure this (6).
How to be sure the rotation will be smooth? Put the media on the rollers and ensure the line at the highest point of the media shall be distanced about 5 mm away from the back center line of the ink pump (11). This is necessary to follow in order to avoid ink spray from the print head when printing on the arc of the bottles (10).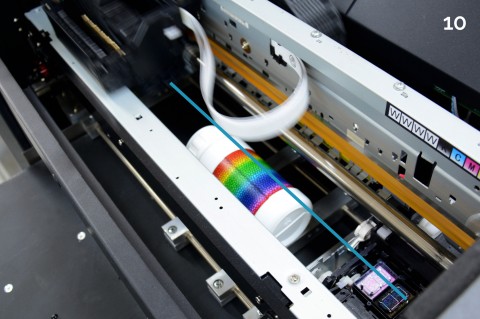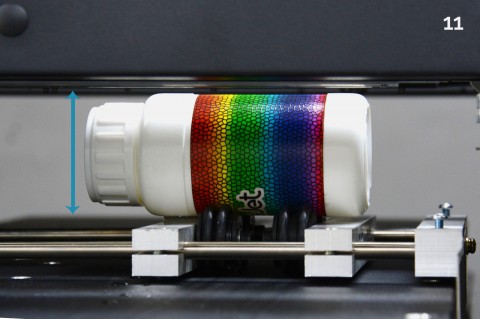 The artisJet rotary attachment is installed. The only thing that needs to be done is to set the software for the design of choice and start the print job of the first bottle with artisJet digital LED UV direct printing solutions.
Watch this video for 360 degree full cylinder printing on small plastic bottle, using the artisJet rotary attachment custom made for artis BR U18700 A3+ LED UV printer.
Details

Written by

Alina Sornea

Hits: 5438
On the market, there is an increasingly demand for printing cylindrical objects. The ability to print on round and cylindrical objects such as bottles eliminates the need for labels and this can give customers more creative license on packaging graphics and copy, for example.
WHAT'S THE BENEFIT OF DIRECT PRINTING ON CYLINDRICAL OBJECTS?
Not only packaging and labeling industry but also gifts and promotional items, are some of the market forces that require the possibility of printing on cylindrical products, in terms of mass customization, graphics changes and more. The ability to print on cylindrical applications combined to LED UV technology dramatically reduces the workflow process and keeps a turnaround times short. Add to this, the quality printing results within minutes with a high-end and vivid color output.
That is why artisJet took the time to create an effective cylindrical device in terms of settings and functions, user-friendly and intuitive operational convenience. It's easy to install and operate.
Moreover, the artisJet digital direct LED UV rotary printing successfully replaces the multi-pass silk-screening or offset applications.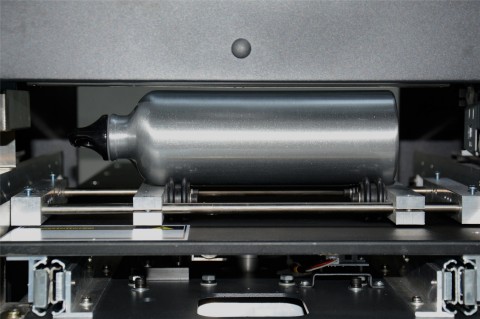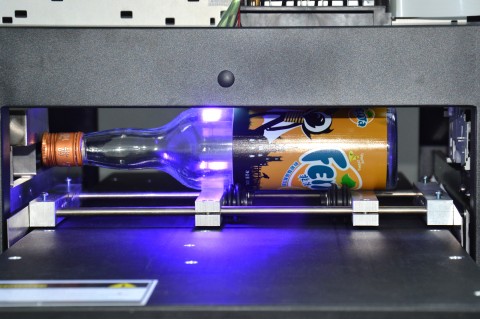 WHAT ARE ARTISJET'S ROTARY PRINTING SPECIFICATIONS?
artisJet's cylindrical device is a custom designed attachment for the artis BR U1800 A3+ LED UV system, due to the printer's maximum height adjustment up to 170 mm. The rotary device effectively fits the working area and is attached to the printer's flatbed.
artisJet's rotary device can direct print on cylindrical objects with a full end to end 360 degree spin of the cylindrical product. This way, you can maximize your media surface by printing the entire circumference of it.
WHAT TYPE OF GRAPHIC FORMAT IS REQUIRED FOR ARTISJET ROTARY PRINTING?
Custom LED UV rotary printing with artis BR U1800 accommodates cylindrical objects with a maximum print bottle diameter of 8 cm (3.15 inches) and a maximum printable bottle length of 32 cm (12.6 inches). Add to the rotary print parameters, the number of prints is one bottle at a time, using artisJet's software, artisRIP V9.0, which allows adjusting the graphics and images to perfectly fit the bottle object and to shape your printing needs. With artisRIP V9.0 software you can print any graphic format, from Ai files, PS files, jpeg files, png files to more. You import the graphics / image/ artwork / design to artisJet software, adjust them as you wish so you can get the best printing results to impress the customers. Another feature of the cylindrical device is the possibility to print white and color prints simultaneously.
WHAT OPTIONS ARE AVAILABLE?
What can you print with artisJet printing solution for cylindrical items? You can print a diverse range of bottle substrates such as: plastic bottle printing, PET bottle printing, metallic bottle printing, aluminum bottle printing, stainless steel bottle printing, glass bottle printing, and any other bottle material that has a cylindrical and rounded shape. After setting all the printing options according to the printing needs, just manually place the cylindrical bottle on the artisJet device and press print.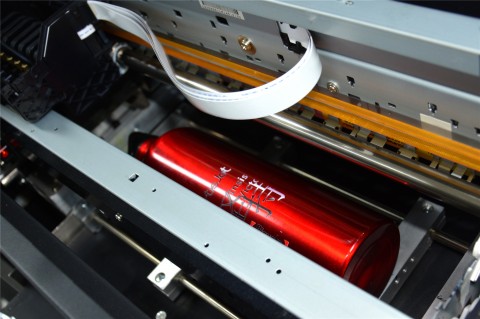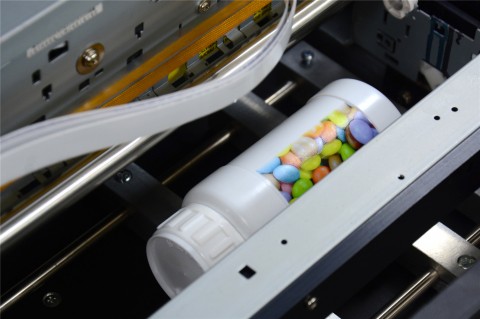 artisJet LED UV printer's custom cylindrical attachment is the perfect jig for perfect cylindrical printing results. Choose from a large variety of ideas: custom drink ware printing, custom metal water bottles printing, aluminum bike bottles printing, metallic sports bottles printing, aluminum cans printing, wedding glass bottles printing, wine bottles printing, gift bottles printing, candy bottles printing and any other form of bottles and bottled ideas within few minutes. Easy to load and unload system artisJet rotary device becomes a flexible tool that will adjust to your needs.
artisJet digital printing on cylindrical and round objects such as bottles gives you UNLIMITED substrate color choices both white and full color prints on all colors. With the rotary device, artis BR U1800 gets an upgrade and becomes a bottle printing machine, a bottle printer, a LED UV printer for cylindrical objects.
Ask for artis BR U1800's custom rotary device by e-mail to This email address is being protected from spambots. You need JavaScript enabled to view it. and enhance the printing capabilities of your business.
Details

Written by

Alina Sornea

Hits: 1576
About Project Lebanon. Project Lebanon is the main event of its kind in the region, bringing together industry leaders from around the world. The event will allow face-to-face networking opportunities and also to explore new business opportunities.
Project Lebanon 2017 is the 22nd International Trade Exhibition for Construction Materials and Equipment for Lebanon and the Middle East. The event gathers numerous exhibits profiles, from building materials (wood products, wall covering, false ceilings, glass, interior design and more) to Plumbing, Stone Technology and Equipment and Transportation.
This year's edition will be held in Beirut International Exhibition and Leisure Center (BIEL), starting from 16 to 19 May 2017.
artisJet digital printing solutions at Project Lebanon 2017. Although the event's main focus are the building materials, there is also an IT/Computer Systems/Printing profile.
At this year's event, artisJet is represented by its Lebanese partner, BookStop. They will display artisJet's A3+ LED UV platform, artis 3000U.
BookStop is a leader in high end product distribution, being ranked among the best printing service provider in Lebanon. artisJet and BookStop will showcase a wide range of applications printed by artis 3000U LED UV printer, from wood printing, signage printing to many more.
Discover the benefits of artisJet digital LED UV printing solutions with BookStop in Booth No. F38 at Project Lebanon 2017.
Follow our Facebook page for more details about the event. Also, visit the official website of Project Lebanon for venue information and news.
Details

Written by

Alina Sornea

Hits: 1847
About China PRINT. China PRINT is top of the international printing exhibitions in Asia and is being held every four years. This year's event has set 6 exhibition halls covering various hot issues of the printing market for both professional buyers and exhibitors: digital printing, label printing, packaging printing, printing equipment and consumables to more.
China PRINT 2017 is an international large scale fair tailored for both home and abroad prestigious enterprises with focus on traditional offset printing, digital printing, packaging printing and others.
The 9th Beijing International Printing Technology Exhibition will be held in New China International Exhibition Center (NCIEC), starting from 9 to 13 May 2017.
artisJet digital printing solutions at China PRINT 2017. At this year's event, artisJet will display its A3+ LED UV platform, artis 3000U. Since one of the event's main focuses is digital printing, artisJet will showcase different applications that will be printed with artis 3000U: packaging printing (wood packaging printing, cardboard packaging printing, metal packaging printing etc.), VDP and RFID printing solutions to giveaways and promotional items personalization: protective phone cases and covers, tablet covers, promotional pen printing etc.
Discover artisJet digital LED UV printing solutions in Booth No. E6-054 at China PRINT 2017, where we will be demonstrating the workflow of the personalization process by printing on various applications with artis 3000U A3+ LED UV printer.
Follow our event Facebook page for more details about artisJet presence in China PRINT 2017.
Details

Written by

Alina Sornea

Hits: 2737
WHY YOU SHOULD START YOUR OWN CUSTOM CASES KIOSK BUSINESS?
Starting a kiosk business is an effective idea for a business with little investment and little space, but with high ROI. With artisJet LED UV printers, it's easy to start a kiosk printing business because it gives you the possibility to print on various applications in small spaces.
For example, customized cases and electronic production printed covers are an all popular preference for smartphone and other devices users of all ages. This has triggered the phone case printing business to sparkle as a highly advantageous opportunity.
The consumer finds great value in investing in a protective cover. Statistics show that 9 out of 10 phone users will choose a personalized phone case and cover and for tablet as well. In phone case business, the better the design and durability of the cover, the more it will be demanded. Being able to get a case with any image on it at a competitive price within minutes is quite a value proposition to consumers.
Phone and tablet case printing is widely used and has a great market range in the personalization industry. Add to this, a kiosk business is the best way to approach the customers: the customer doesn't have to deal with long production waits or high shipping costs. They will be happy to get this service for a lower price than online competitors and right away.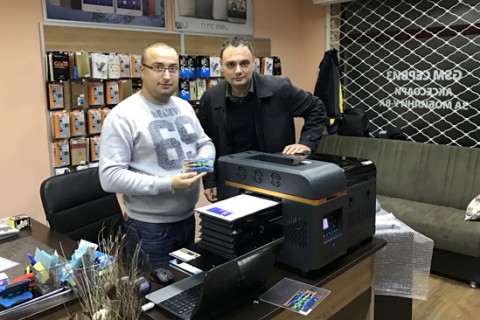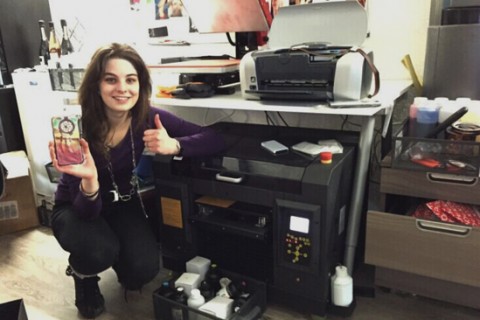 HOW TO START A CUSTOM PHONE CASE KIOSK BUSINESS?
In order for you to create a powerful business by making beautifully designed, durable custom phone cases printed within minutes, artisJet recommends the artis 2100U A4 LED UV printer, which will print not only on phone cases but on various substrates, materials, and applications.
But if your startup idea involves not only printing on phone and tablet cases but also larger items such as wooden or canvas photo frames and wall decorations, artisJet recommends artis 3000U A3+ LED UV printer.
For other applications, both artisJet A4 and A3+ LED UV systems have the ability to print on PVC cards, golf balls, pens, key chains and others, making it ideal for custom gifts items printing, giveaways printing, promotional items printing, office stationery printing etc.
Which LED UV printer to choose for kiosk case printing business? Due to the integrated LED UV lamps which instantly cure ink during printing, both systems are beneficial for printing directly onto phone and tablet case materials such as ABS, polycarbonate, plastics, acrylic, leather, silicone and any other type of case material available on the market.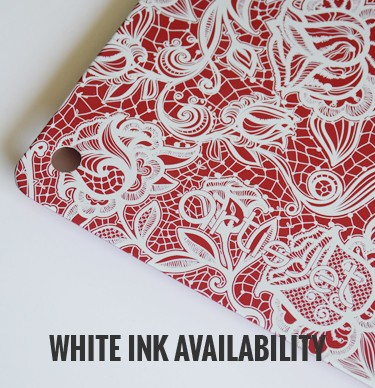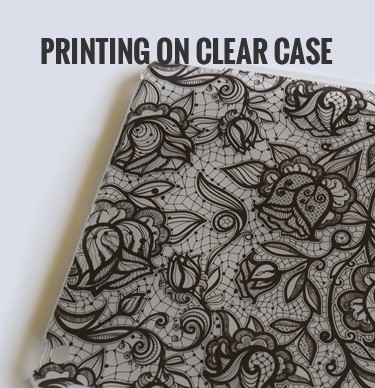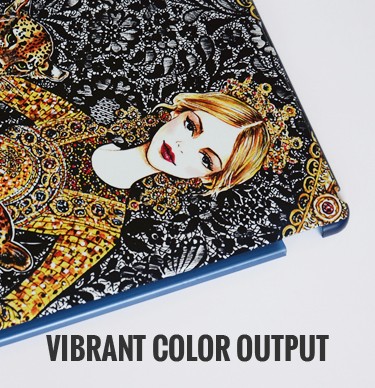 When it comes to choosing the right quality printer for your commercial needs, you can get high performance and speed printing solution at reasonable price range. With a built-in continuous ink supply system (CISS) and 6 ink channels (CMYK + WW) at an effective cost for artis 2100U printer and 8 ink channels (CMYK + WWWW) for artis 3000U, these printers are everything you need to start a phone and tablet case kiosk printing business.
ARTISJET LED UV SYSTEMS' PRINTING CAPABILITIES
In terms of printing capabilities, artis 2100U and artis 3000U LED UV printers, like any other LED UV printers of the artisJet product line, have the advantage of printing RAISED GRAPHICS. This feature has different names on the market: raised graphics, raised colors printing, 3D effect printing, embossed printing, textured printing, tactile color effect, touchable colors and more.
Custom raised printing can be achieved with multiple layers for inkjet height, delivering varnish and glossy print capability and durable 3D character printing, with a letter thickness up to 10 mm. The ink consumption is a virtually non-issue. For example, you can print one plastic phone case with embossed effect within 2.5 minutes (white ink four times and color ink one time). You can print the raised color effect on a plastic tablet case in 5 minutes (white ink six times, color ink one time).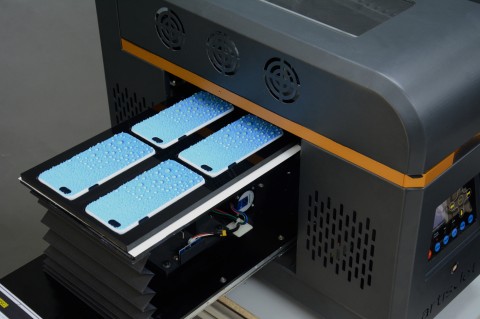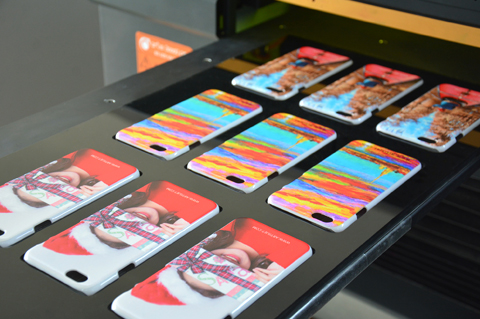 Printing on a white silicone phone case with only color ink it will take just 30 seconds. In order to print a regular leather tablet cover using just color ink, with artis 3000U it will take 1.5 minutes. Take note that you can also print directly on the smartphone itself.
Looking to add clear cell phone cases to your business product line? Some machines only print on hard clear substrates, does not print white ink and the final images are not vibrant. With a high printing resolution, artisJet's 2100U and 3000U are ergonomic versatile printers suitable for both flexible and hard substrates. Moreover, both systems have a white ink channel for printing on dark and transparent materials, which adds quality in order to create genuinely unique products that make a VIABLE BUSINESS.
You can print on any phone case model and brand with an EFFECTIVE COST of 0.016 $ / iPhone 6 case. Supporting any type of files, with artis 2100U you can print 4 iPhone 6 covers in one pass within 3-4 minutes. With artis 3000U you can print 9 iPhone 6 cases in one pass within 6-7 minutes, depending on the artwork complexity.