ArtisJet Blog
Our latest news and activities.
Details

Written by

Alina Sornea

Hits: 1891

Get to know the fair. Sign & Print Scandinavia fair has become the meeting place for both production chains and design and marketing end users within the sign and print industry in the Northern Europe.
The fair in Sweden was the right place for those who work in a printing workshop and in the graphic design and marketing departments within advertising agencies, by bringing the latest innovation and updates of digital printing machines, high speed ink, digital packaging production, 3D technology, textile and direct to garment printing, label printing, latest design and marketing materials, trends and techniques.
The Scandinavian fair also targeted those who activate in the sign industry, from large format printing to digital signage, sign decoration and other different signage systems.
The Sign & Print Scandinavia 2019 edition took place from 5th to 7th February 2019 in Kistamässan, Stockholm, one of the Sweden's most central meeting places for trade fairs, events and business opportunities.
artisJet Direct Print Systems at the event. Situated in Stand G:22, artisJet's A3+ LED UV printer and related printing solutions were showcased by Absurd Ideas AB, the Swedish distributor with extensive knowledge in different types of specialty printers, accessories and consumables (printers for color labels, UV printers, card printers, DTG printers, heat presses etc.).
The main artisJet platform displayed within the trade fair was artis 3000U A3+ LED UV printer along with a series of printed sample applications: personalized lighters, custom lighters packaging, printed aluminum boxes, tablet protective covers and others. Although it was not showcased in the booth, the visitors have shown a high interest in artis 5000U A2+ LED UV production platform, and purchase intent.
Stay connected to artisJet for upcoming news and events. Follow us on social media: artisJet Solutions, artisjet Technology, and artisJet America Facebook pages, Instagram, Twitter, and discover the wide range of printing solutions and printed samples on Pinterest and Flickr accounts.
Subscribe to artisJet YouTube channel for printing solutions videos, learn how to use artisJet software for different printing effects, discover video testimonials and maintenance video support to much more.
Details

Written by

Alina Sornea

Hits: 2179
Event overview. PROMOGIFT – the International Trade Fair for Promotional Gifts and Personalization Equipment, it's a unique event in its sector within the Iberian market (Spain and Portugal).
It is a place where market players from around the world can initiate and benefit from a valuable database with new contacts which could lead to further sales. Promogift Madrid is one of the most important trade fairs not just in Europe, but among worldwide trade fair for promotional items, promotional products of all kinds and especially promotional gifts for corporations, for business-to-business players.
The event starts on 15 January and it will end on 17 January. During these 3 days in Feria de Madrid (IFEMA), both exhibitors and visitors will have the opportunity to gain an overview of all the specialized products and services offered within the market, to discover the latest trends in Spain and abroad, to build up a working network, to secure sales and strengthen trade links with current suppliers and personalization equipment manufacturers.
artis 2100U – the perfect LED UV system for promotional gifts. At the 2019 Promogift edition, artisJet and its Spanish partner in Barcelona, Bomedia SL, offers specialized products and services directly at the fair. You will get an overview of the technical specifications of artisJet's A4 ergonomic LED UV printer, as well as a printing demonstration on various applications and products, suitable for promotional purposes and promotional gifts: golf balls printing, customized phone cases, direct printing on pens, drink coasters, PVC cards, business cards, variable data printing cards and anything else you can think of.
If you have already registered to Promogift Madrid 2019 event in Spain, than make sure to visit Bomedia and artisJet printer in Stand 12-07, Hall 12 | Feria de Madrid.
Remember: 15 – 17 January 2019 | Stand 12-07, Hall 12 | Feria de Madrid, Spain.
Details

Written by

Alina Sornea

Hits: 2050
About the event. PSI stands for Promotional Product Service Institute. PSI is a professional network founded in 1960, which became the organizer and voice of the European promotional products industry. This way was created the PSI – the Leading European Trade Show of the Promotional Products Industry.
Dedicated to the introduction of a quality standard for promotional products distributors in Europe, the fair takes place once a year in Messe Düsseldorf, Germany.
After the success of PSI 2018, with more than 58% of visitors outside from Germany and a total of 925 exhibitors, the 2019 PSI edition will bring together all the important market players from across Europe and from overseas in one place.
PSI 2019 is an excellent comprehensive platform where, during the 3 days event, you'll get valuable insights into the promotional products markets and be part of product innovations, industry trends, create new business contact, networking and more.
Fabways to showcase artisJet UV LED printers. One of the important players on the European market is represented by one of artisJet partners within the old continent: Fabways by MQ Europe. This time, the Fabways team will display A4, A3+ and A2+ printers from artisJet UV LED systems' portfolio. You'll get a closer look on how to benefit from artisJet ergonomic UV LED printers to expand your digital store, print shop, printing store, gift shop etc.
Whether you choose the artis 2100U A4 LED UV printer, artis 3000U A3+ LED UV printer or the artis 5000U A2+ LED UV printer, during the PSI Düsseldorf 2019 trade show you'll learn how easy is the on demand printing for creating custom corporate gift items, promotional items of all kinds (direct to pen printing, acrylic key chains printing, print on leather notebooks, CD printing, logo printing, promotional branding items, marketing products to much more).
If you have already registered to PSI Düsseldorf 2019 event in Germany, then make sure to visit Fabways and artisJet printers in Stand L46, Hall 11 | Messe Düsseldorf.
You'll have 3 days to make valuable B2B connections, to explore all the printing possibilities.
Remember: 8 – 10 January 2019 | Stand L46, Hall 11 | Messe Dusseldorf, Germany.
Details

Written by

Alina Sornea

Hits: 2763
Customized printed items refer not only to a specific business or customers. The print-on-demand products are ideal for different merchants and brands that are looking to create unique items with different designs to sell it to their customers.
CHRISTMAS GIFTS PRINTING APPLICATIONS IDEAS
Christmas cardboard round flower boxes. Nowadays, the flower boxes and flower bouquet boxes are definitely a trend, replacing the wrapping paper: cylindrical flower box, cardboard round flower boxes, square flower packaging, cardboard boxes of all shapes and sizes.
Imagine that a flower delivery shop can create not only a unique flower bouquet upon customers' requirements, but a complete and impressive personalized full product. How, you might ask? Apart from adding their own logo brand to the flower box, it can be also added the client's personal message towards their loved ones. This message can be a direct printed text on the box cap, a full image printing, creative graphic designs and complex illustrations. To this it adds the traditional flower card messages, displayed in a more attractive way by making use of different printing effects: 3D embossed effect, tactile prints, Spot UV LED Varnish ink printing for glossy and smooth print finishes, matte effects, white ink printing, and combinations of these effects for the ultimate product customized on all levels.
Solution. artisJet ensures you to get the very best guidance for packaging innovations that support key business objectives.
Designed by the idea of simple operation, artis 5000U A2+ LED UV printer is suitable for direct printing on packaging products, such as flower boxes and box or gift caps of all kinds of sizes and shapes. Although perfect for quantity printing and larger items, it also enables easy printing on box caps with up to 100 mm height. Multiple box caps can be printed in one pass due to the 51 by 71 cm printing area.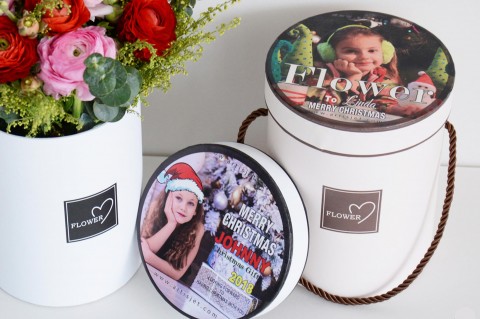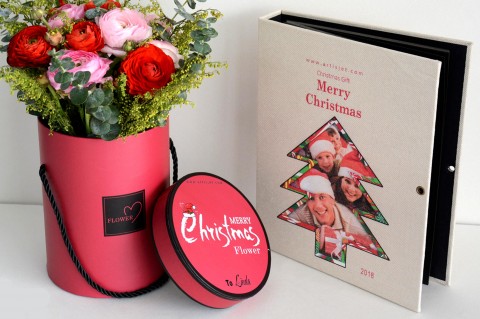 CHRISTMAS PACKAGING PRINT SOLUTIONS FOR SWEETS STORES
Custom chocolate boxes. Personalized Christmas boxes, Christmas gifts and Christmas packaging are used for a variety of applications, including chocolate boxes, candy boxes, cookie boxes, and packaging for sweets shops, gift shops and more.
Moreover, these stores may impress their customers by giving them the option to customize not only the chocolate product itself, but also allowing them to create one of a kind gift. Chocolate stores can meet on demand unique personalized chocolate orders comprising printed Christmas messages, Christmas favorite quotes or Christmas custom artwork, Christmas design and wintery landscape or personal photo images.
Custom chocolate boxes can come in a variety of shapes and materials: tin boxes, plastic boxes, hessian boxes, canvas box tops, kraft paper boxes or cardboard packaging etc.
Solution. To support this idea, candy stores, confectionery stores, chocolatiers or bakeries can customize their own packaging boxes for special occasions or holidays by in-store printing and in-house customization. How? This can be acquired by purchasing their direct printer for continuous activity and personalized production.
artis 5000U UV LED system will help the confectionery stores to create sophisticated designs, gifts and personalized products that will be highly appreciated by their customers. Add to this, although with a large printing area, the A2+ tabletop printer has the perfect size which makes it suitable for small working environments. The inks are environmentally friendly, while the built-in air purification systems ensure a clean and safe working environment.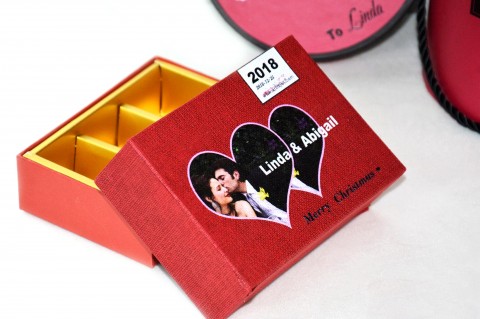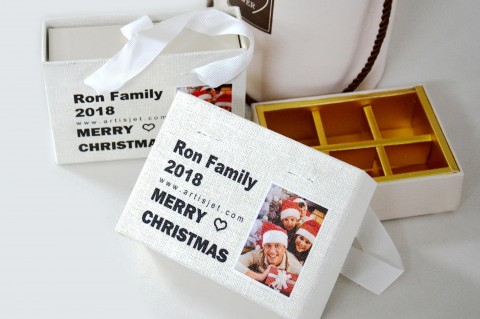 WINE BOTTLES PERSONALIZATION AND ROTARY PRINTING SOLUTIONS
Personalized Christmas wine bottles and custom wood bottle stands. Design your own personalized custom wine bottles, wine gifts, wine custom labels and bottle packaging. The custom bottle printing solution addresses to a wide range of industry professionals: from wine producers who can perfect their logo brand and create unique labels for every type of wine or limited wine editions, to print shops that can expand their printing expertise and print solutions and print offers towards customers, companies that look to create Christmas corporate gifts for their employees and many others.
Solution. This year, artisJet launched the ROT 360 degrees rotary device for cylindrical printing. The rotary attachment was developed upon customers' requests and demand for bottle printing solutions. This way, the artis 5000U UV LED platform becomes a rotary printing machine, which accommodates cylindrical objects and bottles with a maximum print bottle diameter of 7.6 cm and a minimum print diameter of 5.7 cm.
The 360 degrees LED UV printing technology eliminates the need for paper labels, allowing the direct printing of complex designs, images, brand logos or simple text. Turn the flatbed printer into a rotary printer within minutes and create personalized drink ware, custom wine bottles, and special Christmas gifts. Print on bottles perfectly jointed prints, with no breaks, seams or overlaps. This is what makes artis 5000U printer a full solution for businesses, empowered by artisJet's user-friendly and easy operational Print Manager and artisRIP V9.0 software and upgrades.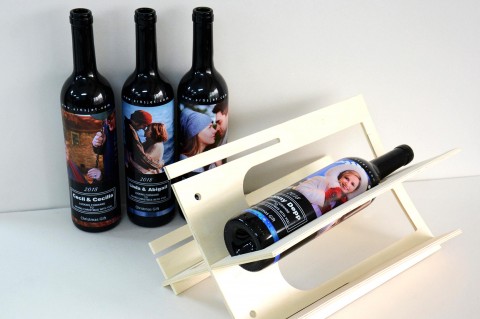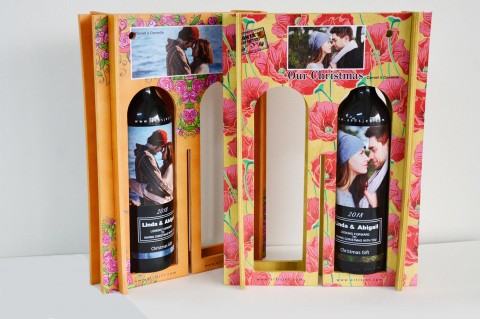 Details

Written by

Alina Sornea

Hits: 2507
PRINT SHOPS AND ONLINE CUSTOM CHRISTMAS GIFT SHOPPING
Christmas is one of the busiest holidays time during the year. Everyone is looking for that perfect, unique gift to impress their friends, families and loved ones. That is why most customers take by storm not only the printing stores, but mostly the online print shops.
Why the online print shops? Because this online business type comes in hand for the customers always on the rush. A well-developed online printing business ensures all the means for a neat personalized product and user-friendly ordering process.
This can be achieved by providing a wide range of artwork libraries, digital designs collections, easy-to-personalize unique designs by making templates available, as well as fonts, image upload availability to much more. All these contribute to the best customer online experience. Ordering is fast and easy, and the customers can order just the amount they need.
As a print shop and online printing business, you have to continuously look to improve the customer experience.
By aiming to simplify the direct color output onto all types of products, artisJet direct to substrate printing solutions come in hand not just for direct customers on demand personalized products, but also helping businesses to reach the best online and offline experience, to discover the most valuable printing business ideas, directions and solutions.
artisJet understands that each business is unique. That is the reason that artisJet aims to fulfill your requirements and needs by creating full personalized solutions.
ARTISJET CHRISTMAS PRINTING SOLUTIONS AND IDEAS
Custom CD and DVD printing for Christmas. From CD printing (compact discs printing), DVD printing, to vinyl record discs printing and its packaging, capture not only the special video memories or songs album music collections that were recorded on the disc, but also personalize all of it for visual communication purpose, to showcase the custom Christmas message. Turn the CD or DVD itself into a unique custom greeting card.
artisJet LED UV platforms ensure direct full edge-to-edge color artwork printing over the entire area of the disc, CD, DVD or vinyl record. You can print directly on light color discs, or benefit from white ink availability to print on dark colored discs and achieve the bright and sharp CMYK color printing of the image / artwork / label.
Want outstanding print effects? The printing is permanent due to the high quality instant-curing UV LED inks. The multiple layer white ink printing will give depth to the prints due to 3D embossed raised effect. Extra print effect is achieved by the varnish ink on demand availability which ensures a glitter and shine effect.
Add to this, for a complete CD / DVD printing solution, customize the CD cases, DVD and vinyl disc covers as well. Direct print and personalize vinyl cardboard packaging, DVD plastic covers or CD hard covers, DVD packaging, CD packaging for music production, music marketing, music albums, games industry (custom CD game covers), or wedding custom CD gifts to much more.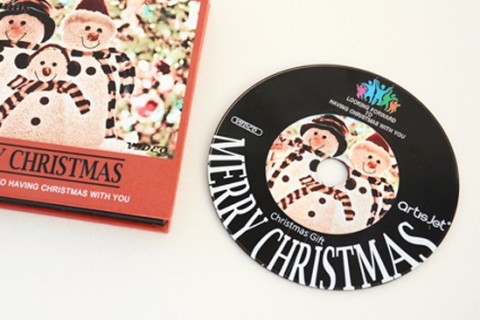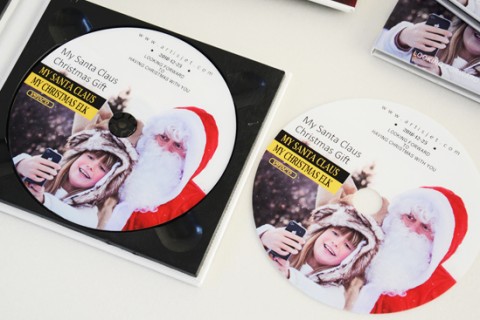 Greeting cards printing. It's time for season's greetings, when everyone wants to send a personal Christmas card. Custom Christmas cards can come in all shapes, sizes and substrate type.
artis 5000U A2+ LED UV printer is just the solution to meet the cards printing production process: from cards design, to cards templates, cards printing jig support for perfect fix and cards artwork match. Direct print on custom Christmas PVC cards, season's greeting custom cards, Christmas gift cards, Christmas voucher cards, Christmas shopping cards and any other idea you might have to make your printing business stand out. Personalized cards can be a unique gift idea for a company's employees. Add the personalized Christmas cards to the Christmas party gifts.
Christmas luggage travel tags. Almost all kind of items can become a special Christmas gift, even a simple luggage name tag. Transform a boring plastic loop luggage tag into a creative Christmas gift for those who enjoy travelling. artis 5000U LED UV printer gives the possibility to print multiple tags in one pass, with different designs, even on aluminum luggage tags (full image printing on custom travel tags). It's a time-saving solution which ensures a fluid production workflow. And time is very important during Christmas holidays, when customers want to get their orders on time.
Christmas tree decorations. Christmas ornaments don't have to be just glass or plastic globes. Give your customers the chance to be unique by direct printing on flat wooden decorations for Christmas. It can stand as Christmas greeting cards too, with photo print or custom messages on tree-shaped wooden decorations, round-shaped ornaments, Christmas photo gift decorations, custom LED UV Christmas decorations etc. The options are endless.
Details

Written by

Alina Sornea

Hits: 1974
The FESPA Berlin was a great tradeshow experience, turned into one of the most effective tools to directly meet qualified buyers, distributors, and decision-makers.
Event overview. FESPA Berlin 2018 edition brought together over 700 exhibitors from different areas: screen printing, textile printing, digital printing, interior décor, signage solutions, packaging and display.
During the 3 days event, our team welcomed more than 500 visitors, from all over Europe (Italy, Greece, Croatia, Romania, Macedonia, Slovakia, Serbia, Hungary, France, Switzerland, UK, Estonia, Germany), but also from the United States and Middle East as well (Israel, Dubai etc.).
artisJet team handed over more than 650 direct printed catalogs, and 200 on-site direct printed "thank you" cards customized for this event, printed with the re-known artis 5000U A2+ LED UV printer for quantity printing customization.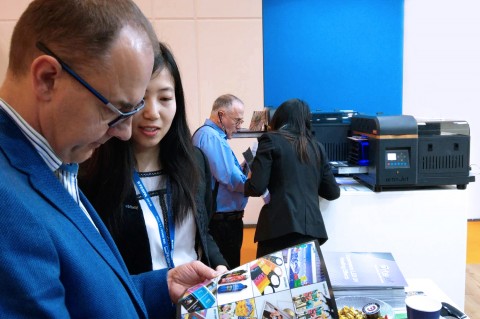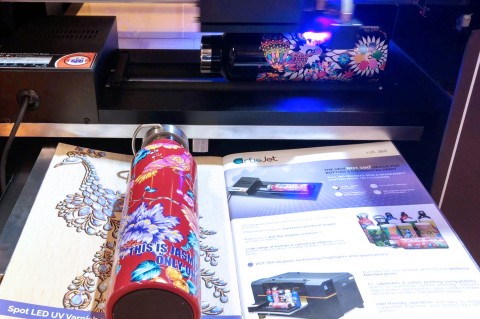 Visitors' interests in digital printing solutions. According to the event's registration data, 44% of all visitors have shown a high interest in digital printing industry (textile printing, garment printing, personalization printing etc.).
When it comes to direct to substrate printing, most visitors (end-users to decision-makers) have shown a keen interest for promotional items customization. Whether is about corporate items such as business cards, vouchers for employees, personalized agendas, pen printing, or any other corporate gift, they know there is high value in digital printing platforms.
Personalization industry trends short view.
• Braille printing mainly for developed countries, where the Braille signage is a must;
• Rotary printing solutions for wedding gifts, personalized candles and customized bottles etc.;
• Spot LED UV varnish for wedding pictures and some high level of art.
The industry is developing into small quantity but much higher value products, while the digital printing technologies are coming to the people's daily life personal care products (customized shampoo bottles, hand cream tubes etc.) and cosmetics packaging (lipstick tubes customization, personalized make up containers etc.).
Our participation was successful, as FESPA is always a fruitful event for everyone: meet quality visitors and medium to big industry exhibitors.
We look forward to the next FESPA Global Print Expo 2019 edition which will take place at Messe Munich, Germany, from 14 to 17 May 2019.
Details

Written by

Alina Sornea

Hits: 1819
About C!Print Madrid 2018. After the success of 2017 edition in Madrid, now is time for the fifth edition, a consolidation time for the C!Print Madrid event. This year's event will take place starting from 25 to 27 September 2018, at Casa de Campo, Pabellon de Cristal, Madrid, Spain.
These 3 days of C!Print Madrid translate into bringing together all sectors in the market of visual communication as well as the new players from relevant markets such as designers (retail design, interior design, graphic design, promotional garments and gifts), decorators (fast furniture, interior decorations), photographers, branding, retails marketing to many more.
Add to this, one of the main challenges of the event is to showcase the new technologies through new related applications, from the latest technological innovations, mainly in the digital area.
artisJet in C!Print Madrid. This is the third year when artisJet is being part of C!Print Madrid. The artisJet LED UV printers and direct to substrate printing solutions will be showcased, once again, by our distributor, artisJet Espana – Abitec Tecnologia, in Stand E257, top floor in the Glass Pavilion.
What you'll discover in Stand E257? Explore artisJet LED UV platforms: from artis 2100U A4 LED UV ergonomic printer to artis 3000U A3+ LED UV printer and artis 5000U A2+ LED UV printer for quantity printing.
During the 3 days show, discover the full potential of direct to substrate printing solutions as startup business ideas or as an additional feature to your existing business: personalized promotional items for marketing purposes, corporate gifts, cosmetics printing on demand, leather customization with LED UV technology, bottle printing with ROT 360 cylindrical attachment.
In addition, discover the innovations and improvements in printing with artis 5000U LED UV printer: rotary printing availability and spot LED UV varnish printing for outstanding printing effects.
Moreover, discover the printing jigs availability for all printers, ensuring a perfect workflow for a wide range of applications: on demand custom jigs for lipstick tubes, fixtures for golf balls printing, phone case printing jigs, beauty products customization jigs (eye shadow and face powder containers, mascara tubes, face cream bottle caps etc.). The variety is conducted by imagination.
Visit Stand E257 in C!Print Madrid and discover artisJet's latest innovations in LED UV technology and all the solutions that will meet your printing requirements. Free up your imagination!
Remember: Stand E257 | 26 – 27 September 2018 | Casa de Campo, Pabellon de Cristal. See you in Madrid!
Find artisJet's event page on Facebook, Twitter, Instagram, Pinterest, Google+, Flickr, and YouTube and stay connected for upcoming news and details.
Like, follow and join us online to make sure you stay updated with the latest news on artisJet printers, direct to substrate printing solutions, technology and personalization ideas.
Details

Written by

Alina Sornea

Hits: 2937
UNDERSTANDING DTG PRINTING
As the name suggests, Direct to Garment Printing, also known as DTG printing, digital direct to garment printing, is a process of printing on textiles and garments using specialized or modified inkjet technology. The two key requirements of a DTG printer are a transport mechanism of the garment and specialty inks that are applied to the textile directly and are absorbed by the fibers. DTG uses specialty water-based inks, which are absorbed by the fibers of the garment.
Know the Garment Printing techniques. Which garment printing method is better? What to compare. DTG printing versus screen printing, DTG printing versus heat transfer printing etc.? When it comes to printing a design, picture or logo on a garment, there are a number of methods. Screen printing, heat-applied transfers and now dye sublimation are widely used garment decorating techniques, but none truly compare to the capability of a DTG printer.
With dye-sublimation garment printing, the image is first printed onto a release or transfer paper, then placed in contact with a polyester textile under high heat and pressure. The heat causes the ink to sublimate, than turn from a solid to a gas and bond/transfer to the garment.
The heat transfer printing method applies custom designs to items like T-shirts or tablecloths through a process that uses a combination of heat and pressure.
The technique of printing images on garments using stencils and screens dates back to ancient China, screen printing has transformed over the years, but even in its present-day form, the process involves a blade or squeegee pushing inks through a stencil covered mesh or screen.
Digital Direct to Garment Printing. DTG prints can look as good as or better than traditional apparel printing processes, such as screen printing. The amount of time & labor involved with digital DTG printing is significantly lower than traditional methods.
Textile DTG printers using inkjet technology are attractive because the process of creating a printed garment from scratch using traditional technologies can be long and complicated. DTG printers for textile printing makes garment design and printing simple, accessible and cheap, especially compared to traditional screen printing. With a textile direct to garment printer you have all the ingredients for an exciting new business model.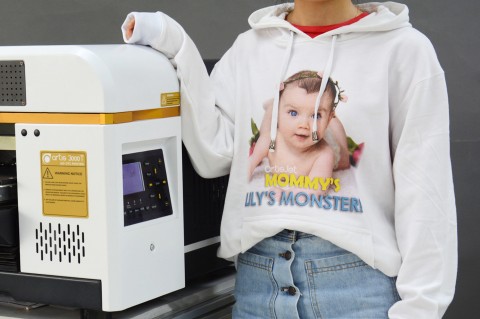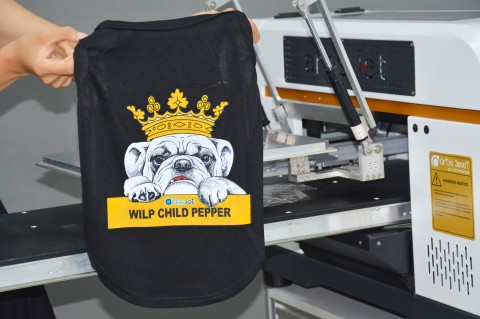 ADVANTAGES OF DTG PRINTING
There are certain advantages and ideal uses for the direct to garment printing process. Direct to garment printing uses a specially designed inkjet printer and specialized inks to print the design directly onto the garment, just as you might print a picture straight onto a piece of paper with a regular printer. The benefits of this include:
• Most color garments can be printed onto – DTG printing provides the potential to print onto virtually any color of garment, so you can create the design that you really want.
• Wide range of applications such as T-shirts, caps, sweatshirt, ties, personalized footwear like socks, tote bags and more.
• Water based garment inks and pigmented inks which are non-toxic and environmentally friendly, it has an excellent color fastness, high elasticity and non-cracking attributes, while the CMYK + White white inkjet technology gives outstanding vibrant prints on light and dark garment. The white ink channel makes printing on dark substrates way easier, producing high resolution quality prints both on cotton and polyesters.
• DTG printing system is widely used in small quantity printing business and customized high-end garments business.
• Various on demand printing plates to ease the printing process – easy print in low cost and no limit for the order quantity to your customers.
• Direct to garment printers generally require a specialized software package called a Raster Image Processor (RIP) to print properly. Modern RIP Software, also generates the white ink under base required to print on dark garments (for example black T-shirts), controls the amount of white and color ink laid down and color matching as well as other functions such as multi-shirt image placement and ink cost calculation.
• The process of direct to garment printing is simple.
a) Pretreat – Prepare your shirt for printing;
b) Load your printer – hoop your shirts on and get ready to print;
c) Print and Sell – let the printer do its work – then heat press and sell.
The technology is a revolution and stimulation in this field, bringing new colors and vitality. DTG printing systems are available to handle all pre- and post-treatment to produce personalized/customized fabrics, T-shirts, sportswear and other items of clothing and accessories, such as baby clothing, hats, bags, napkins and towels – on demand. If you want each T-shirt to be different and you want them printed in a four-color photographic digital printing process using a compact DTG desktop printer is really your only cost effective option.
If you are interested in short runs, prototyping, T-shirt printing or customized garments, the possibilities available to you are about to get very interesting.
You can reach us by several ways: Facebook, Instagram, Twitter, fill in the contact form or simply e-mail us by This email address is being protected from spambots. You need JavaScript enabled to view it..
Feel free to request a sample to discover the DTG printing capabilities with artisJet.
Details

Written by

Alina Sornea

Hits: 2108
Know the details. Since 2001, Photo FEST India is a national trade fair of photographic materials and accessories in Kerala. Although of national level, there were international players in the field of photography. By 2004, Photo FEST India turned out to be the biggest brand show of photography accessories in India, not just introducing innovative products, but also providing business solutions to both exhibitors and visitors.
Organized by All Kerala Photographers Association AKPA, the 2018 edition is being held in Angamaly, Ernakulam, Kerala, at the Adlux International Convention Centre. AKPA is the flagship platform of the scores of professionals in Kerala, engaged in photography, videography and the allied fields. Currently, there are more than 15,000 active members to its credit.
During the 3 days event, from 12 to 14 July 2018, at PHOTOFEST INDIA – Photo, Video and Imaging Fair both visitors and exhibitors will discover a series of seminars and workshops, latest photo and video business trends, photo exhibition and even a fashion show.
artisJet direct to substrate printers at the event. You are invited to join artisJet and its partner representative, RS Marketing & Logistics Pvt. Ltd, in Booth No. 92 & 93 | Adlux Intl. Convention Centre. The reason? When it comes to digital technology, photography goes hand in hand with printing. Whether is LED UV printing or DTG printing, photography and direct to substrate printing boosts the personalization industry. Use unique photos, original artwork and graphic designs to create outstanding custom made products for print on demand businesses. Create wedding photography albums with LED UV technology; make custom T-shirts and all kind of textile and garments with DTG printers.
RS Marketing & Logistics Pvt, Ltd will await you with full printing solutions from artisJet: artis 5000U A2+ LED UV production printer, perfect for book cover printing, wedding gifts, custom gifts, gift packaging, and even bottle printing due to the NEW ROT 360 rotary attachment for cylindrical printing; and artis 3000T A3+ DTG system for textile printing with the advantage of customizing all kinds of garments: classic T-shirt printing, printing on T-shirt sleeves, canvas tote bags and backpacks printing, custom dog clothing, personalized baby clothing such as baby bibs, baby singlet suits, and baby bodysuits due to the eco-friendly DTG inks and perfect match with cotton substrates. Want more? Personalized uniforms such as custom aprons.
Join artisJet and RS Marketing & Logistics Pvt Ltd in Booth 92&93 – Adlux International Convention and Exhibition Center, PhotoFEST India, from 12 to 14 July 2018.
Stay connected with artisJet on social media! Look for us on Facebook, Instagram, Pinterest, Twitter, Flickr, YouTube! We will keep you updated with images from the event!
Details

Written by

Alina Sornea

Hits: 1823
Taipei PACK 2018. Today already marked the start of Taipei Pack 2018 edition, a significant international exhibition on the continent of Asia. With a renowned background, Taipei International Packaging Industry Show brings together packaging industry professionals from all over the world, who seek to expand their businesses to Asian territory. The Taipei PACK event pairs with Foodtech & Pharmatech TAIPEI, FOOD TAIPEI, Taiwan Horeca and HALAL TAIWAN, making it Asia's premier packaging exhibition.
Organized by Taiwan External Trade Development Council (TAITRA) and Taiwan Packaging Association, the 2018 edition is being held in Taipei Nangang Exhibition Center, Hall 1, Ground Level, Area 1 and TWTC Exhibition Hall 1, Ground Level, Area D.
artisJet Packaging LED UV Printing Solutions brought to Taipei. During the 4 days event, you will discover a large variety of professionals with expertise in: packaging machinery and materials, packaging plant systems, filling / sealing / weighing machinery, printing machinery, food and pharmaceuticals packaging machinery, bag making machinery and many others.
artisJet's partner in Taiwan, Mega Printing Technology Co., Ltd., is already showcasing one of artisJet's A3+ LED UV printers, the artis 3000U printer model. Ergonomic in size, artis 3000U LED UV printer is suitable for small working environments, making it a versatile desktop printer for print on demand workflows.
With the capability of printing on an extensive array of media and applications for personalization businesses, artis 3000U is also suitable for packaging printing: cardboard boxes printing, cosmetics packaging, custom wedding gift packaging, wood boxes, gift packaging of different substrates, graduation gifts, customized small boxes for medals, prototype packaging printing to larger packaging items, due to its 9 cm printing height.
Visit us in Taiwan! If you want to see the artis 3000U A3+ LED UV printer, our partner will be waiting for you with onsite printing demonstration in Booth I0301 | Hall 1 | Taipei Nangang Exhibition Center, 27 – 30 June 2018!
Stay connected with artisJet on social media! Look for us on Facebook, Instagram, Pinterest, Twitter, Flickr, YouTube! We will keep you updated with daily images from the event!